Chicago White Sox:

Hawk Harrelson
July, 26, 2014
7/26/14
6:09
PM CT
COOPERSTOWN, N.Y. -- The end to his days as
Chicago White Sox
manager isn't something Tony La Russa will embrace, but the overall memories of his first managing job remain satisfying.
Using a style considered cutting edge when he took the White Sox job in 1979, the Tampa, Florida, native and fringe major leaguer wasn't everybody's cup of tea.
[+] Enlarge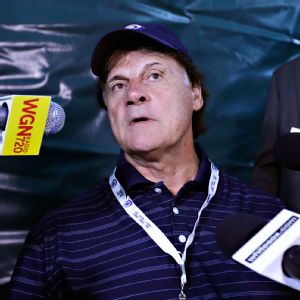 AP Photo/Mike GrollTony La Russa led the White Sox to the playoffs in 1983, the first postseason appearance for the team since 1959.
La Russa did it his way, and in 1983 his way delivered a 99-win season and the White Sox's first postseason berth since 1959. But by 1986 he was gone after short-lived general manager Ken "Hawk" Harrelson fired him.
With his induction into the National Baseball Hall of Fame about to go down Sunday, most White Sox fans in town to see the ceremony are focusing more on 1983 than 1986.
"I've heard it [all] along, but here in the last four or five months I'm getting a lot of comments," La Russa said of interaction with White Sox fans. "I think our fans, I run into them all the time. They remember '83. They enjoyed it. We all enjoyed it. It was something special."
The joy wouldn't last back then. Harrelson left the broadcast booth in 1985 to take over as GM and La Russa's days were as good as numbered.
"We had played pretty good in '85 so he was stuck with me," La Russa said. "I think if he had his own guys, I don't know that his ideas wouldn't work. I just know they didn't [that year]. We fought him. We tried to work 'em, but we had to fight 'em."
Harrelson and La Russa didn't talk again until they broke the ice in 1992. They have stayed good friends since.
Broadcaster Harry Caray was another La Russa critic, and unlike the feud he ended with Harrelson, that one never was repaired.
"Hell no," La Russa said. "The first [shot] he took was, 'Bill [Veeck] was too cheap to hire a real manager.' There's probably a lot of truth to that. Harry liked to pick on the lambs and I was a lamb."
He left the White Sox to manage the
Oakland Athletics
and
St. Louis Cardinals
, and that lamb turned into a wolf. In 33 seasons as a manager, La Russa won 2,728 games, the third-highest total all time behind Hall of Famers Connie Mack and John McGraw. La Russa ended up winning three World Series.
But it all started in Chicago.
"First Bill Veeck, the way he would ask questions and get you involved with the great scouts, that was like going to graduate school night school and work on weekends," La Russa said. "It was just work, work, work. Then here comes new owners Jerry [Reinsdorf] and Eddie [Einhorn]. They loved the game of baseball so it was a great atmosphere. Then you had Roland Hemond as the GM. How much better can it get than that?"
July, 26, 2014
7/26/14
12:45
PM CT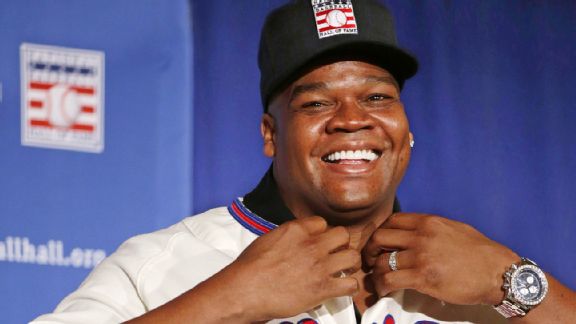 AP Photo/Kathy WillensFrank Thomas didn't put up Hall of Fame numbers just by being big and strong. He put in the work.
COOPERSTOWN, N.Y. -- There are plenty of traits that led
Frank Thomas
to one of the best careers in baseball history, but it might have been an awareness of his own swing that yielded Hall of Fame credentials.
Picking apart Thomas' positive offensive traits has been a popular subject this week in advance of his induction to the Hall of Fame in Cooperstown on Sunday.
There was Thomas' patience at the plate that led to some robust numbers since he was a master at swinging at strikes. There was his ability to hit to the opposite field, essentially taking what the pitcher gave him, that helped to keep his run production high.
His raw, natural power has also been cited. Thomas has even suggested that the steroid era might have been influenced by hitters trying to match his natural strength. Thomas has long boasted that he did not touch performance-enhancing substances, crediting coaches from his football days at Auburn for setting him straight on the subject.
But for all Thomas did on the field, it was the things he did behind the scenes that might have been the most important. Thomas' work with hitting guru Walt Hriniak laid the groundwork for a .301 career batting average over 19 seasons, a .419 on-base percentage, 521 home runs and 1,704 RBIs. In 16 seasons with the White Sox, he hit .307 with a .427 OBP, 448 HRs and 1,466 RBIs.
Thomas didn't have the prettiest of swings, rocking his weight forward during a pitcher's delivery and often kicking back his right foot at the point of contact. While many power hitters load up on their back foot, Thomas' upper-body strength allowed him to cheat the process and get his weight centered earlier than most.
It may not have been a swing to teach, but Thomas got himself where he needed to be at the point of contact. More importantly, he knew how to get himself back into his ideal hitting zone as soon as that swing started to stray.
"Just from what I saw the years he was here, something he had learned obviously before I got here, but he was just really consistent and dialed in with his work," said former teammate
Paul Konerko
. "He knew when things went bad and [he] wasn't swinging the bat the way he wanted to. He had drills and just a whole formula on how to get himself back. He was very aware at all times where he was at with his swing.
"He knew what to do when it was good and knew what to do when he didn't feel good. He kind of just knew and learned how to kind of get it back to where he wanted to and knew little tricks to do it. That all leads to the numbers and not going through long stretches with bad results. That's what I saw."
Another behind-the-scenes trait that served Thomas well was his ability to be self-motivated. Often criticized for focusing on personal statistics, it was that desire to have better numbers than anybody else in the game at the time that enabled Thomas to deliver success for the team.
"People used to ask me about his numbers [and say], 'Well, he's selfish,'" broadcaster Ken "Hawk" Harrelson said. "I said, 'He's not selfish. Guys do that.' They have to find ways to motivate themselves. You know, 162 games, that's tough. It's really tough, and guys find ways to motivate themselves."
Konerko seemed to have no issue with Thomas' perceived stats fetish.
"Well I don't know if that's [it]; that sounds kind of bad to say just stats," Konerko said when asked about Thomas' motivator. "I just think it was a by-product of his work and his routines. Whoever got him early, when it was when he first got to pro ball or the big leagues, I think gave him kind of a framework and a structure on how to work. He stuck to it, and that produced all the numbers.
"When you are a first baseman/DH type, that's kind of how people are going to judge you. Not too many times are they going to give you credit or care about anything else besides that."
And what worked for Thomas probably wouldn't have been the right course of action for anybody else. Former teammate and current White Sox manager Robin Ventura was a good hitter in his own right, but knew that he wasn't going to have much success doing it Thomas' way.
"He was a different hitter and he could do different things than everybody else, so I wasn't going to be in his league as far as being able to do those things," Ventura said. "So you'd talk about certain things, but he was just able to do a lot more than everybody else. I wasn't going to be able to hit for power the way he did, so it had to be different for me.
"I mean you'd talk about little stuff here and there. You could talk to him and probably get information, but he was just different."
With that ability to make solid contact, it didn't take Harrelson long to tag Thomas with his "Big Hurt" nickname.
"He'd just go on a streak there for a while and every time he swung the bat I'd say, 'Man, he hurt it. He hurt it,'" Harrelson said. "All of the sudden I'm up there one day and he was running around first base and he had hit one out there deep, real deep, and it just blurted out. I'm watching him go around first base and, 'The Big Hurt!'
"That's how it came about and it was a good one. I think it was voted what, third- or fourth-best [nickname] in baseball history. And he deserved it because he was the Big Hurt, no question about it."
July, 25, 2014
7/25/14
8:00
AM CT
CHICAGO -- The only man to ever fire Tony La Russa as a manager will be in Cooperstown, N.Y., this weekend to celebrate La Russa's induction into the Hall of Fame.
[+] Enlarge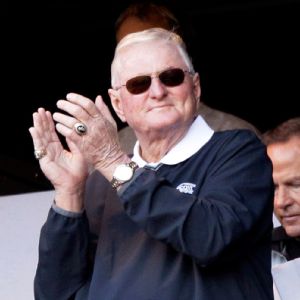 AP Photo/Nam Y. HuhKen "Hawk" Harrelson said he and Tony La Russa didn't talk for six or seven years after Harrelson fired him as White Sox manager in 1986.
Ken "Hawk" Harrelson is a White Sox broadcaster now, known for an oft-criticized excitable style. In 1985 and into the next year, though, he took a break from the booth to serve as White Sox general manager, where he may have made his most criticized move of all.
Harrelson made the decision to fire La Russa as manager after the team started the 1986 season 26-38. La Russa ended with a 522-510 record at the helm of the White Sox.
"It's funny, he managed what 33, 34 years in the big leagues and he only got fired one time, and you're talking to the [fool] that fired him," Harrelson said. "He might go down as certainly one of, but maybe the best, manager we've ever seen."
La Russa was immediately hired by the
Oakland Athletics
to be their manager, but Harrelson estimates that he didn't talk to La Russa for "six or seven years" as a result of the firing. The deep freeze ended, interestingly enough, after the A's topped the White Sox during a series in Chicago.
"It was a four-game series, I think, and they took three out of four from us, and he was doing just a magnificent job," Harrelson said. "After the game was over, I went downstairs and I walked into the visiting clubhouse and he had 15 or 20 people in there with him, but for some reason we made eye contact. When we did, I went [thumb's up] and I turned around and walked out.
"I get about 15, 20 feet down the hallway there and it's Tony and he says, 'Hawk, Hawk.' So he came up and we shook hands and he said, 'It's been too long.' I said, 'You're right, it has been too long.' Since that time, we've been close."
So while seeing
Frank Thomas
getting inducted into the Hall of Fame might be Harrelson's biggest reason for attending Sunday's ceremony, seeing La Russa get his honor will be rewarding as well.
"

It was the biggest regret (letting Tony La Russa go). Well, it was the combination, naming a general manager that shouldn't have been a general manager and then letting him fire Tony.

"

-- Jerry Reinsdorf
Harrelson said he played in La Russa's charity golf tournament this year and the two will swap stories again this weekend, with Harrelson sure to get more grief for his decision to fire a future Hall of Fame manager.
Chairman Jerry Reinsdorf already got in the first good-natured shot at Harrelson this week.
"It was the biggest regret [letting La Russa go]," Reinsdorf said. "Well, it was the combination, naming a general manager that shouldn't have been a general manager and then letting him fire Tony."
If there is one thing Harrelson is relieved about, it's that La Russa was able to go on and prove his managerial skills at Oakland and St. Louis.
"I didn't fire Tony because he was a bad manager," Harrelson said. "We had a difference of opinion. He wanted to go one way and I wanted to go another way. At that time, the club was going bad and the fans were really on him bad.
"I walked into his office and said, 'Tony, I've got to do one of two things.' He said, 'What's that?' I said, 'Either I have to fire you or I have to make you a hero.' He said, 'You can't make me a hero.' Well, obviously I did."
July, 24, 2014
7/24/14
11:34
AM CT
The last time the
Chicago White Sox
rolled into the Twin Cities to face the
Minnesota Twins
, they limped out in the midst of their worst losing stretch of the season.
The White Sox were just 4 1/2 games out of first place on June 19 when they arrived at Target Field. Then were then swept in a four-game series, saw the losing streak extend to five games at Baltimore, and after a victory over the Orioles, they lost the next two games.
Things turned around to end a series at Toronto, but the White Sox started their longest road trip of the season with a 1-7 record, and by June 26, they were 9 1/2 games out of first place. They currently stand 10 back at 48-54.
Going back to a four-game losing streak June 12-15, the sweep by the Twins came in the middle of a stretch where the White Sox lost 12 times in a span of 15 games.
In that June 19-22 four-game sweep at the hand of the Twins, all the games were competitive. The White Sox lost three games by one run and one game by just two runs.
That series helps to magnify how competitive White Sox games have been this season. Out of the 102 games the White Sox have played this season, 64 have been decided by three runs or less, the most recent coming Wednesday when they were beaten 2-1 by the
Kansas City Royals
.
The White Sox are 30-34 in those games decided by three runs or less, going 19-17 in one-run games, 7-10 in two-run games and 4-7 in three-run contests. Since 2012, the White Sox are 69-73 in games decided by a single run.
HEAD TO HEAD
While the White Sox's
Gordon Beckham
is just 2-for-17 (.118) against Twins starter
Phil Hughes
,
Moises Sierra
is bating a robust 8-for-16 (.500). ... The White Sox's
Dayan Viciedo
is 6-for-11 (.545) with a home run against Twins starter
Kevin Correia
. ... Twins starter
Yohan Pino
made his major league debut at age 30 on June 19 against the White Sox, giving up two runs on five hits over seven innings in a no-decision. ... The Twins'
Kendrys Morales
is 3-for-7 (.429) with a home run against White Sox starter
Hector Noesi
. ...
Joe Mauer
is 22-for-56 (.393) with eight RBIs against White Sox starter
John Danks
, while striking out eight times. ... In 10 starts against the Twins over the past three seasons, White Sox starter
Chris Sale
is 4-1 with a 2.13 ERA and has 37 strikeouts in 38 innings. ... White Sox starter
Scott Carroll
has just one appearance against the Twins, an impressive 3 2/3-inning relief outing where he gave up two hits and no runs.
NOTES
Viciedo was a late scratch from Wednesday's game against the Kansas City Royals with hamstring tightness and is day-to-day. ... Over the White Sox's past 18 games, 12 have been decided by three runs or less and they are 5-7 in those contests. ... The White Sox's
Jose Abreu
is batting .377 (20-for-53) during his current hitting streak and has a hit in 31 of his last 32 games, going 0-for-4 in a July 5 home game against the
Seattle Mariners
. ...
Adam Eaton
had a nine-game hitting streak come to an end in Wednesday's game against the Royals. … The White Sox's
Adam Dunn
has recorded an RBI in three consecutive games, the fourth time he has done that this season. ... The White Sox's
Tyler Flowers
is 9-for-15 (.600) with four doubles and three RBIs over his last five games. ... The Twins are undecided for their starter on Saturday, but it could be
Kyle Gibson
(8-8, 4.19), who missed his last outing with back stiffness. ... The All-Star Game host Twins were swept by the
Tampa Bay Rays
to start the second half, but are coming off a 2-1 series victory over the
Cleveland Indians
. ... While White Sox broadcaster Hawk Harrelson attends Hall of Fame induction ceremonies for
Frank Thomas
and Tony La Russa this weekend, Steve Stone will share the booth with Tom Paciorek.
PITCHING MATCHUPS
•
Thursday:
White Sox RH Hector Noesi (4-5, 4.55 ERA) vs. Twins RH Phil Hughes (10-6, 4.05), 7:10 p.m. CST
•
Friday:
White Sox LH John Danks (8-6, 4.35) vs. Twins RH Kevin Correia (5-12, 4.76), 7:10 p.m. CST
•
Saturday:
White Sox LH Chris Sale (9-1, 2.03) vs. TBA, 6:10 p.m. CST
•
Sunday:
White Sox RH Scott Carroll (4-6, 4.520 vs. Twins RH Yohan Pino (1-3, 4.63), 1:10 p.m. CST
April, 25, 2013
4/25/13
6:32
PM CT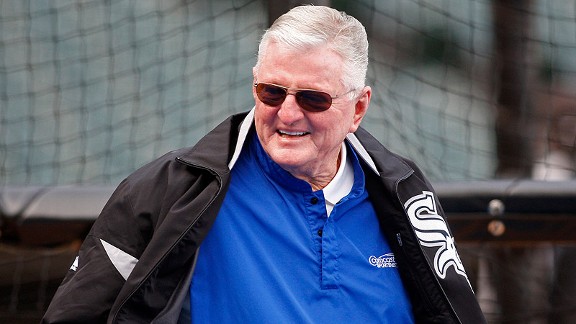 Jerry Lai/US PresswireHawk Harrelson may have inspired a new ad campaign for the Sox with his "TWTW."
Chicago White Sox
announcer Ken "Hawk" Harrelson may have started a new ad campaign for the team when he offered "the will to win" -- TWTW -- as an alternative to sabermetrics.
Harrelson engaged in an animated live TV discussion with MLB network host Brian Kenny on Thursday. The argument was over the use of sabermetrics and the intrinsic value of stats as the final determination for evaluating players.
Harrelson became animated during the heated discussion that took place via a live hookup from U.S Cellular Field.
Some of the highlights included Harrelson quotes:
"TWTW. The will to win. You can't put numbers on those things."


"The more numbers you have, the more information you put in the game, the more instincts you take out of the game."


"How are you going to accumulate a team W if the pitcher doesn't get his W?"


"TWTW is going to supersede anything sabermetrics brings in."


"Numbers are the most overrated thing in baseball."

Harrelson and Kenny ended the discussion by saying they liked each other but agreed to disagree.

"The good thing about sabermetrics is they have created an interest in some fans who were not baseball fans before," Harrelson told ESPNChicago.com.

As far as "TWTW," Sox outfielder Alex Rios tweeted it after the interview, and the Sox made up T-shirts with the slogan and sold them at U.S. Cellular Field on Thursday.

February, 3, 2013
2/03/13
2:09
PM CT
If you noticed a major disconnect in the
Chicago White Sox
television broadcasts last season you are not the only one. Sox executives, led by chairman of the board Jerry Reinsdorf, met with announcers Ken (Hawk) Harrelson and Steve Stone at SoxFest on Jan. 25 to discuss the communication breakdown between the two broadcasters over the past two baseball seasons.
Harrelson, appearing on ESPN Chicago's "Talkin' Baseball" on Saturday, said he was happy with the end result of the confab.
October, 10, 2012
10/10/12
4:17
PM CT
The icy relationship between
Chicago White Sox
broadcasters Ken "Hawk" Harrelson and color commentator Steve Stone has some believing that changes down the road are inevitable.
[+] Enlarge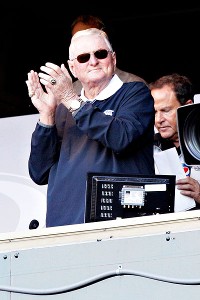 AP Photo/Nam Y. HuhKen Harrelson and Steve Stone just completed their fourth season in the booth together.
The on-air disconnect between the two partners, who have been broadcasting Sox baseball for four years, has led to some less than stellar broadcasts.
The bridge between the two veteran announcers became most apparent to viewers when Harrelson periodically shared the booth with former broadcast partner Tom Paciorek, who sat in for Stone on predetermined days off. Paciorek and Harrelson were broadcast partners from 1991-1999.
It was evident that Harrelson had more in-game discourse with Paciorek than he had most of the time with Stone during their broadcasts. At the end of the eighth telecast between the two former partners on Sept. 17, Harrelson said, "Well Wimpy, you were nothing but good luck for us this year. We were 7-1 when you were here." That comment, although innocent in nature, was a red flag to some listeners. It showed Harrelson not only enjoyed his broadcasts with Paciorek but that he was keeping track of his former broadcast partner's appearances.
Stone, who has been considered one of the top analysts in the game for the past 30 years, was matter of fact in his response to ESPNChicago.com questions about his role in the future.
June, 1, 2012
6/01/12
9:58
AM CT
By ESPNChicago.com
ESPNChicago.com

Major League Baseball commissioner Bud Selig and
Chicago White Sox
chairman Jerry Reinsdorf talked to television announcer Ken "Hawk" Harrelson in the wake of his on-air outburst against umpire Mark Wegner.
Read the entire story
.
August, 15, 2010
8/15/10
4:34
PM CT
By ESPNChicago.com
ESPNChicago.com

CHICAGO -- White Sox broadcaster Hawk Harrelson missed Sunday's game against the Detroit Tigers.

The Chicago Tribune reported Harrelson's absence was due to a family illness, and that it was uncertain how many games Harrelson might miss.

Steve Stone, Harrelson's usual partner, filled in on the play-by-play.