Chicago White Sox:

Herm Schneider
July, 27, 2014
7/27/14
6:48
PM CT
COOPERSTOWN, N.Y. -- Showing a heart that was just as big as any of the eye-popping numbers he produced in a storied career,
Frank Thomas
was moved to tears during his Hall of Fame induction speech Sunday.
Thomas was, in fact, the only inductee to shed tears, losing it early at the mention of his late father Frank Sr., who passed away in 2001.
[+] Enlarge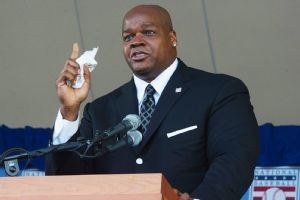 Gregory J. Fisher/USA TODAY SportsIn an emotional speech that went almost eight minutes over the allotted time limit, Frank Thomas made sure to thank everyone who ever had an impact on his life, including the city of Chicago and White Sox chairman Jerry Reinsdorf.
"Frank Sr., I know you're watching and smiling from heaven," Thomas said to a crowd of 48,000 gathered on a grass field just south of the Hall of Fame doors. "Without you, I know 100 percent I wouldn't be here in Cooperstown today. Thanks for pushing me and always preaching to me: You can be someone special if you really work at. I took that to heart, Pops. Look at us today."
At that moment, the tears began to flow as Thomas was at the outset of a 17-minute, 45-second speech that was big on thank yous.
Thomas went to every corner of his life to make sure those who helped make him the person and player he was were recognized. He concluded with a rapid-fire list of 138 former teammates Thomas insisted on including, even though he was well over his allotted time limit.
With all of his family in attendance, including his mother Charlie Mae, who hadn't left Columbus, Georgia, in 15 years, Thomas recalled his high school baseball days, as well as his time as a football and baseball player at Auburn.
He thanked agents, coaches, friends, business associates and anybody else who touched him over his adult life. After his family, he reserved the warmest comments for White Sox chairman Jerry Reinsdorf.
"Jerry, thanks for a long and wonderful ride in that
Chicago White Sox
uniform," Thomas said. "You did a lot for me and you still mean a lot to me. Thank you, my friend."
Often criticized for being a me-first player, especially because of his extreme interest in statistics and league-leader lists, Thomas' speech was the antithesis of that. He showed a vulnerability that added to the emotion as well.
Sitting next to fellow inductee Joe Torre long after his speech was completed, Thomas finally looked at peace after an anxious weekend that had him anticipating his address to the overflow crowd. Torre smiled as Thomas spoke of the reverence he has for his father.
"It was rough," Thomas said. "Some of the closest people in my life are gone. When you get to that, it's a lot of emotion. My father meant so much to me, and he's not here today. I probably won't get over this until the day is over. It was a special moment. This was my grand finale. I wanted to thank all the people who touched me. I thanked everyone who got me to this point. I definitely didn't get here alone and I'm proud of that."
Ozzie Guillen also received significant mention. Guillen and Thomas had a unique bond, with Guillen often antagonizing Thomas. In turn, Thomas admitted he was able to use any anger or frustration he had toward Guillen and Joey Cora and turn it into success on the field.
"And a special thanks to Ozzie Guillen, 11 years as a teammate, three years as a manager, and I can thank you for getting me my only ring, because we had that special bond for many years," Thomas told the crowd. "I thank you, Ozzie, thank you very much."
If the years weren't correct, the sentiment hit right on target. Thomas and Guillen were teammates for just seven years and Guillen managed Thomas for just two seasons.
Thomas went on to thank trainers and doctors for getting him back on the field each day, reserving plenty of love for longtime White Sox trainer Herm Schneider.
After naming as many teammates as he could pack into a short amount of time, Thomas's speech circled back to White Sox fans.
"In closing I would like to say thank you to the city of Chicago," he said. "You guys made the Big Hurt who he was in the greatest sports town in America. I know I'm biased but I thoroughly enjoyed playing for you all. Thank you from the bottom of my heart. Oakland, Toronto, I thank you for great fan bases and also for making me feel at home. It was short-lived, but I appreciate the love from both of you great cities."
Playing in the heart of the Steroid Era, Thomas prided himself on not using performance-enhancing substances during a 19-year career, but he declined to get steroids-heavy in his speech. But he did close with a little advice to young athletes everywhere.
"To all you kids out there, just remember one thing from today: There is no shortcuts to success," Thomas said. "Hard work, dedication, commitment. Stay true to who you are. God bless you all and I thank you."
Thomas said afterward that a Hall of Fame speech wasn't the place for a discussion on steroids.
"It wasn't thought," Thomas said afterward. "This is a special weekend. I just didn't think that stuff was necessary. We all know what has happened over the last 15 years in baseball. Today is a bright stage among heroes.
"I wanted to get that out to the kids. Don't take the shortcuts. Don't do what other people say is cool or because it's going to make you better. Believe in yourself, hard work and determination -- stay true to yourself is something I wanted to get out there."
While players with great numbers are on the outside looking in at Cooperstown, Thomas was able to speak in front of 50 Hall of Famers and five fellow inductees Sunday to talk about his road to greatness.
"I would also like to thank my parents for working so hard to instill core values to make the best of life," Thomas said. "We didn't have much but my parents worked tireless for me and my four siblings."
April, 12, 2014
4/12/14
12:38
PM CT
CHICAGO -- With a new rehab program in place,
Chicago White Sox
relief pitcher
Nate Jones
sounds optimistic he's on the path for recovery from a back issue, but still does not have a timetable on a return.
Jones started spring training on the sideline with a gluteus muscle issue and returned only to have a hip problem. An MRI this week showed the problem was actually with nerves in his back and he was given an epidural shot.
"(The rehab) is a little bit different but I feel like we're heading in the right direction and feel like we're taking care of all the symptoms, strengthening the back and hip, all at the same time now," Jones said Saturday morning.
Until Jones is much further along in his rehab program, manager Robin Ventura won't hazard a guess as to when he might get back his hard-throwing right-hander.
"Until he's out really throwing and doing something then we'll start looking forward to that," Ventura said. "But right now he's just one of the guys that's in there getting treated by (trainer) Herm (Schneider)."
Since back issues have a way of staying around for a long time, Jones is being diligent with his rehab.
"Obviously that crosses your mind but can't really think about it too much," he said. "Just have to keep doing the rehab, keep feeling good and if it comes back it comes back and you just have to deal with it. I just want to take it one day at a time right now."
February, 16, 2014
2/16/14
12:15
PM CT
GLENDALE, Ariz. --
Nate Jones
won't mind being the butt of jokes over his strained gluteus muscle since he remains confident his issue should be behind him soon.
One of the lead candidates for the
Chicago White Sox
's vacant closer job, Jones thinks he will be back on the mound in a matter of days.
"It's spring training, so we've got time to fix it and let it calm down, let it settle down," Jones said Sunday morning after getting some treatment in the trainers' room. "Once I get back out there, I'm still going to compete and attack and go after that job just like everybody else."
March, 4, 2013
3/04/13
3:04
PM CT
Chicago White Sox
, an organization that has witnessed an extremely low number of injuries over the last decade-plus when compared to other teams.
The latest spring injury nuisance is with reliever
Jesse Crain
, whose strained muscle in his right leg will cost him a spot on Canada's roster for the World Baseball Classic.
Crain will miss up to a week of spring training but told reporters in Glendale, Ariz., on Monday that he expects to be ready to go when the season starts.
Although no serious injuries have surfaced so far, the White Sox have dealt with their fair share of setbacks. Reliever
Matt Thornton
had a sore elbow to deal with at the start of camp while infielder
Jeff Keppinger
had a sore shoulder. Even slugger
Adam Dunn
had a sore elbow after getting hit by a pitch.
That doesn't include starter
John Danks
, who has been rehabbing his shoulder that required surgery last summer.
It's nearly enough to require players to take a number before entering the training room as the medical staff is undergoing an unprecedented busy streak.
Consider that over the past 11 seasons, the White Sox have used the disabled list less than anybody in the major leagues. If that doesn't sound impressive then consider this: The White Sox have used the disabled list 4,026 days since 2002. The next closest American League team is the
Minnesota Twins
at 7,805.
Even when accounting for Danks' lost time last year and the fact that Crain had two stints on the DL (oblique, shoulder), the White Sox are still healthier than everybody in baseball. The White Sox had 499 DL days last year, while the next closest AL team, the
Seattle Mariners
, had 551 days.
The credit not only goes to head trainer Herm Schneider and assistant trainer Brian Ball, the White Sox are doing all they can so that players can avoid the training room altogether.
Allen Thomas, the team's director of conditioning, takes preventative measures with a strength and fitness program, and is assisted by Dale Torborg, the minor league conditioning coordinator, to get the program in operation at all levels of the organization.
Like Danks, and
Jake Peavy
before him in 2010, injuries will happen. But the team's health has been so much better than the health of other clubs that the front office takes that into consideration when projecting the strength of the team from year to year.
So when projections surfaced last month that the current White Sox roster was expected to finish under .500 when compared to other rosters, White Sox management begged to differ. They expect to use less help from inexperienced minor league players and confidently project themselves as a better club.
The number that gives the White Sox the most confidence in that department is the 4,026 DL days from the last 11 seasons, which is exactly 5,470 days fewer than the major league average.
General manager Rick Hahn said that's a number that didn't seem to be taken into account when Baseball Prospectus' early-spring PECOTA projections said the White Sox will finish 77-85 this season.
"Their projections this year currently have us giving up 81 more runs than we gave up last year," Hahn said earlier this spring. "Looking at this roster, our opinion is that probably isn't going to happen if everybody stays healthy. Now if we start hitting the (lower) innings totals they project for guys like Danks or (
Chris Sale
or Peavy or
Gavin Floyd
) then that's conceivable.
"It's a little of a difference in opinion in health and durability and there is also some stuff with our relievers where we project them a little different than they do. But it's an interesting system. I don't think it's necessarily biased against run prevention. It's a little more on health and durability in terms of their projections on us. Hopefully we're right."
The numbers game only appears to be catching up to the