Chicago White Sox:

Jayson Nix
June, 17, 2010
6/17/10
11:41
PM CT
By ESPNChicago.com
ESPNChicago.com

March, 24, 2010
3/24/10
7:06
PM CT

By Bruce Levine
ESPNChicago.com
Archive
Chicago White Sox
manager Ozzie Guillen was happy for third baseman
Mark Teahen
, who had his first home run of the spring on a two-hit day after struggling with a .143 batting average up until this point of the spring.
[+] Enlarge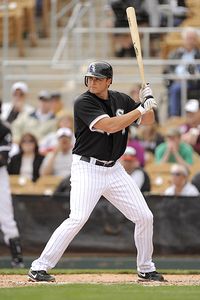 Ron Vesely/MLB Photos/Getty ImagesMark Teahen, who has struggled at the plate recently, hit his first home run of the spring on Wednesday.
"Everybody was up on the bench and happy," Guillen said. "This kid has been struggling, but this is a good game for us."
Even after his good day at the plate, the Sox continue to monitor Teahen's progress as he attempts to recover from some lingering right elbow soreness. Teahen, who was acquired from the
Kansas City Royals
on Nov. 6, 2009 for
Josh Fields
and
Chris Getz
, has been struggling not only physically but also with trying to make an impression on his new team.
"It's spring training," Teahen said. "So I have some time to get where I know I need to be. I do know I put some pressure on myself because I wanted to have a good first impression with everyone here. I haven't played all that well. Luckily, I've done this for a few years and I know how to get ready for the season."
It appears that Teahen's elbow has improved dramatically over the last few days, but if he has a relapse with the injury, the Sox have fortified their infield backups with
Omar Vizquel
and
Jayson Nix
. Both will back up the entire infield, including Teahen.
Asked about toughing out the elbow problem, Teahen admitted that the situation can be double-edged.
"It's a thing where you try to be tough and not make any excuses," Teahen said. "But at times, injuries do hamper what you're trying to do. Just like any ballplayer who's played for a while, they might be dealing with an injury that the media doesn't know anything about. Still, to blame an injury for your lack of production is kind of a cheap way out."
After acquiring Teahen, the White Sox signed the 28-year-old to a three-year, $14 million contract extension.
Finalizing the roster:
Guillen said after Wednesday's game that his final roster cuts will probably come sometime next week. However, he may pare down the number of players in camp on Sunday or Monday.
Guillen and the White Sox coaching staff are trying to figure out whether the team can carry 12 pitchers to begin the season. Reliever Sergio Santos has created problems for the team because of his outstanding pitching so far.
"I got my team," Guillen said. "We have one guy who is a tough problem. You know who it is. It's Santos."
The 26-year-old righty is out of minor league options and would be subject to waivers if he doesn't make the Sox's 25-man roster.
"This guy has thrown the ball very good. This is not a rebuilding team we have. We start the first day of the season to try to win games and we're going to bring the best guys out there that can win the games for us."
March, 14, 2010
3/14/10
8:12
PM CT

By Bruce Levine
ESPNChicago.com
Archive
Left-hander
John Danks
extended to 3 2/3 innings pitched on Sunday, his longest outing of spring training.
[+] Enlarge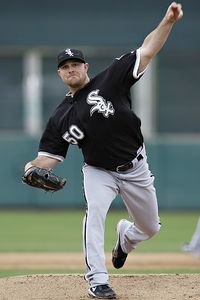 AP Photo/Jeff ChiuWhite Sox pitcher John Danks says his team should be considered a World Series contender.
"This is a time during spring training where it gets a little monotonous and a little old," Danks said. "You go out there and you try to have success. We are all competitive, but at the same time we all know the bigger prize is in three weeks."
Both Danks and
Jake Peavy
said after their last starts that the White Sox should be considered a World Series contender. On Sunday, Danks didn't back away from those comments.
"We know how good we are and how good we can be," Danks said. "We have to go out there and prove it."
-- Closer
Bobby Jenks
' achy calf will not prevent him from pitching on Monday as scheduled. After getting lit up for five runs on Friday, Jenks had treatment on his calf, the same one that kept him out of the last couple of weeks of the 2009 season.
Manager Ozzie Guillen said on Sunday that if Jenks is ever out for any extended period during 2010, the team would go with a closer-by-committee that would include relievers
Matt Thornton
and
J.J. Putz
.
Putz had mixed results on Sunday, striking out two in the inning he pitched. The veteran reliever also gave up a 430-foot two-run home run to
Brandon Phillips
of the
Cincinnati Reds
.
Putz, a former closer for the
Seattle Mariners
before signing a free-agent contract with the
New York Mets
in 2009, is back to throwing the ball between 92 and 94 mph. He's also re-established a nasty splitfinger pitch.
-- Guillen expressed disappointment in the play so far of infielders
Jayson Nix
and
Brent Lillibridge
. Both players are fighting for a backup infielder role on the 25-man roster. However, minor league infielder C.J. Retherford has made a strong impression on Guillen and his staff this spring.
White Sox bench coach Joey Cora called Rutherford a "baseball player," meaning that he does all of the little things required of him to win ballgames. Before Sunday's game, Guillen concurred with Cora's assessment.
"I love that kid a lot," Guillen said. "Everything we've asked that kid to do, he does. Steal a base. Hit behind a runner. Move a runner over -- he's a sleeper, but he's starting to wake people up. At least he's opened my eyes. I'm very, very pleased with the way he's played. All the reports say he plays the game ugly, but he gets the job done."
Guillen went on to compare Retherford's play to
Philadelphia Phillies
third baseman
Placido Polanco
.
"He's not as good as Polanco, but he does everything good enough to stay in the big leagues," Guillen said.
In 128 games with Double-A Birmingham last season, Retherford hit .297 with 10 home runs and 76 RBIs.
If Retherford doesn't make the 25-man roster, he will surely be the first call-up by the White Sox if there's any injury to an infielder or general lack of production.