Chicago White Sox:

Jeff Marquez
June, 8, 2011
6/08/11
9:18
PM CT
June, 5, 2011
6/05/11
12:35
PM CT
CHICAGO --
Chicago White Sox
third baseman
Mark Teahen
was reinstated from the 15-day disabled list before Sunday's game while right-hander
Jeff Marquez
was designated for assignment.
Teahen, who has been out since May 13 with a strained right oblique muscle, is returning to the major league roster slightly earlier than expected. Manager Ozzie Guillen had hoped to get Teahen multiple days at a variety of positions while in the minor leagues in preparation for his return to a utility role.
Read the entire story.
March, 26, 2011
3/26/11
7:46
PM CT

By Jon Greenberg
ESPNChicago.com
Archive
GLENDALE, Ariz. -- The competition between
Brent Lillibridge
and
Lastings Milledge
for the last roster spot might end in a tie as the
Chicago White Sox
could conceivably open the season with both players on the active roster.
After a listless 6-3 loss to the Angels on Saturday, manager Ozzie Guillen said he already knows the final 25-man roster for his club, but he can't divulge the results.
"I know," he said. "But I can't announce it and say 'Coming from Ozzie, Ozzie say this.' I can't say that until the last day."
Read the entire story.
March, 26, 2011
3/26/11
7:27
PM CT

By Jon Greenberg
ESPNChicago.com
Archive
GLENDALE, Ariz. -- Here's a quick look at the
Angels
' 6-3 victory over the
White Sox
on Saturday at Camelback Ranch.
The good:
Well, not much. Jim Gallagher had a two-out RBI double to increase his spring average to .538. What does that do for you?
Paul Konerko
and
Carlos Quentin
also had two-out RBIs. Both are hitting over .300. Most of the Sox veterans that stuck around after the game seemed pleased that
A.J. Pierzynski
's
Florida Gators
lost to
Butler
in the Elite Eight.
The bad:
Lefty
Will Ohman
had a rocky inning, giving up three runs on three hits, including a solo home run.
Lastings Milledge
, still battling for the final roster spot, had one hit but flew out to shallow right with the bases loaded and two outs in the eighth. His competition
Brent Lillibridge
came in to play second, and walked and struck out in the ninth.
Beyond the box score:
Ozzie Guillen said the decision over the final roster spots has been made, but he can't divulge the details just yet. After he spoke to the media, speculation was raised that Saturday's starting pitcher
Jeff Marquez
could be the odd guy out and the Sox would open up with 11 pitchers.
Up next:
Mark Buehrle
takes on the
Brewers
and their starter
Marco Estrada
in Maryvale. More importantly,
Jake Peavy
throws off the mound in the morning at Camelback Ranch. It will be his first work off a mound since his last start on March 19.
March, 24, 2011
3/24/11
6:47
PM CT
MESA, Ariz. – With the No. 5 starting spot sitting there for the taking, Phil Humber didn't exactly apply a strong grip on the prize.
[+] Enlarge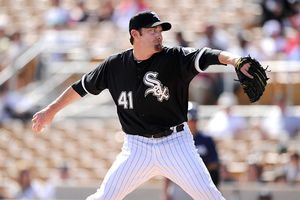 Ron Vesely/Getty ImagesPhil Humber has yet to solidy his spot as Jake Peavy's replacement.
The White Sox right-hander got the start for
Jake Peavy
in Thursday's nationally televised spring training game against the Cubs and gave up seven runs on five hits with four walks in 4 1/3 innings.
It was the walk total that stood out the most. His inability to find the strike zone isn't going to go over well with pitching coach Don Cooper and manager Ozzie Guillen.
"You allow the leadoff hitter on I think four out of five innings, it's hard to keep them from scoring when have guys on base all the time," Humber said. "There was a lot of traffic out there today and most of it was caused by me not throwing strikes."
Humber, who is among the last 12 healthy pitchers remaining in major league camp still figures to make the Opening Day roster, but a role as spot starter isn't a sure thing now. He entered Thursday's outing as the favorite over Jeff Marquez to assume the No. 5 rotation spot until Peavy returns.
"Every opportunity you get you want to take full advantage of and today was an opportunity," Humber said. "Obviously the results were not what I was looking for. At the same time you have to shake it off and go to the next time. I don't think one game is going to make or break anybody especially in spring training. I'll just get ready for the next one and try to do better."
Humber is lined up to start in the Cactus League finale Tuesday against the Royals, but Marquez could also get the nod that day. Then again, the White Sox could put a minor leaguer in that slot and start Humber or Marquez in a minor league game.
If the fifth starter starts the fifth game of the season it would be against those same Royals. But with a day off April 4, the White Sox would be able to push back the No. 5 spot to April 10.
March, 23, 2011
3/23/11
6:51
PM CT
GLENDALE, Ariz. – Welcome to the opening day roster Phil Humber and Jeff Marquez.
To Lastings Milledge and Brent Lillibridge: The final roster spot is down to you two.
Sifting through a conversation with general manager Kenny Williams that touched mostly on Jake Peavy's recovery, those two assumptions could be made about the 2011 opening day roster.
Williams didn't say those things up front, but he said enough to glean that information.
Williams said there is a plan to carry 12 pitchers on the roster in the event Peavy was not ready to start the season, which appears to be the case now. Only 13 pitchers remain in big-league camp, including Peavy. Humber and Marquez are among those remaining.
Asked if he is satisfied opening the season with in-house pitching talent, Williams said he was.
Through a process of elimination that leaves only one roster spot to be decided with is basically a backup outfielder that can also play center. Milledge and Lillibridge are the only two candidates remaining that fit that bill after Alejandro De Aza was sent to minor-league camp Tuesday.
Humber, who is scheduled to start in Thursday's game against the Cubs, is expected to get the first crack at the No. 5 spot in the starting rotation in Peavy's early-season absence.
March, 22, 2011
3/22/11
4:21
PM CT
PEORIA, Ariz. -- There were no surprises among the roster moves the White Sox made as scheduled Tuesday, but the cuts it did give a look into the likely 12 pitchers they will take into Opening Day.
Nine players were affected in the moves, including outfielder
Alejandro De Aza
and catcher
Tyler Flowers
. Both were optioned to Triple-A Charlotte along with right-hander
Gregory Infante
.
Reassigned to minor-league camp were right-handers
Brian Bruney
,
Jeff Gray
,
Josh Kinney
and Shane Lindsay, as well as outfielder Jordan Danks and infielder
Dallas McPherson
.
The moves leave 29 players in big-league camp, a number that includes catcher
Donny Lucy
, who is not expected to make the opening day roster. A total of 13 pitchers also remain in camp.
Jake Peavy
is among those 13 pitchers and it is widely assumed he will be on the disabled list once the season begins. Manager Ozzie Guillen has also stated a preference for 12 pitchers to start the season.
Barring any unexpected turn of events, that would leave the White Sox with the following staff (in alphabetical order):
Mark Buehrle
,
Jesse Crain
,
John Danks
,
Gavin Floyd
, Phil Humber,
Edwin Jackson
,
Jeff Marquez
,
Will Ohman
,
Tony Pena
,
Chris Sale
,
Sergio Santos
and
Matt Thornton
.
If the White Sox end up going with an 11-man staff, Marquez figures to be the odd man out.