Chicago White Sox:

Jermaine Dye
November, 6, 2014
Nov 6
6:23
PM CT
CHICAGO -- Wherever
Jose Abreu
decides to buy a home, he would be smart to make sure it includes a rather large trophy room.
Abreu and
Chicago White Sox
teammate
Alexei Ramirez
both earned American League Silver Slugger Awards on Thursday, with the honor the latest on Abreu's ever-growing postseason list.
The first baseman's Silver Slugger Award can go alongside his Sporting News Rookie of the Year Award and his Players Choice Outstanding Rookie honor. He also is the favorite to land the Baseball Writers Association of America Jackie Robinson Rookie of the Year Award, to be announced Monday.
The Silver Slugger is given to the top hitter in each league at every position after voting by major league managers and coaches.
In hitting 36 home runs with 107 RBIs and a major league-leading .581 slugging percentage, Abreu bettered the likes of
Miguel Cabrera
,
Albert Pujols
,
Joe Mauer
,
Eric Hosmer
and
Edwin Encarnacion
for the first-base award.
The 27-year-old had 10 years of experience in his native Cuba and definitely did not play like a rookie this past season. His home run total set a White Sox rookie record, and he became the first rookie in major league history to finish in the top five in all three Triple Crown categories.
He is the first rookie to win a Silver Slugger Award since
Mike Trout
in 2012.
Ramirez's rebound season earned him his second career Silver Slugger Award; the shortstop also won the honor in 2010. The only other White Sox players to win multiple Silver Slugger Awards are Frank Thomas (four), Carlton Fisk (three) and Magglio Ordonez (two).
The 33-year-old Ramirez led all regular American League shortstops with 15 home runs, 74 RBIs and a .408 slugging percentage. His .713 OPS was second to the
Toronto Blue Jays
'
Jose Reyes
. He also posted career bests in total bases (254) and extra-base hits (52).
Ramirez, whose hot start this season led to his first All-Star Game appearance, is the only White Sox shortstop ever to win the Silver Slugger Award.
It is the fourth time a pair of White Sox teammates won Silver Slugger Awards in the same season. Joe Crede and Jermaine Dye did it in 2006, Ordonez and Thomas accomplished the feat in 2000, and Julio Franco and Thomas did it in 1994.
May, 30, 2014
May 30
8:13
PM CT
CHICAGO -- Inside the visitor's locker room at U.S. Cellular Field for the first time,
Carlos Quentin
looked around and tried to get his bearings.
A
Chicago White Sox
run producer for four seasons, Quentin was back Friday for the first time since he was traded to the
San Diego Padres
for pitchers
Simon Castro
and
Pedro Hernandez
.
"Yeah, it's been a while since I've been back here, since the trade and to see my former teammates Paulie (
Paul Konerko
), Gordon (Beckham), Adam (Dunn), Johnny (
John Danks
) who is throwing tonight, I just found that out," Quentin said. "There are a lot of good people there. The training staff and everything."
Ah yes, the training staff. Quentin has dealt with myriad injuries over his career first with the White Sox and now with the Padres. A recent groin issue has reduced him to designated-hitter duties in the current series, according to Padres manager Bud Black.
Quentin has always been sort of a chicken-or-the-egg conundrum. Did hard play contribute to his injury issues, or is his injury-probe body vulnerable to his style of play?
"You make adjustments," Quentin said. "I'm having to adjust to that. When I played here my entire career I took pride in playing the game as hard as I could , the right way. Right now I have to make sure I keep my body healthy to be in the lineup and contribute for the good of my team. It's an adjustment to make."
Quentin might be a California native, who has played for two National League West teams in his career (the
Arizona Diamondbacks
is the other), but his time in Chicago has made a huge impact on him.
He burst upon the scene in 2008 to earn an All-Star Game nod and finish fifth in the MVP voting, but didn't play more than 118 games in two of the next three seasons. When healthy, he rode massively productive hot streaks and some extended cold snaps to solid production numbers like 107 home runs and 320 RBIs in a White sox uniform.
"I was able to establish myself here," Quentin said. "When I came here we had great players like Paul Konerko,
Jim Thome
,
Jermaine Dye
, a whole veteran team. Basically the whole team that won the World Series was here so it was a crucial point of my career to see how those guys conducted their business and helped me to become the player I am."
November, 23, 2010
11/23/10
1:52
PM CT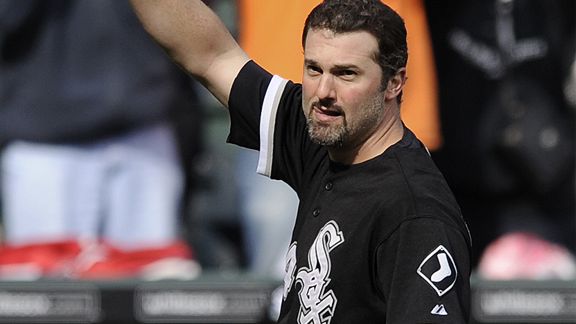 AP Photo/Paul BeatyPaul Konerko was a solid fifth in Al MVP voting, despite one questionable ballot.
Chicago White Sox
first baseman
Paul Konerko
was a solid fifth in voting for the American League MVP, but something seemed a little off about the final tabulation.
Konerko was only recognized on 27 of the 28 ballots, meaning somebody didn't think his .312 batting average, .393 on-base percentage, .584 slugging percentage, 39 home runs or 111 RBIs earned recognition as a top 10 player in the AL.
By the way, the MVP went to
Josh Hamilton
of the
Texas Rangers
.
Konerko trailed Hamilton,
Miguel Cabrera
of the Tigers,
Robinson Cano
of the Yankees and
Jose Bautista
of the Blue Jays. His 130 points (Hamilton had 358) were 30 more than
Evan Longoria
of the Rays, who finished in sixth place.
A total of 20 players received votes. Konerko was the only White Sox player to get votes.
Konerko's highest place on any one ballot was fourth, getting four voters to place him there. Not surprisingly, the most votes he received were for fifth place (seven). He was sixth on six ballots.
It was the highest a White Sox player finished in the MVP voting since
Jermaine Dye
also finished fifth in 2006.
August, 28, 2010
8/28/10
4:51
PM CT
CHICAGO --
Jermaine Dye
was at U.S. Cellular Field on Saturday for the first time since he was with the White Sox last season.
In town for Sunday's celebration to retire Frank Thomas' No. 35, Dye said in an informal get together with reporters that he has no plans to play this season, but is looking to return to the game next year.
Admitting that he's had the itch to play on a few occasions since Opening Day, Dye took his mind off baseball by traveling. He said he visited Guam, Japan, Hawaii and Pebble Beach, Calif. this summer.
The former White Sox right fielder thought he was close to signing with the Cubs in the offseason but never got the call back he was expecting to complete the deal. Looking to play primarily on the West Coast to be near his Phoenix-area home, Dye said the right fit never materialized and he ended up sitting out the 2010 season.
Getting his swing back in the groove this winter shouldn't be a problem. Dye said that his neighbor two doors down is Oakland's
Eric Chavez
, who has an indoor batting cage on his property that Dye has been invited to use.
The Chicago Cubs appear close to adding outfield depth. A decision on free agents Xavier Nady, Reed Johnson, Jonny Gomes or Jermaine Dye appears imminent.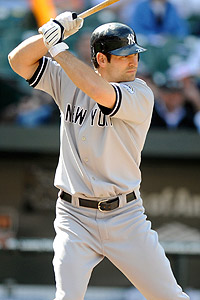 G Fiume/Getty Images
Xavier Nady, who played in just seven games last season for the New York Yankees, has undergone two Tommy John surgeries.
The Cubs want to add some offensive pop to the outfield while solidifying the bench in case of injury.
Nady may be a player with the most upside. After having a second Tommy John surgery on his right arm in 2009, Nady is said to be doing well on his rehab.
Scouting sources told me he's thrown the ball consistently 150 feet, with a month before position players report to spring training.
Nady was said to be asking $5 million to $6 million per season through agent Scott Boras during the Winter Meetings. Six weeks later, the price may have dropped.
The upside for Nady is he has more power than Johnson, and is six years younger than Dye, who turns 36 on Thursday.
Johnson has more ability to play all three outfield positions while Nady and Dye are both home run and RBI threats and can play left, right and first base.
Whoever the choice is, the new outfielder in the mix might platoon in right field with Kosuke Fukudome. Also keep in mind, Alfonso Soriano has missed 125 games in left field over the last three seasons.
Although the Cubs have talked to the agent for Chan Ho Park, it doesn't appear a deal is likely. Park is said to be asking between $3 million and $4 million per season.
January, 18, 2010
1/18/10
12:29
PM CT
Former Chicago White Sox star outfielder Jermaine Dye and the Chicago Cubs might be a perfect match for the 2010 season. The classy 2005 World Series MVP has had to endure a slow-developing free agent market that now has him considering a backup role with the North Siders, according to Major League Baseball sources.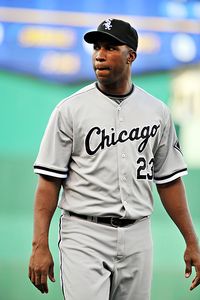 John Rieger/US Presswire
Jermaine Dye has a .274 career batting average in his 14 seasons.

The Cubs' outfield of Alfonso Soriano in left, Marlon Byrd in center and Kosuke Fukudome in right is pretty well set in stone for Opening Day 2010. Historically noting the vulnerability of Soriano due to leg injuries in his three seasons with the Cubs and Fukudome's underachieving collective offensive numbers might be the perfect scenario for Dye to earn significant playing time with the Cubs.

After an outstanding start to the 2009 season, Dye faded badly in August and September. By the end of June, Dye had amassed 18 home runs and 48 RBIs while hitting .329 in that month. The rest of the season was mostly a bust for the gritty veteran, who was a clubhouse leader in his five years with the White Sox. Dye hit a total of four home runs and drove in 18 RBI during his last 45 games in August and September. Hitting just .180 in those last two months made the White Sox' decision not to pick up Dye's 2010 option an easy one (the Sox paid a $1 million buyout).

Although Dye's days as a 150-game performer might be over, the Cubs like the intangibles the soon-to-be-36-year-old brings to the table. The Cubs look at him as a possible backup in left and right field, but also a guy who could easily make the transition to first base as a backup to Derrek Lee, who is entering the last year of his contract.

According to sources, Lee and Dye, who are friends, have already conversed about the pros and cons of Cubdom.

Dye has missed out on contracts with both the Texas Rangers and San Diego Padres in recent days, and his choices of teams and full time outfield situations appear to be dwindling.

Although the Cubs do not appear to have much money left to sign a player who made $11 million last season, don't rule out a creative contract that allows the Cubs to make this move and another addition of a bullpen pitcher.

The Cubs still have interest in bullpen pitchers in both San Diego and the Toronto Blue Jays. The Padres' Luke Gregerson, who had 93 strikeouts in 68 2/3 innings, interests the Cubs; as does Toronto middle reliever Jason Frasor, a Chicago-area product.

The Cubs will also send scouts to look at veteran pitcher Ben Sheets throw a side session tomorrow in Monroe, La.

The Cubs and Sheets would also be a nice matchup; however, Sheets and his agent were looking for upwards of $7 million when the two sides talked during baseball's winter meetings.
September, 27, 2009
9/27/09
3:43
PM CT
Two outstanding White Sox pros may have played their last home game at U.S. Cellular Field on Sunday.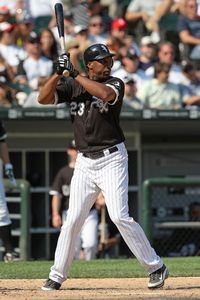 Jonathan Daniel/Getty Images
Jermaine Dye cherishes his time with the White Sox.
Outfielders Jermaine Dye and Scott Podsednik, both integral parts of the 2005 White Sox World Champions, seemed to sense their Sox careers may be over as the team played its last home game of the season
"I had a great time here and enjoyed it," Dye said. "We won a World Series, the fans were great, everything about Chicago is awesome. It's been a great time here."
Dye and White Sox general manager Ken Williams are close friends, however, that relationship will not stop Williams from moving Dye if he feels someone else should fill his roster spot.
"He knows what my mind set is," Dye said. "Hopefully something can get done. We'll talk after their organizational meetings take place."
I asked Dye if these last five years with the White Sox have been the best period for him.
"It has, all up and down, from [chairman Jerry] Reinsdorf to everybody in this organization," he said. "They have been great to me. I look forward hopefully finishing my career here, if not, I had a great time."
Dye is one of the most well-respected players in the game and certainly has some productive years left, although maybe not as a 162-game player.
White Sox manager Ozzie Guillen was almost in tears talking about the possibility of facing the future without the rock-solid Dye in his clubhouse.
"I've head a lot of good baseball players," Guillen said. "JD is on top of that list of guys I ever managed.
"I never managed a better guy that goes about his business the way Dye does. I don't know if it's the end of the line, but he's a No. 1 or No. 2 in my book of players that I ever managed. He gives everything he has every day on that field. I hope he comes back, if not, he knows he always has a friend in baseball."
Podsednik has once again established himself as a legitimate leadoff man. The question is whether he fits with the the Sox next season. Sox officials haven't made up their mind on Podsednik, thinking they may go after a leadoff hitter like Chone Figgins, who will be a highly sought-after free agent by upwards of a dozen teams.
"I've developed a good working relationship with the coaching staff," Podsednik said. "The strength and conditioning people and I have all worked well together. It just all comes down to a comfort zone, and I've had that here with the White Sox."
The White Sox will certainly entertain giving Podsednik another year with an option if they can't solve the question of finding a leadoff man through trade or free agency.
May, 15, 2009
5/15/09
12:23
PM CT
Major League Baseball is expected to announce its penalty for Jermaine Dye's altercation with umpire Mike DiMuro Wednesday in Cleveland.
DiMuro called Dye out on strikes with the bases loaded in the sixth inning. Dye flipped his bat, argued with DiMuro and slammed is helmet on the ground en route to being ejected from the game. But the situation was complicated when the helmet bounced off the ground and hit DiMuro. Baseball will rule whether Dye's actions warrant a fine, suspension or both.