Chicago White Sox:

Jim Leyland
September, 9, 2013
9/09/13
7:49
PM CT

By Doug Padilla
ESPNChicago.com
Archive
CHICAGO --
Chicago White Sox
starting pitcher
Chris Sale
probably wasn't shedding any tears after
Detroit Tigers
slugger
Miguel Cabrera
was ejected in the first inning Monday.
Sale threw a pitch that appeared to hit Cabrera on the back foot, but home plate umpire Brian Gorman didn't award him a base. After fouling off the next pitch, Cabrera appeared to say something that was met with a quick ejection from Gorman.
Tigers manager Jim Leyland came out to argue, and he was also ejected. It was the second time this season and fifth time in his career that Cabrera was tossed from a game. For Leyland, it was his fourth ejection this season and 72nd of his career.
Cabrera has a .222 batting average against Sale in 18 at-bats, but he still has been productive, with a .417 on-base percentage thanks to six walks and a .556 slugging percentage. Sale has been solid against the Tigers this season with a 2-1 record and a 2.66 ERA in three starts.
July, 11, 2013
7/11/13
5:02
PM CT
By Chuck Pleiness
Special to ESPNChicago.com
Archive
DETROIT –
Detroit Tigers
manager Jim Leyland suggested he'd like
Chicago White Sox
's skipper Robin Ventura to coach third base at the All-Star Game.
Ventura is hesitant.
"I don't know if that's a good idea," Ventura laughed. "We'll see when we get there."
Ventura doesn't want to have a "Tommy Lasorda moment."
December, 5, 2012
12/05/12
3:59
PM CT

By Doug Padilla
ESPNChicago.com
Archive
NASHVILLE, Tenn. - The Detroit Tigers might be the defending American League champions, but they won't take anything for granted when it comes to things closer to home.

So two days after White Sox general manager Rick Hahn said that his club needs to first take aim on the Tigers if it aspires to bigger things, Detroit manager Jim Leyland returned the compliment to their American League Central rival.

The Tigers didn't shake the White Sox until the final week of September before going on to the World Series.

"It obviously was a great race," Leyland said. "I just had lunch with Robin Ventura. They had a very, very good team. I remember talking to (third-base coach) Gene Lamont. He said, 'We'll catch them, but I don't know if we'll beat them or if we'll pass them.' We caught them one time. They caught us again. And we finally caught them and passed them for good, but it was a heck of a race."

In Leyland's view, the difference in the division race ended up being the Kansas City Royals. The Tigers ended up 13-5 against the Royals, collecting their most victories against any one team. The White Sox, on the other hand, were 6-12 against the Royals.

"It's just freaky because at the major league level, it's not so much who you're playing, it's when you're playing them," Leyland said. "That's very important. You get a team that's really hot and you're not playing good, you get beat. It doesn't matter what place they're in. Kansas City's got a lot of really good young players and an up and coming team. We were fortunate last year with them."

Another difference? While Leyland is impressed by the young arms in the White Sox's bullpen, the inexperience proved costly.

"When you're talking about (Paul) Konerko, of course he got it done, and he hit the home runs like they expected," Leyland said. "(Alex) Rios really came on for them. And maybe we caught a break too. (John) Danks was out. But Paul Konerko is one of the better players in the game in my opinion.

"They're just a good team. Last year they used a pretty young bullpen, which caught up to them at times, but overall did a good job with some big arms down there. I just felt like this was a really good team, and it's been a really good team ever since I've been in the league."

Leyland wouldn't handicap the AL Central in 2013, but of course he is partial to the Tigers taking the crown again.

"I can't swear to that; it will be tough again," Leyland said. "Kansas City is really up and coming. Terry (Francona) is going over there to Cleveland now, and Robin's got a year under his belt. I thought he did an unbelievable job for a first-year manager. He kind of made it look easy, to be honest with you. I didn't like that too much. I told him he made it look a little too easy.

"It's not going to get the press of the (AL East), obviously, but when you're in that dugout every night competing against those guys, you're not thinking what division you're in or anything. It's tough to win games."

September, 17, 2012
9/17/12
12:37
PM CT

By Scott Powers
ESPNChicago.com
Archive
CHICAGO --
Chicago White Sox
manager Robin Ventura and
Detroit Tigers
manager Jim Leyland agreed Monday's game is important to their American League Central pennant race, but said there is also plenty of baseball to be played.
The White Sox entered the day with a two-game lead on the Tigers. Monday's game, originally scheduled for Thursday but postponed due to rain, will be their final meeting of the season.
"It's a two-game swing," Leyland said of Monday's game. "Is it winding down somewhat? Yes. If you look at the whole overall scenario, it seems like forever 'til the end of the season because of the simple fact that both teams have to win games."
September, 10, 2012
9/10/12
11:30
PM CT

By Bruce Levine
ESPNChicago.com
Archive
CHICAGO -- The
Chicago White Sox
not only won the first game of this critical four-game series against the
Detroit Tigers
, they put the 2011 division champions on notice.
The Tigers had won seven straight in the season series leading up to Monday night's 6-1 victory by the White Sox. Despite the Sox's two-game division lead, there was much to prove for Robin Ventura's ball club. The pressure has certainly shifted to the Tigers, who need to take two out of three in the rest of the series.
September, 10, 2012
9/10/12
7:20
PM CT

By Bruce Levine
ESPNChicago.com
Archive
CHICAGO -- Although the
Chicago White Sox
and
Detroit Tigers
are playing their most significant series of the season, the managers of the two clubs share a mutual admiration for each other.
Leyland, who has been managing since the 1970s, was asked to evaluate Ventura's first season as a manager.
[+] Enlarge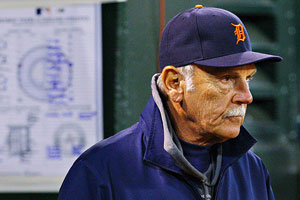 Kyle Terada/US PresswireRobin Ventura has a fan in Tigers manager Jim Leyland.
"I am jealous because so far he has made it look easy," said Leyland as reporters laughed at his tongue-in-cheek comment. "Robin is a former outstanding player, and he knows what it's all about. He knew he was going to have a calming influence after a personality like Ozzie (Guillen). (Ozzie) was great; they won a World Series, so don't take this wrong because I don't mean it wrong. Ozzie did a great job here. This was the complete opposite and the fact that (Adam) Dunn was over here for a year changing leagues. (Alex) Rios got comfortable all of a sudden. But (Ventura) has done a terrific job, and they have a very good team."
Timing is everything when it comes to managing a major league team. Leyland seems to have analyzed Ventura's perspective before taking over a team that had underachieved the prior two seasons under Guillen.
"He was smart enough to know that this place (Chicago ) just needed to get settled in," Leyland said. "Like they say in football, some guys have a nose for (the) football. Some guys have a nose for managing, and I think (Ventura ) does."
Ventura said prior to their last series with Detroit that Leyland was light years ahead of him as far as managing tactics go. But the players on the field are more times than not the great equalizer.
"I think he has done a terrific job," Leyland said. "He has kind of let them play. He is not pushy. I think he has figured it out pretty quick, and that helps when you have good players."
Asked how he matches baseball wits with Leyland, Ventura said: "He is going to kill me on everything. I am obviously behind. Hopefully I can (catch up)."
So far the head-to-head matchup is advantage Leyland. Detroit leads the season series 10-4 going into Monday's game.