Chicago White Sox:

Johnny Damon
April, 18, 2011
4/18/11
3:51
PM CT
June, 22, 2010
6/22/10
9:32
AM CT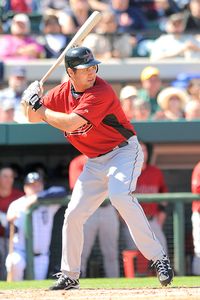 Mark Cunningham/Getty ImagesLance Berkman could be on the White Sox's radar again now that they look more like buyers.
CHICAGO -- The 2010 season restarts on Tuesday for the
Chicago White Sox
, who open a three-game series against the
Atlanta Braves
.
Winners of six straight, the White Sox stand at .500 with 94 games left and trail the division-leading
Minnesota Twins
by five games in the loss column.
White Sox general manager Kenny Williams, assistant GM Rick Hahn and their staff are looking at their team much differently now than they did two weeks ago when they trailed by as much as 9 1/2 games. The most likely scenario now is to add players rather than subtract.
If this recent trend of outstanding pitching continues through the Braves and
Chicago Cubs
series, the White Sox will be out there looking for some extra RBI pop in their lineup. Run production continues to be spotty for this team after
Paul Konerko
and
Alex Rios
. The rest of the lineup has been up and down all season, especially right fielder
Carlos Quentin
, who has shown some signs of returning to his 2008 form which was a monster offensive year for the former
Arizona Diamondbacks
No. 1 pick.
Teams that will soon be putting up their players for sale in the National League include the Diamondbacks,
Pittsburgh Pirates
,
Houston Astros
,
Milwaukee Brewers
and
Washington Nationals
. The Cubs are on the cusp of that list as well.
American League teams ready to dump players include the
Baltimore Orioles
,
Kansas City Royals
,
Cleveland Indians
,
Seattle Mariners
and
Oakland Athletics
. Productive left-handed RBI men like Washington's
Adam Dunn
and Houston's
Lance Berkman
are names that will be out there over the next 40 days before baseball's trading deadline on July 31. Baltimore outfielder
Luke Scott
, a big-time fly ball hitter, will be on the radar for teams like the White Sox who are desperate for left-handed run production.
A.J. Pierzynski
leads White Sox left-handed hitters with 18 RBIs.
The Williams-Ozzie Guillen disagreement began in the offseason when Guillen asked for more flexibility with the designated hitter role and Williams agreed against his own better judgment. Williams made one last shot toward getting more left-handed when he went down to the wire with free-agent outfielder
Johnny Damon
, falling a couple million dollars short in his bid for the former Yankee, who signed a one-year, $8 million deal with the
Detroit Tigers
.
July 1 still may be a magic date for the Sox when they finish a nine-game segment against the Braves, Cubs and Royals. That period of games will help Williams and his staff determine the true worth of their roster. The White Sox have 10 games left with Minnesota and Detroit and time to make the American League Central a three-team race.
February, 19, 2010
2/19/10
3:54
PM CT
The Chicago White Sox have pulled their offer to free-agent outfielder Johnny Damon off the table.


"It became clear to us in our recent negotiations that the money that we were offering was not going to be good enough for Johnny at this time," White Sox general manager Kenny Williams told ESPNChicago.com. "At this particular point, we feel it's necessary to withdraw our offer."


February, 11, 2010
2/11/10
4:22
PM CT

By BRUCE LEVINE
ESPNChicago.com
Archive
As reported here over the past month, the
Chicago White Sox
have interest in free-agent outfielder
Johnny Damon
if the price is right. The White Sox, along with the
Atlanta Braves
and
Detroit Tigers
have all had conversations about adding Damon.
Damon, who turned down a two-year deal with the Yankees months ago, has seen his market value plummet from his 2009 salary of $13 million to somewhere between $3-5 million and most likely a one-year deal in 2010.
Actually, the White Sox are in need of an RBI bat from the left side. Damon is still capable of 25 homer runs and 85 runs batted in. He also is the type of player White Sox manager Ozzie Guillen could plug in as an outfielder or designated hitter. Guillen has insisted on flexibility at the DH spot for 2010. White Sox management is in agreement with their manager on this subject.
The White Sox have lacked a left-handed RBI bat since trading
Jim Thome
to the
Los Angeles Dodgers
in August. Of all the White Sox left-handed hitters in 2009,
A.J. Pierzynski
had the most RBIs with 49 last season.
A source familiar with the situation told ESPN Chicago that the White Sox signing of Damon is still a long shot. There is an assumption out there that Damon's agent Scott Boras is leaking info of teams' interest to push along the Tigers, who have been perceived as the obvious team to land Damon.
January, 29, 2010
1/29/10
6:26
PM CT
A week after the Jim Thome drama concluded, the White Sox have decided to table their search for a left-handed-hitting RBI bat until it's determined if the rotating designated hitter that manager Ozzie Guillen envisions will be a functioning tool for the 2010 season.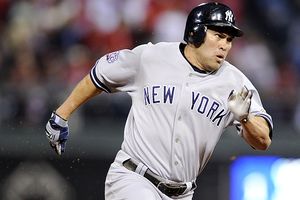 Howard Smith/US Presswire
Though the White Sox usually stay away from agent Scott Boras' clients, Johnny Damon could be an intriguing choice for the South Siders.
The White Sox looked at the viability of former New York Met and Toronto Blue Jay Carlos Delgado, who missed the majority of the 2009 season because of injuries. The White Sox had a scout watch Delgado during his stint playing winter ball in Puerto Rico. The consenus opinion is that Delgado did not have the legs and athleticism to play first base even in a part-time role.
That opinion moved the White Sox away from making a bid.
At this juncture, the White Sox are not interested in any of the other left-handed RBI bats on the market. That includes former Texas Ranger Hank Blalock and former Seattle Mariner Russell Branyan.
One intriguing player that they will keep an eye on is former New York Yankee Johnny Damon, although the Sox usually stay away from agent Scott Boras' clients.
Damon has had trouble finding a match in this particularly sluggish free-agent market. At age 36, the former speed and power outfielder appears to show some deteriotation in both areas. However, he hit 24 home runs while driving in 82 runs and batting .282 for the Yankees in 2009.
One aspect of his game that appears to have diminished is his ability to steal bases. Damon's 12 steals were the fewest he had since his rookie season with the Kansas City Royals in 1995. There's no doubt that Damon's ability to play the outfield makes him a more viable addition to the DH rotation than Guillen envisions.
The reality of Damon taking a huge cut in pay from making double-digit million dollars to a deal that would pay him $2-3 million might be a reach.
Meanwhile, the White Sox will continue to look at adding a middle reliever via trade. The San Diego Padres and Blue Jays are two teams that will engage in conversations about their bullpen pitchers. It is known that the Padres will converse about the availablity of Heath Bell and Luke Gregerson.
Toronto has had discussions with several teams about their relievers, including Jason Frasor and Scott Downs. Both teams are looking for young pitching in return for their middle men.
The White Sox could definitely use a left-handed situational bullpen pitcher to battle 34-year-old veteran Randy Williams for that position. Downs would certainly be an upgrade if a deal could be struck.