Chicago White Sox:

Jose Abreu
December, 4, 2013
Dec 4
4:51
PM CT
CHICAGO --
Paul Konerko
admitted Wednesday that he wouldn't have returned if he didn't have a reduced role in 2014, with the challenge now placed on the shoulders of manager Robin Ventura to make the lighter load work to the team's advantage.
[+] Enlarge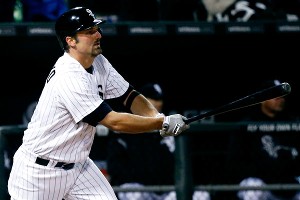 AP Photo/Charles Rex ArbogastPaul Konerko plans to seek advice on how to adapt to being a part-time player in his final season with the White Sox.
The White Sox announced Wednesday that Konerko will be back for his 16th and final season on the South Side in 2014, working out a deal where the team captain will earn $2.5 million, with $1 million of that deferred to 2021.
Konerko has always maintained that if he gets his regular 600-plus plate appearances his numbers will be there, yet he could be looking at half of that in the upcoming season. In the seasons where the numbers were not to Konerko's standards (2003, 2008 and 2013) he had 520 plate appearances or less each time.
Now comes the team's plan to essentially platoon Konerko and
Adam Dunn
at the designated hitter spot, with newcomer
Jose Abreu
taking over at first base. As a part-time player and pinch-hit threat Konerko could be facing 350 plate appearances or less.
In his final two seasons in a similar role, former White Sox slugger
Jim Thome
had 324 combined plate appearances in 2011 and 186 in 2012.
"From here on out, I'm on a quest to learn about the role a little bit, which I have some guys in mind that I'd like to talk to who have done this," Konerko said Wednesday. "I want to kind of learn. Every guy is different, everybody has a different routine."
November, 19, 2013
Nov 19
7:46
PM CT
CHICAGO -- The
Chicago White Sox
should know within three weeks whether
Paul Konerko
will accept their offer of a roster spot for the 2014 season.
General manager Rick Hahn said Tuesday the team expects to have the situation resolved before the winter meetings begin Dec. 9, insisting that the wait isn't hurting the team's ability to put together next year's roster.
"It's not really hamstringing us in terms of our planning," Hahn said. "We have a plan, obviously, if he's back, and we have a plan if he's not back. We haven't missed on any opportunities to fill that role if he doesn't fill it himself. I think it's good to have it resolved for his own preparation, and for the terms of getting ready for spring training to have it set by December. I think we'll be able to do that."
Both Hahn and chairman Jerry Reinsdorf have said they will welcome Konerko back with open arms if he wants to forgo retirement, but there have been no indications about what the team would be willing to pay its team captain, who made $13.5 million in 2013.
Hahn and manager Robin Ventura met with Konerko in Arizona before this month's GM meetings to personally extend the offer of a roster spot.
November, 12, 2013
Nov 12
12:27
PM CT
CHICAGO -- As Rick Hahn hunts around this week's general manager's meetings in Orlando searching for future trade bargains, he does so knowing that he has potentially improved a number of positions already.
Sure there was last year's three-team trade that brought aboard outfielder
Avisail Garcia
, and the offseason move to sign first baseman Jose Abreu. But two spots on the left side of the field also figure to see significant improvement.
With Abreu aboard having defected from Cuba, his presence also figures to provide an emotional boost to fellow Cuba natives
Alexei Ramirez
at shortstop and
Dayan Viciedo
in left field.
Critics of the Abreu signing at six years and $68 million, say that the White Sox overpaid for an unproven talent. But Abreu had greater value to the White Sox than he did to most teams because of the support group the team would be building in the clubhouse.
First and foremost will be Abreu's ability to make a smooth transition with Ramirez and Viciedo there to not only show their new teams the ins and outs of Major League Baseball, but also the city of Chicago.
October, 29, 2013
Oct 29
4:07
PM CT
CHICAGO --
Chicago White Sox
manager Robin Ventura pointed to the production of
Yoenis Cespedes
and
Yasiel Puig
as a sign that his new first baseman, Jose Abreu, can help turn around an offense that was among the worst in baseball this past season.
Speaking via conference call Tuesday not long after the White Sox made the Abreu signing official, Ventura said he believes the club's new addition from Cuba can follow the trail blazed by Cuban natives like Cespedes of the
Oakland Athletics
and Puig of the
Los Angeles Dodgers
.
"It's an adjustment for anybody but (Abreu) is playing against some pretty good talent (in Cuba),' Ventura said. "You go by the precedent that has been set by guys that have come over recently, Cespedes and Puig, that where he's playing and what you're seeing can translate into the major leagues.
"What and how much, that's up to him and how he produces. It's the opportunity for him. Instead of just thinking it's risky, it's risky to have any free agent, but you're going by his age and the future and what you're willing to go after. He's going to have an opportunity and hopefully he'll be fun to watch."
October, 29, 2013
Oct 29
2:17
PM CT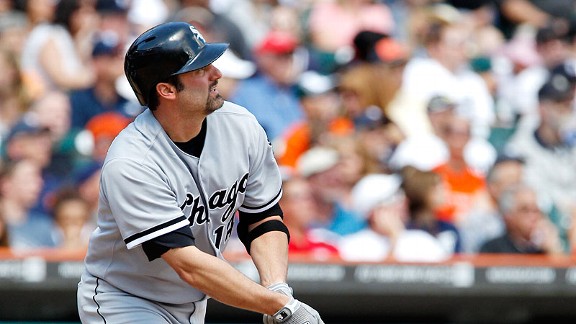 Duane Burleson/Getty ImagesThe addition of Jose Abreu doesn't mean the end for Paul Konerko with the Sox, GM Rick Hahn says.
CHICAGO -- The
Chicago White Sox
say they have not lost interest in bringing back the face of their franchise, but even if
Paul Konerko
does return next season, things don't figure to be the same.
The idea that Konerko, a free agent, would sign a new White Sox deal was put into question by the signing of Cuban first baseman Jose Abreu to a six-year, $68 million deal, which was made official Tuesday.

General manager Rick Hahn insisted the White Sox remain interested in talking to Konerko about a one-year deal. Konerko said before the season ended that if he does come back, it would be for only one more season, and then he would slip into retirement.
The biggest obstacle to bringing back Konerko wouldn't seem to be financial as much as it would seem to be too many versions of the same type of player. The White Sox already have two designated hitter/first base types under contract: Abreu and
Adam Dunn
. Konerko would give them a third.
Finding enough playing time for three players at two positions would seem to be an issue, but Hahn isn't concerning himself with that right now.
"I'm not going to make proclamations about playing time or the roster on Oct. 29," Hahn said. "We'll see how things unfold over the offseason, and come Opening Day we'll see who's here, who's not here, and how the [at-bats] need to be allocated."
Hahn said he is still on schedule to meet Konerko face-to-face next month. Since the White Sox aren't expected to turn down Konerko if he wants to play one last season, the decision on coming back would seem to be all his.
Whatever the White Sox would offer Konerko for one more season, it would figure to be well under the $13.5 million he made in 2013 ($7 million of which is being deferred in $1 million chunks for the next seven years).
Hahn said he told Konerko in September that the White Sox might try to sign Abreu, and then spoke to the veteran again this past week when a deal was reached with Abreu.
"I kept it very general," Hahn said about his most recent Konerko conversation. "I wanted him to have the information from me as opposed to from Twitter or a reporter calling. We confirmed that we'd get together next month."
October, 17, 2013
Oct 17
9:01
PM CT
CHICAGO -- The
Chicago White Sox
continued to close in on adding free-agent first baseman Jose Abreu to their roster.
Ken Rosenthal of FOX Sports was the latest to suggest the White Sox were indeed the front-runner for the 26-year-old Abreu's services. Via Twitter, Rosenthal reported that Abreu was close to signing a six-year, $68 million deal and that the deal is "expected" to be with the White Sox.
Earlier reports by ESPN's Buster Olney and MLB.com's Jesse Sanchez mentioned the White Sox among the finalists for Abreu's services. Olney then reported that the
Boston Red Sox
and
Houston Astros
were likely out of the running, leaving the White Sox as the favorite in the pursuit of the Cuban slugger.
But a separate MLB.com report, as well as a report from cbssports.com, suggested that the
Texas Rangers
remained interested and were in a duel with the White Sox to land Abreu's services.
Abreu's offensive production in Cuba is said to be greater than what
Yoenis Cespedes
and
Yasiel Puig
were able to deliver in their native country. In the World Baseball Classic this past spring, Abreu batted .360 (9-for-25) against international competition with three home runs and nine RBIs.
If Abreu is signed by the White Sox, it could mean the end of
Paul Konerko
's tenure on the South Side. Konerko is a free agent but is still deciding if he wants to retire or return to baseball next season. Before the season ended, general manager Rick Hahn said he expected to sit down with Konerko face to face to talk about the future.
By adding the right-handed hitting Abreu, the White Sox would be in position to improve their offensive numbers against left-handed pitching. The White Sox were last in all of baseball in runs scored against left-handers with 138, 27th in OPS at .671 and 25th in home runs with 32.