Chicago White Sox:

Jose Contreras
As the new year approaches, the Chicago White Sox seem to have only one more important move to make while their crosstown rivals are in the planning stages of what needs to be done to bring them back to elite status.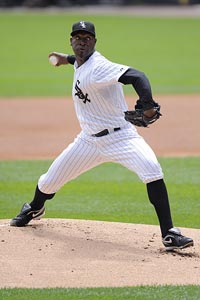 Ron Vesely/Getty Images)
Jose Contreras could give the Cubs insurance in case Ted Lilly's return from shoulder surgery is delayed.
Cubs general manager Jim Hendry is targeting one of two free-agent center fielders as his No. 1 priority. Outfielders Marlon Byrd and Scott Podsednik are 1-2 on his list.
Byrd brings some right-handed pop and solid defense to the party while Podsednik's game is about batting average and filling the Cubs' large hole at the leadoff spot.
After filling that role, Hendry -- whether via trade or free agency -- wants to add a veteran bullpen pitcher. Former White Sox right-hander Jose Contreras has been a part of Cubs talks with agent Jaime Torres.
Contreras would bring a certain amount of protection for the team, considering the unknown status and availability of rehabbing left-hander Ted Lilly, who underwent shoulder surgery in November. He may not be at full strength until mid or late April. And that's where Contreras comes in.
After the Sox shipped Contreras to Colorado in late August, he had solid numbers -- 1.59 ERA in 17 innings pitched -- in helping the Rockies reach the playoffs. Listed at age 39, his real age is could be anywhere from 40-45, nonetheless the Cubs are looking at him as protection for Lilly, and also to push the No. 4 and No. 5 spots in the iffy bottom of the rotation
Former Florida Marlins setup man Kiko Calero also is a possible as a free-agent signing.
On the trade front, major league sources tell ESPNChicago.com the Cubs and Rockies have had conversations about a trade that could send outfielder Ryan Spilborghs to the Cubs. He's a solid defensive outfielder who can play all three outfield positions and would come in as the Cubs' fourth outfielder, the role previously held by Reed Johnson.
The Sox's only hole going into 2010 is a right-handed RBI bat. Although sox officials have talked about using DH as a rotation spot for veterans, left-handed RBI men like Aubrey Huff, Hank Blalock, Carlos Delgado and former Sox DH remain on the market.
September, 1, 2009
9/01/09
1:03
AM CT
It seemed inevitable at the trading deadline for adding a player through waivers on a postseason roster that the disappointing Chicago White Sox would make a trade or two. The 11 p.m. deadline had a lot of teams scrambling to make moves.
The Los Angeles Dodgers picked up designated hitter Jim Thome from the White Sox and the Colorado Rockies traded for right-handed pitcher Jose Contreras. Both Thome and Contreras have $1.6 million left on their contracts for this season, so it's possible that the White Sox may have saved upward of $1 million if the Dodgers and Rockies each took on between $500,000 and $600,000 for the respective players.
The White Sox received Single-A infielder Justin Fuller from the Dodgers for Thome and Triple-A right-handed pitcher Brandon Hynick from the Rockies for Contreras. Hynick was 10-9 for Colorado Springs this season. He was named the Rockies' minor league player of the year in 2007. Thome had a complete no-trade clause in his contract that he had to waive in order for the Sox to complete the trade.
August, 24, 2009
8/24/09
10:35
PM CT
On Monday night, two events occurred at almost the same time for the Chicago White Sox, one certainly more positive than the other.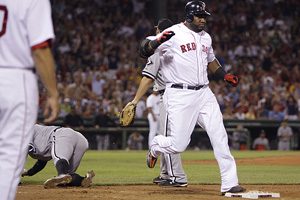 AP Photo/Charles Krupa
This error by Jose Contreras (obscured) kicked off a six-run inning for the Red Sox.
The good news occurred in Lawrenceville, Ga., where
Jake Peavy
made his
third rehab start
for the Triple-A Charlotte Knights. Peavy threw five innings against the Gwinnett Braves, allowing just four hits and striking out three without giving up a run. Even more important is that the White Sox right-hander got his pitch count up to 80.
One more solid outing in the 90-100 pitch range could mean Peavy will be ready to return to the White Sox for the Sept. 4 game against the Boston Red Sox at U.S. Cellular Field. Peavy was pleased with his outing.
"I'm close to being where I want to be," Peavy told reporters in Lawrenceville after the game. "I felt stronger out there tonight. I'm almost where I need to be."
The bad news occurred in Boston, where Jose Contreras imploded at Fenway Park. Walks, hit batters wild pitches, and one of the worst fielding plays you'll ever see put Contreras and his teammates on the wrong side of a 7-4 score in the third inning. Contreras exited after Mike Lowell's three-run homer completed the six-run Red Sox rally.
Although Peavy won't be ready for the White Sox in his next start, the team most assuredly will need a new pitcher in five days after Contreras' dreadful outing. Manager Ozzie Guillen and pitching coach Don Cooper might have to juggle the rotation a little bit to skip Contreras, who probably has lost his rotation spot for now.
One wild card general manager Ken Williams might have up his sleeve is 22-year-old right-hander Dan Hudson. The youngster has had a meteoric ascension to Triple-A, starting the season in Class A as an unknown. The White Sox could elect to bring the raw rookie to the majors if right-hander Freddy Garcia doesn't get the job done Tuesday night in Boston.
Peavy will be joining the big league club Tuesday to look over any issues that might linger from his taking a line drive off the arm in his start.
"I'll be with the team in Boston, and I'll get together with Coop, Ozzie and [trainer] Herm [Schneider]," Peavy said. "I got hit on the elbow during my start. I don't think it's too bad, but it's a little sore."
August, 19, 2009
8/19/09
6:45
PM CT
White Sox right-hander Jose Contreras secured his spot in the rotation by throwing seven strong innings in his first win since July 8 on Wednesday.

The White Sox were on the verge of removing Contreras from his starting role after numerous dismal performances.

What went right for Contreras on Wednesday?

"He had great command of his fastball and splitter," catcher A.J. Pierzynski said after the game. "He got ahead of hitters and didn't have a lot of deep counts."

Kansas City has been Contreras' personal patsy. The 37-year-old right-hander is now 10-4 lifetime against Kansas City with a 3.38 ERA.
May, 11, 2009
5/11/09
2:04
PM CT
After clearing waivers, the White Sox sent veteran right-handed pitcher Jose Contreras to the minor leagues to work out his difficulty with his command.
According to sources close to the situation, Contreras was the one who suggested that he goes to the minors instead of being relegated to the bullpen.
In the meantime, the Sox have called up left-handed pitcher Jimmy Gobble from Class AAA Charlotte to plug into the bullpen. Left-handed pitcher Clayton Richard will start Tuesday night's game in Cleveland and become the temporary replacement for Contreras.
Contreras had to clear waivers, which meant all 29 teams had 48 hours to claim him and his $8 million-plus contract that remains from the original $11 million deal.
Contreras will work on his split-fingered pitch, which he has not been able to command, in particular against left-handed hitters this season.
May, 10, 2009
5/10/09
1:30
PM CT
Pitching coach Don Cooper said on the White Sox pregame show that the team is prepared to send right-hander Jose Contreras to the minor leagues. Contreras (0-5, 8.19 ERA) has struggled with his command, in particular with his forkball.


Any player with six or more years in the Major leagues has the right to refuse an assignment, and therefore could declare free agency. According to White Sox sources, Contreras wants to go to the minors to work on his command, and so will accept the assignment and sign a personal waiver.


Contreras must also clear waivers, which means that all other 29 teams have an opportunity to pick up Contreras and his $11 million contract. That's the reason why no team in baseball is likely to pick him up at this point, because they would have to assume the responsibility of the rest of the contract.


Once the White Sox put con on waivers, it takes 48 hours for him to clear before they can send him on assignment.
May, 9, 2009
5/09/09
7:10
PM CT
Before Saturday's game in a closed door meeting, that included: general manager Kenny Williams, manager Ozzie Guillen; assistant general manager Rick Hahnl; pitching coach Don Cooper and Jose Contreras, the future of the White Sox's failed starting pitcher was discussed.
A likely scenario is that that team may put Contreras on the disabled list while he continues to build strength in his pitching arm under the tutelage of the White Sox coaching staff. A second scenario would have Contreras take a minor league assignment in hopes of improving his overall command of his pitches under less stressful situations than big-league competition.
Contreras has had trouble locating his pitches, especially against left-handed hitters. The veteran Cuban pitcher has not been able to command his split finger pitch, which is a key to his success. In the meeting that followed the Contreras meeting, White Sox management was trying to decide who will replace Contreras in the rotation. Left-hander Clayton Richard could get the assignment on Wednesday when Contreras' spot opens up.