Chicago White Sox:

Juan Uribe
December, 9, 2013
12/09/13
6:43
PM CT
LAKE BUENA VISTA, Fla. -- The most intriguing
Chicago White Sox
rumor Monday involved the potential return of
Juan Uribe
, who could help with production at third base if he came back.
Yet, by all indications the team's remodeling project doesn't seem like a good fit for a 34-year-old infielder, who made $8 million in each of the past two seasons with the
Los Angeles Dodgers
. The Dodgers are said to be
running out of patience
as they wait to see if Uribe is willing to re-sign.
If Uribe was willing to take a fraction of what he made last season to come back to the South Side, the White Sox might be interested. But the Dodgers figure to be in position to match a bargain-basement deal, while also offering a better chance to contend in 2014.
The White Sox already have too many slow-footed, strikeout types who rely on power and are at a juncture when they prefer to get younger rather than older, Konerko notwithstanding. Uribe's signing would buck that trend.
For a second consecutive season, Konerko will be the only White Sox player who was on the roster when the White Sox won the World Series in 2005, unless Uribe was added.
Uribe would fit on the White Sox as a mentor to young Spanish-speaking players such as Avisail Garcia and Jose Abreu, much like he was with Yasiel Puig on the Dodgers this past season.
May, 20, 2011
5/20/11
7:55
PM CT
CHICAGO -- Skeptical there was a video tribute planned,
Jon Garland
was at the top step of the Dodgers dugout after the National Anthem on Friday to see if it was true.
Sure enough, the White Sox put together about a one-minute video package that showed highlights of the
Chicago White Sox
careers of both Garland and
Juan Uribe
, who are in town for this weekend's three-game interleague series.
[+] Enlarge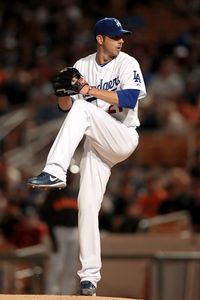 Christian Petersen/Getty ImagesJon Garland will pitch against his former White Sox teammates on Saturday.
The video highlighted the 2005 World Series in particular, reading "Thank you for 2005," at the conclusion.
"I heard [about] that last night and I didn't believe [it]," Garland said before Friday's series opener. "Somebody sent me a text and I thought they were kidding me. Then I ended up reading about it somewhere. I always say, you're either well-liked or you did something special or were a part of something special. I like to think I was all of that."
Both former White Sox players said their hellos before the game, with Uribe even spending a little time in the White Sox dugout.
Uribe was in Friday's starting lineup, batting fifth and playing second base. Garland will get his chance to face the White Sox on Saturday when he is matched against good friend
Mark Buehrle
. Neither pitcher thought the matchup would be that big of a deal.
"If it was at Dodger Stadium where I had to [hit against] him or see him on the mound it would be different but I don't really have anything to do with the opposing pitcher," Buehrle said. "It will be weird. This is a guy that you've rooted for for seven years when he was here. Now that he's on the mound [with somebody else] it's kind of different rooting against him now. But you know I'm going to go out there to win the game and he's going to do the same thing."
Garland agreed that it would only be awkward if he was throwing pitches to Buehrle.
"To me, I'm going to get caught up watching him pitch," Garland said. "I enjoyed doing it so much when I was here. Hopefully it doesn't take me out of what I have to do."
Once inseparable when they played together, Buehrle said the pair hasn't been as close since they now live in different parts of the country.
"Obviously I have a family now, he doesn't, we're on different teams, he's on the West Coast," Buehrle said. "We'll text back and forth but sometimes it will be a couple of days before we get back to each other because he's on the West Coast playing and I'm home in bed.
"I think anybody you play with, when you're around them every day, obviously you're closer when you're with them. But when you get on different teams it's just kind of natural with the scheduling that you're not as close."
To recognize the moment of their Saturday duel, Buehrle said he thought about leaving something on the mound between innings for Garland to find. But with all the television cameras around he didn't want anybody spying on the moment.
"I don't know what to do to not get in trouble," Buehrle said. "Maybe I'll send him a couple of text messages during the game instead of doing something on the mound."
May, 19, 2011
5/19/11
8:03
PM CT
CHICAGO – The start of interleague play Friday will bring old friends into town.

The Los Angeles Dodgers will open a three-game series at U.S. Cellular Field, which means Jon Garland and Juan Uribe will be facing their old team.

Both were key contributors to the team's 2005 World Series title and neither has played at U.S. Cellular Field since leaving the White Sox.

Not to ruin the surprise, but the White Sox plan on having a tribute on the video board for the pair just before the game.

"I think Garland did a tremendous job for us since I was managing here," manager Ozzie Guillen said. "He gave us a very nice gift. He was a big part of that. I'm looking forward to seeing Uribe.

"I think those two guys mean a lot for this city, mean a lot for this ballclub, myself, my coaching staff, for the fans. No matter what they do [for them], it's not big enough. I'm glad Juan Uribe is making another $21 million. I love it. He's going to buy the Dominican Republic in three years."

October, 28, 2010
10/28/10
1:49
PM CT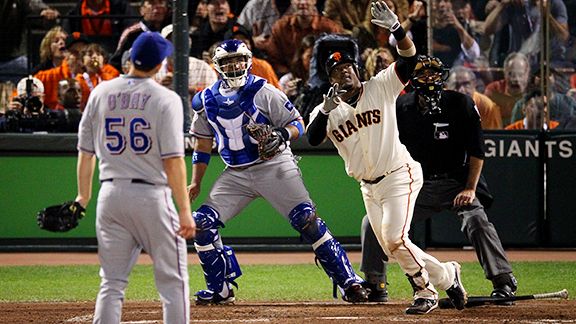 Elsa/Getty ImagesJuan Uribe hit a three-run home run off the Rangers' Darren O'Day in Game 1 of the World Series.
What do
Juan Uribe
and Joe Montana have in common?
Other than both being at San Francisco's AT&T Park on Wednesday night, not a whole lot. But in a week or so that could change dramatically.
If Uribe keeps up his production like this, he could be known as the face of the Giants' first World Series title in San Francisco. That's what Montana is as the player most influential in bringing San Francisco its first Super Bowl title when the 49ers won the first of their five championships to culminate the 1981 season.
This is going to take an open mind, but here it goes:
Uribe's home run in the deciding game of the NLCS could be considered the Giants' version of "The Catch," when Montana hit Dwight Clark in the back of the end zone to put the 49ers in the Super Bowl. Not as dramatic, granted, but no less important.
After getting the start at third base over
Pablo Sandoval
on Game 1 of the World Series, Uribe delivered again with a three-run home run in a six-run fifth inning to bust open the game against the
Texas Rangers
.
So while
Buster Posey
and
Cody Ross
have done their part to carry the Giants, the former White Sox shortstop is watching his own legend grow in the Bay Area. Will it grow as big as Montana's? Not a chance. (Uribe would need four World Series titles, two MVPs and it still might not be enough.) But he might not have to ever buy a steak in town again if he can keep it up.
As for those comparisons going around that these Giants have something in common with the 2005 World Series champion White Sox, Uribe was careful with that link.
"It's hard to compare teams, and I'm never going to say anything bad or anything that will be interpreted as bad against Chicago, because they treated me really well," Uribe told reporters, including one from mlb.com. "They gave me love in Chicago. They gave me confidence. That organization will always be special to me. It's the same situation here in San Francisco."
October, 25, 2010
10/25/10
1:14
PM CT
As quick as you can: What was
Juan Uribe
's age when he made one of the most memorable defensive plays in White Sox history, while falling into the stands during the ninth inning of the 2005 World Series in Houston? (answer later)
[+] Enlarge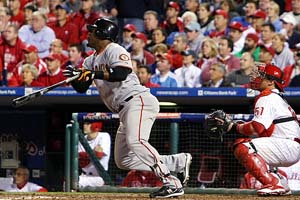 Al Bello/Getty ImagesJuan Uribe's homer got the underdog Giants into the World Series.
Uribe will get another chance at baseball glory as a member of the
San Francisco Giants
when the World Series starts Wednesday in the Bay Area. The odds of him making a signature play, like he did in 2005 would appear to be slim. But never count out Uribe. His home run in the deciding game of the NLCS gave the Giants their winning run. And after going into the stands to catch for the second out in the deciding game of the '05 Series, he followed that by scooping up a bouncer behind the mound and throwing to
Paul Konerko
just in time to give the White Sox the title.
There are some similiarities to what the White Sox did and what the Giants are trying to do, and it doesn't necessarily have anything to do with the fact that Uribe is an infielder on this World Series club and
Aaron Rowand
is an outfielder.
When the White Sox won the World Series they had been on an 88-year wait. The Giants haven't been waiting around quite as long, last winning it all 54 years ago (third-longest to the Cubs and Indians). But they were in New York then so for San Francisco fans a baseball title is truly rarified air.
A second title for Uribe could feel a lot like the first. He could end up in bronze again, just as he is in the 2005 World Series sculpture at the main entrance to U.S. Cellular Field. It could all end with an overflow crowd in the streets where fans are as much celebrating as they are being a witness to history.
These days, though, Uribe is delivering even more than he did with the White Sox's championship team. His .248 regular-season batting average in 2010 wasn't good as his .252 mark with the White Sox that year, but he had a .310 on-base percentage this past season, better than his .301 mark in 2010. Uribe drove in 85 runs this year as opposed to 71 with the White Sox. On defense in 2010 he made just nine errors, while playing three different positions (shortstop, second base and third), while making 16 in '05 while playing shortstop every day.
It's a clear sign of how mature of a player Uribe has become. So just how mature is he? Incredibly, Uribe had turned 26 when the 2005 season began. He certainly looked to have an older body back then and definitely looked older. But that's what the paperwork says, and it's hard to say any different with his production this year.
The White Sox might not be there, but Uribe will be running around and there should be some Rowand to watch. And manager Ozzie Guillen is set to provide pregame and postgame commentary. So pull up a chair. There is something for White Sox fans to watch after all.
October, 24, 2010
10/24/10
10:06
PM CT
Looks like Ozzie Guillen will be back with Fox to provide some insight on the World Series, which begins Wednesday.
According to the Chicago Tribune and Sun-Times, Guillen will return for his second consecutive year as an on-air talent to help break down the teams vying for the title, in this case the Texas Rangers and the San Francisco Giants.
When the regular season ended, Guillen said he would be interested in hitting the Fox airwaves again but had not heard if he was wanted back. Fresh off a vacation to Europe, it looks like Guillen will indeed get that chance.
It gives the 2010 World Series even more of a White Sox flavor. Not only will Guillen be around, but former White Sox standouts Juan Uribe and Aaron Rowand play for the Giants. Both Rowand and Uribe were significant contributors when the White Sox won the 2005 title, when Guillen was in his second season managing the club.