Chicago White Sox:

Keenyn Walker
March, 12, 2014
Mar 12
11:49
AM CT
The
Chicago White Sox
made eight roster moves in advance of Tuesday's Cactus League game against the
San Francisco Giants
, leaving 47 players remaining in major league camp.
Left-handed pitcher
Charlie Leesman
, who pitched in eight games with the White Sox last season (one start), was optioned to Triple-A Charlotte. Outfielders
Jared Mitchell
and
Trayce Thompson
were optioned to Double-A Birmingham.
Five players were reassigned to minor-league camp: Catcher
Miguel Gonzalez
, right-handers
Deunte Heath
and Omar Poveda, left-hander Scott Snodgress and outfielder Keenyn Walker. Those players will have their minor-league teams decided at a later time.
Of the 47 remaining players in big league camp, 23 are pitches, four are catchers, 14 are infielders and six are outfielders.
August, 24, 2013
8/24/13
8:25
PM CT
CHICAGO -- The first pitch Saturday kicked off Major League Baseball's annual Civil Rights Game, but the event was more about the events that occurred leading up to the contest between the
Chicago White Sox
and
Texas Rangers
.
Bo Jackson and Aretha Franklin were given the MLB Beacon of Change Award before the game. Jackson was on hand to receive his, while former major leaguer Willie Horton accepted for Franklin.
There was a roundtable discussion Friday on baseball and civil rights, followed by Saturday's Beacon Awards luncheon to honor those who "embody the spirit of the civil rights movement."
Sharing in the honorary first-pitch duties Saturday were former Negro Leagues pitcher Ernie Westfield, former Negro Leagues player and White Sox legend Minnie Minoso, Sharon Robinson, who is the daughter of Jackie Robinson, and Larry Doby Jr., son of Hall of Famer Larry Doby. White Sox assistant hitting coach Harold Baines caught the first pitch.
"A lot of this is paying tribute to the guys who came before us," said Baines, one of two African-Americans on the White Sox coaching staff, along with Daryl Boston. "They should never be forgotten."
According to a White Sox release, "The Civil Rights Game will pay tribute to all those who fought on and off the field for equal rights for all Americans. The game, along with the ancillary events, allows MLB to pay tribute to all of those who have fought and continue to fight injustice."
August, 15, 2013
8/15/13
5:30
PM CT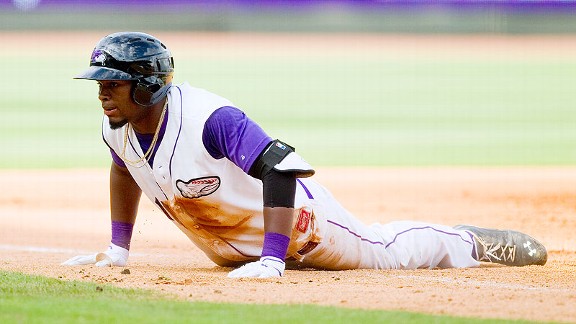 Brian Westerholt/Four Seam Images via AP ImagesCourtney Hawkins, the White Sox's first-round pick in 2012, is batting .191 with a .259 on-base percentage for Single-A Winston Salem.
CHICAGO -- The outfield was supposed to be an area of strength in the
Chicago White Sox
farm system, yet it ended up being the area the club addressed with improvements this year.
This spring, the White Sox were the envy of every club void of rising young outfield stars, boasting prospects like Jared Mitchell, Keenyn Walker, Trayce Thompson and Baseball America's No. 1 overall prospect in the organization, Courtney Hawkins.
The issues started with Mitchell and that was an alarming sign since he was supposed to lead the train of young outfielders into U.S. Cellular Field over successive seasons.
Struggles at Triple-A Charlotte, combined with an oblique injury, earned Mitchell a ticket back to Double-A Birmingham, where he has failed to get on track. In 74 games on two levels, Mitchell has batted just .172 with a .302 on-base percentage and a .268 slugging percentage. He has also struck out 100 times compared to 43 hits.
March, 11, 2013
3/11/13
7:30
PM CT
The
Chicago White Sox
made 10 spring-training roster moves Monday, reducing the number of players in major league camp to 45.
Outfielders Keenyn Walker and Trayce Thompson were among those reassigned to minor-league camp. Also reassigned were outfielder Stefan Gartrell, right-hander Erik Johnson, infielder Seth Loman, infielder Marcus Semien and left-hander Scott Snodgress.
Right-hander
Simon Castro
and left-hander
Santos Rodriguez
were optioned to Triple-A Charlotte, while right-hander
Nestor Molina
was optioned to Double-A Birmingham.
Walker, the 47th overall pick in the 2011, managed to help his cause with a triple and double among his five Cactus League hits, while showing some of the speed that helped him to 56 steals at two separate minor league stops last season. He did strike out eight times in 20 at-bats, though.
Thompson struggled in his short time with the big club. The second-round pick in 2009 went hitless over 14 at-bats, but did manage to walk four times and score a pair of runs. Thompson, who turns 22 on Friday, has played just 20 games over the Single-A level, though, and remains highly regarded in the system.
Semien helped raise his stock with five hits over 11 at-bats in the Cactus League, including a home run and four RBIs. The sixth-round pick out of Cal has yet to play above the Single-A level.
All players involved in Monday's moves remain eligible to play for the White Sox in Cactus League games if needed.
February, 22, 2013
2/22/13
2:26
PM CT
GLENDALE, Ariz. -- If there is something the
Chicago White Sox
don't have a shortage of it is up-and-coming outfielders looking to get noticed.
Turns out there will be plenty of chances for those young players to show what they are capable of doing.
November, 27, 2012
11/27/12
3:27
PM CT
CHICAGO -- One of the Chicago White Sox's new major league coaches had a message for all the high-level outfield prospects in the system: It's your turn to get here now.
The White Sox not only named Daryl Boston the team's new first-base coach, he will also coach the outfielders. Those duties were previously held by
Harold Baines
, who will now serve as the assistant hitting coach to Jeff Manto.
July, 5, 2011
7/05/11
6:35
PM CT
CHICAGO -- The
Chicago White Sox
announced Tuesday they reached an agreement with their first overall pick in last month's draft, junior college outfielder Keenyn Walker.
Read the entire story
.
June, 7, 2011
6/07/11
3:51
PM CT
CHICAGO -- Setting a goal of being in the major leagues in three years, Keenyn Walker, the
Chicago White Sox
's first overall pick in the 2011 First Year Player Draft, has every intention of getting his professional career started this summer.
The 20-year-old speedy outfielder, who hails from Salt Lake City and played at Central Arizona Junior College the past two seasons, was the 47th overall pick Monday night. He has committed to the University of Utah, but said Tuesday, "I definitely want to sign and start my pro career."
The White Sox lost their first-round pick after signing free agent
Adam Dunn
this past offseason, but got the 47th pick as compensation for
J.J. Putz
signing with the
Arizona Diamondbacks
.
After limited playing time at Central Arizona last season negated his productivity, Walker had a breakout sophomore season with a .402 batting average, 76 runs scored and 65 steals, while only being caught three times. One downside is his propensity to strike out.
"That has been a problem this year and I don't know why," Walker said. "I need to work on that and put the ball in play and use my speed. And really just use my work ethic and do all that I can to get to the top."
Walker was a 16th-round pick by the Cubs in 2009 and a 38th round pick by the Phillies last year, and said he came close to signing both times.
He said negotiations with the Cubs broke of when the money was slightly less than he was looking for. The money was right with the Phillies, but he had already enrolled at Central Arizona and had bought books so he elected to continue his education. His decision to stay shot him up the draft board.
Always able to use his speed, Walker's running game reached a new level this past season.
"I think my speed can definitely translate [to the major leagues]," Walker said. "When I was younger I used to just rely on my speed and this year I took into account getting reads on pitchers and using my ability and my smarts to steal bases. Once I got that down I got in a groove and kept stealing."
In the second round, the White Sox selected hard-throwing Cal right-hander Erik Johnson, and then took three more pitchers after that. Johnson County Community College (Kansas) right-hander Jeff Soptic went 110th, Kent State right-hander Kyle McMillen went 141st and Stanford left-hander Scott Snodgress went 171st.
The White Sox also selected Johnson's Cal teammate Marcus Semien, a shortstop, with the 201st overall pick, followed by Pitt catcher Kevan Smith (231st overall) and Angelina College (Texas) right-hander Ian Gardeck (261st).
June, 6, 2011
6/06/11
11:02
PM CT
CHICAGO -- The
Chicago White Sox
used their first pick in Monday's First Year Player Draft to select junior college outfielder Keenyn Walker.
The native of Salt Lake City batted .402 with 76 runs scored and 65 steals in 63 games at Central Arizona Junior College this season. The 20-year-old sophomore was thrown out trying to steal just three times for a 95.6 percent success rate.
A two-sport athlete in high school, Walker was also an acclaimed defensive back. He was drafted in the 38th round by the
Philadelphia Phillies
last year and in the 16th round by the
Chicago Cubs
in 2009.
"Keenyn is a kid that we've scouted extensively," White Sox director of amateur scouting Doug Laumann said. "He plays in a competitive junior college program in Arizona. He's been very successful. He is a high ceiling athlete. Unlike some high ceiling athletes, this kid really has a feel for playing the game."
Laumann projected Walker to be two and a half years away from making it to the major leagues if he progresses at an ideal pace. He compared the 6-foot-3, 190-pound Walker to
Devon White
and
Carlos Beltran
.
In what is considered to be a draft deep in talent, especially pitching, the White Sox went away from adding an arm with their first pick.
"I think I'm pleased with the way it played out," Laumann said. "There was a lot of pitching that went. And we played a little bit from the strength of the draft thinking that there is more pitching to be had and there aren't as many athletes to get somewhere down the road."
The White Sox lost their first-round pick after signing free agent
Adam Dunn
. The 47th pick was compensation after the
Arizona Diamondbacks
signed free agent
J.J. Putz
.