Chicago White Sox:

Ken Harrelson
December, 11, 2013
12/11/13
9:42
AM CT

By Doug Padilla
ESPNChicago.com
Archive
LAKE BUENA VISTA, Fla. --
Chicago White Sox
broadcaster Ken "Hawk" Harrelson will have to wait another day for enshrinement to the Baseball Hall of Fame.
Harrelson was a finalist for the Ford C. Frick Award that recognizes broadcasting excellence, the second time he was so honored. The award, and the Hall of Fame enshrinement that goes with it, went to the
Texas Rangers
' Eric Nadel.
The 1968 American League player of the year, Harrelson just completed his 29th season in the White Sox's television booth. It was his fifth season with broadcast partner Steve Stone.
The first time Harrelson was nominated for the Ford C. Frick Award was in 2007, with the honor eventually going to the
Kansas City Royals
' Denny Matthews. The 72-year-old is a five-time Emmy Award winner and has been named Illinois Sportscaster of the Year twice.
May, 31, 2013
5/31/13
7:49
PM CT
By Eric Gilmore
Special to ESPNChicago.com
Archive
OAKLAND, Calif. --
Chicago White Sox
broadcaster Ken "Hawk" Harrelson will be back in the booth Friday night after missing back-to-back games because of a sore throat.
"I did a lot of interviews," Harrelson said before the White Sox faced the
Oakland Athletics
. "It's like playing basketball. You get a sore ankle, and it hurts. It's not anything, but it just hurts. Better rest it."
Harrelson's voice held up fine while he talked about his time as a player for the Kansas City A's and the late Charlie Finley. Finley released Harrelson on Aug. 25, 1967, after Harrelson publicly criticized him for firing manager Alvin Dark.
"He wanted a retraction, and I told him, 'You're not going to get it,' " Harrelson said.
Harrelson said Finley, who moved the A's to Oakland in 1968, actually fired and rehired Dark on the same day earlier that 1967 season.
"I was on the golf course with Al one day when the assistant pro came out and said, 'Mr. Dark, you've got a phone call, Mr. Finley.' So Alvin, we were like on the 14th hole, he went inside. He came back. We get on 16, and he didn't say a word. So I looked at him and said, 'Alvin, what's up?' He said, 'He just fired me.'
"So we got in after the round was over. We're sitting there and Alvin's having a Pepsi and I'm having a beer. The phone rings. Assistant pro comes over and says, 'It's for you Mr. Dark.' He got on the phone for about 15 minutes and came back. I said, 'Was it Charlie again?' He said, 'Yeah, he just rehired me.' "
Three days after being released by the A's, Harrelson signed with the
Boston Red Sox
. The next year he hit 35 home runs and drove in 109 for the Red Sox and made the American League All-Star team.
Harrelson, though, has no fond memories of playing for Finley, who died on Feb. 19, 1996.
"Charlie was a bad guy," Harrelson said. "He was a liar. He was a bad guy. It's starting to come out now. I got criticized when he passed. They called me to ask me about him, and I said, 'You're talking to the wrong guy.' Because I like ... his family, his kids. Nice people. But he was not a good guy."
October, 10, 2012
10/10/12
4:17
PM CT

By Bruce Levine
ESPNChicago.com
Archive
The icy relationship between
Chicago White Sox
broadcasters Ken "Hawk" Harrelson and color commentator Steve Stone has some believing that changes down the road are inevitable.
[+] Enlarge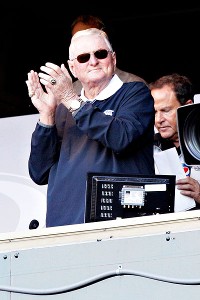 AP Photo/Nam Y. HuhKen Harrelson and Steve Stone just completed their fourth season in the booth together.
The on-air disconnect between the two partners, who have been broadcasting Sox baseball for four years, has led to some less than stellar broadcasts.
The bridge between the two veteran announcers became most apparent to viewers when Harrelson periodically shared the booth with former broadcast partner Tom Paciorek, who sat in for Stone on predetermined days off. Paciorek and Harrelson were broadcast partners from 1991-1999.
It was evident that Harrelson had more in-game discourse with Paciorek than he had most of the time with Stone during their broadcasts. At the end of the eighth telecast between the two former partners on Sept. 17, Harrelson said, "Well Wimpy, you were nothing but good luck for us this year. We were 7-1 when you were here." That comment, although innocent in nature, was a red flag to some listeners. It showed Harrelson not only enjoyed his broadcasts with Paciorek but that he was keeping track of his former broadcast partner's appearances.
Stone, who has been considered one of the top analysts in the game for the past 30 years, was matter of fact in his response to ESPNChicago.com questions about his role in the future.
June, 1, 2012
6/01/12
9:58
AM CT
By ESPNChicago.com
ESPNChicago.com

Major League Baseball commissioner Bud Selig and
Chicago White Sox
chairman Jerry Reinsdorf talked to television announcer Ken "Hawk" Harrelson in the wake of his on-air outburst against umpire Mark Wegner.
Read the entire story
.