Chicago White Sox:

Ken "Hawk" Harrelson
August, 29, 2014
Aug 29
8:03
PM CT
CHICAGO -- A day after
Chicago White Sox
broadcaster Ken "Hawk" Harrelson hinted at a reduced schedule for him in 2015, the team on Friday would say only that a decision on Harrelson's status for next year will have to wait until the offseason.
Harrelson told Chicago's WSCR-AM 670 on Thursday that he is thinking about cutting down on road games next season, which would be his 31st with the White Sox and 40th in broadcasting.
"I have a 10-year-old and 7-year-old playing ball in South Bend [Indiana], and I am missing a lot of it," the 72-year-old former major leaguer told the radio station. "If I told you I was not thinking about [cutting back], I would be lying. I am thinking about it.
"I have not made a decision, but it will be one that my family will help me with. I really don't want to miss my grandkids growing up. They are old enough now to know I am known by a lot of people, and they really kind of like that."
Harrelson declined to discuss the matter Friday before the White Sox faced the
Detroit Tigers
. The White Sox released a brief statement.
"Similar to past seasons, after the 2014 season ends, Hawk will talk with his family and members of the White Sox front office and a collective decision will be made in terms of his 2015 schedule, which could be no change or altering his schedule," the White Sox statement read.
April, 15, 2014
Apr 15
6:49
PM CT
CHICAGO –
A.J. Pierzynski
is now two years removed from his
Chicago White Sox
days, but the ties remain strong.
Asked Tuesday how he decided on wearing No. 40 this season, his first with the
Boston Red Sox
, his response was pure Pierzynski.
[+] Enlarge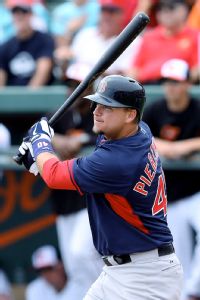 Leon Halip/Getty ImagesA. J. Pierzynski's No. 12 was taken, so he took inspiration from friend and White Sox broadcaster Ken Harrelson.
"What happened was when I came over to the Red Sox, they asked me what jersey number I wanted," Pierzynski said before the game against the White Sox. "Obviously I was 12 for a long time and I couldn't have 12 because [Mike] Napoli had 12. If he wouldn't have [re-signed], I would have taken that. But I was kind of half-joking with
[Paul] Konerko
, [White Sox director of media relations Bob] Beghtol and a couple of other guys over here, they were like, 'You can do what your dad did and be his number.'"
Pierzynski's "dad" in this case would be White Sox broadcaster Ken "Hawk" Harrelson. The men are not related, of course, but they have longtime ties, and Harrelson has made no secret of his affinity for the way Pierzynski plays.
"I thought, 'You know that's not a bad idea,'" Pierzynski said. "So I text Hawk and asked him what number he was and he said 40. So I just went with it."
Of course Pierzynski won't be wearing No. 40 on Tuesday night. All players will wear No. 42 in honor of Jackie Robinson Day.
With his former No. 12 on his back, Pierzynski played with the White Sox for eight seasons and is well-versed in the organization, but he clearly doesn't recognize what he sees now. For one, his former team has been an offensive machine in the early going of 2014. For another, the Sox are circling the bases with ease and doing it without much input from Konerko, who is a part-time player in his farewell season.
"It's strange for me to see Paul not play every day," Pierzynski said. "That's the Paul I know and the Paul I played with and that's the Paul I think most people remember, but to look up and not see him in the lineup, look at the lineup today and no Konerko, it's still odd to me. You look it up and he has like eight at-bats for the whole season. To see that is just weird for me."
Pierzynski said Konerko kept him in the loop when the White Sox captain was making his decision whether to return for one more year or retire.
"I told him absolutely he should come back," Pierzynski said. "He deserves to come back, not only for himself but to enjoy one year. If they aren't going to give him the opportunity to play, then heck, he can enjoy it a little bit more. It's a lot more relaxing if he knows he's not playing every day.
"He doesn't have to worry about how to get a hit off of guys. He can enjoy the atmosphere. I know he's a good pinch hitter. He's always had success in that role. I'm sure they are using him effectively. I know Paul wanted to go out on his terms and, after this year, he'll be able to do that."
Never one to just let a compliment stand, Pierzynski is impressed with the White Sox's turnaround but cautioned those who think it's just going to be this way all season.
"Guys last year weren't going to have as bad of the year that they did," Pierzynski said. "
Alexei Ramirez
is a better player than he was last year. A lot of these guys are going to do better and they also have some younger guys with energy. But let's not forget we're only 13 games into the year. I know you're printing your playoff tickets already, but there's a long way to go here."
He had to admit, though, that the team's turnaround on offense has been dramatic.
"No, they're playing great," he said. "Look, we watched video on them and we're going to have our scouting meeting here in a minute. I know they are swinging the bat well, they are scoring a bunch of runs and they have some energy. I know last year playing against these guys, there wasn't a lot of energy but they have turned it around and have been off to a good start."
May, 30, 2013
5/30/13
2:47
PM CT
CHICAGO – Chicago White Sox broadcaster Ken "Hawk" Harrelson missed his second consecutive game Thursday because of a sore throat.

Harrelson, now in his 29th season on the air with the White Sox, did not call either game at Wrigley Field this week, but is expected to return to the booth Friday when the team is in Oakland.

Harrelson actually left the booth and went home during Tuesday's rain delay at U.S. Cellular Field in a game that was eventually postponed. Had the game resumed, color commentator Steve Stone would have taken over the play-by-play call.

Stone did play-by-play for each of the games at Wrigley Field, with former White Sox outfielder Mike Huff handling the color commentator duties.

A White Sox spokesperson confirmed that Harrelson was not away from the booth as the result of a league-ordered suspension.

Harrelson made critical comments regarding umpire Angel Hernandez during a game against the Miami Marlins this past weekend and has spoken with commissioner Bud Selig about critical comments in the past.

May, 25, 2013
5/25/13
12:21
AM CT
CHICAGO --
Chicago White Sox
broadcaster Ken "Hawk" Harrelson went to bat for the team he loves Saturday when umpire Angel Hernandez appeared to briefly cost it a victory.
Alex Rios
appeared to avoid a double play in the 10th inning by beating a throw to first base on a play that would have allowed the winning run to score from first base. But Hernandez called Rios out at first base to end the inning. Television replays appeared to show that Rios was safe.
"Oh no! No! No! No!" Harrelson screamed after Hernandez made his call.
After first watching the replay, Harrelson added: "He is safe. And another blown call by Hernandez." After the commercial break, Harrelson came back to say, "Just flip another coin Angel."
The White Sox eventually won the game 4-3 in 11 innings over the
Miami Marlins
on a single by
Jeff Keppinger
.
Harrelson is known for his passionate defense of the White Sox during broadcasts. In 2010, Harrelson criticized umpire Joe West after a number of balk calls against then-White Sox pitcher
Mark Buehrle
. In a separate incident last season, chairman Jerry Reinsdorf had Harrelson apologize to West after criticizing a member of his umpiring crew.
Paul Konerko
, who is a fan of Harrelson's outbursts, said he was already hearing about the most recent one not long after the game had ended.
"[Harrelson] is the 26th, 27th and 28th guy," Konerko said, referring to the club's 25-man roster. "He's the Hawk. What can you say? He's going to say whatever's on his mind. He's been around for a long time, he's been in baseball a long time. If he sees something he doesn't like, he's going to let people know. That's the Hawk."
May, 6, 2013
5/06/13
4:55
PM CT
Nobody seems to be taking the
Chicago White Sox
's mistakes harder than television play-by-play man Ken "Hawk" Harrelson, not that it should come as a surprise.
On two separate occasions during Monday's broadcast on Comcast SportsNet Chicago, Harrelson's frustration nearly came to a full boil. And this was in a game the White Sox ended up winning 2-1 in the 11th inning.
He was most steamed in the ninth inning on a play when the White Sox had actually tied the game after not scoring at all before that.
August, 25, 2012
8/25/12
9:20
PM CT

By Scott Powers
ESPNChicago.com
Archive
CHICAGO -- Chicago White Sox television announcer Ken "Hawk" Harrelson may just be in line to get another phone call from Major League Baseball commissioner Bud Selig after ranting at another home-plate umpire on Saturday.
Read the full story.
June, 2, 2012
6/02/12
10:04
PM CT

By Bruce Levine
ESPNChicago.com
Archive
CHICAGO -- The feud between White Sox broadcaster Ken "Hawk" Harrelson and major league umpires is over.
Harrelson ran afoul of the umpires when he was critical of the way Mark Wegner had thrown out Jose Quintana in Tampa on Wednesday. He called Wegner on Saturday and left a message telling him that he had overshot on his personnel attack on the umpire's credentials to officiate major league baseball games.
"I felt bad about it to a degree after I sat down and thought about it," Harrelson said. "I called and left a message for him (on Saturday)."
In addition to reaching out to Wegner, Harrelson, accompanied by White Sox Chairman Jerry Reinsdorf, went to the umpire's room at US Cellular Field on Saturday and spoke with Joe West, the president of the world umpires' association.
"Hawk and Mr. Reinsdorf came into see me, and Hawk was very sincere with his comments about what he had said," West said. "He told me 'Joe, I would rather have a fist fight with you then go through what I have over the last few days.'
"What Hawk did showed a lot of class, and we really appreciate that he called Mark (Wegner) as well. This is a good day for everyone in baseball."
Earlier in the week, West said Reinsdorf contacted him to apologize on behalf of the White Sox's organization.
Harrelson also said Thursday that he spoke with commissioner Bud Selig on Thursday about his attack on Wegner's credentials.
September, 28, 2011
9/28/11
2:02
PM CT
CHICAGO – The unique stylings of Ken "Hawk" Harrelson will stick around for a while as the White Sox broadcaster agreed Wednesday to a four-year contract extension with the club.

Harrelson's current deal was set to expire after Wednesday's game. His new contract takes him through the 2015 season.

The 2012 season will mark Harrelson's 27th as a White Sox broadcaster. He has worked with color commentator Steve Stone for three seasons.

A Ford C. Frick Award nominee for excellence in broadcasting in 2007 and 2012, Harrelson also is a two-time Illinois Sportscaster of the Year and five-time Emmy Award winner.