Chicago White Sox:

Leyson Septimo
October, 7, 2013
10/07/13
11:17
AM CT
CHICAGO -- Right-handed pitcher
Brian Omogrosso
, who was outrighted off the 40-man roster last week, became the third White Sox player to elect free agency since the end of the 2013 season.
Also opting for free agency were left-hander
Leyson Septimo
and catcher
Hector Gimenez
, who made the Opening Day roster and was then designated for assignment in July when
Josh Phegley
was promoted.
Omogrosso was outrighted last week along with right-hander
Ramon Troncoso
, as well as catchers
Bryan Anderson
and
Miguel Gonzalez
, as the White Sox looked to clear 40-man roster space for potential offseason acquisitions.
Omogrosso pitched in just 12 major league games this past season, posting an 0-2 record with a 9.37 ERA. He has a career 5.54 ERA over 39 big league appearances.
Septimo did not pitch in the major leagues in 2013. He had a 5.02 ERA in 21 relief appearances with the White Sox in 2012.
Gimenez had just 68 at-bats over 26 games before he was designated. He batted .191 with two home runs and 10 RBIs.
April, 20, 2013
4/20/13
2:39
PM CT
CHICAGO -- Without a ton of depth, good health was imperative for the
Chicago White Sox
, and so far things have gone nothing like the team hoped.
Not only does
John Danks
continue to recover from last summer's shoulder surgery, but
Dayan Viciedo
is now on the disabled list with an oblique strain, joining fellow Opening Day starter
Gordon Beckham
, who fractured the hamate bone in his left hand/wrist.
In addition to that, utility man
Angel Sanchez
has already gone to the disabled list, along with reliever
Leyson Septimo
.
"I don't remember an April where we've had five guys on the DL, but that's just part of the gig and that's where we're at right now," general manager Rick Hahn said. "Fortunately, nothing seems that long term. We expect all of these guys to be back in the coming weeks and months. In the meantime, we'll give some other guys opportunities.
"You've seen
Conor Gillaspie
make the most of his chance to get more regular at-bats, and here's a chance now for guys like
[Jordan] Danks
,
[Blake] Tekotte
and
Dewayne Wise
to step up and play a larger role."
While Viciedo was still trying to find his way in the early going, Beckham was off to a solid start before he was injured. Taking advantage of his spot toward the end of the White Sox's order, Beckham was batting .316 after the first seven days, although he had yet to deliver an extra-base hit.
With
Jeff Keppinger
moving over to second base, Gillaspie has made the most of his opportunity at third base. He closed out the road trip on an 0-for-6 slide but was still batting .364 with a .485 slugging percentage at the start of play Saturday.
Gillaspie was acquired at the start of spring training as a nod to the club's lack of depth. The White Sox's system is not highly regarded by baseball publications, like Baseball America, that monitor the minor leagues.
Hahn was asked whether the injuries and a 7-9 start have tempted to tinker with the roster via trades.
"Given all the injuries, it's been fairly easy to tinker and scratch that itch, so to speak," Hahn said. "It certainly is a temptation to explore other options, but it's way too soon to avert from the plan except when forced to due to injury.
"We'd rather get up to at least 6-8-week sample before you start drawing any sort of long-term conclusions, whether it be the guys who have gotten off to fantastic starts or the guys who have struggled early."
Health issues haven't been exclusive to the roster. Pitching coach Don Cooper missed the entire 10-game road trip with a digestive issue that required hospitalization in Washington D.C.
"It wasn't a good road trip," Ventura said of his club, which went 3-7 on its three-city swing. "Not only losing players, but you're losing staff members. But again, it's part of the game, and you just have to be able to have somebody come in and pick it up and keep going. That's just part of baseball and being a long season and being able to make it work."
February, 5, 2013
2/05/13
1:59
PM CT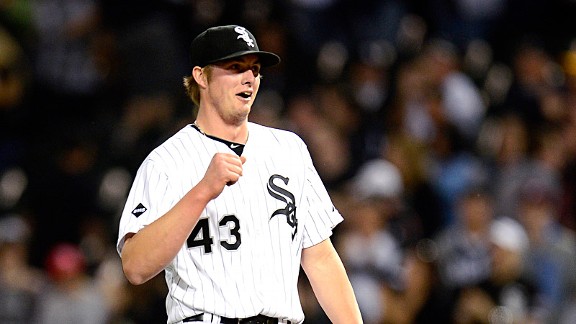 Mike DiNovo/US PresswireThe White Sox hope to get a more consistent Addison Reed in his second season.
Doug Padilla previews the White Sox by position in the days leading up to pitchers and catchers reporting for spring training on Feb. 12.
Nothing beats a cost-effective young closer like
Addison Reed
, especially since his low price tag gives the
Chicago White Sox
the opportunity to spend on other areas of the bullpen.
Jesse Crain
and
Matt Thornton
, the bullpen veterans, will split $10 million between them with there still a little left over to bring in a hard-throwing newcomer in
Matt Lindstrom
, who will pocket $2.3 million this season. The rest of the relief help falls into the "affordable" category.
The back end of the bullpen appears to be solid, but the White Sox still can't ignore other areas. Finding a quality long man (or two) will be vital, especially with starter
John Danks
returning from injury and any efforts the club might undertake to maintain
Chris Sale
's innings.
So far, the only thing the White Sox are saying in regard to Sale is that he will get a later start than others in spring training and no mention has been made on a targeted inning count for 2013. Sale threw 192 innings in 2012.
Addison Reed, RHP:
The young talent was far from the only one who dealt with a late-season swoon. It's easy to see that Reed trailed off last season with an 8.00 ERA in September and an opponents' batting average of .351 in the month. Reed's most ardent supporters, though, will point a handful of outings, especially the six runs he allowed May 13, as the reason for his untidy 4.75 ERA. The bottom line is that consistency will be Reed's aim this season and his first full season of experience should help him get there. He plans on using a new cardio program to help with stamina throughout the summer.
[+] Enlarge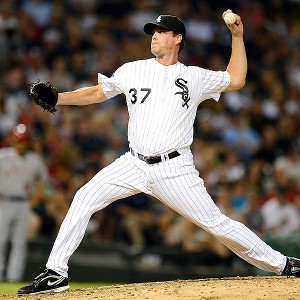 Mike DiNovo/US PresswireMatt Thornton posted 10 losses last season but still managed a 3.46 ERA.
Matt Thornton, LHP:
Once again, there will be a lot expected from one of the veteran anchors of the White Sox's bullpen. It's perhaps a tall order considering that Thornton's 10 losses were easily the most of all left-handers last year and were tied for the most among all relievers in baseball. Add to that four blown saves as the carnage mounted. Through it all, Thornton did manage seven saves and an ERA under 3.50. His veteran presence will be leaned on heavily.
Jesse Crain, RHP:
A strained left oblique and a strained right shoulder disrupted a 2012 season but the year still wasn't a lost cause. Crain managed to make 51 appearances (48 innings) while posting a 2.44 ERA to go along with four saves and two victories. His 1.08 WHIP was his best since posting a 1.07 mark in his rookie season of 2004 with the
Minnesota Twins
. He is expected to pitch for Canada in the WBC.
Nate Jones, RHP:
In the epitome of a surprise breakout season, Jones managed to skip the Triple-A level entirely by earning a roster spot with a solid 2012 spring training. His 2.39 ERA and 8-0 rookie marks signal that the sky's the limit for the hard thrower from Kentucky. At SoxFest manager Robin Ventura told the crowd that Jones would be able to challenge Reed for the closer spot. Ventura's wink afterward suggested Reed will keep his job, but there is still no mistaking the White Sox like what they have in Jones.
Matt Lindstrom, RHP:
If Reed and Jones represent the hard-throwing youngsters, Lindstrom is the older equivalent. He will turn 33 on Monday but still relies on the velocity of his youth. Despite pitching in both leagues last season (with Arizona and Baltimore), he still posted a 2.68 ERA over 48 outings. Finally getting a chance to pick his own club via free agency, Lindstrom says he delayed the process this winter in order to hear from the White Sox. He's right where he wants to be now.
Hector Santiago, LHP:
If Danks isn't ready to start the season on time, Santiago could end up getting some early starts. Either way, he should be a key member of the bullpen as a long man, and his ability to rack up innings would help ease the early innings count on the recovering Danks. If
Gavin Floyd
can't work his way back toward 200 innings, Santiago could be in for a long, grueling season.
Dylan Axelrod, RHP:
Also in the competition for any early Danks starts, Axelrod could also help in the long man department. It isn't likely the White Sox carry two long men, but if either Axelrod or Santiago is starting at any point then a bullpen spot would be available for the other.
Donnie Veal, LHP:
With Santiago and Thornton in the bullpen, the White Sox have coverage from the left side. But Veal could end up being a lefty specialist like the White Sox tried to do with
Will Ohman
in recent years.
Other bullpen options include
Deunte Heath
,
Brian Omogrosso
and
Leyson Septimo
, who all saw some action with the White Sox last season. Non-roster invitees to camp with major-league experience include
Jeff Gray
, who pitched 52 innings for the Twins last season, and
Ramon Troncoso
, who was a key member of the
Los Angeles Dodgers
' bullpen that made back-to-back NLCS appearances in 2008 and 2009.
September, 13, 2012
9/13/12
8:01
PM CT

By Bruce Levine
ESPNChicago.com
Archive
As September games become more important, rookie manager Robin Ventura has seen his decisions dissected more often.
The series between the
Detroit Tigers
and
Chicago White Sox
has had some managerial moves that have not worked out for him or his ballclub.
"There have been a lot of (moves) -- some worked out, some didn't," Ventura said. "I don't know how this (playoff push) is going to work out. I hope we win. Nobody knows for sure."
September, 1, 2012
9/01/12
2:09
PM CT

By Scott Powers
ESPNChicago.com
Archive
The Chicago White Sox announced six rosters moves on Saturday.
The White Sox reinstated catcher Tyler Flowers from the paternity leave list, returned infielder Orlando Hudson and relief pitcher Leyson Septimo from their injury rehabilitation assignments and reinstated them from the 15-day disabled list, recalled relief pitchers Deunte Heath and Brian Omogrosso from Triple-A Charlotte and purchased the contract of infielder Dan Johnson from Triple-A.
Flowers was placed on the paternity list on Aug. 30 for the birth of his first child, Mia Therese.
Hudson has been on the disabled list since Aug. 17 with a contusion of the first metatarsal joint in his left foot. He is hitting .182 with two home runs and 11 RBIs in 36 games with the White Sox this season.
Septimo has been on disabled list since Aug. 17 with left biceps inflammation. He is 0-2 with a 6.00 ERA in 12 appearances for the White Sox this season.
Heath is making his second stint with the White Sox this season. He did not play when he was with the team from July 4-8. He went 4-3 with a 1.48 ERA in 36 appearances in Charlotte this season.
Omogrosso is 0-0 with a 4.26 ERA in five appearances for the White Sox this season. He was 0-2 with a 4.56 ERA and nine saves in 33 appearances in Charlotte.
Johnson is making his first appearance with the White Sox this season. He batted. 267 with 28 home runs and 85 RBIs in 137 games in Charlotte this season.
The White Sox's active roster was increased to 31 and the 40-man roster went to 40.
July, 26, 2012
7/26/12
5:22
PM CT

By Scott Powers
ESPNChicago.com
Archive
CHICAGO -- Chicago White Sox relief pitcher Hector Santiago felt like he was sitting next to someone new in the bullpen nearly every day for much of June and July.
[+] Enlarge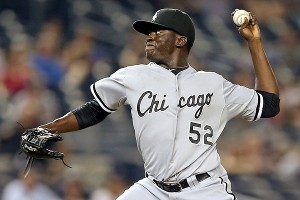 Elsa/Getty ImagesLeyson Septimo is the latest youngster to contribute for the Sox out of the bullpen.
"It was like four rookies, five rookies, six rookies, all of that stuff," Santiago said. "We didn't know who was coming back or what was going to happen."
Between June 13 and July 22, 11 pitchers, including seven rookies, moved in or out of the White Sox's bullpen due to trades, injuries, promotions or demotions. Santiago, Nate Jones, Addison Reed and Matt Thornton were the only mainstays in the bullpen during that time.
The White Sox are hopeful those days of bullpen instability are behind them. With Jesse Crain recently returning from the disabled list and the White Sox trading for veteran Brett Myers, the White Sox believe their bullpen is set moving forward.
The White Sox's bullpen has a 3.89 ERA in 266 innings and opponents have a .240 batting average and .340 on-base percentage against it this season. It ranks 12th in ERA in the American League.

July, 1, 2012
7/01/12
4:35
PM CT
By ESPNChicago.com
ESPNChicago.com

A quick look at the
Chicago White Sox
's 4-2 loss to the
New York Yankees
at Yankee Stadium on Sunday.


How it happened:
The White Sox gave starter
Gavin Floyd
an early lead with a pair of first-inning runs, but that would be all for the Sox offense.
Alejandro De Aza
opened the game with a double and came home on
Kevin Youkilis
' RBI single. Youkilis scored two outs later on
Alex Rios
' hit into left center. The Yankees struck back quickly on Floyd, scoring twice in the second inning and twice in the third on homers from
Eric Chavez
and
Robinson Cano
.
Leyson Septimo
pitched 2 1/3 innings of hitless relief for the White Sox, striking out two. The Sox managed just six hits of Yankees starter
Phil Hughes
, who got the win.
What it means:
The White Sox and Yankees split the series, a battle of two first-place teams.
Outside the box:
Three White Sox learned before the game that they'd been selected to the American League All-Star team.
Adam Dunn
,
Paul Konerko
and
Chris Sale
will represent the White Sox on July 10 in Kansas City.
Jake Peavy
remains in the running for the team via the Final Vote. Peavy will learn his fate when online voting ends Thursday.
Up next:
After a day off on Monday, the White Sox will return home Tuesday for a three-game set against the
Texas Rangers
, who have the best record (50-29 heading into play Sunday) in the major leagues. Probable starters for the 7:10 CT start are Sale (9-2, 2.27) for the Sox and
Roy Oswalt
(2-0, 4.26) for the Rangers.
June, 28, 2012
6/28/12
4:06
PM CT
By ESPNChicago.com
ESPNChicago.com

The
Chicago White Sox
purchased the contract of left-handed pitcher Leyson Septimo from Class AAA Charlotte, the team announced on Thursday. Septimo will take the roster spot of lefty
Will Ohman
, who was designated for assignment on Wednesday.
Septimo, 26, is 2-1, 1.48 in 21 games this season with Charlotte, all in relief. He has no major league experience, but has dominated left-handed hitters this season, allowing just four hits to lefties in 42 at-bats.
Septimo played in the 2009 Futures Game as a member of the
Arizona Diamondbacks
organization, and was named a mid-season All-Star in the Southern League in 2010. The White Sox claimed him off waivers from Arizona on June 13, 2011.
June, 14, 2011
6/14/11
9:49
AM CT
MINNEAPOLIS -- After losing two pitchers already this season to the waivers process, the
Chicago White Sox
got one back.
Left-hander Leyson Septimo was claimed off waivers from the
Arizona Diamondbacks
on Monday and optioned to Double-A Birmingham. The 25-year old was 2-1 with a 6.37 ERA at Double-A Mobile this season. He has limited right-handers to a .186 batting average (13 for 70).
Septimo has made 135 relief appearances in the Diamondbacks' system since 2008. He pitched in the 2009 Futures Game and was a 2010 Southern League All-Star.
White Sox right-handers
Jeff Gray
and
Jeff Marquez
were both claimed off waivers this season. Gray went to the Mariners while Marquez was grabbed by the Yankees.
The White Sox's 40-man roster is now at 37.