Chicago White Sox:

Lucas Harrell
July, 8, 2011
7/08/11
2:37
PM CT
CHICAGO --
Lucas Harrell
, who has been on the verge of a breakthrough with the
Chicago White Sox
for over a year, was claimed off waivers by the
Houston Astros
.
Harrell was a disappointment this spring when he was a candidate to fill a long relief/spot starter role that
Philip Humber
eventually turned into a full-time starter spot.
The right-hander had two separate stints with the White Sox this season, appearing in three games. In five innings he posted a 7.20 ERA. In 11 career appearances with the White Sox he was 1-0 with a 5.28 ERA.
June, 22, 2011
6/22/11
12:29
AM CT
CHICAGO -- The White Sox optioned right-hander
Lucas Harrell
back to Triple-A Charlotte after Tuesday's game.
That will open a roster spot for
Jake Peavy
's return Wednesday, although the White Sox won't make that part of the roster move official until before the game. Peavy will start Wednesday's game against the Cubs.
Harrell has a 7.20 ERA in three outings over two separate stints with the White Sox this season.
May, 29, 2011
5/29/11
12:43
PM CT
The
Chicago White Sox
placed struggling right-handed reliever
Tony Pena
on the 15-day disabled list Sunday with right elbow tendinitis and recalled right-hander
Lucas Harrell
from Triple-A Charlotte.
Pena missed a handful of games earlier this season with the same ailment, but did not go on the DL that time.
Read the entire story.
March, 9, 2011
3/09/11
10:26
AM CT
GLENDALE, Ariz. – Lucas Harrell, who was fighting for a spot in the bullpen or as a temporary starter, was among the White Sox's first moves of the spring Wednesday.

The right-handed Harrell, who struggled in split-squad start Monday against the Cleveland Indians was optioned to Triple-A Charlotte along with right-hander Jhonny Nunez.

In other moves, the White Sox reassigned right-hander Kyle Bellamy, left-hander Charlie Leesman, catcher Josh Phegley, catcher Jared Prince and outfielder Brandon Short to minor-league camp.

The White Sox now have 46 players remaining in major-league camp, 24 pitchers, four catchers, 11 infielders and seven outfielders.

All seven players who were sent to the minor-league side of the complex can still play in major-leaue Cactus League games if needed.
September, 16, 2010
9/16/10
8:29
PM CT
CHICAGO --
Lucas Harrell
or
Carlos Torres
?
It's enough to make manager Ozzie Guillen hit the bottle.
Guillen will need to decide on one of his two rookie pitchers to pick up a start Saturday for the injured
Freddy Garcia
. And how will he make such a decision?
"Let me talk to my vodka," Guillen said.
As for Garcia, who has been out for over a week with lower back pain, he still is feeling some discomfort and there is a good chance he won't pitch again this season. Guillen would hate to see the free agent not get another turn on the mound before the season ends.
"I think Freddy should go out there and at least give it a shot for one or two outings because a lot of people out there they don't know what happened," Guillen said. "I think it will show people that nothing bad happened."
September, 3, 2010
9/03/10
5:44
PM CT
BOSTON -- Saturday's doubleheader with the Red Sox will require somebody from outside the White Sox rotation to start a game during the next series at Detroit, since not everybody will have their proper rest by then.
If
Freddy Garcia
is feeling better from the lower back issues that cropped up during his last start at Cleveland, he could be ready to pitch Monday in the series opener. If he needs another day of rest he would pitch Tuesday.
But either way, somebody is going to have to pick up one of those games.
According to pitching coach Don Cooper,
Tony Pena
or
Lucas Harrell
are the choices to start a game in the Detroit series. Cooper also said that it's possible
John Danks
or
Gavin Floyd
could return on three days of rest if one of them doesn't go very deep in one of Saturday's doubleheader games.
"We're going to let [Saturday] play out first," Cooper said.
Are there benefits to a second consecutive day off?
"[It's] great for the bullpen guys," Cooper said. "We got
Matt Thornton
back. And it's at least two days off for everyone else in the bullpen. So we're rested and ready."
July, 30, 2010
7/30/10
11:06
PM CT
CHICAGO -- You better watch out Edwin Jackson, the White Sox apparently do have pitching depth behind you if things don't go well.
[+] Enlarge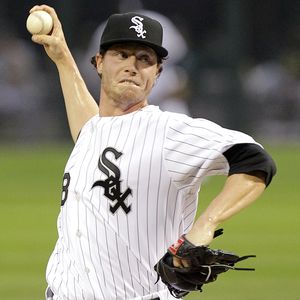 AP Photo/Charles Rex ArbogastLucas Harrell became the first White Sox pitcher to win his big league debut since Kip Wells.
Lucas Harrell turned his major-league debut into something special Friday, giving up one run over six innings to earn the victory as the White Sox defeated the A's 6-1 for their 12th consecutive home win.
It isn't as if there isn't anything to work on, though. The 25-year old walked five batters and threw just 50 of his 97 pitches for strikes, but it worked nonetheless.
"I think [Triple-A pitching coach] Richard Dotson and [director of player development] Buddy Bell prepared this kid very well, and all the minor-league pitching coaches down there, minor-league coordinator, prepared him to pitch very well here," manager Ozzie Guillen said. "They were very high on him. We started talking about making moves and when we asked about somebody helping us at this level they were very high on him."
It wasn't an easy journey for the right-hander to get to his moment in the spotlight. There was a flight from Louisville earlier in the day on an airplane that was having issues with its air conditioning. Harrell arrived after the team took the field for batting practice.
But the even bigger trip to land in a White Sox uniform, seven years after he was drafted, was much harder. Twice shoulder injuries slowed his development even causing him to undergo surgery once and miss the entire 2007 season. He missed nearly half of the next season with a shoulder strain.
It was only right then that when he finally made it his parents were able to get to his major-league debut and they did it with relative ease. Driving to Louisville from their home in Springfield, Mo., Harrell's parents were having lunch in St. Louis on Friday morning when their son called.
"Better start heading north on I-55," he told them and his mom let out a scream of joy after putting it all together and realizing what happened.
The joy was short-lived, though. Harrell was optioned back to Triple-A Charlotte immediately after the game, but the White Sox know what they have now in the 6-foot-2, 200-pounder.
"I thought I worked most of [the nerves] out in the bullpen, but when you actually get out there on the mound and you're in the game, it's the real thing," Harrell said. "You start getting, not nervous, but your adrenaline starts pumping and you start getting excited."
His make-or break moment came with the bases loaded in the second inning after he walked three batters. Daric Barton then crushed a ball to deep center field that Alex Rios was able to track down at the base of the wall.
"The one ball that went all the way to track to center with the bases loaded, if that ball goes out we have a whole different story, but it stayed in," Paul Konerko said. "It's a big win because all these games matter so much and when you have a day when a guy gets called up and doesn't even know he is pitching 24 hours ago and you get a win out of it, that's good."
With the White Sox's home win streak on the line and the potential for the Twins to move a half game back in the standings, Harrell put it all aside and got it done.
"Don't screw it up, that's what the word was," Harrell said about what he heard in the locker room beforehand. "I was like, 'I don't want to come in and screw this up.' It was definitely a good thing to go out there and do like I did."
Afterward, while getting interviewed for the postgame show, Harrell got the traditional beer shower that goes to a pitcher earning his first big-league victory. He said it tasted like light beer. They must have been saving the good stuff for a proper celebration.
By the numbers
14: Games over .500 for the White Sox at 58-44. It is the first time the White Sox have been 14 over .500 since the end of the 2008 season when they were 89-74. The White Sox are also a major-league best 34-11 since June 9 and have outscored their opponents 236-133 during that span.
Quote
"A.J. came out to me and he just said, 'Be yourself. Do what got you here. Use your sinker. Throw the ball over the plate. Get early contact.' That's the kind of pitcher I am. I just kind of did those things and that got me back in the groove." -- Harrell, on how he settled down after a shaky start in his big-league debut Friday.
Look ahead
John Danks (11-7, 3.23 ERA), who will take on the A's on Saturday ranks third in the American League with a 2.21 ERA in July. Over his last four starts the left-hander is 3-0 with a 2.05 ERA. In five career starts against Oakland, Danks is 4-0 with a 1.62 ERA, and has gone 3-0 with a 1.35 ERA against the A's in three starts at U.S. Cellular Field. Danks will be opposed by Oakland left-hander Dallas Braden (5-7, 3.77), who halted a personal five-game losing streak when he defeated the White Sox last Saturday in Oakland. Prior to that win, opponents had a .319 batting average against him since his perfect game May 9.
July, 30, 2010
7/30/10
1:17
PM CT
CHICAGO -- Since newly-acquired pitcher Edwin Jackson won't be able to arrive to U.S. Cellular Field by game time tonight, right-hander Lucas Harrell will come up from Triple-A Charlotte to make his major-league debut.

Harrell, a second-round pick in 2004, is 9-9 with a 4.24 ERA, taking half his starts in the hitter-friendly ballpark in Charlotte. He moved himself up the pitching depth chart last year when he went 12-4 with a 3.27 ERA in 25 starts between Double-A Birmingham and Charlotte.

The 25-year-old will wear uniform No. 58 when he faces the Oakland A's tonight. In seven seasons in the White Sox's system, Harrell is 42-37 with a 3.79 ERA.