Chicago White Sox:

Mark Parent
June, 18, 2014
Jun 18
2:09
PM CT
CHICAGO --
Chicago White Sox
rookie
Jose Abreu
owned up to his base running miscue from Thursday, saying that is something he will "fix."
In the seventh inning Tuesday night against the
San Francisco Giants
, Abreu struck out swinging with the ball rolling to the backstop. Instead of trying to advance to first base on a third strike that wasn't caught, Abreu put his head down and walked back to the White Sox's dugout.
The Giants did not have to make the play at first base once Abreu gave himself up on the play by walking away.
"Obviously I made a mistake," Abreu said through an interpreter Wednesday morning. "The manager and the team have talked to me about it and I understand. I made a mistake and that's something I'm going to fix."
June, 17, 2014
Jun 17
11:57
PM CT
CHICAGO --
Chicago White Sox
manager Robin Ventura said Tuesday night two baserunning incidents in recent days by
Jose Abreu
will be addressed.
The White Sox's rookie sensation failed to run to first base Tuesday when he struck out and the pitch rolled to the backstop. On Sunday, he didn't appear to run out a popup along the first-base line.
His strikeout Tuesday came in the seventh inning. When he got back to the dugout he was approached by bench coach Mark Parent, who also called for interpreter Lino Diaz.
"I don't think he saw [the ball getting away] at first, so he'll be running," Ventura said.
In saying that "he'll be running," Ventura seemed to be saying that Abreu won't be making the same mistake in the future.
The manager was then asked about Sunday's failure to run.
"Yeah, he'll be running," Ventura said. "You talk to him. He'll run."

June, 17, 2014
Jun 17
10:04
PM CT
CHICAGO -- The
Chicago White Sox
ended a four-game losing streak with an 8-2 victory over the
San Francisco Giants
.


How it happened:
The White Sox didn't let an early deficit get to them, erupting on offense in the middle innings.
Gordon Beckham
got the offense started with a two-run home run in the third inning. The White Sox scored three runs in both the fourth and fifth innings.
Dayan Viciedo
capped the scoring with a mammoth two-run home run in the fifth.
John Danks
gave up just one earned run in 6 1/3 innings. Giants starter
Matt Cain
gave up eight runs (seven earned) in five innings.
What it means:
Danks has been rolling over his past five starts, not giving up more than two earned runs in any of them. The left-hander has a 1.51 ERA over that stretch and is 3-1 with a no decision in a May 24 outing against the Yankees when he didn't allow a run over eight innings.
Outside the box:
Bench coach Mark Parent appeared to have a discussion with
Jose Abreu
on the bench in the seventh inning. Abreu struck out and then didn't run to first base despite the fact that the ball got past Giants catcher
Hector Sanchez
and rolled to the backstop. On Sunday it appeared that Abreu failed to run out a pop up along the first-base line earning another conversation with Parent.
Up next:
The White Sox will send left-hander
Chris Sale
(5-1, 1.97 ERA) to the mound Wednesday in the finale of the brief two-game series. The Giants will counter with right-hander
Tim Hudson
(7-2, 1.81) in the 1:10 p.m. start from U.S. Cellular Field.
June, 17, 2014
Jun 17
6:08
PM CT
CHICAGO -- A day after the death of
Tony Gwynn
, shock and sadness was the predominate reaction from players and members of the
Chicago White Sox
staff who knew the Hall of Famer.
Gwynn died Monday from cancer at the age of 54.
"The preparation he did before a game, the laughter before and after a game, 0-for-4 or 5-for-5, he was always the same," said White Sox bench coach Mark Parent, who came up through the San Diego Padres' farm system with Gwynn. "We were neighbors, my wife taught his kids how to swim. A good guy. His wife and family, they're going to miss him, and a lot of people around the league whose careers he's touched, numerous."
[+] Enlarge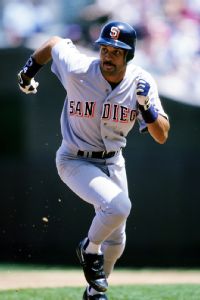 Ronald C. Modra/Sports Imagery/Getty ImagesWhite Sox broadcaster Darrin Jackson considered Tony Gwynn a good friend during the three years they played together as Padres.
White Sox broadcaster Darrin Jackson played with Gwynn in San Diego from 1989 to 1992.
"When I was in San Diego for three years, Tony and I were best friends," Jackson said. "We would spend a lot of time together golfing, fishing. I spent time at his house back when Anthony, his son, was just a kid, watching us play ping-pong in his garage. I was obviously very close to him, but that's who he is -- Tony Gwynn. He wasn't the superstar, .338 lifetime hitter, he was Tony Gwynn, just the person that is expected to be treated normal."
Those who knew Gwynn well have talked about him being a normal guy who just happened to have an extraordinary talent.
"One time we rolled up to McDonald's in his Mercedes Benz and we roll up to the window, window opens and the kid looks out and sees Tony Gwynn in the car and his jaw falls to the floor," Jackson said. "Tony just went 'Yeah, yeah, yeah, it's me. Just give me my hamburger.' To him it was no big deal and that was Tony.
"He used to make me laugh so much. We used to go back and forth all the time. Talking hitting we had nothing in common, but we talked about it anyway."
White Sox manager Robin Ventura knew Gwynn well because they both had the same agent, John Boggs.
"He was good," Ventura said. "He was just a student of the game. He was really the first guy that I knew when video was taken of your at-bats and watching it, he was really at the forefront of stuff like that, watching videos. It's just sad."
White Sox slugger
Adam Dunn
, whose rookie season was in 2001, said he also knew Gwynn well.
"He was one of the best players to ever play the game," Dunn said. "It's just sad for baseball, and all your hearts go out to the family."
Gwynn didn't talk much about his declining health, but Parent found a way to stay updated. And even that didn't help to cushion the shock of Monday's news.
"I don't have a bad thing to say about the guy," Parent said. "I have a lot of good things to say about the guy. He'll be sorely missed by a lot of people. He kind of fell away from returning phone calls lately and stuff like that. That's when I started missing him.
"I knew something was up. We had the same agent and he kind of kept me informed of what was going on. This came as a shock yesterday, as any death of somebody you know. Tony was quite a guy."
May, 10, 2014
May 10
10:51
PM CT
CHICAGO – The
Chicago White Sox
offense has been so prolific this season that the little mistakes have flown under the radar.
They have not gone unnoticed, but they have been easier to push to the background -- as opposed to last season, when they were front and center as the losses piled on top of each other.
In a 4-3 defeat to the
Arizona Diamondbacks
on Saturday, though,
Tyler Flowers
' baserunning gaffe in the eighth inning stood out like a soup stain on a silk tie.
With the White Sox trailing by two runs, Flowers doubled to right field. Outs were at a premium so late in the game, but Flowers burned one when he took off for third base on
Alejandro De Aza
's ground ball to shortstop.
The Diamondbacks'
Chris Owings
easily threw out Flowers -- who broke the cardinal rule of trying to advance on a ball hit right in front of him. Making the transgression especially egregious was that it left the White Sox with only four outs to play with before the end of the game.
"Yeah, that's not [good]," said acting manager Mark Parent, who was filling in while Robin Ventura attended the college graduation of his daughter. "What I liked about it afterwards was that everybody was a little upset about it. It just doesn't go unnoticed."
Adam Dunn
made a similar gaffe recently, showing that even the most seasoned of players can have a moment of weakness. The White Sox had actually worked on fundamentals before Wednesday's game against the Cubs.
Gordon Beckham
came to the plate after Flowers was thrown out. If he hit a home run, the miscue would have been swept under the rug. If he hit a single, it would only have highlighted the mistake. He ended up grounding into a forceout.
The White Sox tacked on a run in the ninth inning off
Addison Reed
, their former closer, but
Jose Abreu
and
Dayan Viciedo
struck out in the final inning before
Paul Konerko
grounded out to end the game.
"It shouldn't happen," Parent said about Flowers' mistake. "I'd like to say it won't happen again, but that's baseball. He knows better. It's happened twice this year, and that's not good."
May, 10, 2014
May 10
6:43
PM CT
CHICAGO -- Sounding as chipper as he has been since going on the disabled list in April,
Chicago White Sox
starting pitcher
Chris Sale
said he is ready for the next step of his rehab process, which is expected to be a minor league rehabilitation start.
The left-hander threw a four-inning simulated game at U.S. Cellular Field on Saturday, closing the session at full speed. There were no issues with the strained flexor muscle in his pitching arm.
"I threw everything," Sale said. "The first inning was all fastballs, changeups; the next two were everything in all locations; and the last one was all fastballs, but as hard as I could go. [White Sox pitching coach Don Cooper] said, 'I don't want you throwing anything other than fastballs, but I want you at max effort.'"
The Cy Young Award candidate hasn't pitched since throwing 127 pitches on April 17 in the White Sox's hard-luck loss to the
Boston Red Sox
. The team said soon after the outing that his next start would be skipped, and shortly after, they announced the DL stint.
Unable to recover in a timely fashion after working overtime against the Red Sox, Sale feared the worst.
"I was very concerned up until I got an MRI done," the wiry power pitcher said. "Since the MRI, there's really been zero concern on my end just because I know that it's all muscular.
"I don't think I've ever said that in my life, but there is nothing wrong with ligaments, tendons, nothing like that, so there was never a doubt in my mind. But it was a little slower [recovery] process than I anticipated."
Sale has been eligible to come off the disabled list since May 3, and the White Sox have not hidden the fact they are being extremely cautious with his recovery. Sale would gladly pitch tomorrow if the White Sox would let him, but he understands the need to be careful.
"You'd rather take the time now and be able to get it over with and done with than have it linger," he said. "It's almost like getting your car fixed. Do you want to leave it in the shop for a few more days and have it done and ready to go, or do you want to have to take it back once a month or every couple of weeks and have that linger around? So I think when we're done with this we'll be ready to go."
While the White Sox have not set a target date for his return to a major league mound, the speculation has already started. Sale could have a rehab start Thursday and be back for the May 19-21 series at the
Kansas City Royals
. If he needs two rehab starts, it's possible he could return for the May 25 home game against the
New York Yankees
.
White Sox bench coach Mark Parent, who took over the managing duties Saturday while Robin Ventura attended his daughter's college graduation, was asked if the Yankees series was a target.
"Yeah, that's the one he's looking at right now," Parent said.
May, 9, 2014
May 9
11:42
PM CT
CHICAGO -- There is a battle being waged within the
Chicago White Sox
's inner circle and nobody associated with the team wants to see it end any time soon.
Cuba natives
Alexei Ramirez
and
Jose Abreu
keep raising the bar on each other -- and if things continues at this rate, it could be one of the better hit-making duos in some time.
Ramirez followed his four-hit night Thursday with a grand slam and a triple Friday. Not to be outdone, Abreu had three hits, including a mammoth 442-foot home run, all on a bad left ankle.
When the dust had settled, the White Sox walked away with a 9-3 victory over the
Arizona Diamondbacks
, who became the newest team to get an up-close view at the might being displayed on the South Side this season.
[+] Enlarge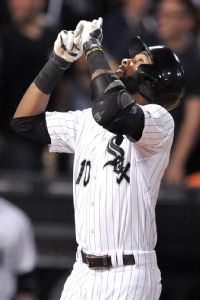 AP Photo/Paul BeatyAlexei Ramirez had a grand slam and a triple in Friday night's 9-3 rout of Arizona.
The White Sox are bound to erupt at a moment's notice and that's what happened Friday. Arizona pitcher
Brandon McCarthy
was perfect through three innings, but the White Sox sucker-punched him when they delivered nine hits in a stretch of 10 batters to start the fourth.
Ramirez had his grand slam during that string, the third for a White Sox hitter this season and the sixth of his career. But it was the entire team that put on a brilliant display on fireworks night.
"It was great," bench coach Mark Parent said. "I was sitting next to [trainer] Brian Ball and he said, 'I can't leave. We are getting hits.' Everybody was happy and the guy who is always the most happy these days is Abreu and he's cheerleading all the time. Even a guy like
Adam Dunn
, who didn't have his best night at the plate, everybody was happy. It was good."
Abreu insisted on playing despite a severe limp. He said it only affected him a little bit, but what really seemed to bother him was Ramirez showing him up on offense.
Abreu teed off for his own home run in the seventh inning, lifting his blast into the first row of hedges above the center field wall, an area reserved for mashers like Dunn,
Jim Thome
or
Miguel Cabrera
.
"It's fun watching them, and then you get up there and you don't want to be that guy [that doesn't deliver]," said
Tyler Flowers
, who was inspired enough to hit a home run of his own in the eighth.
Ramirez became only the seventh player in franchise history to hit safely in 32 of the team's first 37 games. He opened the season on a franchise-record 17-game hitting streak and, after his first back-to-back games without a hit last weekend at Cleveland, he is at it again, collecting six hits the past two nights.
"The only time I can think of being this hot for so long is when I was playing in Cuba," Ramirez said through an interpreter. "But you know what? Today is over and now we've got to look forward to the next days coming up."
Abreu was expected to be reduced to designated-hitter duties again Saturday because of his sore ankle, but there wasn't any expectation that his production might decline.
"They used to tell me that good hitters slide on their front foot and he has proven that right," said Parent, who took over postgame interview duties for manager Robin Ventura, who left to attend his daughter's college graduation. "The guy, even in batting practice, we've cut down his early work to get him off [the ankle]. He tries to do too much sometimes during early work and it doesn't give anything a chance to heal. We are cutting down on that and with him being at first base. That will help him stay off it."
If he wants to keep pace with Ramirez, he better not stay off the ankle for long. And if Ramirez is going to do things like drive 3-0 pitches into the seats, he's going to be hard to match. The grand slam was the first time Ramirez has delivered a hit on a 3-0 pitch in his career.
"I was looking for a good pitch that I can connect, something that was over the plate," Ramirez said. "And that's what I did and I was able to hit it."
August, 26, 2013
8/26/13
6:19
PM CT
CHICAGO – Mark Parent's ejection during the lineup exchange before Sunday's game came as a surprise to everybody except Mark Parent.
"No, I pretty much knew it'd probably happen," Parent said Monday.
The
Chicago White Sox
bench coach was delivering the team's lineup to home plate before the game with the
Texas Rangers
when he got into a heated conversation with the umpire crew. Crew Chief Jerry Layne sent him to the clubhouse before the first pitch was even thrown.
The White Sox had incidents with umpires in the two previous games of the series.
On Friday night, a ball was lost under some padding in left field, but umpire Greg Gibson ruled that the ball was in play and
Ian Kinsler
was able to circle the bases for an inside-the-park home run.
Chris Sale
also admitted to saying things he regretted to Layne, who was the home-plate umpire that night.
In Saturday's game,
Alexei Ramirez
was called out at home plate as umpire Hunter Wendelstedt ruled that Rangers catcher
A.J. Pierzynski
blocked his foot.
"Yeah there were some things that happened Saturday night that I didn't like and that was about it," Parent said, electing to not get into the details.
Parent, who has been ejected twice this season and three times in his coaching career, was asked if it helped to vent his frustrations.
"It always does but it still costs you money when you do that," Parent said. "I didn't feel bad about it when it was over. I felt bad I wasn't out here to help (manager) Robin (Ventura) and the club. But I thought it was something I needed to say."
Ventura continued to be brief on the subject.
"It's just something that happened," Ventura said. "I've seen it before. I think Ozzie (Guillen) did it once, maybe twice. He's not the only owner of that."
But as more questions came, Ventura put a stop to the conversation.
"I'm not getting into any of that today," he said. "We're past it. He got it off his chest and you move on."
August, 25, 2013
8/25/13
1:29
PM CT
CHICAGO --
Chicago White Sox
bench coach Mark Parent didn't even make it to the first pitch Sunday, getting ejected during the pregame lineup exchange at home plate.
Parent was tossed by crew chief Jerry Layne, his second ejection this season and the third of his coaching career.
Read the entire story.
June, 9, 2013
6/09/13
12:39
PM CT
CHICAGO --
Chicago White Sox
bench coach Mark Parent returned from a two-day sabbatical in California where he did a little house cleaning.
Not only did his youngest son Jacob graduate from high school this weekend, his older son Nick was drafted in the 36th round by the White Sox.
"Now my wife has an empty house, so she's happy," Parent said. "Everybody's happy."
Nick Parent, who just completed his junior year at Cal State Monterey Bay, is planning to sign with the White Sox and forgo his senior year of college.
"He's going to go to mini-camp," Mark Parent said. "This is something he's wanted to do all the time. He can finish school later. He wants to get on with it and do his own thing."
October, 31, 2011
10/31/11
10:51
AM CT
CHICAGO -- The Chicago White Sox made it official on the first business day following the completion of the World Series by naming Jeff Manto, Joe McEwing and Mark Parent to the coaching staff of new manager Robin Ventura.
Read the entire story.
October, 10, 2011
10/10/11
12:06
PM CT
CHICAGO -- The White Sox will name Mark Parent and Joe McEwing to the coaching staff of new manager Robin Ventura, a source indicated Monday.
Read the entire story.
October, 10, 2011
10/10/11
10:14
AM CT
CHICAGO -- In advance of
Robin Ventura
's introductory press conference Tuesday as
Chicago White Sox
manager, a major-league source said the club is close to filling vacancies on its coaching staff.
The White Sox have three spots to fill: bench coach, hitting coach and third-base coach.
The White Sox reportedly received permission from the
Philadelphia Phillies
to talk to their Double-A manager Mark Parent. The 13-year major leaguer is believed to be a candidate for the bench coach role, but he lacks major league coaching experience.
Parent and Ventura never played with each other, but their big-league careers overlapped. Parent's first season in the major leagues was in 1986 and he played 12 seasons with San Diego, Texas, Baltimore, the Cubs, Pittsburgh, Detroit and Philadelphia. Ventura's career began in 1989 and lasted 15 seasons.
Parent has been a manager in the Phillies organization for two seasons. He took Double-A Reading to the playoffs this past season, and in 2010 he guided Single-A Lakewood to the South Atlantic League title.
If Parent gets the job, that would leave two more vacancies on the coaching staff. White Sox Triple-A manager
Joe McEwing
could end up with one of those. Known as a people person, McEwing can also be stern when he needs to be while still maintaining the respect of those around him.
McEwing, though, is mostly known for his infectious energy which earned him the nickname "Super Joe." He played nine seasons in the major leagues, his last a short stint with the
Houston Astros
in 2006. He also played for the Cardinals, Mets and Royals.
The final opening is at hitting coach where two in-house candidates are high on the list. White Sox minor league hitting instructor Jeff Manto is believed to be the favorite over Triple-A hitting coach
Tim Laker
.