Chicago White Sox:

Masahiro Tanaka
June, 7, 2014
Jun 7
10:00
AM CT

By David Schoenfield
ESPNChicago.com
Archive
Who is the best starting pitcher in baseball right now? I think you can make a strong case for
Chris Sale
, who maybe isn't the first guy who pops into your head, in part because he did miss a few starts with a tender elbow -- technically a strained flexor muscle -- but he's returned to the White Sox and been nearly unhittable.
In fact, he has been unhittable when facing left-handed batters: They're 0-for-32 against him on the season. In his past four outings, Sale has allowed four hits in 25 innings for a .051 batting average against.
Is he the best? Let's do a quick roll call.
Chris Sale
Sale
The case for:
5-0, 1.59 ERA in seven starts. Has allowed a .126 average against with a 52-to-8 strikeout-to-walk ratio. His slider has been known to make grown men cry. He had a 3.05 ERA in 2012 and 3.07 in 2013, while pitching in one the best home run parks in the majors. Distinctive three-quarter delivery and unusual arm angle have earned him the nickname "The Condor," which is worth bonus points. Arguably improving as strikeout rate has increased and walk rate decreased.
The case against:
Has just one 200-inning season in his career and may not get there this year. This hit rate is unsustainable. Concern about elbow. Only one of his seven starts has come against a team with an above-average offense (and that was Cleveland, which ranks seventh in the AL in runs per game).
Clayton Kershaw
Kershaw
The case for:
He's been the best pitcher in baseball the past three years and should have won three straight Cy Young Awards (he has two). He's 4-2, 3.32 and people say he's struggling even though his strikeout and walk rates are both better than last season. If God needed one pitch to get out the Devil, he just might choose Kershaw's curveball. He's averaged 232 innings the past three seasons. He's pitched in front of a shaky defense, especially with poor range from exiled center fielder
Matt Kemp
and shortstop
Hanley Ramirez
. Take away that seven-run game where he lasted 1 2/3 innings and he's been as dominant as ever.
The case against:
A 3.32 ERA is a 3.32 ERA. Missed time with a sore back, so you have to worry about that. Has actually allowed three extra-base hits, including a home run, off that curveball, which is three more extra-base hits than he allowed last year with it. Got hammered in Game 6 of the National League Championship Series by the Cardinals last year. Only one outing of more than seven innings this year.
Yu Darvish
Darvish
The case for:
If you were going to sculpt a pitcher from clay and infuse him with life, you'd want him to look like Darvish and possess his right arm. He's 5-2 with a 2.04 ERA while pitching in a hitters' park. He's leading the AL in strikeouts per nine innings for the second straight year. Darvish has allowed just three home runs this year after allowing 26 in 2013. Kershaw has allowed a lower batting average (300 innings minimum) since 2012, but Darvish doesn't get to face pitchers. He's walking fewer batters, and over his past four starts -- which included games against Toronto, Detroit and Washington, three good offensive teams -- he allowed four runs and struck out 41 in 31 2/3 innings.
The case against:
Hey, he's never thrown a complete game either. Still runs up big pitch counts, which can lead to early exits. Has missed a couple of starts with neck stiffness -- this following a nerve problem in his lower back that hampered him last September.
Masahiro Tanaka
Tanaka
The case for:
He's 9-1 with a 2.02 ERA and has 12 quality starts in 12 starts. Leads AL starters in lowest OBP allowed. He's 33-1 over the past two seasons. His splitter has been outlawed by multiple religious groups for defying the laws of nature; batters are hitting .135 against it with 48 strikeouts, two walks and one home run (by
Melky Cabrera
, on Tanaka's first pitch of the season, which means he's since thrown 315 splitters without much damage). He's rebounded from his one loss with three straight one-run starts.
The case against:
It's only 12 starts, so let's see what happens as teams see him again. The quality start stat is a little dubious since he allowed four runs in six innings in his defeat, but only three of the runs were earned. He's allowed eight home runs, so the long ball may prove to be an issue. Struck out 10-plus batters three times in his first five starts but hasn't done it since.
Max Scherzer
Scherzer
The case for:
The reigning AL Cy Young winner is 6-2 with a 3.20 ERA; his strikeout, walk and home run rates are essentially the same as last year. Few pitchers can match his four-pitch arsenal of four plus pitches. Has had four starts with no runs allowed this year. Have to admire the guts to turn down a reported $144 million contract and hit free agency after the season.
The case against:
Has never thrown a complete game in the majors. If you're talking about the best at this very moment, Scherzer has allowed 16 runs in his past three starts. Hit rate is back up this year. Had one great season but career ERA is still 3.64.
Adam Wainwright
Wainwright
The case for:
Talk about a workhouse. Led the NL in innings (and wins) in 2009 and again last season. This year, he's once again leading in innings and wins. He's 8-3 with a 2.31 ERA and holding batters to a .194 average. His curveball has been known to break knees, spirits and bank accounts. Has a 2.53 career postseason ERA and is the prototypical staff leader. He's third in the majors since 2012 in FIP (fielding independent pitching) behind only Kershaw and
Felix Hernandez
. Has had six games this season of seven-plus innings and no runs.
The case against:
His BABIP this season is .252, far below his .320 of 2012 and .311 of last season, so his hit rate may increase moving forward. Gets to pitch in the NL Central, which, let's face it, has had some pretty weak offenses in recent years, except the team Wainwright pitches for. Does have some blowup starts -- a seven-run and six-run game this year, a nine-run and six-run game last year. (Hey, we're nitpicking here.)
Felix Hernandez
Hernandez
The case for:
His FIP is second in the majors over the past three years -- 2.62 to Kershaw's 2.57, and he does that facing deeper lineups. He's 8-1 with a 2.57 ERA this year and just three home runs allowed. Has topped 200 innings in six consecutive seasons. That changeup, oh that changeup. Shakespeare would write love sonnets about it if he were alive today. Batters are hitting .143 against it with 49 strikeouts and three walks and one home run (praise you,
Matt Dominguez
). Has pitched in front of a lot of lousy defense the past couple of seasons, particularly in 2013, when the Mariners' outfield was especially atrocious. Has the best strikeout-to-walk ratio of his career and faces the pressure of often having to win with one or two runs of support nearly every start. Nicknamed "King" and nobody really has an issue with that.
The case against:
Gets to pitch half his games at Safeco Field, where fly balls go to die. Hasn't had an ERA under 3.00 since 2010 or a complete game since 2012. Hasn't had a no-run game yet this year. Can he pitch in a pennant race or big-game situation? Has never had to do that.
Hisashi Iwakuma
Iwakuma
The case for:
Since he joined the Mariners' rotation in July 2012, he has the best ERA in the AL. Led AL pitchers in Baseball-Reference WAR last season and finished third in Cy Young voting. (See above for notes about bad defense and offense.) His splitter is a thing of beauty: Over the past two seasons batters have hit .174 against it with 99 strikeouts, eight walks and four home runs. Has handed out just four walks in seven starts.
The case against:
Missed time with a finger injury this year and wasn't always the most durable pitcher back in his Japan days. No career complete games in the majors. His strikeout rate of 6.4 per nine innings is a little mediocre and he's allowed six home runs after allowing 25 last year. Isn't nicknamed "King."
Johnny Cueto
Cueto
The case for:
Leads the majors with a 1.68 ERA while pitching in that bandbox in Cincinnati. That Luis Tiant-like spin-and-twirl delivery is awesome. Has three complete games and limited batters to a .151 average. His strikeout rate has increased for the third year in a row and is up to 27 percent. With his fastball/cutter/slider/changeup arsenal, he's a four-pitch pitcher and can throw any of them at any time. Has given up more than two earned runs just once so far. One of the best right-handed pickoff moves ever means he shuts down the running game -- one stolen base allowed this year after just three the previous two years (runners were 1-for-10 off him in 2012).
The case against:
His .187 BABIP is simply unsustainable. ERA is helped by five unearned runs. Has had trouble staying healthy, making 24 starts in 2011 and 11 last year, so has reached 200 innings just once.
With apologies to:
Anibal Sanchez
,
Julio Teheran
,
Tim Hudson
,
Zack Greinke
,
Madison Bumgarner
,
David Price
,
Mark Buehrle
,
Corey Kluber
,
Jon Lester
,
Stephen Strasburg
and
Sonny Gray
, left off for reasons of space, previous track record, lack of a track record, or simply the belief that their hot start isn't sustainable.
January, 22, 2014
Jan 22
6:10
PM CT
CHICAGO -- The
New York Yankees
just spent $175 million on a player the
Chicago White Sox
would have viewed as only their No. 2 starter.
White Sox general manager Rick Hahn suggested as much Wednesday when talking about the end of the Masahiro Tanaka bidding that saw the big-spending Yankees get their man by offering a seven-year, $155 million deal. The Yankees also have to pay a $20 million posting fee to Tanaka's former team in Japan.
"As a potential long-term fit into the rotation, we saw [Tanaka] as someone who would fit in nicely behind
Chris Sale
, give us a nice one-two punch for the foreseeable future," Hahn said.
Obviously, Hahn would have rather brought Tanaka into the fold, but the point was made loud and clear that Sale, who will turn 25 on the day before the season starts, would have remained at the head of the rotation.
And as far as salary goes, the White Sox are more than happy to be spending $3.5 million on Sale for the upcoming season instead of the average $22.1 million yearly salary Tanaka will be earning in New York. In fact, the most the White Sox will pay Sale in a single season on his current contract, even if two team options are picked up, is $13.5 million in 2019.
Manager Robin Ventura was asked Wednesday if he appreciated Sale even more knowing what Tanaka will be paid by the Yankees.
"I [appreciated Sale] regardless," Ventura said. "It didn't have to take Tanaka to do that. You are very pleased with having Chris, and I think the contract is fair for everybody. That's what you would really like -- to have a fair deal for both sides."
January, 22, 2014
Jan 22
5:50
PM CT
CHICAGO -- Rather than do nothing and sealing their fate, the
Chicago White Sox
elected to join the Masahiro Tanaka bidding that ended Wednesday with the
New York Yankees
landing the star pitcher.
The White Sox were perceived to be a long shot in the process that also included another big-spending team in the
Los Angeles Dodgers
. Reports said the
Chicago Cubs
and
Houston Astros
also gave it their best shot.
White Sox general manager Rick Hahn said he had a simple reason for playing out the process.
"In the end, obviously he wound up elsewhere, but we view this as a situation where you miss 100 percent of the shots you don't take, and it was worth the effort," he said Wednesday. "We saw Mr. Tanaka as a player who could complement and fit in nicely to some of the other things we've accomplished over the last several months."
January, 22, 2014
Jan 22
2:54
PM CT
CHICAGO -- Even though the
Chicago White Sox
failed to land the biggest prize on the free-agent market this winter, the events surrounding the pursuit of pitcher Masahiro Tanaka seemed to have left more optimism than disappointment.
Both manager Robin Ventura and second baseman
Gordon Beckham
said Wednesday that the fact that the White Sox were willing to pursue Tanaka seemed to bode well for the future.
"You don't sit there and get into the nuts and bolts of it unless you are going to be serious about it," said Ventura, who met with Tanaka earlier this month in Los Angeles, along with general manager Rick Hahn and executive vice president Kenny Williams. "They were serious. I appreciate trying to get us better players."
January, 22, 2014
Jan 22
10:45
AM CT
CHICAGO -- The
Chicago White Sox
gave it their best shot, but their pitch to land Japanese star Masahiro Tanaka was swept aside.
Reports on Wednesday say the
New York Yankees
ultimately landed the ace, who went 24-0 last season with a 1.27 ERA for the Rakuten Golden Eagles while leading the team to a title. The 25-year-old reportedly signed for $155 million over seven years.
[+] Enlarge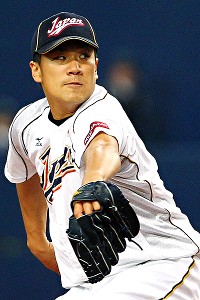 Koji Watanabe/Getty ImagesThe White Sox's sales pitch to Masahiro Tanaka wasn't enough to sway the Japanese League star to come to the South Side.
Terms of the White Sox's offer have not been revealed, but both the length of the contract -- especially for a pitcher -- and the dollar amount are nowhere near in line with White Sox contracts in the past. The team has always balked at long-term deals for pitchers, and the biggest financial commitment they have ever made in a contract was
Jose Abreu
's $68 million deal earlier this offseason.
There is not a high expectation that the White Sox will turn to the next tier of free agents on the market, such as
Matt Garza
,
Ervin Santana
and
Ubaldo Jimenez
. While Tanaka would have cost more than any of those pitchers, his appeal was that he was an extremely rare pitching talent whose prime years still figure to be ahead of him.
Garza, Santana and Jimenez are all over 30, and investing long term in any of them figures to be less of a certainty despite the fact that Tanaka has never pitched in the major leagues.
That doesn't mean the White Sox aren't looking at the 30-something crowd to fill out a rotation spot. Expect them to pursue a short-term commitment to pitchers bunched in the middle tier of the free-agent class.
Available free-agent starters in that tier include
Paul Maholm
,
Chris Capuano
,
Joe Saunders
,
Tommy Hanson
,
Jason Hammel
,
Jerome Williams
,
Shaun Marcum
and
Daisuke Matsuzaka
, although adding any of the left-handers doesn't seem likely.
The White Sox could try a one-year deal, with the possibly of an option year, for any of the middle-tier starters. They could even go two years with the idea they could move that pitcher at the July 31 nonwaiver trade deadline if the season is not a success by the midway point.
Another obvious option to add to the rotation figures to be internal candidates. That route remains in line with the team's desire to get better with young talent that has the potential to be around for a while. The bonus is that internal candidates are far more affordable than free-agent options.
As of now, the White Sox are looking at a starting rotation of
Chris Sale
,
Jose Quintana
,
John Danks
and a middle-tier free agent. Candidates for the No. 5 spot would include Erik Johnson,
Andre Rienzo
and
Dylan Axelrod
.
The attempt to add Tanaka was not a success, but despite being a long shot to land the right-hander, the White Sox didn't just let the chance fall by the wayside.
They made their offer, showed Tanaka and his representatives how they planned to be a winning team in the near future and, in the process, reaffirmed their plan to move forward with young talent with upside rather than older talent expected to match career norms while being paid top dollar.
It still remains an intriguing offseason for the White Sox, even if the best pitcher on the free-agent market decided to go elsewhere.
January, 21, 2014
Jan 21
1:33
PM CT
CHICAGO -- With just four days remaining until the deadline for Japanese pitcher Masahiro Tanaka to finalize a contract with a major league team, the
Chicago White Sox
remain one of the favorites to land his services while also looking like a long shot.
All reports continue to say the White Sox are among the finalists to land the talented right-hander, with the
Los Angeles Dodgers
,
New York Yankees
,
Chicago Cubs
and
Arizona Diamondbacks
. But the Dodgers, Yankees and Cubs have all reported to be offering deals the White Sox could find hard to match, and no reports are saying that the White Sox are near the lead in the sweepstakes.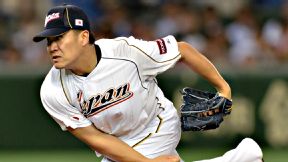 Getty ImagesPerhaps the White Sox's pitch to Masahiro Tanaka all along was to acknowledge that they might not land the pitcher, but they do have a legitimate plan to win.
Tanaka's decision could come as early as Wednesday.
Going into the proceedings, the White Sox seem to have known that selling Tanaka on joining the club would have its challenges. Their current rebuild might be a quick one, but it's a rebuild nonetheless, and then there is the fact that the club is coming off a 99-loss season, something that wasn't going to be easy to hide.
Even the White Sox's only statement on the subject seemed more guarded than certain that Tanaka could be convinced in joining the American League Central Division team.
"The meeting was exploratory in nature," general manager Rick Hahn said in the statement nearly two weeks ago after team representatives met with the pitcher and his representatives. "It was an opportunity for us to sit down with Masahiro and discuss how he potentially fits our vision for the Chicago White Sox for the next several seasons."
That doesn't sound like the White Sox had the checkbook wide open or were flashing large sums of cash. Instead, it looks as if the White Sox are pleased enough with offseason acquisitions of
Jose Abreu
,
Adam Eaton
and
Matt Davidson
, not to mention last year's grab of outfielder
Avisail Garcia
, to confidently show a plan for winning in the not-so-far-away future.
Perhaps the White Sox's pitch to Tanaka all along was to acknowledge that they might not end up with the best overall contract package, but they do have a legitimate plan to win. That plan would have emphasized how Tanaka would be a huge player in all of it.
Even if the White Sox don't succeed in landing the biggest name on the free-agent market, give them credit for trying. While some cynics might suggest that the White Sox were merely trying to look like a player in all of this to appease their fan base, there were dozens of other teams that could have followed the same line of thinking but didn't.
The White Sox might be in the midst of a makeover, but they aren't afraid to go out in public before it's complete. Sure it's a bit unorthodox, but it shows a sense of confidence after moves that have come during an intriguing winter.
That confidence is a good sign. Nobody knows if all the White Sox's recent moves will be successful, but the front office sure seems to be feeling good about it, and the team's involvement in the Tanaka saga shows that they aren't afraid to tell others all about it.
January, 9, 2014
Jan 9
8:05
PM CT
CHICAGO -- Whether it was former general manager Kenny Williams or current GM Rick Hahn, the main
Chicago White Sox
player-personnel decision makers have always been willing to kick the tires on the biggest of baseball deals.
And so it was again Thursday, as the White Sox sent three key members of the organization to meet with Japanese free-agent pitcher Masahiro Tanaka and his representatives in the Los Angeles area.
Williams, now the team's executive vice president, Hahn and manager Robin Ventura met with the pitcher, which explains the absence of all three from Frank Thomas' Hall of Fame news conference Wednesday.
Tanaka is the hottest free-agent starting pitcher on the market after going 24-0 with a 1.27 ERA in Japan this past season. The 25-year-old right-hander already has seven years of professional experience in Japan after making his debut in 2007. He is 99-35 in his career with a 2.30 ERA, making 172 starts.
Hahn was quoted in a White Sox statement released Thursday evening.
"The meeting was exploratory in nature," Hahn said. "It was an opportunity for us to sit down with Masahiro and discuss how he potentially fits our vision for the Chicago White Sox for the next several seasons."
To acquire Tanaka, a major league team will first have to pay a $20 million posting fee. That doesn't count the contract the team will have to negotiate with the pitcher.
Yu Darvish
was the last pitcher from Japan to undergo a free-agent frenzy like Tanaka is seeing. The
Texas Rangers
put up the largest posting fee at $51.7 million, then signed the right-hander to a six-year $60 million deal. Posting fees are no longer blind, capping out at $20 million.
Tanaka is currently in a 30-day negotiating window. He has until Jan. 24 to reach a deal with a major league team. Jan. 24 also is the first day of SoxFest, the team's annual fan convention.
The White Sox say they will make no other statement on Tanaka until the pitcher makes his final decision public.
The removal of the blind posting system makes a team like the White Sox more of a legitimate contender for Tanaka's services. The club, however, has not been considered one of the favorites to land the pitcher, who struck out as many as 241 batters in 2011.