Chicago White Sox:

meanest player
September, 22, 2011
9/22/11
4:35
PM CT
Chicago White Sox catcher A.J. Pierzynski is no stranger to negative perceptions, which may be why he didn't get offended by a SI.com poll of 215 players who voted Pierzynski as the meanest player in baseball.
Read the entire story.
ABOUT THIS BLOG

Doug Padilla
Doug covers the Chicago White Sox for ESPNChicago.com and ESPN Radio 1000.
50 GREATEST WHITE SOX OF ALL TIME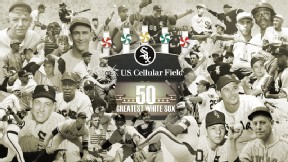 An ESPN Chicago panel of experts compiled its list of the 50 Greatest White Sox of all-time. Take a look at our list and put together a list of your own. Gallery

Rank 'em »


jose_quintana24 Jose Quintana62
Thanks you followers for yours support , my leg is good right now I be ready
about 14 hours ago

ESPNChiSox Doug Padilla
Quintana hit in shin by line drive http://t.co/O77i4OtxVD
about 14 hours ago

ESPNChiSox Doug Padilla
Checkmate. RT @John_W_Henry: They should apologize for their regular season lineup.
about 16 hours ago

ESPNChiSox Doug Padilla
Now if somebody can screen grab the home-plate collision rule, we'll be all set.
about 17 hours ago

AvisailGarcia Avisail Garcia
RT @whitesox: Impressive stand-up triple for @AvisailGarcia; @Dbacks lead #WhiteSox, 4-2 in the sixth.
about 17 hours ago

ESPNChiSox Doug Padilla
Still think "Stand Up Tripel" is a fine name for a Belgian ale. Is that a bad 1st thought after Avisail Garcia's 3-base hit?
about 17 hours ago

AvisailGarcia Avisail Garcia
RT @Bibliaenlinea: FELIZ día, Princesas de DIOS. que tengan mucha paz, amor, salud, prosperidad y un corazón para DIOS. Bendicion…
about 23 hours ago

AvisailGarcia Avisail Garcia
RT @gomezpe: URGENTE, Los Andes en Guerra confirman q tanquetas tumbaron portones en La linda, Rodeo Y Cardenal Quintero es Grave hay herid…
about 23 hours ago

ESPNChiSox Doug Padilla
Pandemonium to see who DOESN'T make the White Sox! MT @LibbyWeihsmann: The line for some @KnightsBaseball tickets! http://t.co/clTkEfrMYS
1 day ago

ESPNChiSox Doug Padilla
Baby steps: Paulino showing improvement http://t.co/NsFd3Mdgml
1 day ago

JKeppinger Jeff Keppinger
"@brandonwoods33: @JKeppinger roger that captain just let me know,be good times" DM me and give me your number
1 day ago

gordonbeckham Gordon Beckham
"@Aylward24: "@2_crayonz: The ultimate team selfie #swag http://t.co/tQemPS0973" @KMillar15 @gordonbeckham good luck boys
1 day ago

JKeppinger Jeff Keppinger
Nice... When we going huntin?
1 day ago

ESPNChiSox Doug Padilla
So far, three-team deal is win, win, win http://t.co/KrlnY2r8uk
1 day ago

AvisailGarcia Avisail Garcia
RT @AngelaMEP: "@AvisailGarcia: Estamos con ustedes Venezuela #nuestroapoyoparatodos http://t.co/EKcVFHkOL3"
1 day ago

jose_quintana24 Jose Quintana62
RT @Mjsolanop: Corre tras tus sueños que si no los alcanzas al menos adelgazas. jajajaja
1 day ago

Bmorel_22 Brent Morel
RT @WolfpackAlan: Retweet if.̸̸̸̸̸̸̸̸̸̸̸̸̸̸̸̸̸̸̸̸̸̸̸̸̨̨̨̨̨̨̨̨̨̨̨̨you t
1 day ago

ESPNChiSox Doug Padilla
.@AdamSpankyEaton has 6 hits in 10 ABs after his leadoff double. Still early, but nice start.
1 day ago

AvisailGarcia Avisail Garcia
RT @Grandstandsox: "@david_foss: @Grandstandsox do you guys have @AvisailGarcia jerseys?"←yes we do in both authentic and replica
1 day ago

ESPNChiSox Doug Padilla
Did Jose Abreu's HR knock Penny into retirement? RT @mlbtraderumors: Royals Release Brad Penny http://t.co/EtRpPojjv5 #mlb
1 day ago
BLOG ARCHIVE:
CATEGORIES:
Franklin Chicago White Sox Soft Strike Baseball Shop »
UPCOMING GAMES
| | W-L | HM | AW | STK | L10 |
| --- | --- | --- | --- | --- | --- |
| CHW | 3-5 | 1-3 | 2-2 | L1 | |
| OAK | 6-4 | 4-1 | 2-3 | L1 | |
| | W-L | HM | AW | STK | L10 |
| --- | --- | --- | --- | --- | --- |
| CHW | 3-5 | 1-3 | 2-2 | L1 | |
| MIL | 6-5 | 4-2 | 2-3 | W1 | |
| | W-L | HM | AW | STK | L10 |
| --- | --- | --- | --- | --- | --- |
| TEX | 2-6 | 0-4 | 2-2 | L1 | |
| CHW | 3-5 | 1-3 | 2-2 | L1 | |
2014 CACTUS LEAGUE STANDINGS