December, 16, 2014
Dec 16
5:39
PM CT

By Doug Padilla
ESPNChicago.com
Archive
CHICAGO -- Adding a glut of experienced major league players is one thing. Getting them to play together and transform the
Chicago White Sox
into a winner will be something else entirely.
The White Sox introduced three of their new additions Tuesday at U.S. Cellular Field, handing out new jerseys to starter
Jeff Samardzija
, closer
David Robertson
and outfielder
Melky Cabrera
. Other offseason additions include relievers
Zach Duke
and
Dan Jennings
, as well as first baseman/designated hitter
Adam LaRoche
.
If second baseman
Micah Johnson
and catcher
Rob Brantly
make the Opening Day squad, those eight players alone, many of them in key roles, represent nearly one-third of the roster. It is a serious shakeup for a club that has designs on making the postseason for just the second time since winning the World Series in 2005.
[+] Enlarge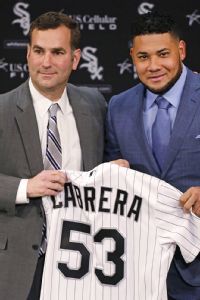 AP Photo/M. Spencer Green"It takes a spring training to know each other, and then we become better friends when we have a team that we can play with and bring a championship or make it to the playoffs," Melky Cabrera said, referring to the time it takes for a team to jell.
But the playoffs won't happen unless manager Robin Ventura can mesh all the parts of his revamped squad into a winner.
"As long as that common denominator is winning, I think it happens pretty quick," Samardzija said about getting the team to come together quickly. "I think as a team and as a veteran group of guys, when everybody is on the same page and playing winning baseball, I think everything comes together pretty quickly.
"I think there is a formula for winning games in the major leagues consistently, and it's pretty simple: You play hard, you prepare and have each other's backs and you play for each other. I think as long as everyone is doing that, you'll see a pretty quick mesh in personalities and camaraderie among the team, for sure."
Samardzija got his first chance to assimilate to a new team last season when he was traded from the
Chicago Cubs
to the
Oakland Athletics
. He learned the do's and don'ts of making a transition and expects to apply what he learned once spring training starts.
He even got a jump on the process, calling
Chris Sale
to start learning the ropes early.
Robertson, though, has only been with the
New York Yankees
in a seven-year major league career. While he is making the transition to a new team for the first time, he isn't anticipating any awkward stages.
"I've been a part of a changing team, an evolving team before," said Robertson, who did play with Cabrera in New York for a few seasons. "Every year there's change, and it doesn't take long for guys to get together and figure it out. You're around each other every single day, you get to know everyone and figure things out."
While spring training is designed to get players' bodies in shape, it will also be a quasi-spiritual retreat where the herd of new players will try to fit in with returning White Sox players.
"It takes a spring training," Cabrera said through an interpreter. "We start getting along together; we start knowing each other, and after spring training comes and it's like we've been playing forever together. It takes a spring training to know each other, and then we become better friends when we have a team that we can play with and bring a championship or make it to the playoffs."
The transition probably will work best if the new players defer to returning players such as Sale and
John Danks
for leadership roles. It will help if
Alexei Ramirez
takes a more vocal leadership role, as well.
As it is with nearly all teams that have made sweeping changes, all eyes will be on the club's camaraderie starting on Opening Day. If the club starts winning, the clubhouse vibe will be credited, and if they lose, the lack of a tight-knit group will be blamed. With so many changes, the White Sox are going to have a hard time avoiding it.
"The one thing we were cognizant of along the way in this endeavor was, let's not only target the best players, but the best fits in the clubhouse, character-wise and intensity, and people who can put it together," executive vice president
Kenny Williams
said. "As I explained to
David Robertson
, it took us some lessons in the early 2000s that it's not just the talent you throw against the wall, it has to fit together."
As a college football player and a major league baseball player, Samardzija has been in plenty of differing sports environments and he has learned a thing or two about deferring to others.
"I pitch every fifth day, so any opportunity I get to watch other guys perform and do it at the highest level possible, I enjoy doing it," Samardzija said. "Chris [Sale] is one of those guys, David is one of those guys, Melky is one of those guys,
[Jose] Abreu
and so on down the list. LaRoche, I have been a big fan of for a long time. I enjoy watching good baseball so we can learn from these guys and bounce ideas off them. It's a great resource to have, and you'd be an idiot not to take advantage of it, for sure."
Say what you want about clubhouse unity and whether or not it's valuable, but the White Sox have made a point to recognize it. Ultimately, it will be their ability to play well that will take them to where they want to go, but seeing eye to eye will be one fewer obstacle to avoid.
"These are veterans who have seen a lot of people come and go into clubhouses," Williams said of the trio the White Sox welcomed Tuesday. "They've had to be the veterans who welcome guys in. They're comfortable and confident because they've been on both sides. They know the drill."