Chicago White Sox:

Minnie Minoso
December, 8, 2014
12/08/14
7:51
PM CT
SAN DIEGO – On the first day of baseball's annual winter meetings, it was the
Chicago White Sox
who stood tall among the juiciest rumors in the game.
Reports on Monday had the White Sox linked to both top free-agent closer
David Robertson
and starting pitcher
Jeff Samardzija
, in a revival of a previous development. There was even a report from CBSSports.com's Jon Heyman that linked the White Sox with closer
Francisco Rodriguez
.
The
White Sox also just missed
on placing Billy Pierce, Dick Allen and Minnie Minoso in the Hall of Fame, while executive vice president
Kenny Williams revealed he has no issue
with chairman Jerry Reinsdorf denying his chance to interview with the
Toronto Blue Jays
.
Plenty has been made of the White Sox having money to spend after contracts such as those signed by
Jake Peavy
,
Alex Rios
, Paul Konerko and
Adam Dunn
have come off the books in recent seasons. The question for general manager Rick Hahn and the rest of the front office is whether this is the best time to spend big -- or should the team start handing out big bucks when it has fewer roster holes to contend with?
"We've got a lot of conversations ongoing on multiple fronts right now," Hahn said. "Some are frankly a little farther along than others, and we are in a couple of scenarios where we could get within a phone call or two of getting something done.
"That said, we've been in that position before and will be again where you get really close but it doesn't quite come to fruition. I think it's important we stay diligent and aggressive on numerous fronts until we get to the point that we're able to convert on one of our higher-priority targets."
[+] Enlarge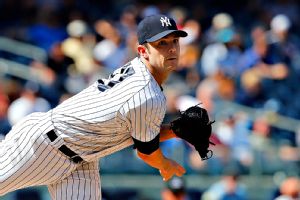 Jim McIsaac/Getty ImagesDavid Robertson, the top closer on the free-agent market, is among the names linked to the White Sox.
The White Sox do need bullpen help, and Robertson would be the biggest fish in that pond, but does the front office want to venture into multiyear, high-dollar waters again when it was that kind of situation that coincided with the need to rebuild? Would it be smarter to wait to add those kind of players?
The White Sox have been targeting this offseason for a while knowing they would be free of a number of major financial commitments. The discussions about it have become familiar ones.
"Do we spend more for free agents? Do we try to acquire some high-priced talent via trade? And how is the best and most prudent way to put that club together?" Hahn said, ticking off the checklist the White Sox have been dealing with for some time now.
"When we make a large commitment, whether it's a guy like [
Jose] Abreu
or
[Chris] Sale
or the next free agent we sign, it's not with the eye that we're going to necessarily have dead money on the back end of it. Does it happen? Yeah. It's part of the cost of doing business, and none of us in this industry are smart enough to identify on the way in where it's going to be. We sort of know, in our mind, that that's going to happen, but as a result we don't shy away from deals that have a reasonable chance to make us better for an extended period of time."
As for the idea of trading for Samardzija, how much would the White Sox be willing to give up in a potential deal with the
Oakland Athletics
knowing the right-hander is determined to test free agency next offseason?
Hahn was asked about the chance of acquiring a right-hander, not necessarily Samardzija, via trade.
"It's absolutely possible," he said. "There's a fair amount of free agents still out there as well, so we're not committed to either path just yet, still talking to other clubs as well as agents. We haven't really ruled out any avenue on any lead just yet. If a couple of these free-agent names come off the board in the coming days, then yeah, we may have to refocus on trades."
Hahn, of course, isn't giving out any names, and the fact that Robertson, Samardzija and Rodriguez have been linked to the White Sox hasn't made business any easier.
"Selfishly, it makes it real hard, real hard," Hahn said. "When stuff gets out, you then are subject to other clubs potentially jumping in and bidding up a price on a free agent conceivably or accelerating their timetables, whether it be on that target or on backup targets, because they're worried they're going to lose that person. You could have other clubs jumping into trade talks.
"Over the years it has proven much more beneficial for us to keep things out of the light of day. I get why it happens. It's part of the business, and if I weren't wearing my White Sox hat I'd be following it all and excited just like everybody else."
With so many holes to fill, though, and money available to spend, staying out of the rumor mill was going to be tough for the White Sox. But the front office thinks the team can contend sooner rather than later, so it is exploring all options to see if it can speed up the timetable.
"I would like to think that if
Adam Eaton
,
Nate Jones
,
Avi Garcia
-- I'm just mentioning a few of the guys who went down and went down early for us -- I would like to think if they all played together, there weren't very many occasions where we had the top of our lineup playing together," executive vice president Williams said. "From that standpoint alone, you could find some optimism.
"The starting staff, at the top of the rotation, I think we are as good as anybody. We could use another right-handed arm, and we are here to try to find one. We are here to try to find some bullpen help. So we'll see. But yes, I am optimistic."
December, 8, 2014
12/08/14
4:19
PM CT
SAN DIEGO --
Chicago White Sox
chairman Jerry Reinsdorf expressed disappointment Monday that former team greats Minnie Minoso and Billy Pierce were not granted admission into the National Baseball Hall of Fame by the Golden Era Committee of voters.
Minoso and Pierce were among 10 candidates being considered by the committee of 16 members. Also under consideration was former White Sox standout Dick Allen, who fell just one vote short of induction, as did Tony Oliva.
Each player needed 12 votes to gain a permanent spot at Cooperstown.
Reinsdorf said he has been on Hall of Fame voting committees in the past and has enjoyed the process, knowing first-hand how much work goes into the task. But that doesn't make him understanding to the results this time.
"Having said that, I'm very disappointed Minnie and Billy didn't get in because they clearly deserve to get in," said Reinsdorf, who attended the announcement in downtown San Diego. "I don't know what player out of the era of the 1950s and early '60s would be more deserving than Minnie.
"You look at the stats and the only people that did better than Minnie did in every category are already in the Hall of Fame. But having said that, I know these people are very sincere in their voting. I know they took it very seriously."
Reinsdorf said he was understanding to Allen's exclusion, even though Allen was the former White Sox player that came closest to induction.
"Dick Allen had kind of a checkered career," Reinsdorf said. "If I had been on the committee, I wouldn't have voted for him. He only really had six really good years. I don't think he would rise to the standard of the others, in my opinion. But when he was with the White Sox he certainly had Hall of Fame years."
Minoso not only delivered production on the field, he was a trailblazer by becoming the first player in White Sox history to break the color barrier and the ninth in baseball history.
After retiring after the 1964 season, Minoso returned to the major leagues on two occasions: 1976 and 1980. He was far from an impact player by then, but his five combined games in those returns made him the only player to ever see action in five decades.
In an ironic twist, Reinsdorf believes the gimmick actually hurt Minoso's standing in the game instead of helping it.
"Yes, I think definitely because now he's being considered by people that really didn't see him play," Reinsdorf said. "Not everybody saw him play (at his best) and I think coming back hurt his chances."
August, 26, 2014
8/26/14
7:36
PM CT
CHICAGO – As the losses mount, the
Chicago White Sox
still have a chance to accomplish some impressive feats, especially on offense.
As expected, if it has to do with the offense, then
Jose Abreu
must be involved. Abreu's .308 batting average at the start of play Tuesday was eighth in the American League and just three points behind fifth place
Michael Brantley
of the
Cleveland Indians
.
Right behind Abreu in ninth place was
Adam Eaton
, who was batting .304. Eaton returned to the White Sox lineup Tuesday night after missing the last two-plus weeks while on the disabled list because of a strained right oblique.
Rounding out the top 10 of the American League batting chase was
Conor Gillaspie
, who was at .303.
"Definitely I'm very happy about that and I think it is a good sign the team is headed in the right direction," Abreu said through an interpreter Tuesday. "I am proud of the individual accomplishments that I have been able to get, but I am not very happy with where we are at as a team, so we will have to work on that."
The
Detroit Tigers
were the only other AL team with more than one player in the top 10 batting leaders.
Victor Martinez
was second at .328, while
Miguel Cabrera
was seventh at .308.
"It's a sign in the right direction from where we were last year," manager Robin Ventura said. "We have Jose in the middle of it. There were signs of turning it around. Alexei (Ramirez's) year has been pretty nice, too. Eaton and Abreu, it helps offensively of what you're going through from what we had last year, you feel like you're able to score some runs."
According to STATS LLC, the last time the White Sox had two players who finished in the top 10 in batting average was in 1993 when
Frank Thomas
was sixth with a .317 mark and Lance Johnson was 10th at .311.
The last time the White Sox had three or more players in the top 10 was in 1960 when Al Smith was second with a .315 average, Minnie Minoso was third at .311, Roy Sievers was sixth at .295 and Nellie Fox was ninth at .289.
August, 16, 2014
8/16/14
7:04
PM CT
CHICAGO --
Chicago White Sox
legend Minnie Minoso was said to be resting comfortably in a Chicago hospital Saturday after an accident in which he fell off a boat and into the water.
[+] Enlarge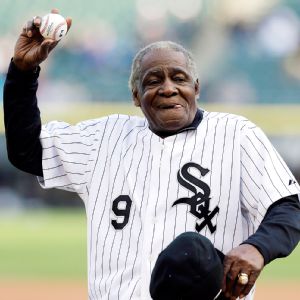 AP Photo/Nam Y. HuhMinnie Minoso was hospitalized after falling off his boat but is doing fine and in good spirits, according to a White Sox spokesperson.
Details are sparse, but the 88-year-old Minoso was on his boat Friday when he felt queasy and fell out of the back of the boat, according to a White Sox spokesperson. People on the boat helped him out of the water and called 911.
Minoso sounded in good spirits Saturday, according to the spokesperson. He has undergone tests during his hospital stay, with one more examination expected to be conducted Sunday.
Minoso played 17 seasons in the major leagues, 12 with the White Sox. He started his career in 1949 and played in five different decades, coming out of retirement for three games in 1976 and two more in 1980 with the White Sox.
He was a career .298 hitter, with 186 home runs and 1,023 RBIs, and was a seven-time All-Star. He finished as high as fourth in the MVP voting on four separate occasions.
March, 31, 2014
3/31/14
8:24
PM CT
CHICAGO -- Perhaps the
Chicago White Sox
won't have much of a left-field platoon after all following the first ever multi-home run game of
Alejandro De Aza
's career.
De Aza not only earned the start after a solid spring training, the left-handed hitter also got the call since the
Minnesota Twins
had right-hander
Ricky Nolasco
on the mound.
The right-handed-hitting
Dayan Viciedo
could only sit and watch Monday's 5-3 White Sox victory, and he might want to get comfortable with that spot on the bench. Nobody was saying De Aza is the main man now after hitting two home runs, but the majority of pitchers in the league are right-handed, meaning that De Aza should get those at-bats, and possibly more.
[+] Enlarge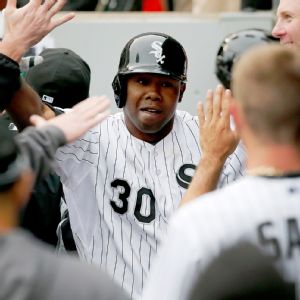 AP Photo/Charles Rex ArbogastAlejandro De Aza was feeling the love from his White Sox teammates after his second home run Monday.
"That's just what we have," Ventura said of his left-field options. "That's a part of our roster, and you have to be able to adjust and make decisions based on how you feel you're going to win that day. Do both guys want to play? Yes. Are both guys good enough to play? Yeah. But that's part of where we're at roster wise."
De Aza batted .383 this spring with a .596 slugging percentage and needed every bit of it to get back into the good graces with the coaching staff.
Despite 17 home runs and 62 RBIs as the leadoff man a season ago, his bad defense and worse baserunning prompted the club to trade for
Adam Eaton
to take over in center field and at the top of the order.
De Aza figured to be a reserve this season, even though he makes the most money ($4.25 million) of any of White Sox's four outfield options. But then came his eye-opening spring, with a February and March from Viciedo that looked simply like more of the same.
Despite what was seen to be huge potential, Viciedo has continued to disappoint. Viciedo's biggest issue is an infatuation with overswinging, coupled with poor strike-zone recognition. Starting De Aza on Monday was an easy call for Ventura, and it should remain an easy one moving forward.
"I try to put the ball in play, try to do my job. In any position in the batting order that I am I want to do my job," De Aza said. "Thank God, it's happened now."
With De Aza removed from the leadoff spot, perhaps the White Sox can see more RBI potential from him as a seventh hitter, the spot in which he hit Monday, or even a No. 6 hitter.
His two-homer day put him in good company. He was the first White Sox player to hit two home runs on Opening Day since
Jim Thome
did it in 2008 at Cleveland. The last player to do it at home was Minnie Minoso in 1960.
How long he can ride his Opening Day wave remains to be seen.
Whereas Viciedo doesn't seem to realize he is slipping out of favor, De Aza seems to have heard the team's message loud and clear. He's still trying to manage expectations, though.
"It's at-bat by at-bat," he said. "You wake up tomorrow and you don't feel the same or you think you have the same energy and something happens in the game. It's just the game."
He didn't want to make a big deal out of his first chance to play in 2014, yet still managed to do big things.
"I came in like every other day," De Aza said. "I know it's a special day, but at the same time, I don't think about it much because I don't want to put pressure on me."
December, 4, 2011
12/04/11
5:10
PM CT
CHICAGO -- Minnie Minoso's call to the Hall could come Monday at baseball's annual winter meetings in Dallas.
The former
Chicago White Sox
great, who played in five different decades, could be elected to the Hall of Fame in Cooperstown, N.Y., when results of the 16-member golden era committee (formerly the veterans committee) are released.
Minoso would need 12 votes from the 16 members of the committee to gain enshrinement.
Minoso is one of 10 candidates to be inducted from baseball's "golden era" which took place from 1947-72. Other candidates are Ron Santo, Buzzie Bavasi, Ken Boyer, Charlie Finley, Gil Hodges, Jim Kaat, Tony Oliva, Allie Reynolds and Luis Tiant.
The first player to break the White Sox's color barrier in 1951, Minoso played 12 of his 17 major-league seasons on the South Side. He batted .298 with 1,136 runs and 1,023 RBIs during his career.
If Minoso is not elected by the committee he is not eligible to be voted in again for another three years. He was on the ballot three previous times.
November, 3, 2011
11/03/11
8:40
PM CT
CHICAGO --
Chicago White Sox
legend Minnie Minoso is getting another chance for enshrinement in the Baseball Hall of Fame.
Minoso will know by the Dec. 5 winter meetings if he becomes one of 10 members from baseball's golden era (1947-72) to be enshrined. Others up for consideration: Buzzie Bavasi, Ken Boyer, Charlie Finley, Gil Hodges, Jim Kaat, Tony Oliva, Allie Reynolds, Ron Santo and Luis Tiant.
Those voting on their Hall of Fame chances include Hall of Famers Hank Aaron, Al Kaline, Ralph Kiner, Tom Lasorda, Juan Marichal, Brooks Robinson, Don Sutton and Billy Williams, executives Paul Beeston, Bill DeWitt, Roland Hemond, Gene Michael and Al Rosen (retired) and veteran reporters Dick Kaegel, Jack O'Connell and Dave Van Dyck.
Candidates must receive votes on 75 percent of the ballot to be elected. Those elected will be inducted on July 22 along with any players voted in by the Baseball Writers' Association of America on Jan. 9.
Minoso broke the White Sox's color barrier in 1951 and played 13 of his 17 seasons on the South Side. He is also just one of two players to play in five different decades.
Minoso was an All-Star nine times and he won three Gold Glove Awards. He was also named Sporting News rookie of the year in 1951 and finished in the top four of the American League MVP voting on four occasions.
The veterans committee votes on candidates from the golden era every three years. Next year it will vote from candidates in the pre-integration era (1871-1946) and in 2013 candidates from the expansion era (1973-present) will be considered.