Chicago White Sox:

Nestor Molina
March, 14, 2014
Mar 14
12:00
PM CT

By Doug Padilla
ESPNChicago.com
Archive
The
Chicago White Sox
's major league locker room shrunk by three more players Friday as moves were made in advance of the Cactus League game against the
Cleveland Indians
.
Right-hander
Nestor Molina
, left-hander
Frank De Los Santos
and infielder
Carlos Sanchez
all were optioned to Triple-A Charlotte.
The moves leave 44 players in big league camp: 21 pitchers, four catchers, 13 infielders and six catchers.
March, 19, 2012
3/19/12
7:43
PM CT
GLENDALE, Ariz. -- The
Chicago White Sox
made 14 cuts to their roster on Monday, including former No. 1 draft pick Jared Mitchell and right-handed pitcher
Nestor Molina
, who was acquired from the
Toronto Blue Jays
for closer
Sergio Santos
in the offseason.
The Sox roster is now at 37 (16 pitchers, four catchers, 11 infielders and six outfielders).
"It's a tough part of the game," White Sox manager Robin Ventura said. "You just talk to them and be honest with them."
Pitchers
Anthony Carter
,
Simon Castro
,
Deunte Heath
,
Pedro Hernandez
,
Charlie Leesman
,
Jhan Marinez
and
Donnie Veal
and infielder
Ozzie Martinez
were optioned to Triple-A Charlotte; Molina and pitcher
Jose Quintana
were optioned to Double-A Birmingham; and catcher Michael Blanke, infielder Tyler Kuhn and outfielders Mitchell and outfielder Trayce Thompson were reassigned to minor-league camp.
Right-hander Jesse Crain is still sidelined with a right-side oblique strain. Crain tried throwing some light tosses at 100 feet on Monday morning, but did not seem that encouraged with the session. Ventura said that he will not be concerned unless Crain isn't ready to pitch the last week of spring training.


The White Sox will enjoy their lone off-day of the spring on Tuesday. Right-hander Phil Humber will pitch at minor league camp in order to stay on pace for the regular season.
March, 19, 2012
3/19/12
4:44
PM CT
GLENDALE, Ariz. -- The White Sox's Don Cooper has moved on from an offseason report that claimed the pitching coach informed the front office every time former manager Ozzie Guillen made a move.
"In my world and in my heart I'm trying to have love for everyone," Cooper said. "I try to love even those who curse me, but I am comfortable in my own skin as a person and as a coach. Words can hurt, and I was hurt by what was said. People are responsible for what they say, but in my mind it was over the day after I spoke about it. When I know words aren't true they hurt a lot less, but in the case that was reported there was no truth to it. I know I can look in the mirror and feel good about that."
After Cooper said Guillen told White Sox general manager Kenny Williams to "let them sweat," in reference to re-signing the coaching staff, Guillen fired back. The former Sox manager and current
Miami Marlins
skipper told the Chicago Sun-Times that Cooper "backstabbed" his fellow coaches.
"I think if everybody was honest they would say a change was needed, and I believe this change is best for all of us," Cooper said. "That is if everyone is honest about it."
Cooper has more important things to worry about now, namely four rookie pitchers --
Hector Santiago
,
Dylan Axelrod
,
Zach Stewart
and
Nestor Molina
-- in the bullpen.
Cooper has three veterans back in setup men
Matt Thornton
,
Jesse Crain
and
Will Ohman
, the only relievers with major league experience.
"We will have four young guys at least in the pen to start the season," Cooper said. "Every year presents a challenge and this may be our greatest one since I have been here."
March, 5, 2012
3/05/12
8:23
PM CT
GLENDALE, Ariz. --
Nestor Molina
will surely put this one behind him quickly.
The hard-throwing rookie right-hander struggled in his
Chicago White Sox
debut, allowing five runs on seven hits in 1 1/3 innings of relief in a 6-4 loss to the
Los Angeles Dodgers
in both teams' Cactus League opener on Monday at Camelback Ranch.
There's been plenty of intrigue surrounding Molina, who the White Sox traded straight up for closer
Sergio Santos
last November, as first-year manager Robin Ventura and veteran pitching coach Don Cooper have commented on his upside throughout the last two weeks.
March, 1, 2012
3/01/12
9:57
PM CT
GLENDALE, Ariz. -- Competition for the open three bullpen spots will officially begin this weekend, when the
Chicago White Sox
play some intrasquad games before opening their Cactus League schedule on Monday against the
Los Angeles Dodgers
.
The fast-talking, straight-to-the-point Don Cooper, who has been with the team since 1988 and has served as pitching coach since 2002, is looking forward to seeing who's ready to start the season in the bullpen.
"Listen, for the first time in a long time we've got three spots open and that's going to be an interesting thing for the coaches and everybody else to watch and see how that goes," Cooper said. "It's also going to be interesting to see these new younger guys who probably won't be on the team -- some of them -- but to see how they handle major league camp and to have an idea to plot out a course for them so maybe some time later in the year, as well as next year, they're in Chicago helping us win."
With so many youngsters to choose from, Cooper said the first nine days of spring training has been about working on each pitcher's mechanics and pitch command. Come the weekend, the evaluation begins.
"Right now, there's nobody ahead of anybody else," Cooper said, "there's nobody behind anybody else."
March, 1, 2012
3/01/12
7:14
PM CT
GLENDALE, Ariz. -- If you are in the area, stop in at Camelback Ranch and fill out an application for backup outfielder and bullpen positions -- ask for
Chicago White Sox
manager Robin Ventura.
"As far as ability and talent, there are some spots open and there are some guys with a lot of talent to pick from to fill it," Ventura said.
Pitchers
Nestor Molina
,
Addison Reed
,
Dylan Axelrod
and
Zach Stewart
are all young guns looking too make an early impression on Ventura and pitching coach Don Cooper this spring.
The White Sox outfield may also have a spot or two open, depending on how the new coaching staff looks at Brett Lillibridge. With four outfielders set, it could be time for Jordan Danks to get some big league experience.
Ventura will rely on bench coach Mark Parent and Cooper for the pitchers' talent evaluations, but learning to handle a staff will be the new Sox manager's greatest challenge.
"It is different watching than having to react to it as a manager," Ventura said. "The way they feel when I go out there, the way things are going in the game… these are things I am going to have to get used to looking at. Again, I am also trusting a staff [which] has seen a lot, too."
Yes, jobs are open this year on the south side and the grading begins for much of the team's young talent on Monday as Cactus League play starts.
"I am just trying to win a job," said Reed, who may get a chance to become the team's closer. "Anything after making the club is up to them, but getting a little taste of the majors was huge for me at the end of last year."
Keep your eye on Molina, who will be a starter at some point, but, like
Jon Garland
,
Mark Buehrle
and
Chris Sale
once did, could begin his White Sox career in the pen.
February, 27, 2012
2/27/12
3:39
PM CT
GLENDALE, Ariz. -- Eyebrows were raised when minor-league pitcher
Nestor Molina
was dealt to the
Chicago White Sox
straight up for closer
Sergio Santos
in November. The 23-year-old Molina didn't say whether he was surprised by the trade but is just happy to have the opportunity with a team that clearly thinks highly of him.
[+] Enlarge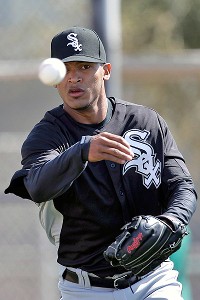 AP Photo/Jae C. HongNestor Molina is ranked as the White Sox's second-best prospect by Baseball America.
"So as far as a trade, it's a great opportunity for me to come in and hopefully contribute and get on the team," Molina said through Jackson Miranda, the team's manager of cultural development.
Molina posted stellar minor league numbers in the
Toronto Blue Jays
system since he was moved from third base to the pitcher's mound late in 2007. But he has yet to make his big-league debut.
Molina enters the season as the White Sox's second-ranked prospect, according to Baseball America, which also cited him as having the best control in the organization. Between Class A Dunedin and Class AA New Hampshire last season, Molina combined to go 12-3 with a 2.21 ERA, striking out 148 over 130 1/3 innings in 26 games.
Although the White Sox's starting rotation is set, Molina said he still hopes to break camp with the club.
"I would definitely be disappointed if I didn't make the team because I came in here with the mindset that I'm going to be on the roster," he said. "But if I don't make it, I'll work my butt off in the minor leagues, and I know there will be an opportunity sometime during the season where I'll be able to move back up."
Molina said it took him about a season to get his arm in pitching shape. He patterned his game after
Melvin Mora
coming up as a position player. But there isn't a pitcher he tries to model himself after. Molina wants to carve his own path. The one benefit going from a position player to a pitcher is that he understands the mindset of a hitter.
Manager Robin Ventura said he was very curious to get a look at Molina, and after the third day of spring training was impressed by his athleticism.
"He's very balanced," Ventura said. "You see it in everything he does. He's very balanced in the way that he throws doing the drills in the backfield. You can tell that he's just an athlete and not just a pitcher. It's always a tough transition, but for him it's nice to see the way the ball comes out of his hand."
February, 16, 2012
2/16/12
10:50
AM CT

By Doug Padilla
ESPNChicago.com
Archive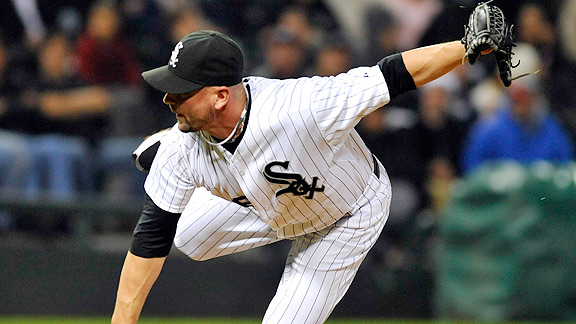 David Banks/Getty ImagesThe White Sox's bullpen will be lined up best if Jesse Crain can win the closer job.
With spring training fast approaching, Doug Padilla previews the White Sox roster by position.
The White Sox considered the bullpen an area of strength so they shipped off right-handers
Jason Frasor
and
Sergio Santos
in offseason trades to save a little cash and strengthen the farm system.
But the Santos move leaves the White Sox with one of their biggest challenges of the spring: Finding a closer.
The Opening Day closer job appears to be down to
Matt Thornton
or
Jesse Crain
. The lefty Thornton looked uncomfortable in the role to start the 2011 season. The righty Crain, meanwhile, was solid in a setup role before running out of gas late in the season.
[+] Enlarge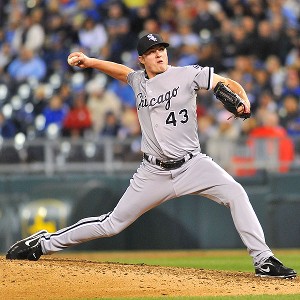 Denny Medley/US PresswireAddison Reed likely will open the season as the White Sox's primary setup man from the right side.
Young right-hander
Addison Reed
can't fill two bullpen roles, but his emergence last season was part of the reason Frasor and Santos were dealt. When the season starts, Reed figures to be used like Frasor was when he came over at midseason in a trade with the Blue Jays. Eventually, though, he will be aimed for the closer role, whether it's later in 2012 or beyond.
Veteran
Will Ohman
will be the only other lefty in the bullpen other than Thornton, unless
Hector Santiago
can earn his way onto the club with a solid spring.
Dylan Axelrod
and
Zach Stewart
are expected to duel for a long-man role, a spot not utilized much last season since a six-man rotation was used for a long stretch.
Brian Bruney
will get a chance to earn a spot back on the roster after he was invited to camp on a minor-league deal. Even the deal that sent Ozzie Guillen to the
Miami Marlins
could pay dividends for the relief corps. Part of the compensation the White Sox received for Guillen, right-hander
Jhan Marinez
, has an outside chance at a bullpen spot.
BEST-CASE SCENARIO IN 2012:
A spirited spring duel lands Crain with the closer job meaning the lefty Thornton and the righty Reed can set up. If Bruney is able to handle a sizeable workload in middle relief everybody can settle into their roles nicely, allowing Ohman to take on a lefty specialist job. A real assist could come from a minor leaguer like
Gregory Infante
, or future starters
Nestor Molina
or
Simon Castro
stepping up to land a relief role.
WORST-CASE SCENARIO IN 2012:
The White Sox don't appear to have as many options at closer as they did last season, so if Thornton or Crain aren't up for the job it would spell trouble. Would the White Sox dare push Reed into the role with limited big-league experience? The White Sox need the Thornton/Crain closer battle to be epic and ultimately a tough decision since the pitcher that isn't asked to close will still be needed in key late-inning spots as the setup man.
KID TO WATCH:
Clearly this is Reed, but he is virtually guaranteed a roster spot so we'll dig a little deeper here. Santiago was impressive every step of the way last season. He had 5 1/3 scoreless relief innings in the big leagues while still posting a 3.60 ERA in 23 starts at two separate minor-league levels. His chances of making the White Sox's bullpen would seem to center around Thornton winning the closer role since using three lefties in relief to get to the closer, like the White Sox did last season, isn't ideal.
December, 6, 2011
12/06/11
11:52
AM CT
By ESPNChicago.com
ESPNChicago.com