Chicago White Sox:

Nolan Ryan
April, 6, 2012
4/06/12
1:59
PM CT
April, 5, 2012
4/05/12
12:40
PM CT
ARLINGTON, Texas --
Chicago White Sox
manager Robin Ventura still hasn't spoken to Nolan Ryan about their memorable brawl on Aug. 4, 1993.
But it's not because Ventura doesn't want to or has blocked it from his memory.
"I haven't run into him yet," Ventura said.
Ventura won't have to watch that video this weekend at Rangers Ballpark in Arlington. Chuck Morgan, the Rangers' executive VP of in-park entertainment, said the club will still run it at times, but the clip won't be shown as part of a pre-game montage before most games, like it was the past few years.
March, 8, 2012
3/08/12
9:03
PM CT
SURPRISE, Ariz. -- Texas Rangers public address announcer and in-game presentation guru Chuck Morgan said Thursday the video of the memorable moment of Nolan Ryan putting Robin Ventura in a headlock and punching him will not be shown opening weekend and probably only once all season.
Ventura, now manager of the Chicago White Sox, brings his team to town for the opening series of the 2012 season on April 6-8.
Read the full story.
December, 6, 2011
12/06/11
5:10
PM CT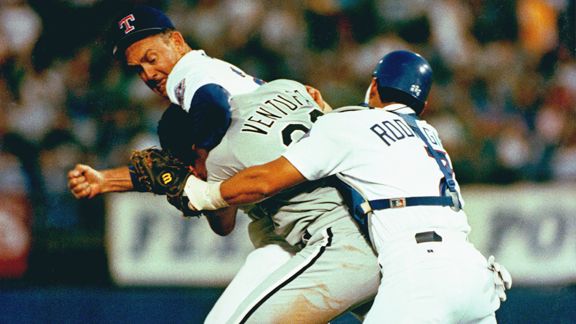 AP PhotoA 46-year-old Nolan Ryan gave Robin Ventura more than he bargained for in their infamous 1993 brawl.
DALLAS -- The highlight of Rangers CEO Nolan Ryan putting Robin Ventura in a headlock and punching him in 1993 is a staple during the opening montage at Rangers Ballpark in Arlington prior to games. And in 2012, the Chicago White Sox with Ventura as their new manager come to town to take on the defending American League champions on Opening Day.
Ryan said he thought of that video when Ventura was hired and figured that Chuck Morgan, the man in charge of in-park entertainment, wouldn't show it while the White Sox were in town.
So does Ventura care? No.
"I don't have to actually play, so it doesn't matter," said Ventura, smiling as he walked toward the lobby of the Hliton Anatole at the Winter Meetings on Tuesday. "Last time I checked, we weren't on the 25-man roster. I don't think it's going to make a difference for anyone actually playing the game."
Ryan, then 46, waited for the 26-year-old Ventura to charge the mound and them put him in headlock and got some shots to his head. It's one of those brawls that shows up repeatedly in highlight reels.
Ventura says the incident comes up many times in interviews or in conversations with fans.
"Usually in an interview, it takes about five questions," Ventura said (Note: it was the first question in this interview). "That's really the ones they want to get to, but they cover it by going some other route for five questions and coming back."
Ventura said some folks have tried to get him to watch it and he doesn't want to.
"It happened a long time ago, so I don't spend a whole lot of time on it," Ventura said.
Ventura said he and Ryan haven't ever talked about it, mainly because they've never been in the same spot to discuss it. Ryan said when Ventura was hired that the former player "certainly knows the game." Ventura said he has a lot of respect for Ryan and the Rangers.
"He's done a great job with Texas," Ventura said. "You look at where they've gone. He's obviously doing great stuff."