Chicago White Sox:

Oney Guillen
January, 20, 2011
1/20/11
4:21
PM CT
CHICAGO -- Chicago White Sox manager Ozzie Guillen finally broke his silence regarding critical comments from Bobby Jenks last month, and he also lamented his son's Twitter response.
Read the entire story.
January, 13, 2011
1/13/11
3:58
PM CT
Chicago White Sox second baseman Gordon Beckham sounded as if he was talking for a number of White Sox players while saying Thursday that the 2011 team can ill afford outside distractions.
Read the entire story.
December, 29, 2010
12/29/10
1:58
PM CT
March, 22, 2010
3/22/10
3:41
PM CT
[+] Enlarge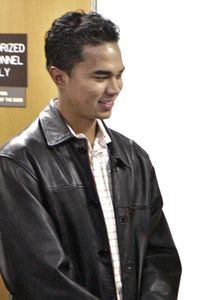 AP Photo/M. Spencer GreenOzzie Guillen has heard enough from his son Oney about his resignation from the White Sox.
Chicago White Sox
manager Ozzie Guillen responded to interviews his son Oney did Monday on two radio stations.
Oney went on ESPN 1000 and WSCR-670 (AM) to discuss his recent resignation from the White Sox, and his feeling about whether his father should be able to have a Web site and Twitter account.
"Kenny [Williams] and I are tired about talking about this [Oney's resignation]," Ozzie Guillen said. "Hopefully, from now on, we'll talk about baseball and the team."
Guillen was asked if it bothered him that his son went on the radio to express his opinion.
"I do mind," Guillen said. "I talked to him over the phone about how to express his opinion. I'd be the last person to tell somebody what to say. But in the meanwhile, he put some people on the spot. I know this is the last time he will talk about this, because I still have a little power over my kids.
"But in the meantime, he said what he had to say. Maybe some people won't like what he said, maybe some do. I told him it's over with. Take that thing out of your [system]. But when you're a father, you're behind your kids 100 percent. If you're not behind them, then you tell them why they are wrong. I told him very clearly, 'It's over with, move on, turn the page.'"
Guillen was asked if he was upset by his son's comments.
"He hurt my feelings," Guillen said, "because I had told him that was enough. Don't talk about this anymore. All of a sudden, he was talking on the radio.
"That says you're not respecting what I'm saying."
Guillen said he talked to his wife Monday morning as well, and guaranteed her that the situation was over with after he talked to his son.
March, 19, 2010
3/19/10
8:21
PM CT
Chicago White Sox
manager Ozzie Guillen walked out of the team's complex on Friday with an angry look on his face and didn't talk to the media. This departure from Guillen's usually outgoing and expressive behavior seemed to be directly related to the resignation of his son, Oney Guillen, the team's scouting video technician.
[+] Enlarge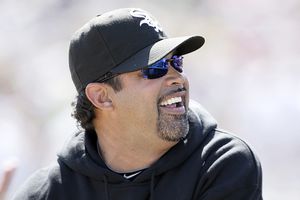 AP Photo/Jeff ChiuOzzie Guillen declined to speak to the media following Friday's game.
The younger Guillen resigned after an article in a Chicago newspaper documented his Twittering and blogging on a family Web site. Oney Guillen played in the Sox's minor league system before joining the club's scouting support system in 2009.
On Bobby and Buehrle:
White Sox Opening Day starter
Mark Buehrle
and
Bobby Jenks
will both pitch in a Cactus League game on Saturday in Glendale. Buehrle said he will throw at least 80 pitches to try and raise his pitch count before Opening Day.
Jenks will feature his new windup deliver for the first time in a spring training game. Sox pitching coach Don Cooper suggested this new method to Jenks in order to take some pressure off of his strained calf muscle and to possibly give him a couple extra miles per hour in velocity on his fastball.
Danks, but no thanks:
Left-hander
John Danks
wasn't happy with the outcome of his start against the Cubs on Saturday. Danks did get his five innings of work in, but admitted that he was working on certain pitches that he wouldn't have duplicated in a regular season game.
"I wouldn't have thrown five consecutive curveballs to
Marlon Byrd
in a regular season game," Danks said, "or four straight changeups to Soriano. I'm sure they were looking at me like, 'What the hell is this guy doing?'"