December, 14, 2014
Dec 14
12:43
PM CT

By Doug Padilla
ESPNChicago.com
Archive
CHICAGO -- Not content to let 2015 solely be about the 10-year reunion of last decade's World Series championship team, the
Chicago White Sox
have managed to construct a brand-new title contender in a matter of weeks.
A roster rebuild that began at the 2013 trade deadline has added significant pieces since the start of November as
Zach Duke
and
David Robertson
have been added to the bullpen,
Jeff Samardzija
has been added to the rotation, and
Adam LaRoche
and
Melky Cabrera
have been added to the lineup. The
news of the Cabrera deal
started to break late Saturday night.
The White Sox have spent $128 million alone on Duke, Robertson, LaRoche and Cabrera, with $42 million of that going to Cabrera for three years, according to a source who confirmed the numbers with ESPN.com's Jerry Crasnick.
[+] Enlarge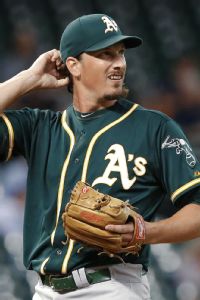 AP Photo/Pat SullivanIn Jeff Samardzija, the White Sox got a top-of-the-rotation pitcher who won't break the bank. His one-year deal is likely what prompted a speed-up in Chicago's rebuilding plan.
Adding the $9 million to $10 million Samardzija is set to make in his final season of arbitration eligibility, the White Sox have made a serious investment to the on-field product this winter.
Where some believed the White Sox would extend the rebuild into next offseason, the front office had a quicker timetable for trying to turn around the fortunes of a franchise that has experienced back-to-back losing seasons and has been to the postseason just once since its 2005 title.
The White Sox's arrival to their current winter spending spree was two-fold.
First, the White Sox started erasing big contracts from the books starting with the
Jake Peavy
trade at the 2013 trade deadline. That deal is also known as the one that added current right fielder
Avisail Garcia
into the mix.
Subsequent big-money deals that came off the books were those of
Alex Rios
(he was traded to the
Texas Rangers
in 2013),
Paul Konerko
(his big-money deal expired after the 2013 season) and
Adam Dunn
(he was traded to the
Oakland Athletics
in August).
But there has been more to the White Sox's decision to start spending now.
Team-friendly contracts to
Chris Sale
and
Jose Quintana
have also been key in establishing a solid starting rotation. And after one season of
Jose Abreu
's six-year, $68 million deal, that contract so far looks like a steal.
It wasn't a coincidence that the White Sox's current slide coincided with the bloated contracts to aging former stars who still were on the payroll. The sense was that the club might not hurry to get into that situation again, and the front office possibly would take a look at it next year when the roster was allowed to stabilize for another year.
The offseason started slowly enough with the three-year, $15 million deal for Duke and the relatively safe two-year deal for LaRoche, which will pay him $25 million through 2016.
Even the move for Samardzija seemed relatively conservative, even for a player who could bolt via free agency after one season.
Marcus Semien
and
Josh Phegley
were considered expendable since the club had multiple options at both second base and catcher. Pitcher
Chris Bassitt
, who was also in the deal, did not project as high as a No. 2 starter, which Samardzija would be.
And the White Sox got a top-of-the-rotation pitcher in the deal with the A's, and one who won't break the bank at that, unless a contract extension is agreed upon before spring training, something that isn't expected.
But perhaps the one-year status of Samardzija is what prompted a speedup in the rebuilding plan.
Things took on a different aura when Robertson was added for four years and $46 million. Big-money free-agent deals have their inherent risk, and none are more risky than high-priced deals to back-of-the-bullpen types.
"We worked hard to get to the point we're at right now where we have some flexibility," Hahn said mere hours before a deal with Robertson was agreed upon last week at the winter meetings. "And we knew that entering the 2015 season was going to be a bit of a pivot point for the major league club, even going back a couple of years when you looked at us on paper when you knew that Dunn, Peavy, Rios and PK were likely going to be elsewhere for 2015. This was always going to be a time where we had some choices to make."
In Robertson, the White Sox felt the roll of the dice was worth it. The 29-year old had been a proven set-up man with the
New York Yankees
and then proved his mettle by saving 39 games this past season as the Yankees' replacement at closer for
Mariano Rivera
.
With the need to fix the bullpen the greatest, the White Sox took the plunge on a proven performer who has been healthy throughout his career. In doing so, they bucked a few trends -- like the one that says relievers are the most volatile parts of a team, and the one that saw them develop their own closers for the past decade, from
Bobby Jenks
to
Sergio Santos
to
Addison Reed
.
In signing Cabrera, the White Sox have finally moved on from
Dayan Viciedo
, even though Viciedo is just 25 years old, and right-handed power is a prized commodity in the game today.
The White Sox's front office has gathered for some tough conversations this winter, and the answers have been that this offseason was the time to take some financial risks. Hahn outlined those conversations last week.
"Do we spend more for free agents? Do we try to acquire some high-priced talent via trade? And how is the best and most prudent way to put that club together?" Hahn said. "When we make a large commitment, whether it's a guy like [Jose] Abreu or [Chris] Sale or the next free agent we sign, it's not with the eye that we're going to necessarily have dead money on the back end of it.
"Does it happen? Yeah. It's part of the cost of doing business, and none of us in this industry are smart enough to identify on the way in where it's going to be. We sort of know, in our mind, that that's going to happen, but as a result we don't shy away from deals that have a reasonable chance to make us better for an extended period of time."
Now comes the task of blending it all together on the field. Hahn has done his job, and now it's up to manager Robin Ventura to make it all mesh.
The front office has remained solidly behind Ventura, even through 188 losses over the past two seasons. Ventura has the horses now, though, so is there pressure to have success?
"Hopefully," Ventura said last week, slowly looking around at the faces who will report all season on how he is handling that pressure. "That would be fine. I hope so."
Pressure means Ventura has a good team now, and he will gladly take it.