October, 10, 2014
Oct 10
11:46
AM CT

By Doug Padilla
ESPNChicago.com
Archive
It is no secret that the Chicago White Sox would like to get a little more balance in their starting rotation, which makes finding a right-handed starter one of the bigger priorities outside of rebuilding the bullpen.
Ideally, the White Sox can find a No. 2-type starter who pitches from the right slide so they can slide him between staff ace
Chris Sale
and consistent performer
Jose Quintana
.
[+] Enlarge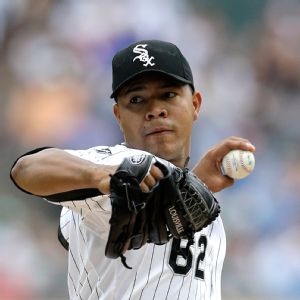 AP Photo/Nam Y. HuhCould Jose Quintana be traded for a right-handed starter?
But a pitcher of that caliber won't come easily. The White Sox would have to spend considerably on the free-agent market to get a pitcher worthy of a No. 2 tag. And it won't be as simple as meeting an asking price since that free agent also needs to see the White Sox as a good fit.
Luring a pitcher into the American League and into a ballpark that plays small like U.S. Cellular Field won't be an easy task.
If it's a matter of going after the best possible option, then the
Detroit Tigers
Max Scherzer
is the right-handed starter who would be at the top of anybody's wish list. Right behind him is the Kansas City Royals' James Shields.
But would the White Sox be ready to spend what it takes -- and commit to the years -- to land either pitcher at this point of their rebuild?
A notch down from those right-handers in the free-agent pool is the Atlanta Braves' Ervin Santana and the
Oakland Athletics
'
Jason Hammel
, among others.
Trades also remain a possibility, although landing a proven starter will take a significant package of young talent.
Another question is whether the White Sox would be willing to trade Quintana for his right-handed equivalent. The White Sox most definitely wouldn't consider dealing Sale, it will be next to impossible to find somebody willing to pick up
John Danks
' money in a possible deal, and there figures to be no way they would deal top pitching prospect Carlos Rodon, yet another left-hander.
A Quintana trade would be a huge risk and would only go down if the White Sox would be able to find another team in a similar predicament of needing left-handed balance with a young right-hander they are willing to deal. In that light, the odds of a Quintana trade appear extremely slim.
While right-handers like Hector Noesi, Scott Carroll, Eric Johnson and Chris Bassitt have all shown promise at some point recently, none of them are ready to break up the lefty logjam at the top of the White Sox's rotation.
Sure general manager Rick Hahn would like to land all of the top players on the team's wish list, but he also said that short-term fixes could fill holes as well. It isn't out of the question that a short-term fix could come with a right-handed starter.
Potential targets at all positions have already been compiled.
"The board in my office has more than two names at each position, and that's for a reason," Hahn said. "Our intent is to convert on the No. 1 target at every spot and address every need with the ideal fit. Realistically there are 29 other clubs, some of which have similar needs to ours and similar resources, whether it be from a player to trade standpoint or an economic standpoint. So, we're realistic and know that we're not going to be able to necessarily convert on every top guy.
"At the same time, our scouts and our analytics people are fairly well-versed and skilled at being able to target, perhaps, I don't want to say second-tier, perhaps less notable targets who've been able to develop into integral parts of championship clubs here. So the list is long."