September, 9, 2014
Sep 9
5:46
PM CT

By Doug Padilla
ESPNChicago.com
Archive
CHICAGO --
Hector Noesi
won't scare an opponent like
Chris Sale
might, and he doesn't have the upside of guys like
Jose Quintana
and
John Danks
, but the unlikeliest starter in the
Chicago White Sox
rotation this season continues to show that he has a future with the club.
[+] Enlarge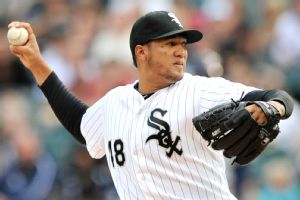 AP Photo/Paul BeatyHector Noesi will be arbitration-eligible this winter but has proven to be a valuable -- and affordable -- member of the pitching staff.
Noesi had already shown the ability to pitch out of the bullpen and has taken that a step further this year to prove he can be a productive starter, which means the White Sox will in all likelihood bring him back next season even though his major league experience means he is no longer under club contract control.
Noesi will be arbitration-eligible this winter, which still doesn't figure to scare off the White Sox, not after the right-hander has gone 8-8 with a 4.32 ERA over 24 starts while sucking up 146 innings. And that innings total does not include any starts in April, with as many as three more remaining this season.
His career path will continue to make him a question mark, but if Noesi is going to show an ability to pile up between 180-190 innings at a relatively low price tag, there is no doubt the White Sox will be willing to take a chance on that going into 2015.
"Obviously players who are pre-(arbitration) and have (minor-league) options remaining, neither of which apply to him, are a little easier to handle in terms of roster planning going forward," general manager Rick Hahn said. "But in terms of Hector, if in fact he got into the arbitration process, in all probability his price tag is not so onerous to force your hand on a decision."
Hahn stressed that the White Sox won't be in bargain-basement mode this winter, but a good buy is a good buy, especially when the club can decide first whether it wants to act on it or not.
"One thing we have been able to put ourselves in a position for heading into the offseason is having a fair amount of economic flexibility," Hahn said. "We'll be able to, whether it's on our own guys or players with other clubs, either via free agency or via trade, make some moves and have enough flexibility that arbitration eligibility isn't really going to be a factor in terms of deciding whether a guy fits or not."
What it means is that the White Sox are expected to keep Noesi in the fold this winter while also exploring other pitching options. The fact that Noesi can pitch as a starter and as a reliever gives him added value to the White Sox.
"He's a versatile guy who's obviously responded a great deal to the work he has done with (pitching coach Don Cooper) and the opportunity that was given to him," Hahn said. "I think we're very pleased with where he has come in the last 3½ months, four months since we've gotten him and he's a very interesting guy for us heading into the offseason."
Of the 94 pitches Noesi threw Monday, it was the two he threw in succession during the fifth inning that caused him his most trouble in an otherwise solid outing. After giving up a two-run home run Oakland's
Josh Reddick
, he then gave up a solo shot to
Jed Lowrie
on the very next pitch.
Otherwise he kept things in check yet again. In seven starts since the beginning of August, Noesi has given up three runs or less in five of them. Going back to July 6, he has given up three runs or less in eight of his last 12 starts.
And Cooper's evidence on his body of work has been obvious. Over Noesi's last 19 starts before Monday, the White Sox were 12-7. Over his previous 17 starts, his teams were 4-13.
"He throws free and easy, so that's another part of watching him pitch is it doesn't look max effort," manager Robin Ventura said. "He's pretty fluid when he throws it, he's got some zip on it and he's been able to really get better at the secondary pitches, which he didn't really have when we first got him."
The day the White Sox acquired Noesi, they hoped he could return to being a starter one day. Nobody ever imagined it would work out like this.
"He came in as the long guy, I think the first time he went out it was about four innings, or you were hoping for four innings," Ventura said. "Now, you really see him advancing and just the kinds of strides that he's made since we got him, he's made quite an impact. He's placed himself in a spot you didn't foresee him being in."