Chicago White Sox:

Ron Gardenhire
September, 14, 2014
9/14/14
1:29
PM CT
CHICAGO -- The damage from Saturday's doubleheader is still being sorted out, with some history-making strikeout numbers being the big takeaway from the day.
The final image from a long day-turned-night was of
Dayan Viciedo
's game-ending home run that completed a
Chicago White Sox
sweep over the
Minnesota Twins
, but there is no way to overlook the strikeout totals.
The combined 45 strikeouts in the two games tied a major league record for a doubleheader when both games lasted nine innings. The
Colorado Rockies
and then Florida Marlins did the same in 2009. In 2010, the
Boston Red Sox
and
New York Yankees
combined for a record 49 strikeouts in a doubleheader, but both of those games went 10 innings.
September, 14, 2014
9/14/14
12:57
PM CT
CHICAGO --
Paul Konerko
missed the opportunity to inflict damage on the
Minnesota Twins
one last time as he sat out his final series against the
Chicago White Sox
's division rivals with a hand injury.
The Twins weren't about to complain, especially since Konerko's 50 home runs against the Twins are his most against any one team.
All that production, though, didn't stop Twins manager Ron Gardenhire from complimenting the productive career of the White Sox slugger, who will retire once the season ends later this month.
"I've had the unpleasant experience of watching him round the bases a few too many times on us, but you know, he's just that professional guy that's handled himself on and off the field as well as anybody," Gardenhire said Sunday. "Clutch hitter, always big in those big situations for you, and a guy that you hated to see come up from our side in RBI situations, because he was the man. He wasn't going to miss."
Unable to play over the last week and a half because of an injured left hand, Konerko is starting to realize how fast the end of his career is approaching. After Sunday, there will only be four more home games remaining in his career, Sept 25-28 against the
Kansas City Royals
.
"You're definitely aware of what's going on; you're not going to be able to stop the clock," Konerko said. "It's going to move. It's going to get here. I'm trying to find that balance in between. This time of year, everybody in here, you're kind of leaning toward, 'Let's get this over with.' It's human to have those thoughts. There's some of that but you also, 'Not so fast, this is kind of the last time.'"
Konerko wasn't exactly a perfect fit on a roster that also started the season with
Jose Abreu
and
Adam Dunn
on it. But everybody associated with the White Sox was more than appreciative of his presence this year.
Missing time of late hasn't been ideal, but Konerko has managed to make the best of it.
"There's a lot of stuff I don't know if I wouldn't have done if I had been out there," Konerko said. "I don't think I could have done both had I been playing the role I'm playing in. There's a lot of coordination going on. So I guess that's one of the bright spots, is a lot of stuff got hammered out, so I think when I leave here today and then come back, it's all done. It's all in motion.
"Those last four days I should be able to treat pretty normal as far as the day, so I'm looking forward to that I guess. We'll see. I've said it all year, this is the first time and last time I'll ever do this, so I don't know what to expect on all that stuff, I don't know where my thoughts will be, what it will look like, any of that stuff. I'm just blowing in the wind here."
April, 3, 2014
4/03/14
6:51
PM CT
CHICAGO -- After the first three-game series of his major league career,
Jose Abreu
put on a hitting clinic, and the
Chicago White Sox
's new middle-of-the-order threat seemed to pick up a new admirer.
It didn't take
Minnesota Twins
manager Ron Gardenhire long to realize his club had a lot to handle in Abreu, the 27-year-old Cuban defector who signed a six-year, $68 million contract with the White Sox during the winter.
Abreu had two hits Opening Day, one Wednesday and two more in the series finale Thursday, including a three-run triple that looked as if it would set up the White Sox for the victory until the Twins rallied.
So does Abreu look like the real deal?
[+] Enlarge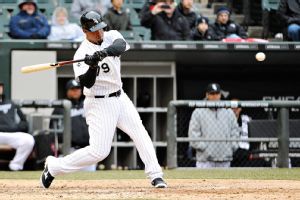 David Banks/USA TODAY Sports White Sox manager Robin Ventura and Twins counterpart Ron Gardenhire both gushed over Jose Abreu's opening series.
"Nah," Gardenhire said before breaking out into a laugh.
Had Chicago finished off the sweep, the laugh might have been harder to come by.
"I'm glad I won't see him for a while," Gardenhire said. "The kid can really hit. We knew that coming in. We heard he was a really strong young man, and that's why we were pitching around him. No disrespect to Mr. Dunn."
Mr. Dunn, of course, would be
Adam Dunn
, who was the better option to Gardenhire even though he hit two home runs in the series. That's how good Abreu looked.
"The way the guy's getting the barrel to the ball, you just try to limit the damage when he comes up in a lot of situations because he seems like he's on," Gardenhire said. "He hits pretty much everything. Even when he makes an out he seems like he gets the barrel to it. He's a strong young man. He looks like he really knows what he's doing hitting."
Of all Abreu's at-bats in the opening series, his most impressive trip to the plate might have been his sixth-inning triple. With the bases loaded, Abreu looked eager to drive in runs, chasing two off-speed pitches to get into an 0-and-2 hole. He then adjusted, hitting a ball off what appeared to be the end of the bat. His strength carried it 400 feet, where it caromed off the center-field wall.
When the series was complete, Abreu had a .417 batting average, a .750 slugging percentage and a .533 on-base percentage. He drove in five runs and his nine total bases were second on the team to
Alejandro De Aza
's 13, and De Aza compiled nearly all of that on three home runs.
Manager Robin Ventura considers Abreu to be the epitome of a professional hitter.
"If we can get him up there with guys on, we feel pretty good about it," Ventura said. "He stays within himself to be able to put the bat on the ball, but he consistently hits it hard. That's the one thing that's impressive. In any situation he comes up, you always think he's going to hit something hard."
December, 7, 2011
12/07/11
2:57
PM CT
DALLAS -- Many
Chicago White Sox
fans might have been ready to move on from Ozzie Guillen, but elsewhere in the American League Central not everybody was happy to see him go.
Minnesota Twins
manager Ron Gardenhire took the news hard and not just because his team was able to give Guillen's White Sox fits over the years.
"I'm going to miss him because he's entertainment for me," Gardenhire said. "I enjoy the heck out of him. I love the way he goes about his business. I love the way he manages. He keeps it entertaining, and baseball is supposed to be played that way.
"For me, you know, I get my opportunity seems like 19 times and now nothing, so that kind of stinks for me, because I enjoy the heck out of him."
Gardenhire is happy for Robin Ventura, who he knows from his days as a third base coach when Ventura was playing.
"I know Robin pretty well," Gardenhire said. "He's a baseball guy. He's a great player, and he'll be fine as a manager, I'm sure."
The Twins and White Sox are usually among the American League Central favorites, but that won't be the case in 2012.
"I think you have to look and see how it finishes out here and who was what [on their rosters]," Gardenhire said. "We'll know more when we get to spring training. As we saw last year, the health of your team makes a big difference.
"But Detroit, obviously, they thumped a lot of people. They have a pretty good baseball team, and I don't think they have done anything to hurt themselves so far. They're probably going to add. So you look at Detroit as the best team in our division and everybody is going to try to catch them."