Chicago White Sox:

Scott Linebrink
December, 3, 2010
12/03/10
12:57
PM CT
CHICAGO -- The Chicago White Sox traded reliever Scott Linebrink to the Atlanta Braves for right-handed pitcher Kyle Cofield.
Read the entire story.
September, 17, 2010
9/17/10
10:57
PM CT

By Doug Padilla
ESPNChicago.com
Archive
CHICAGO –- Now the White Sox are just making a mess of things.
Playing in uniforms with green trim to celebrate a "Halfway to St. Patrick's Day" promotion, there was ultimately nothing to envy. The White Sox lost their fourth consecutive game and the eighth in their last 10. They are also 1-6 in their last seven games against the Tigers.
But hey, with a Twins' defeat to the Oakland A's it was a rare night that the White Sox didn't lose any ground after their 9-2 defeat. So that's something.
In the sixth inning the
Edwin Jackson
no-hitter watch started. By the seventh inning after Jackson started having leg cramps and
Scott Linebrink
struggled to get anybody out, the
Detroit Tigers
had sprung back to life.
[+] Enlarge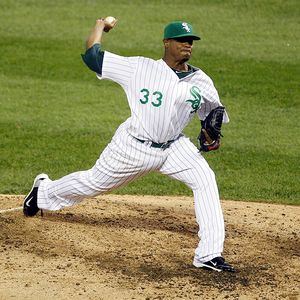 Jerry Lai/US PresswireEdwin Jackson had a no-hitter going in the sixth, but the White Sox crumbled late.
At least Jackson had the cramps in his calf as an excuse. Linebrink allowed two inherited runners to score and then allowed two more of his own to come home in just a third of an inning. So much for his solid string of seven appearances during which he gave up only one run.
Playing with a watered-down lineup a day after a key series against the Twins finished in a Minnesota sweep, things ended predictably. The White Sox had just three hits -– two on home runs from
Manny Ramirez
and surprise youngster
Brent Morel
–- and watched things crumble in the late innings.
Heading into the seventh inning, manager Ozzie Guillen and trainer Herm Schneider visited Jackson on the mound. The right-hander was pulling on the front of his right foot trying to work out the tightness in his calf.
Jackson clearly wasn't the same as he was in the previous six innings. He took a no-hitter into the sixth before
Austin Jackson
broke it up with a two-out infield single. To start the seventh, the Tigers went lineout, single, single, walk, wild pitch for a run, walk and RBI single before Linebrink was brought in.
"Three things good happened in this game," Guillen said. "I think Morel, the way he played third base and swing the bat, great. I like to see that. Manny for his home run. He need that for himself. Jackson throw the ball very good, except for that inning. He has thrown the ball very good for us and had one bad inning."
Ramirez wasn't going to make a big deal about his first extra-base hit and RBI in a White Sox uniform. Maybe it helped that the dominating hue had changed. So was it a relief to hit a home run after 84 consecutive at-bats without one?
"Not really man, I'm just trying to get the feel back and put a good swing on the ball," he said.
At least he was able to smile over the silent treatment he received from teammates once he rounded the bases and returned to the dugout.
"It was funny, yeah," he said. "This is an awesome group man. It was like when I was in L.A., Boston. We joke around but when it's time to play we go out there and play."
By the numbers


4: Strikeouts for
Mark Teahen
in four at-bats Friday. It matched a career high. The last time it happened was against the White Sox as a Royal when he went down four times on April 7, 2006.
Quote


"It's been good so far. I've come in and had some success. It's all about comfort. I've been comfortable. Pretty much most starts except for a couple I've given my team a chance to win." –- Jackson, who is 3-2 with a 4.60 ERA for the White Sox, on his time with his new team.
Look ahead


White Sox right-hander
Lucas Harrell
(1-0, 4.50 ERA) will make a spot start Saturday for
Freddy Garcia
, who is dealing with a lower back injury. It is Harrell's third career start, all this season.
Harrell will be opposed by Tigers right-hander
Justin Verlander
(16-8, 3.48).
July, 17, 2010
7/17/10
7:48
PM CT

By Doug Padilla
ESPNChicago.com
Archive
[+] Enlarge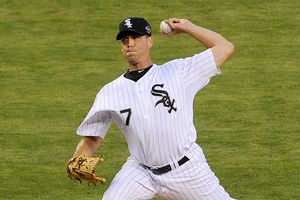 Michael Buckner/Getty ImagesSetup man Matt Thornton was named to his first All-Star Game this season.
MINNEAPOLIS -- Before Paul Konerko was named to the American League All-Star team, the lone White Sox representative for the squad came from the team's bullpen.
How fitting that the relievers were so honored since that's the group that has remained the steadiest, through the team's early-season struggles on into their red-hot run that launched them into first place.
That the honoree was not closer Bobby Jenks nor was it J.J. Putz, who has made 23 consecutive scoreless appearances, is proof of the group's depth.
Matt Thornton was the lone White Sox pitching representative, offering the baseball world a misinterpretation of what had been happening in the late innings this season when he gave up the National League's game-winning three-run double.
When the team's own fortunes are at stake, it has been much better. Not only is Putz on his scoreless run, but Jenks has rebounded from a shaky start to convert his last 15 save opportunities. It is his longest streak since saving 17 consecutive in the 2006 season.
"Obviously the start of my season didn't go as planned," Jenks said of an ERA that reached 6.35 at the end of May. "But during that time we had a lot of guys who were able to pick me up in the time being. Now that I'm back on track doing want I'm doing and throwing the ball well again, it makes it easier on those other guys just knowing what their exact roles are."
Entering play Saturday, the White Sox bullpen led the AL in strikeouts per nine innings (9.14) and save percentage (82.4). They were tied for first in saves with 28. They were fifth in ERA (3.57) and percentage of inherited runners to score (27).
The left-handed Thornton and the right-handed Putz operate as a two-headed set-up man. Sergio Santos and Scott Linebrink back them up, with Tony Pena the long man. Erick Threets gives the White Sox a second left-handed reliever.
Putz entered Saturday's game second in the AL in strikeout-to-walk ratio (6.67) and was tied for second among relievers in victories with five. Thornton was tied for first in strikeouts (50) and was second in strikeouts per nine innings (12.16).
"I think everybody is proud of the way they have pitched out of the bullpen; everybody works hard," Putz said. "We just kind of go out there whenever the phone rings and try to get quick efficient outs. I think for the most part everybody has been able to stay efficient, keep their pitch counts down and be able to bounce back the next day."
Add efficiency to the fact the White Sox's bullpen has some of the least wear and tear in the AL and it's a combination that could keep the relievers fresh deep into the second half. The White Sox bullpen is 12th in the AL in innings pitched with 239 1/3.
And with the way the offense has been producing lately, the relievers are on high alert they could be needed in a key situation every night.
"It's always nice to know you're always in games," Putz said. "Guys are showing up expecting to win now. Even when things weren't going very well, it was still a fun group of guys to be around. It's a fun clubhouse.
"There is still a long way to go but hopefully the veteran leadership we have here – it's a fairly veteran-type team and a lot of guys have been through this type of situation – will make it a fun couple of last months."
Welcome back
Carlos Quentin was back in the White Sox's lineup Saturday one day after resting a bruised right hand. Quentin was hit by a pitch in Thursday's game against the Twins.
In addition to the bruised hand, he had a sore knee last week, went through foot problems last season and broke his wrist two years ago when he slammed his own bat. Despite the history of injuries, manager Ozzie Guillen does not consider Quentin injury prone.
"When you play that hard the way he plays, you're taking a lot of risk," Guillen said. "When he dove for the ball [last week] in Chicago, I hold my breath. This kid comes out there and gives you 200 percent every time he's out there. He plays only one way and it's the only way he knows how to play.
"He got some freaky injuries, but when he hit the bat he learned from that. Every time he hits, he's on top of the plate and got a chance to get hit a lot, but that's the way he plays."
March, 5, 2010
3/05/10
4:58
PM CT

By Bruce Levine
ESPNChicago.com
Archive
MESA, Ariz. -- Right-handed pitcher Sergio Santos has a real opportunity to make the White Sox's 12-man staff. The converted catcher struck out the side in his one inning of work against the
Los Angeles Angels
on Thursday.
Santos isn't taking anything for granted.
[+] Enlarge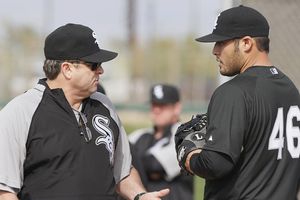 AP Photo/Mark DuncanSergio Santos will battle with Randy Williams, Daniel Hudson, and others for one of the final spots in the bullpen.
"I'm taking it inning by inning," he said. "I'm trying to learn at a faster pace. I'm behind some of the guys as far as pitching experience, so I'm taking in as much as I can and filtering it. Whatever works I hope will help me down the line."
Santos will be in a battle with right-handed pitcher
Tony Pena
and veteran
Scott Linebrink
for the sixth- and seventh-inning role in the pen. If he does continue to impress, the White Sox front office may back off on plans to trade for a veteran bullpen arm. With seven spots available in the bullpen, it's likely there's only room for two pitchers to make the team. After closer
Bobby Jenks
and setup men
J.J. Putz
and
Matt Thornton
, Pena and Linebrink appear to be on the team. That leaves left-hander
Randy Williams
, Santos and
Daniel Hudson
as some of the pitchers battling for those two spots.
In the event that Jake Peavy's Sunday start is rained out, the veteran will throw his own simulated game in one of the team's batting cages. "I'll just throw a certain amount of pitches and then rest in between innings," Peavy said. I'll just throw like I do during a game."
The Phoenix area is expecting one inch of rain Saturday night heading into Sunday.
Outfielder
Alex Rios
was the designated hitter on Friday in Ozzie Guillen's lineup. The 29 year-old centerfielder told me that his sore right shoulder isn't a major concern. Rios said that he's had this problem early in the spring in previous seasons and that the arm has come back quickly. Rios hopes to play in the outfield sometime next week.
February, 23, 2010
2/23/10
10:34
AM CT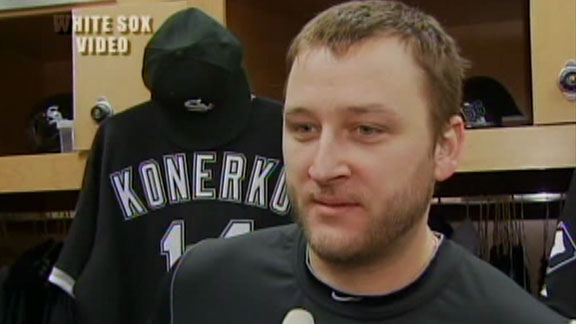 Jake Peavy has fit right in to the White Sox clubhouse, surrounded by self-described good 'ol boys just like him.


Peavy
"We're locked in on one side of the clubhouse with [reliever Scott] Linebrink to my left, you got John Danks and Mark Buehrle, just all kind of hunters," Peavy, an Alabama native said Tuesday on "The Waddle & Silvy Show" on ESPN 1000. "We're all hunting pitchers. Linebrink has got a fishing pole against his locker and three or four pairs of cowboy boots so we've got a good mix.


"They were asking me how I fit in the clubhouse. I said geez, this clubhouse is full of rednecks like me. We do have a bunch of good 'ol boys, and it's been fun to be a part of such good chemistry in a clubhouse."


Peavy, who was acquired from the San Diego Padres at the July 31 trade deadline last season, was long linked to the Cubs, who were in trade talks for the former National League Cy Young winner at the winter meetings in December 2008. A trade never materialized, and Peavy ended up on the South Side, playing for manager Ozzie Guillen.


"I can't tell you how happy I am to be here and to play for a manager as passionate as Ozzie," Peavy said. "You have your scuffles, you have your player-manager battles sometimes, sure. I'm passionate and fiery and Ozzie is the same way, and who knows what the future holds. But I'm fired up. Ozzie is passionate about the game, he loves his players and who doesn't want to play for a guy like that?"

Listen to the entire interview

August, 18, 2009
8/18/09
9:13
PM CT

By Bruce Levine
ESPNChicago.com
Archive
The Cubs aren't the only team going through a bullpen transition. White Sox manager Ozzie Guillen has demoted set-up man Scott Linebrink from his eighth-inning set-up role.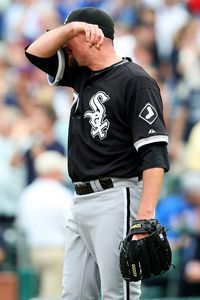 Jonathan Daniel/Getty Images
Scott Linebrink pitched himself out of a set-up role.
The final straw for Guillen was a
Mike Jacobs
three-run home run that tied up Monday night's game in the eighth. The numbers speak to why Guillen has made this move. Linebrink has given up 10 runs on 15 hits and nine walks over his past 10 2/3 innings pitched, covering 12 games.
For now, lefty Matt Thornton will assume the eighth-inning duties by himself. Guillen did say that D.J. Carrasco has done extremely well in everything they've given him in the bullpen and might be a part-time solution in the set-up role.
The problem with using Carrasco in that role is that he's been outstanding as the long man in the bullpen when starters have had to come out early in games.
"Linebrink will return to the set-up job when we get him straightened out," Guillen said. "For now, he'll be used in another role."
Paulie's problems
First baseman Paul Konerko has been in a prolonged slump in August, as he has watched his average dip more than 25 points. I asked Guillen if Konerko's bumps and bruises are affecting his hitting.
"Mental, mental, mental," Guillen said. "This guy's put up numbers for years. His mind is all over the place. I don't know why. When you are a veteran player and you know how good you are, you sometimes get kind of in between. I've managed Paulie for six years. I know who he is. He wants to do more than he can do."
I asked Guillen how he's helped get Konerko out of these funks in the past.
"Just laugh at him," Guillen said. "Make fun of him, tell him he's good. Just … watch the ball and hit it. It's all mental. Physically he's there."
Peavy plan
Jake Peavy threw four innings, allowing five hits and four runs in his second rehab start for Charlotte on Tuesday night. Peavy struck out five, hit a batter and allowed a home run.
The White Sox's plan right now is that Peavy will make at least one more rehab start, on Aug. 23. After that, the team, along with Peavy, will decide if he needs one more minor league outing before joining the big league club.