Chicago White Sox:

Shane Lindsay
October, 14, 2011
10/14/11
3:21
PM CT
CHICAGO -- Fresh off announcing
Robin Ventura
as their new manager earlier in the week, the
Chicago White Sox
did a little housekeeping with their roster.
The White Sox made five moves Friday, one of which was to release right-hander
Tony Pena
, who underwent Tommy John surgery on Aug. 31.
The team also outrighted pitchers Kyle Cofield,
Josh Kinney
,
Shane Lindsay
and Leyson Septimo to Triple-A Charlotte.
All five players will become free agents.
Pena was 1-1 with a 6.20 ERA in 17 appearances before tearing the ulnar collateral ligament in his right elbow. Kinney appeared in 13 games with the White Sox, while Lindsay appeared in four. Lindsay became the first Australian-born player to appear for the White Sox.
Cofield and Septimo did not appear in the major leagues this season.
The White Sox's 40-man roster is now at 36 players.
September, 18, 2011
9/18/11
1:48
PM CT
KANSAS CITY, Mo. -- When a mother travels halfway around the world at a moment's notice and stays in a hotel for two weeks, it would make sense for her son to take a second job to pay for it all.
So when
Chicago White Sox
pitcher
Shane Lindsay
returns to his native Australia once the season ends, he already has some work lined up. Always fascinated with heavy machinery, Lindsay will work five days a week operating an excavator for a construction company.
It isn't the first foray into construction for the 26-year-old. He used to own a watering truck, working as an independent contractor for road-building projects.
After the new year, as spring training draws closer, Lindsay's schedule will consist of a workout at 5:30 a.m., reporting to the construction site at 6:30 a.m. and then another workout before he calls it a night.
And actually, all his hard work isn't completely to help pay his mom's credit card bills. Lindsay already had the job lined up before he learned of his Sept. 1 promotion to the big leagues.
When the promotion came, Kerry Lindsay immediately purchased a $4,000 round-trip plane ticket to the United States, made visits to Detroit and Minneapolis and lived out of a hotel for two weeks. She just returned to Australia this past Thursday.
In total, Lindsay said the visit cost somewhere in the neighborhood of $8,000, but the self-proclaimed mama's boy said it was the memories that mattered and there was no way of putting a price tag on that.
September, 3, 2011
9/03/11
3:50
PM CT
DETROIT -- Not long after Friday's defeat that dealt a huge blow to the
White Sox
's playoff chances, the moment was put into perspective for manager Ozzie Guillen.
As he approached the family room, where relatives and friends wait for players and coaches, Guillen noticed his wife Ibis with tears in her eyes.
"I was worried that something happened at home," Guillen said.
[+] Enlarge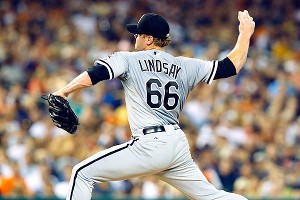 Rick Osentoski/US PresswireShane Lindsay pitched a scoreless eighth inning in his White Sox debut on Friday night.
It turns out that Ibis Guillen was talking to the mother of new White Sox pitcher
Shane Lindsay
and she was moved by her story. Ozzie Guillen listened to it as well and it wiped away one of the toughest days of the season.
Upon hearing about her son's promotion to the major leagues this week in a 4 a.m. phone call Australia time, Kerry Lindsay jumped out of bed, packed a bag and went straight to the airport where she purchased a round-trip ticket on the spot for the paltry sum of $4,000 (U.S.).
She was en route for nearly 24 hours, changed planes in Dallas and made it to Detroit with only a few hours to spare Friday night. She jumped into a rental car, navigated her way to Comerica Park and then couldn't figure out where to go for her complimentary ticket behind home plate.
Undeterred, Kerry Lindsay purchased a standing-room-only ticket for the sold-out game and was on the outfield concourse above the White Sox's bullpen when her son warmed up in the late innings.
Will Ohman
said he teased his new teammate for not getting his mom a better ticket, so obviously Kerry Lindsay had managed to make her presence known.
One inning later, the moment that made her travel a half a world away in 24 hours happened. Shane Lindsay pitched a scoreless inning in his major-league debut.
"I think that's one of the best things I hear in a long time," Guillen said. "Fly all over to come see your kid get his dream come true. There is not a better feeling than that. When you are a parent, that's why you raise your kids to make sure they get their goals. Believe me, I don't get too sensitive about too much stuff, and that one made me forget how bad we played."
Shane Lindsay joked that now he's stuck with his mom for two weeks before she returns home. He was somewhere between proud and a little embarrassed to note that when his "mum" first laid eyes on her son after Friday's game she sprinted toward him and put him in a bear hug.
It made the price tag worth it. When Shane Lindsay was with the
Colorado Rockies
organization, he had it in his contract that the team would pay for immediate family to fly to the United States to see his debut. He never made it to the major leagues with the Rockies and he didn't have the same deal in his White Sox contract.
He wasn't complaining, though.
"It was a great thing that happened to us, at least to me," Guillen said. "I know a couple of players had a conversation with her. There is nothing better than when your kids have success. That's one of the biggest thrills you can have as a parent."
September, 2, 2011
9/02/11
6:03
PM CT
DETROIT – No offense to the two new pitchers who just arrived from Triple-A Charlotte to fortify the roster, but manager Ozzie Guillen has no intention of using either one of you.
Guillen means no disrespect to either, but if they don't see any action that not only means the White Sox are playing competitive games, but meaningful ones as well.
Well, actually there is a way that right-handers Shane Lindsay and Addison Reed get in games without all hope being lost. The White Sox can possibly put together a laugher that both pitchers can clean up.
However it turns out, both have earned their promotion. Lindsay, who hails from Australia, posted a 2.18 ERA over 70 1/3 innings between Double-A Birmingham and Triple-A Charlotte. He had 90 strikeouts, although he did have 59 walks.
"To be honest it seemed like I was getting ahead of guys and then overdoing stuff, trying to make too good of a pitch when I was ahead of the count," Lindsay said. "All of a sudden, 3-2 I was walking guys. It's more of an approach thing I think, throwing strikes and getting ahead of guys. I just need to put them away."
If Lindsay's season was good, Reed's was off the charts. He started at the low Single-A level this season, moved up to high A, found himself in Double-A and then Triple-A, where he made 11 appearences. He struck out a combined 111 batters this season, which led all minor-league relievers.
"I'm just trying to keep the ball down and keep them off balance," Reed said. "Don't try to do too much. If I start thinking, I get into trouble. I'm just trying to keep it out of my head and throw strikes."
Guillen admitted he didn't know much about either pitcher, but did see Lindsay plenty this spring. He trusts the player-development staff that both are ready for their moment in the spotlight.
"I think the scouting report is very good," Guillen said. "I think there are a lot of people high on them. Hopefully they come to the big leagues and open people's eyes and hopefully they have some fun here."
So far so good for the pitchers who arrived in the clubhouse about three hours before game time and said their hellos. They also their pink backpacks with wings attached that the rookie pitchers will have to carry to the bullpen full of gum and sunflower seeds for the rest of the season.
It will be a sight to see, indeed, for both of their parents. Reed's parents beat their son to Detroit by taking the red eye Thursday night from the Los Angeles area. Lindsay's mother had an even rougher journey, flying from Australia at the last minute and arriving just before game time.
"It been pretty crazy," Lindsay said. "I've been wanting it for a long, long time and working toward it. It's pretty crazy. I'm a bit numb and a bit shocked. It's cool."
September, 1, 2011
9/01/11
4:54
PM CT
CHICAGO – More will be known about the White Sox's expanded roster just before Friday's make-or-break series at Detroit.

The one obvious move will be to activate A.J. Pierzynski from the disabled list where he spent nearly three weeks with a bone compression in his left arm. The White Sox are expected to move forward with three catchers in Pierzynski, Tyler Flowers and Donny Lucy.

The club is also expected to add right-hander Shane Lindsay and infielder Eduardo Escobar from Triple-A Charlotte. Left-hander Hector Santiago is also expected to be called up from Double-A Birmingham.

Triple-A right-hander Addison Reed could also get the call, although his promotion isn't as certain. Reed is having a standout season, posting a 1.26 ERA with four different White Sox minor-league clubs this season over three separate levels. In 11 outings (21 1/3 innings) at Charlotte, he has a 1.27 ERA with two saves.

Manager Kenny Williams said this week that he is prepared to recall Reed only if the White Sox are in contention. It's possible that Williams might wait to make a decision on Reed until he knows where the team stands after this weekend's series against the Tigers.

One move Williams doesn't seem prepared to make is to call up outfielder Jordan Danks, the brother of pitcher John Danks, who will start in the series opener Friday. Williams believes the White Sox have enough outfield coverage at this time.

March, 12, 2011
3/12/11
12:39
PM CT

White sox pitcher and Australia native Shane Lindsay, a non-roster invitee to spring camp, talks about spending 8 years in the minor leagues and his chances of making the big leagues for the first time.