Chicago White Sox:

Simon Castro
July, 5, 2013
7/05/13
11:13
PM CT
By
Chris Girandola
| Special to ESPNChicago.com
ST. PETERSBURG, Fla. -- On the one hand, the 8-3 loss by the
Chicago White Sox
to the
Tampa Bay Rays
on Friday saw two prospects look impressive in their major league debuts. On the other, Sox starter
Dylan Axelrod
did little to prevent Chicago from losing for the seventh time in nine games.
Josh Phegley started at catcher and went 1-for-3 in his first big league game, while
Simon Castro
tossed three scoreless innings in relief.
"There's a silver lining to it because you get those guys in there and they do well, but it's just one of those you get beat up today," White Sox manager Robin Ventura said.
Axelrod allowed five runs on nine hits over 1 2/3 innings, the shortest start of his career. The right-hander fell to 1-4 with a 5.32 ERA on the road this season.
"He was just in the middle, everything was elevated," Ventura said. "Nothing was down in the zone. When he's good, he's got people swinging and missing with the ball falling in the dirt."
Axelrod escaped the first inning unscathed after allowing two singles, but he was rocked in the second. He surrendered back-to-back homers in the frame -- a two-run homer to
Jose Molina
and a solo shot to
Kelly Johnson
-- then a run-scoring single to
Evan Longoria
later in the inning before being lifted following an RBI-double by
Wil Myers
.
"They're hot right now and when you leave balls up like I did to some of those guys, you pay for it," said Axelrod, who tossed 54 pitches, 36 for strikes. "I didn't feel like I was making horrible pitches, but obviously they weren't good enough."
The Rays have scored 28 total runs over their last 12 games.
It wasn't the type of performance the White Sox needed, especially considering the trade rumors surrounding the team.
As Ventura mentioned, though, the bright spot occurred with the team's two prospects.
Phegley's single up the middle against Rays starter Jeremy Hellickson came after the 25-year-old catcher struck out swinging in his first at-bat. The Rays right-hander allowed one run on six hits over seven innings, improving to 6-1 with a 3.16 ERA over his last seven starts.
"He got me on the first at-bat with one of his change-ups, but I kind of timed up the fastball the next time I saw him," Phegley said. "He was upset about it, too, because I heard him say some stuff about it."
After
Ramon Troncoso
gave up two runs in 2 1/3 innings of relief and
David Purcey
allowed one run in one inning, Castro finished the game.
It was the first time Castro had pitched in a game in 10 days and it showed. The tall right-hander surrendered two consecutive singles to
Luke Scott
and
Yunel Escobar
before retiring the side.
"I was a bit nervous, of course," said Castro, who struck out four and walked two over his 51-pitch appearance. "Once I got the nerves out, I felt good. I made all my pitches."
June, 29, 2013
6/29/13
2:35
PM CT
CHICAGO – A recent conversion to the bullpen made Simon Castro the ideal candidate to join the Chicago White Sox on Saturday.

The White Sox called up the right-hander not long after right-hander Brian Omogrosso was optioned back to Triple-A following a drubbing Friday against the Cleveland Indians when he gave up nine runs in 2 1/3 innings.

"Definitely I'm prepared," said Castro, who had a 4.92 ERA at Charlotte this season and has no major league experience. "I'm working hard to be ready for that and I threw a couple of times out of the bullpen in Charlotte, so I feel pretty good."

Ventura hinted early in the week that the White Sox were interested in adding a long reliever. But when Friday's doubleheader came, the White Sox opted for an extra position player with Brent Morel.

Omogrosso's outing opened the door for the White Sox to make the move they appeared to be ready to make anyway.

"What he would do is similar to what a long reliever/starter would do," Ventura said. "He's in there, he's earned the right to be here filling in if we need him."

In other words, it sounds like Castro would be limited to mop-up duty until he can prove himself.

Castro opened the season with 12 starts, but his last four outings have come in relief. It's been somewhat of a rocky transition as he has given up two runs in two of the four outings, while pitching at least two innings in three of the four appearances.

Castro was acquired by the White Sox on Dec. 31, 2011 in the deal that sent Carlos Quentin to the San Diego Padres. The White Sox also acquired Pedro Hernandez in that move, but he was sent on to the Minnesota Twins in the deal that landed Francisco Liriano.

March, 1, 2012
3/01/12
9:57
PM CT
By
Chris Silva
| ESPNChicago.com
GLENDALE, Ariz. -- Competition for the open three bullpen spots will officially begin this weekend, when the
Chicago White Sox
play some intrasquad games before opening their Cactus League schedule on Monday against the
Los Angeles Dodgers
.
The fast-talking, straight-to-the-point Don Cooper, who has been with the team since 1988 and has served as pitching coach since 2002, is looking forward to seeing who's ready to start the season in the bullpen.
"Listen, for the first time in a long time we've got three spots open and that's going to be an interesting thing for the coaches and everybody else to watch and see how that goes," Cooper said. "It's also going to be interesting to see these new younger guys who probably won't be on the team -- some of them -- but to see how they handle major league camp and to have an idea to plot out a course for them so maybe some time later in the year, as well as next year, they're in Chicago helping us win."
With so many youngsters to choose from, Cooper said the first nine days of spring training has been about working on each pitcher's mechanics and pitch command. Come the weekend, the evaluation begins.
"Right now, there's nobody ahead of anybody else," Cooper said, "there's nobody behind anybody else."
February, 16, 2012
2/16/12
10:50
AM CT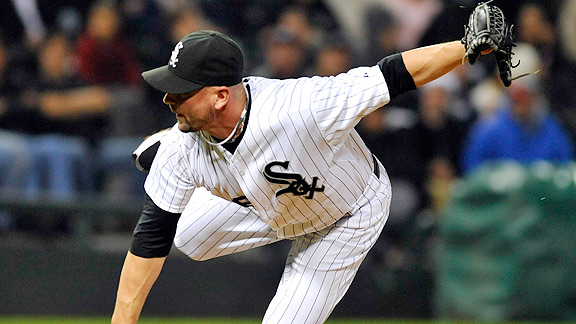 David Banks/Getty ImagesThe White Sox's bullpen will be lined up best if Jesse Crain can win the closer job.
With spring training fast approaching, Doug Padilla previews the White Sox roster by position.
The White Sox considered the bullpen an area of strength so they shipped off right-handers
Jason Frasor
and
Sergio Santos
in offseason trades to save a little cash and strengthen the farm system.
But the Santos move leaves the White Sox with one of their biggest challenges of the spring: Finding a closer.
The Opening Day closer job appears to be down to
Matt Thornton
or
Jesse Crain
. The lefty Thornton looked uncomfortable in the role to start the 2011 season. The righty Crain, meanwhile, was solid in a setup role before running out of gas late in the season.
[+] Enlarge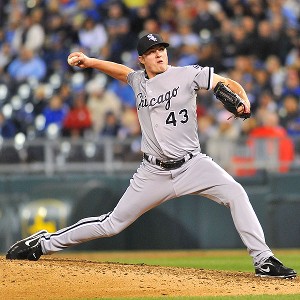 Denny Medley/US PresswireAddison Reed likely will open the season as the White Sox's primary setup man from the right side.
Young right-hander
Addison Reed
can't fill two bullpen roles, but his emergence last season was part of the reason Frasor and Santos were dealt. When the season starts, Reed figures to be used like Frasor was when he came over at midseason in a trade with the Blue Jays. Eventually, though, he will be aimed for the closer role, whether it's later in 2012 or beyond.
Veteran
Will Ohman
will be the only other lefty in the bullpen other than Thornton, unless
Hector Santiago
can earn his way onto the club with a solid spring.
Dylan Axelrod
and
Zach Stewart
are expected to duel for a long-man role, a spot not utilized much last season since a six-man rotation was used for a long stretch.
Brian Bruney
will get a chance to earn a spot back on the roster after he was invited to camp on a minor-league deal. Even the deal that sent Ozzie Guillen to the
Miami Marlins
could pay dividends for the relief corps. Part of the compensation the White Sox received for Guillen, right-hander
Jhan Marinez
, has an outside chance at a bullpen spot.
BEST-CASE SCENARIO IN 2012:
A spirited spring duel lands Crain with the closer job meaning the lefty Thornton and the righty Reed can set up. If Bruney is able to handle a sizeable workload in middle relief everybody can settle into their roles nicely, allowing Ohman to take on a lefty specialist job. A real assist could come from a minor leaguer like
Gregory Infante
, or future starters
Nestor Molina
or
Simon Castro
stepping up to land a relief role.
WORST-CASE SCENARIO IN 2012:
The White Sox don't appear to have as many options at closer as they did last season, so if Thornton or Crain aren't up for the job it would spell trouble. Would the White Sox dare push Reed into the role with limited big-league experience? The White Sox need the Thornton/Crain closer battle to be epic and ultimately a tough decision since the pitcher that isn't asked to close will still be needed in key late-inning spots as the setup man.
KID TO WATCH:
Clearly this is Reed, but he is virtually guaranteed a roster spot so we'll dig a little deeper here. Santiago was impressive every step of the way last season. He had 5 1/3 scoreless relief innings in the big leagues while still posting a 3.60 ERA in 23 starts at two separate minor-league levels. His chances of making the White Sox's bullpen would seem to center around Thornton winning the closer role since using three lefties in relief to get to the closer, like the White Sox did last season, isn't ideal.
December, 31, 2011
12/31/11
5:18
PM CT
The second coming of
Jose Contreras
is on the way. Or at least that's what
Chicago White Sox
general manager Kenny Williams suggested Saturday.
Explaining the trade that sent
Carlos Quentin
to the
San Diego Padres
and yielded minor-league pitchers Simon Castro and Pedro Hernandez, Williams seemed to put most of his expectations on Castro.
"Castro, as I was looking at him on tape, Castro reminds me of Jose Contreras when we got him and there were things he was doing [mechanically] that were counter-productive," Williams said. "There are a lot of similarities and hopefully we can get the most out of him."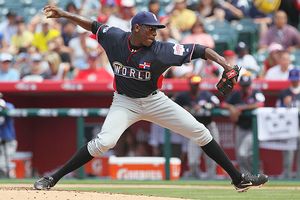 Stephen Dunn/Getty ImagesNewly-acquired White Sox Simon Castro pitched in the All-Star Futures Game in 2010.
Does that mean when you squint really hard you are reminded of Contreras? Or can this guy really lead a starting rotation to an 11-1 run during the postseason?
Williams sounded annoyed that he had to reiterate his comparison.
"There are some similarities we see in him that remind us of Jose and some of the issues he has had this past year that he didn't have before," Williams said of Castro's disappointing 7-8 season with a 5.63 ERA at both Double-A and Triple-A. "Sometimes guys get out of whack. This guy is 6-foot-5, throws 90-95 [mph], a lower three-quarter angle and gets around balls but can drop a hard split and he can locate, when he's right."
To Williams' credit, the Contreras comparison isn't completely off the wall. Castro was the Padres' minor-league pitcher of the year in 2009 and that success continued a year later. In 2010 he was a midseason and postseason Texas League All-Star and pitched in the Futures Game that season.
Last season, though, on a deep staff at Double-A for the Padres, he had mechanical issues. Despite it he still got six starts at Triple-A, but posted an ERA over 10.
"He will be the first to admit that he didn't distinguish himself among some of his peers," Williams said. "We have to get him back there. Just one year ago you wouldn't have been able to get this kind of guy."
Consider it yet another reclamation project for pitching coach Don Cooper, who was there to help Contreras turn it around.
Nobody really expects Castro to take over the rotation and lead the White Sox to the World Series next season, but he and Hernandez could see time in the big leagues in 2012.
"Castro twice was a top-100 prospect even though he scuffled at times [last season]," Padres GM Josh Byrnes said. "He was still low to mid-90s [mph fastball], slider, change up and a great kid."
That makes two big-league GMs with high praise for Castro, although Byrnes was the one who just traded away the right-hander.