Chicago White Sox:

SoxFest
January, 9, 2015
Jan 9
11:35
AM CT
CHICAGO -- Like a stamp of approval from
Chicago White Sox
fans, tickets for the club's annual winter carnival known as SoxFest are now sold out, two weeks to the day before the event begins.
A limited number of single-day passes were gobbled up quickly after they went on sale Friday morning. The team did announce that a wait list for a hotel packages, with more information available by sending an e-mail to SoxFest@chisox.com. A hotel package includes discounted weekend passes.
The White Sox have generated plenty of optimism from a fan base that had been disappointed with two consecutive losing seasons and records below .500 in three of the past four years.
Player additions this offseason included
Zach Duke
,
Adam LaRoche
,
Jeff Samardzija
,
David Robertson
,
Melky Cabrera
and
Emilio Bonifacio
.
This year's SoxFest will also include a tribute to the 2005 World Series champion club, which is celebrating the 10-year anniversary of its title. Players from the 2005 team who are expected to attend SoxFest: Geoff Blum, Joe Crede, Tadahito Iguchi,
Jose Contreras
, Jon Garland, Bobby Jenks, Scott Podsednik and Aaron Rowand.
Current players scheduled to attend: Duke, Robertson, Samardzija,
John Danks
,
Jose Abreu
,
Adam Eaton
,
Tyler Flowers
,
Avisail Garcia
,
Conor Gillaspie
,
Jake Petricka
,
Jose Quintana
and
Alexei Ramirez
. Manager Robin Ventura will be on hand, along with hitting coach Todd Steverson and pitching coach Don Cooper.
Prospects who are scheduled to appear:
Tim Anderson
,
Courtney Hawkins
, Carlos Rodon and
Micah Johnson
.
Former players who are expected: Bo Jackson, Ron Kittle, Carlos May, Bill Melton, Minnie Minoso, Billy Pierce and Harold Baines.
The event is scheduled to take place Jan. 23-25 at a new locale, the Hilton Chicago on Michigan Ave. SoxFest had been held at the Palmer House Hilton for the previous eight years.
January, 28, 2012
1/28/12
7:10
PM CT

By Jon Greenberg
ESPNChicago.com
Archive
CHICAGO -- When the Prince Fielder-to-the-Tigers bombshell news filtered to Robin Ventura -- however the laconic manager of the White Sox absorbs his news -- it didn't cause so much as a ripple in his coffee.
"I didn't have too much of a reaction," Ventura said at SoxFest on Friday afternoon. "I didn't have a big 'Oh my gosh, what have I gotten into?' He signed there, great. We're worrying about what we do."
Read the full story.
January, 10, 2012
1/10/12
5:37
PM CT
CHICAGO -- The White Sox's list of participants for SoxFest grew by one Tuesday as commissioner Bud Selig agreed to attend.
Selig's primary function at the Jan 27-29 event is to present Jerry Reinsdorf with the 2011 Commissioner's Award for Philanthropic Excellence. It recognizes Reinsdorf's generosity with community endeavors.
Selig will also participate in a question-and-answer session with fans, joining a panel that will be hosted by White Sox broadcaster Hawk Harrelson.
According to the White Sox, the club is being honored for its "White Sox Volunteer Corps" program, which was started in 2009 and has contributed nearly $1 million through volunteer work hours, planning and execution of service events, cost of materials and volunteer services.
Selig will present Reinsdorf with his award during the Jan. 27 opening ceremonies of SoxFest and will conduct his Q&A session with fans immediately afterward.
SoxFest hotel packages, weekend passes, two-day passes and Sunday-only passes are available for purchase at whitesox.com. Friday night of SoxFest will be open only to SoxFest hotel guests with weekend passes.
Among White Sox personnel expected to attend this year's SoxFest are manager Robin Ventura,
Jesse Crain
,
Adam Dunn
,
Tyler Flowers
,
Gavin Floyd
, Phil Humber,
Paul Konerko
,
Brent Lillibridge
,
Brent Morel
,
Jake Peavy
,
A.J. Pierzynski
,
Alexei Ramirez
,
Chris Sale
,
Matt Thornton
and
Dayan Viciedo
. Members of the 2005 World Series championship team that are expected to attend include:
Neal Cotts
,
Joe Crede
,
Pablo Ozuna
,
Cliff Politte
and
Frank Thomas
.
January, 22, 2011
1/22/11
2:18
PM CT
CHICAGO – After a day and a half of SoxFest, probably a better name for the 2011 version of the event is LoveFest.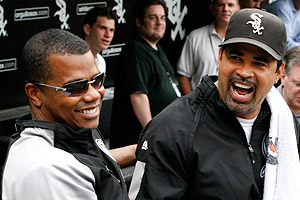 AP Photo/Charles Rex ArbogastIf SoxFest is an indicator, Kenny Williams and Ozzie Guillen may have buried their differences.
Sure there is the renewed bond between general manager Kenny Williams and manager Ozzie Guillen that has been on display -- and on center stage no less -- during a Friday night and a Saturday morning seminar.
But the true love seems to be coming from White Sox fans, who have been complimentary of the work Williams has done this offseason and less contentious about his dealings in past offseasons.
The clock only needs to be turned back to last year's January gathering in downtown Chicago. Jim Thome wasn't coming back and there were skeptics abound over the decision.
Last year's SoxFest was also the time when the Williams-Guillen rift seemed to take root after the GM suggested that Guillen was behind the decision to let Thome depart. That wasn't just a bus that Guillen seemed to get thrown under, it was a double-decker.
This year, there is a completely different mood, with most of the change coming from the fans. It started early Friday night when Guillen's club option was picked up for 2011.
"I think it's easy and well deserved," Guillen said Saturday of the fans' optimism. "Kenny and [chairman] Jerry [Reinsdorf] went out and did what fans want to see. They made sure they get a chance to see a good ballclub back in the field. The biggest thing we are concerned about is two questions when I got here: about Bobby Jenks and my contract. They pick up my option and make it easy and I talk about Bobby."
From continuing to denounce the Twitter comments of his son Oney, to not making a big fuss over critical comments from Jenks, Guillen has made it a priority this weekend to not fan the flames surrounding his former closer.
The only comments in a negative vein when it came to Jenks were offered both Friday and Saturday when Guillen said that one of two games from 2010 that is burned onto the manager's brain was the day Jenks blew a big ninth-inning lead against the Twins. The other was Thome's massive game-winning home run, also against the Twins.
It appears that by adding Adam Dunn and Jesse Crain, while also re-signing Paul Konerko and A.J. Pierzynski, not to mention pushing the payroll to $120 million, those harsh memories have been forgotten.
The only real contentious fan remark made Saturday came over the fact that the fourth and fifth outfield options aren't very exciting. Williams retorted that if the 24th and 25th men on the roster are the biggest issue then maybe the team did do something right this offseason.
(By the way, the backup outfield spots should be a battle between Brent Lillibridge, Dayan Viciedo and Alejandro De Aza, with Mark Teahen helping there as well if he isn't playing third base. Williams said the club has only $500,000 remaining if he wanted to sign backup outfielder. The rookie minimum is just over $400,000.)
"Right now, I feel, 'Wow,'" Guillen said. "I think everything in 2010 started the wrong way for me. Everything they hear about Jim Thome, going to spring training and the problem we had, I think that's left behind.
"I not saying I'm a new man, but I don't want to go through the same stuff we did. I'm not going to say I, I say we. It's the media, the fans, the player, the general manager, the owner, it's the manager. Everybody went through hell with that. It was kind of boring you guys to come down with the same thing every day.