Chicago White Sox:

Terry Francona
August, 29, 2014
8/29/14
11:31
PM CT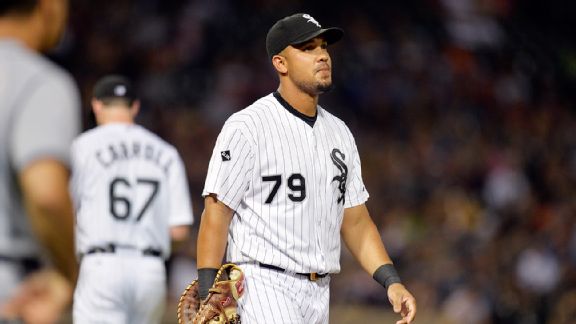 Brian Kersey/Getty ImagesJose Abreu had three hits Friday against Detroit but also two very costly errors.
CHICAGO – Some similarities between
Chicago White Sox
rookie
Jose Abreu
and
Detroit Tigers
star
Miguel Cabrera
were evident Friday, but it was their differences that seemed most apparent.
It was earlier this week when
Cleveland Indians
manager Terry Francona noted parallels between Abreu and what he remembered of an emerging Cabrera. Francona was clear not to say that the two are on the same plateau right now, because Abreu is five months into his major league career and Cabrera has won the past two MVP awards, picking up a rare triple crown in the process.
Mostly, Friday night's differences were rooted in the clear separation of the two teams on the field. Cabrera's Tigers are in second place but remain in playoff contention. Abreu's White Sox are fading fast, like a team that has resigned itself to the fate of another losing season.
Cabrera was 0-for-5 and largely invisible during the Tigers' easy 7-1 victory. Abreu made noise all over the place, with three hits, including a double, and also making two errors as his club was soundly defeated.
If Abreu aspires to be Cabrera one day, a big part in the torch-passing will have to come through things completely out of his hands. The White Sox are going to have to put a solid team around their big slugger as the Tigers have done around theirs -- and then Abreu is going to have to lead it into October.
While the first part of the White Sox's rebuild created early-season optimism as Abreu took off and
Adam Eaton
showed his grit, it has been evident since that the areas of the roster not yet rebuilt have tugged the club in the wrong direction.
Abreu is headed toward an obvious rookie-of-the-year award, but it's not what he has on his mind as the final month looms.
"It is difficult," Abreu said of the team struggling while he has individual success. "To me there is not an individual agenda in this game. It's a team game. When you don't get the results you want as a team, there's something missing there. I have to be thankful too, a lot of my success has been because of the team. So I'm thankful for that as well."
By the time Friday's game ended, Cabrera had stuck it out to the end, while White Sox manager Robin Ventura replaced Abreu with
Dayan Viciedo
at first base in the ninth inning. The two offensive forces aren't quite on the same level just yet.
"There are some similarities there, but Miggy was much younger [when he was a rookie]," Ventura said in reference to the Tigers veteran, who made his debut at age 20; Abreu, meanwhile, is 27. "But you start looking at what they do and mechanically there are some very similar things that they do, that Jose reminds you of Miggy early in his career. It will evolve.
"You don't really like putting that on anybody because Miggy has that respect throughout the league. Jose is getting there. People do respect him, but there's a ways to go to get to that level."
As for the differences in the teams, Ventura tried to remain positive, but it's all about the future for the White Sox.
"There are pieces, but you just have to get better, and who knows how that's going to go in the offseason," Ventura said. "We like pieces that we have and you just continue to build on it. Right now is probably not the time to be looking that way because you're probably going to look different when you go into the offseason."
Perhaps if the White Sox had something to play for, it would be less evident that they are out of gas this month. But nobody, particuarly Abreu, is admitting to giving in just yet.
"It's been the same as the other months; I don't see anything different," Abreu said. "Personally and as a team we continue to work on the same things. We keep our routines going. We're not doing anything different. We're very close to September now and personally I feel really good."
August, 28, 2014
8/28/14
6:42
PM CT
CHICAGO --
Cleveland Indians
manager Terry Francona dropped a high-level compliment on
Jose Abreu
on Thursday, comparing the
Chicago White Sox
slugger to Triple Crown winner and back-to-back AL MVP
Miguel Cabrera
.
A day earler, Francona talked up the White Sox's young offensive core in Abreu,
Avisail Garcia
and
Adam Eaton
. Only a few hours later, he watched Abreu deliver a pair of RBI singles, including one in the seventh inning when the Indians were actually trying to pitch around him.
"It was about 7 or 8 inches out of the strike zone; it's pretty impressive," Francona said of Abreu's hit that put the White Sox ahead for good. "[Indians pitcher
Corey] Kluber
did a good job. I mean, he did make a couple of mistakes ahead in the count. But damn, man, that was a hell of a pitch. Sometimes you've got to tip your hat. Not too many guys hit that ball for a hit. That was pretty impressive."
It's always dangerous to predict greatness for players, especially for somebody like Abreu, who hasn't even played a full season in the major leagues. But Francona has now seen enough after 15 games between the White Sox and Indians to know he is seeing something special.
"I don't know the kid, so I wouldn't want to say I was surprised, but he's a hell of a hitter and, by all accounts, great kid," Francona said. "But what makes you nervous is, sometimes when you see young guys and they have a good first half, you think, 'OK,' you know?
"But he's making adjustments along the way. He seems to have a little bit of … when I saw 'Miggy' [for the first time]. He seems to be a pitch ahead of pitchers as opposed to a pitch behind. You can't just throw him breaking balls, because he's gonna [be ready]. We made him look bad one at-bat, but he's a pretty smart kid."
August, 26, 2014
8/26/14
11:30
PM CT
CHICAGO -- The tag-team trio that was supposed to lead the
Chicago White Sox
's offense into the future was finally reunited Tuesday night.
Avisail Garcia
,
Adam Eaton
and
Jose Abreu
played in a White Sox lineup for just the ninth time this season and the first time since April 9 at Colorado, way back during the second week of the regular season.
That was the game when Avisail Garcia injured his shoulder, of course, and he originally underwent surgery that was expected to cost him the season. Credited with being a fast healer, Garcia was able to return to the White Sox on Aug. 16, but as fate would have it, Eaton was out with an oblique injury.
[+] Enlarge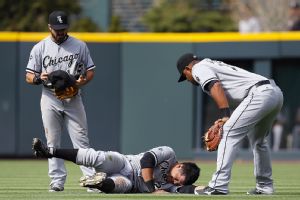 Doug Pensinger/Getty ImagesInjuries have limited Avisail Garcia, Adam Eaton and Jose Abreu to just nine games together.
The band was finally back together Tuesday giving the White Sox another look at the three central figures of their roster rebuild that started at last year's trade deadline. The White Sox still dropped their seventh consecutive game Tuesday, but in an 8-6 defeat to the
Cleveland Indians
, they scored their most runs since a 7-5 victory over the
Toronto Blue Jays
on Aug. 17.
The White Sox look out of gas with a little more than a month to play, but the hope is that the Garcia, Eaton, Abreu trio will spark a late-season offensive push and provide some optimism leading into the winter.
In constructing the White Sox's triple-threat offensive core, Garcia was added first on the day before the 2013 trade deadline when he was acquired from the
Detroit Tigers
in the deal that sent
Jake Peavy
to the
Boston Red Sox
.
Abreu was a six-year, $68 million free-agent signing this winter, and Eaton was acquired from the
Arizona Diamondbacks
in the three-team December deal that sent pitcher
Hector Santiago
to the
Los Angeles Angels
.
"Yeah, I didn't really notice that, but that's right," Eaton said about his second chance to play with a pair of heralded teammates again. "It's going to be good. Spring training is where we got some lengthy time together. Hopefully fans will want to see us all play together [again], so it will be very exciting."
Exciting isn't precisely what the White Sox are looking for. If exciting is the byproduct of being productive, the club will take it. Eaton and Abreu have been able to show their value this season, and Garcia seems to have picked up where he left off when he batted a team-leading .304 from Aug. 9 last year until the end of the season.
In the eight games since he has returned, Garcia was batting just .214 before Tuesday, but his slugging percentage was .500, with two doubles, two home runs and seven RBIs. Perhaps Eaton's return agrees with Garcia, who had a two-run double among his two hits Tuesday.
"I think Avisail Garcia is one of the more interesting young players in the league," Indians manager Terry Francona said at the start of the current three-game series. "When they got him, I remember thinking, 'Boy, that's a hell of a [player],' because he's a really interesting young player. I mean, he runs so much better than people think he can, and there's power in that bat and he can play all the outfield positions.
"He's got a chance to be a really good player. And from our side of it, I guess we hope he's not really ready to be hot and help them. And Eaton gives them kind of that spark at the top of the order. And then Abreu, being that like monster bat in the middle, man they've really helped their lineup a lot.
In fact, each member of the White Sox's three-man offensive core had a hit Tuesday with Abreu picking up a hit and two walks, while Eaton had an RBI single in the fifth inning.
"It is nice," manager Robin Ventura said of Eaton's return from the DL. "I think any time you need a shot in the arm, it's nice to have a guy that was in the middle of it when he was playing. I think any time you get back to some sort of normalness it's nice, but you're looking at a time when we haven't really had him and Avi together very much, so it will hopefully be nice to watch."
The White Sox's offense had been stuck in the mud without Eaton. It scored three runs or less in 14 of its last 17 games before Tuesday, and the club went 4-9 without its leadoff man. Eaton was hitting .435 (37-for-85) in his last 22 games before he was injured.
With another offseason approaching and the White Sox still in roster-rebuild mode, the front office wants to use the impact acquisitions from last winter as a guide when moving into the colder months this year.
"That's absolutely our intent," Hahn said of making more impact moves this offseason. "We obviously can't guarantee we're going to be able to make 'X' number of moves, and we're going to be able to hit on as high as percentage of our targets as we did last year, but it's certainly our goal to address ideally all of what we feel are our needs, before they shift, as quickly as possible.
"It has never been about, 'Hey, we got two things done, so we're good.' The fact of the matter is we didn't get everything done last offseason as we wanted to do, and we look forward to the chance coming up in the coming weeks, where we're able to get a little more aggressive in pursuing some answers out there."
September, 12, 2013
9/12/13
7:25
PM CT

By Bruce Levine
ESPNChicago.com
Archive
CHICAGO -- Managing a major league team through a lost season was not what
Chicago White Sox
manager Robin Ventura signed up for.
Ventura, 47, finished third in manager of the year voting last season, coming off an 85-win season in his first year as manager. Ventura and the Sox front office expected a contending team, despite making very few changes in personnel coming into the new season.
But this year, saddled with the third-worst record in the game, Ventura has had to make adjustments to his original plan.
"I don't know if I would call it a learning curve," he said. "It is different. Last year we were in a different situation; this year playing the extra guys that we brought up for different reasons. In this situation you let some pitchers work through some things instead of taking them out. You take a longer look at your younger guys."
Ventura does not appear to have lost any desire or focus, despite the team's horrendous record.
"You still go about the job the same way," said Ventura, whose contract runs through the 2014 season. "It may be slightly different because you might be starting a guy for a different reason than last year. As far as the preparation and how you go about it, you make sure the guys are getting all of their work in and doing what they are supposed to be doing."
October, 5, 2011
10/05/11
10:34
AM CT
By ESPNChicago.com
ESPNChicago.com

October, 4, 2011
10/04/11
6:40
PM CT
CHICAGO -- The end of the Tampa Bay Rays' season means the pace should pick up on the White Sox's manager search.
Rays bench coach Dave Martinez is believed to be one of the White Sox's top manager candidates, if not the No. 1 guy in their search following the departure of Ozzie Guillen last week.
[+] Enlarge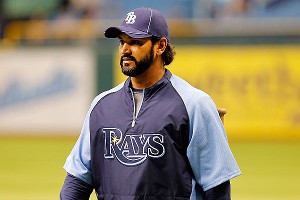 J. Meric/Getty ImagesDave Martinez fits the profile of the type of manager the White Sox have hired in the past.
Martinez just completed his fourth season as the right-hand man to Rays manager Joe Maddon. Tampa Bay made the postseason in three of those four seasons. A member of the Rays' inaugural club in 1998, Martinez played 16 seasons, including stints with the Cubs (1986-88, 2000) and White Sox (1995-97).
In his three seasons with the White Sox, Martinez batted .302 and had a career-best 19-game hitting streak in 1997.
Another top candidate is believed to be new Cleveland Indians bench coach Sandy Alomar Jr., who had been the club's first-base coach before a promotion last week that is set to go into effect in 2012.
The White Sox are also believed to have interest in former Boston Red Sox manager Terry Francona, whose contract option was not picked up after his team's September collapse prevented them from advancing to the postseason.
Other speculation has centered around the White Sox being interested in current St. Louis Cardinals manager Tony La Russa, who is a former White Sox manager and has a close relationship with chairman Jerry Reinsdorf.
But unlike Martinez and Alomar, Francona and La Russa are not of the up-and-coming manager mold the White Sox are believed to be looking for. The search could be modeled after the one Reinsdorf's Bulls used to ultimately land first-year head man Tom Thibodeau.
Like the Bulls, the White Sox are believed to want their head man to grow quickly into the position with the potential of having a lengthy tenure with the club, not unlike what happened with Guillen.
September, 30, 2011
9/30/11
10:45
AM CT
CHICAGO -- The Boston Red Sox just made things harder on the Chicago White Sox this offseason.
Friday's news that Red Sox manager Terry Francona will not have his contract option picked up has made the White Sox's manager search that much more interesting.
There is no doubt Francona would be a good fit with the White Sox. He's won multiple World Series titles recently. He knows what it takes to deal with high-priced talent and when it comes to preparing a team for a high-profile series, Francona did that all the time when the Red Sox and New York Yankees butted heads, not to mention all of his team's playoff appearances.
But the decision of whether or not to puruse Francona will not come with east.
[+] Enlarge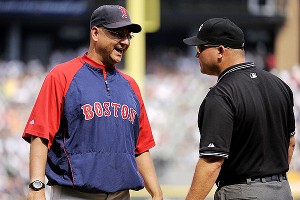 Ron Vesely/MLB Photos/Getty ImagesTerry Francona's price tag might prove too hefty for the White Sox.
Let's start with the issues of pursuing Francona:
• The White Sox are interested in a payroll reduction for next season, and Francona would actually hurt those efforts. Ozzie Guillen was reportedly set to make somewhere in the $2.75 million range for 2012 before he asked out of his contract.
• Going with a first-time manager in Sandy Alomar Jr. or
Dave Martinez
likely would cost what Guillen was making -- or less. Those managers could be lured to the South Side for, let's say, three years and $6 million, or possibly less. Francona would likely require more of a commitment like something to the tune of four years and as much as $18 million.
• Then there is the issue of Francona himself. Like Guillen with this year's White Sox, Francona was unable to get what he needed from his club. The Red Sox had a lethargic start to their season and then topped that with a September collapse for the ages. It raises questions about whether or not Francona has lost his touch.
Now the problems that come with not making a serious pursuit of Francona:
• This is the guy that White Sox fans would seem to want above all other candidates. Not making a push for Francona runs the risk of telling White Sox fans that the club isn't serious enough to put the best possible options in place for success. It's not exactly the best way to sell season tickets.
• The White Sox obviously look like a group that needs strong leadership. Guillen has always been known as a players' manager and even he was unable to squeeze much life out of the 2011 White Sox. If strong leadership is what the White Sox need, Francona is the guy most likely to provide it. How can you pass on an option like that? It's not to say that Alomar or Martinez can't provide leadership, but we already know it's at the top of Francona's resume.
• Would putting out the extra money for Francona bring the White Sox an enough of a return on their investment? They say that managers don't sell tickets, that fans come to the park to see players, so would the extra $2 million or so spent on a guy like Francona per year really being back more for their money? Those are numbers the White Sox alone can crunch. Winning games and getting to the playoffs is what will put fans in the seats. There's no guarantee that Francona can do that better than Alomar or Martinez.
What the White Sox end up doing will be interesting. But knowing general manager Kenny Williams, he has already thought of ways to get Francona on board. He probably was mulling it over even before Guillen left and Francona was out in Boston. Now it's time to see whether the pros or the cons win out.
But always remember this: Francona watched the White Sox play a few times this past season. Maybe he's not interested.
February, 27, 2011
2/27/11
3:44
PM CT

By Joe McDonald
ESPNChicago.com
Archive