Chicago White Sox:

Todd Steverson
October, 30, 2014
Oct 30
3:30
PM CT
CHICAGO -- While
Chicago White Sox
roster decisions are still to come, the coaching staff appears set for 2015.
General manager Rick Hahn confirmed that, saying the club "expects" all the coaches to return. Next season will be Robin Ventura's fourth as manager.
The club went through the 2014 season with Mark Parent as bench coach, Todd Steverson as hitting coach, Don Cooper as pitching coach, Joe McEwing as third-base coach, Daryl Boston as first-base coach, Harold Baines as assistant hitting coach and Bobby Thigpen as bullpen coach.
At the end of the season, Hahn left the coaching staff's return unconfirmed saying, "We might lose some to these potential (manager) openings."
McEwing was an early candidate for the
Arizona Diamondbacks
' manager opening, but the National League West club eventually hired Chip Hale as their new field boss. While the
Minnesota Twins
and
Tampa Bay Rays
have manager vacancies, no White Sox personnel are being viewed as a strong candidate for those jobs.
The White Sox could still be in the market for a base stealing/base running coach. While not a member of the major league staff, a new base-running coach could be a roving instructor within the organization.
Leadoff man
Adam Eaton
excelled in many areas this past season with a .362 on-base percentage and a nomination as a Gold Glove Award finalist, but base stealing appears to be an area where he could greatly improve. In addition, speedy second baseman
Micah Johnson
is close to making a breakthrough to the major league level.
Hahn did not confirm if the White Sox are in pursuit of a base-running coach.
September, 9, 2014
Sep 9
8:52
PM CT
CHICAGO – After saying he is happy with his coaches moving forward, manager Robin Ventura added that an official decision on the staff's fate will be made before the end of the season.

"There will be more discussion," Ventura said Tuesday. He was very brief on the subject.

Hitting coach Todd Steverson was the only new addition to the staff this season. He replaced Jeff Manto, who was let go just before the past season ended.

Other members of the coaching staff include pitching coach Don Cooper, third-base coach Joe McEwing, first-base coach Daryl Boston, assistant hitting coach Harold Baines, bench coach Mark Parent and bullpen coach Bobby Thigpen.

Ventura was asked if he is pleased with the staff.

"Yeah, I am," he said.
May, 12, 2014
May 12
12:34
PM CT
The
Chicago White Sox
's offense was always going to be a work in progress, even if the team was healthy, so there is no surprise with the current ebbs and flows since key players on the disabled list.
In fact, the idea that the White Sox can still deliver healthy offensive eruptions, like they did while scoring nine runs against the
Arizona Diamondbacks
on Friday, is impressive. That offense was shut down the rest of the weekend, though, as it combined to score four runs over the past two games.


Things only figure to get tougher this week as the White Sox travel to Oakland, traditionally a place of struggles, and they go up against the pitching staff with the best ERA in the American League at 2.91.
The A's also have the second-best team batting average in baseball at .254, trailing only the White Sox's .264 mark. The White Sox are also fourth in the AL with a .746 OPS, while Oakland is fifth at .738.
The common thread running between the two offenses is Todd Steverson, the current White Sox hitting coach, who spent the past 10 seasons as an A's coach, and the last two as the organization's minor league roving hitting instructor.
The White Sox's offensive turnaround this season is nothing short of remarkable. And while the arrival of
Jose Abreu
gets most of the credit for the new-found ability to score runs, Steverson's input should not be overlooked.
A season ago, the White Sox were last in the AL in runs scored (598). This year they are first at 197 and are on pace to score a whopping 818, a full 220 more than last season. A year ago, 818 runs would have second-best in the AL to Boston's 853.
HEAD TO HEAD
Alexei Ramirez
is 3-for-5 with three RBIs against A's starter
Jesse Chavez
. ... Would the White Sox be tempted to use
Paul Konerko
in the lineup against the right-handed Chavez? Konerko is 4-for-4 in his career against Chavez, while Dunn is 0-for-2. ...
Alejandro De Aza
, Alexei Ramirez and
Dayan Viciedo
are a combined 1-for-17 (.059) against A's lefty
Tommy Milone
. ... Members of the current Oakland roster have a combined 97 at-bats against White Sox starter
John Danks
with no home runs and only four extra-base hits. ... White Sox starters
Scott Carroll
and
Andre Rienzo
have never faced the A's.
NOTES
Danks is 6-1 in his career against the A's with a 2.12 ERA over eight starts. He is 1-0 with a 2.03 ERA in two career starts at Oakland. ... The White Sox went 2-5 against the A's last season, including an 0-3 mark at Oakland. ... All seven games between the teams last season were decided by three runs or less, while the White Sox's pitching staff had a 2.87 ERA. ... The White Sox are just 19-41 at Oakland since 2000 and 9-12 since 2008. ... Konerko needs three RBIs for 1,400 in his career. ... Monday night's game opens the first of three three-city road trips this season. The White Sox also travel to Houston and Kansas City for the current nine-game trip that will take place over 10 days.
PITCHING MATCHUPS
Monday:
White Sox LH John Danks (3-2, 4.93 ERA) vs. A's RH Jesse Chavez (2-1, 2.47), 9:05 p.m. CST
Tuesday:
White Sox RH Scott Carroll (1-2, 3.63) vs. A's LH
Drew Pomeranz
(2-1, 1.45), 9:05 p.m. CST
Wednesday:
White Sox RH Andre Rienzo (3-0, 5.46) vs. A's LH Tommy Milone (1-3, 4.54), 2:35 p.m. CST
May, 7, 2014
May 7
12:08
AM CT
CHICAGO -- Refusing to play the sandy cliff at high tide,
Gordon Beckham
showed Tuesday that he isn't about to erode away just yet.
Scuffling ever since he returned from the disabled list two weeks ago, Beckham had four hits against the
Chicago Cubs
, including the go-ahead home run in the eighth inning as the White Sox went on to a 5-1 victory.
It gave the White Sox victories in their two games at Wrigley Field this season after losing all four of the battles against their crosstown rivals last season.
[+] Enlarge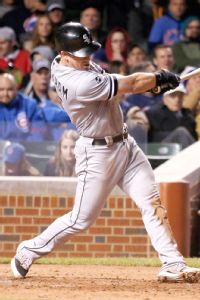 AP Photo/Charles Rex ArbogastGordon Beckham might live up to his potential soon, and that might make him trade bait.
There is a unique dynamic playing out this season with Beckham, the former first-round draft pick who has struggled to meet the promise of his rookie season in 2009.
Some of the lowest hanging fruit on the White Sox's tree these days is at second base.
Marcus Semien
can play there, as can
Carlos Sanchez
,
Leury Garcia
and Micah Johnson, currently doing impressive things at the Double-A level.
At no other position do the White Sox have so many high-ceiling players, so it wouldn't be so crazy to surmise that Beckham is feeling the heat.
"It can be hard, but he's got a great attitude about it," Sox manager Robin Ventura said. "He's playing, he knows he's a good player and he's got to continue to just play. That's stuff you can't really control, of whatever's behind you. Just take care of what's right now, and that's what he's doing."
With just seven hits in 11 games since he returned from an oblique injury, Beckham went the drastic route Tuesday of changing his hitting mechanics in early batting practice. Talk about paying off in a hurry. Beckham had singles in the first, fourth and sixth innings. His home run in the eighth left the park despite a firm headwind.
"Yeah, my mechanics are OK, they're better," Beckham said. "They're better than they were last night. I'm in a better spot."
Beckham was brutally honest afterward, saying it's not like he has never had to figure his way out of some struggles. He always seems to be on the edge of emerging, but something goes wrong. This year it was the oblique, last year it was a broken hand.
Now he's dealing with the concept that not only can he lose his job to a younger player, but his tenure with the White Sox might not last another three months.
With all those young infielders ready to break through, it has fueled speculation that Beckham could be moved at the July 31 non-waiver trade deadline. The return on a deal would be sweetest if the second baseman could get hot as the summer arrives.
In fact, the White Sox's insistence in batting Beckham second in the lineup could be because they know he will get more pitches to hit in front of
Jose Abreu
. Opponents aren't going to want to dance around a hitter that has so much RBI potential hitting behind him.
If the perceived plan works, Beckham will start producing, the White Sox can trade him for some high-level young talent and Semien will take over at second, with Johnson possibly taking the position at some point in the near future.
But the more Beckham can put all those scenarios out of his mind, the better he will be.
"I got a better feel today," he said. "I mean, it was bound to happen. I was bound to do better than like 1-for-6 or so. I wasn't panicked. It was one of those things. I've kind of been here before. I'm glad I happened to do it."
How odd that after all these years of trying to reach his maximum potential, he could finally do it this season only to get traded because of it.
"I mean when you pull an oblique, there should be more moments where you don't have the same swing because obviously the oblique has so much to do with your body and your swing and everything, so you kind of got to find it," Beckham said. "But [hitting coach Todd Steverson], I worked with him today and he gave me a good idea, and I just took and ran with it. A lot of credit goes to him."
April, 15, 2014
Apr 15
9:16
PM CT
CHICAGO --
Alexei Ramirez
has found a comfort zone again, and that, more than anything, could describe how he went from a disappointing 2013 to the best hitter in baseball two weeks into the current seasons.
It's much more complicated than that, of course. It always is. But Ramirez's revival to start the season has been all about the subtleties. His approach at the plate is the same, his swing philosophies are only slightly altered and his strategies for dealing with early-season cold have remained how they always have been.
[+] Enlarge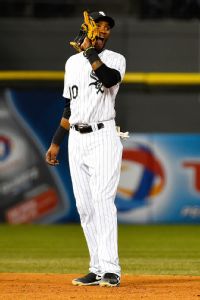 Mike DiNovo/USA TODAY SportsAlexei Ramirez is off to an unusually fast start on offense, but he says he's approaching the game the way he always does.
But there is clearly a sense of urgency that Ramirez has now, and one that seemed to be missing a year ago when his world crashed around him. In spring training last year, Ramirez's father-in-law was murdered in the Dominican Republic, and the ripple effect seemed clear.
Ramirez won't link that situation to his play on the field last year, but it seems obvious that he has found some closure.
"The loss of a family member -- and a close and important family member like him -- you never forget it," Ramirez said through an interpreter Tuesday. "But the family is surviving and the family is doing well. We try to remember the great moments we had with him, the good moments from his life that we spent together, but you never forget that. That's never out of your mind, losing someone that you love so much."
Clearly there is a sense of confidence surrounding Ramirez now. His .420 batting average before Tuesday's game doesn't figure to last, nor does his whopping 1.143 OPS, but the longer he keeps his confident play, the better off the White Sox will be.
And the difference isn't only on offense. After making a career-high 22 errors last season, Ramirez looks more settled on defense as well.
March, 6, 2014
Mar 6
2:59
PM CT
The start of Cactus League play has brought a mixed bag of results from the new-look
Chicago White Sox
offense, not that anybody is ready to put too much stock into early spring games.
New hitting coach Todd Steverson appears to be working closest with the younger hitters so far, content to allow the veterans to use their existing routines to get loose in the early going before starting to work extensively with them too.
The White Sox might have been shut out twice in their first five games, but they also scored nine runs in back-to-back games as they adjust to the changes Steverson is bringing aboard.
If anybody was worried about how the offense is adapting, the main decision-maker from Steverson's previous organization, the
Oakland Athletics
, recommends a little patience.
"He was a major part of our organization for a long time," A's general manager Billy Beane said. "Look, we're happy for Todd. First of all he's in a good organization. The White Sox are a young team now that should continue to grow. He should be perfect for that because that's essentially the role he provided for us. We're very, very happy for him. A guy like that is not very easy to replace."
February, 17, 2014
Feb 17
4:56
PM CT
GLENDALE, Ariz. -- Position players will report to big league camp Thursday, and while changes are expected in the Chicago White Sox's spring training routine, manager Robin Ventura was coy on the subject.
Last season's offensive struggles were addressed when former hitting coach Jeff Manto was fired even before the season ended. Todd Steverson was hired away from the
Oakland Athletics
organization and is in the midst of implementing a revamped hitting strategy that emphasizes strike-zone management.
Addressing the defense and baserunning figures to be more subtle, but those areas will no doubt be taken into account once the full team takes the field this week. One area already addressed on the baserunning side is the arrival of
Adam Eaton
to take over in center field for
Alejandro De Aza
, who had the most issues on the base paths last year.
If new drills or extended camp days are coming, Ventura wasn't revealing much.
"I don't know if it's tweaks to where everybody would notice, but there are things that we saw maybe in the last couple of years that you just wanted to change," Ventura said. "We'll flip some things around but it's not like we're inventing the game. We're still doing things that you have to be ready for during the season."
Asked specifically if the changes will address defense and baserunning, Ventura didn't want to just limit it to those two areas.
"It's everything," he said. "Because last year was the way it was, it doesn't mean that's the only thing we're going to [address]. We're going to touch on everything and make sure everybody understands it and you're ready to execute it."
February, 7, 2014
Feb 7
5:09
PM CT
CHICAGO -- Eager to start earning his new six-year, $68 million deal, new
Chicago White Sox
first baseman
Jose Abreu
has already reported to the team's spring training facility in Glendale, Ariz., ESPNChicago.com has learned.
Not only is Abreu's arrival more than a week ahead of the reporting date for pitchers and catchers, he has arrived well in advance of the Feb. 20 report date for position players.
New hitting coach Todd Steverson talked about Abreu's eagerness to get to work when a handful of players reported to Arizona last month for a short hitting camp.
"Actually the first morning it was about 41 degrees out there, real cold," Steverson said. "It was about 7:30 (a.m.) and we weren't supposed to get going until 9. He walked in with his bat, batting gloves and asked if he could go straight into the cage. It was freezing out there, but he didn't care. He wanted to go out and get some work in. He's real regimented."
January, 17, 2014
Jan 17
4:25
PM CT
CHICAGO -- The
Chicago White Sox
's hitting camp in the desert this week went off without a hitch, giving new hitting coach Todd Steverson the first chance to present a hitting approach that he promises to repeat ad nauseam.
[+] Enlarge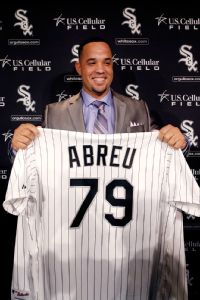 AP Photo/Charles Rex ArbogastJose Abreu impressed his new White Sox hitting coach.
Under Steverson's tutelage at the club's Camelback Ranch spring-training facility were
Paul Konerko
,
Jose Abreu
,
Adam Eaton
,
Matt Davidson
,
Josh Phegley
,
Marcus Semien
and top prospects including Courtney Hawkins and
Trayce Thompson
.
From batting cage work to live batting poractice and even during downtime, White Sox hitters were getting plenty of the Steverson philosophy.
"Yeah, I did talk about what we want to do as hitters, what I believe we will be successful at," Steverson said Friday. "It has been well chronicled that we weren't very disciplined last year as an offensive club.
"And I'll say it and say it time and time again, as a hitter your best swings are going to be off of strikes. Your best approaches, everything you want to have happen positive will be off balls you can handle in the strike zone. The more times we make the pitcher work to get his outs by staying in the strike zone, the better off we're going to be."
Steverson isn't going to apologize for being redundant.
"To get that thought process through to everybody I do harp on it quite a bit through batting practice and soft toss and all our routines," the former
Oakland Athletics
minor-league roving hitting instructor said. "Are you swinging at strikes? Was that a pitch you wanted? And they'll get it, they'll understand it, because I don't ever stop."
As far as first impressions go, Steverson was realistic in his praise of Abreu, the slugger who will carry some large expectations into 2014 after signing a six-year, $68 million deal this season despite never playing outside of his native Cuba.
"Well, if you're going on pure workouts or practice, he's got that down pat," Steverson said. "He looks nice. He's done a good offseason workout program. He looks like he has an idea, a plan of what he wants to do. His attack is compact and he has some thunder in the bat head. It's just (batting practice) and some drills in the cage, but as far as that goes I'm very pleased with what he came in looking like."
Steverson, who worked with Cuba native
Yoenis Cespedes
in Oakland, had an idea of what to expect with Abreu.
"And actually he looked better than what I thought was going to come out," Steverson said. "As (general manager) Rick (Hahn) has stated, he is a very serious hitter. He has a plan, he has an idea of how he wants to go about everything he does. He's pretty meticulous. He is a very strong man. He's not the kind of guy who will flat whip the bat around like
Gary Sheffield
bat speed or anything like that, but it's on plane and when he barrels up a baseball it takes off."
As for the two other White Sox newcomers, while Steverson gave positive reviews for both Eaton and Davidson, it is Eaton who already uses the new coach's strategy of working counts and getting on base.
"He wants it, he understands his game, and he knows he's got to get on base," Steverson said. "He will do everything possible to barrel up a baseball and put it play. He uses speed, he'll bunt. You hang one in the wrong spot or you put the ball in the wrong place he has the ability to juice you out of the yard for a home run. He really has a nice little package that he comes with. I think he's a great piece of the puzzle as it relates to us to start understanding getting on base and creating runs for this team."
Davidson is more of a work in progress and probably never will become an on-base percentage machine, but he has his own set of pluses.
"(Davidson) used the whole field during his workouts," Steverson said. "He showed the ability to drive the ball hard, off and over a wall to the opposite field which is a plus. It makes me say he can stay on a ball, stay over it. He's not just a pull-happy guy. I didn't get a chance to see him out on defense, but as a hitter I think he has a good clue of what he wants to do as a young player in this organization. The sky's the limit for both of these guys if they continue to work hard and learn the game of Major League Baseball."
October, 25, 2013
10/25/13
2:45
PM CT
That offense the
Oakland Athletics
flaunted all season caught the eye of the
Chicago White Sox
.
Todd Steverson, who has most recently served as the A's minor league hitting coordinator, will be named the White Sox's new hitting coach, a major league source has confirmed. The official announcement is expected to come after the World Series.
Before his most recent position with the A's, Steverson was Oakland's first-base coach in 2009 and 2010 and was also a minor league manager in the team's system. The Southern California native and Arizona State product played in the major leagues with the
Detroit Tigers
in 1995 and the
San Diego Padres
in 1996, batting .256 over 31 career at-bats. He played seven seasons professionally.
Steverson, 42, replaces Jeff Manto, who was fired as White Sox hitting coach just before the conclusion of the season. Manto served two seasons in that spot after taking over for Greg Walker.
The White Sox finished last in the American League in runs scored this past season with 598, and were next to last with a .302 on-base percentage and .680 OPS. Only the
Houston Astros
were worse in OBP and OPS.
The A's, using a hitting approach that is taught in their minor league system, were third in the American League in both runs scored (767) and OPS (.745).
Steverson's hiring was first reported by MLB.com.