Chicago White Sox:

Tony La Russa
August, 29, 2014
Aug 29
3:17
PM CT
CHICAGO -- The
Chicago White Sox
and
Detroit Tigers
have played plenty of games against each other as American League Central rivals, but the second game of Saturday's day/night doubleheader will provide a unique moment.
White Sox starter
Chris Bassitt
and Tigers starter
Kyle Ryan
each will be making their major league debut against each other. The doubleheader came about after the June 10 game against the two teams was rained out.
Both players will be their team's extra 26th player, permitted for split doubleheaders that come about when a game is rescheduled. That means that each will be removed from the roster immediately after the game, but the White Sox have already said that Bassitt will be a part of their September expanded roster.
The opening game of the doubleheader will provide its own intrigue as American League ERA leader
Chris Sale
takes on the Tigers'
Max Scherzer
, who won the AL Cy Young Award last season. The Tigers originally planned to start Scherzer in the second game, but reportedly switched when they found out Sale was pitching in the first game.
Before the second game of the doubleheader, the White Sox are planning to honor the Jackie Robinson West Little League team from the South Side that won the United States championship at the recently-concluded Little League World Series. The team lost the international championship game to South Korea.
The second game is also Tony La Russa Bobblehead Night, with the White Sox also planning to honor their former manager, who was inducted into the Baseball Hall of Fame in July.
HEAD TO HEAD
The White Sox's
Jose Abreu
is 4-for-9 (.444) against Tigers starter
Justin Verlander
this season with two solo home runs. ... The White Sox's
Adam Dunn
has six combined home runs against Tigers starters Scherzer and Verlander, but he has also struck out 37 times against the duo, including 23 times in 47 at-bats against Scherzer. ... The White Sox's
Avisail Garcia
is 5-for-10 (.500) against Tigers starter
Rick Porcello
, while
Conor Gillaspie
is 9-for-20 (.450). ... White Sox starter
Scott Carroll
has not faced the Tigers. ... The Tigers'
Miguel Cabrera
is 6-for-24 (.250) against White Sox starter Chris Sale with a pair of home runs. ... Cabrera is 7-for-20 (.350) against White Sox starter
Jose Quintana
with a home run.
NOTES
The White Sox have lost eight of their past nine games and six of their last eight at home. ... Abreu is 13-for-28 (.464) during his current eight-game hitting streak and has also hit safely in 12 of his last 13 games, going 20-for-49 (.408) in that stretch. ... Abreu is three RBIs short of becoming the fourth White Sox rookie to reach the 100 mark. ...
Alexei Ramirez
has not only shown some slick fielding of late, he also has 10 multi-hit games in the month of August. ... White Sox leadoff man
Adam Eaton
is coming off a series against the
Cleveland Indians
when he went 4-for-11 (.364) with a double, triple, RBI and four runs scored. ... Sale's 165 strikeouts are a franchise best through 21 starts of a season and his 2.03 ERA would be the lowest by a White Sox starter since Wilbur Wood had a 1.91 mark in 1971. ... The Tigers will enter the weekend series 1 1/2 games behind the first place
Kansas City Royals
in the American League Central. ... The last time these two teams met to close out July, the White Sox won the series at Detroit and have since gone 7-17 in the month of August.
PITCHING MATCHUPS
Friday:
White Sox RH Scott Carroll (5-8, 5.05 ERA) vs. Tigers RH Justin Verlander (11-11, 4.82), 7:10 p.m. CST
Saturday:
Game 1: White Sox LH Chris Sale (10-3, 2.03) vs. Tigers RH Max Scherzer, (15-4, 3.13), 12:10 p.m. CST; Game 2: White Sox RH Chris Bassitt (0-0, 0.00) vs. Tigers LH Kyle Ryan (0-0, 0.00) 6:10 p.m. CST
Sunday:
White Sox LH Jose Quintana (6-10, 3.48) vs. Tigers RH Rick Porcello (15-8, 3.06), 1:10 p.m. CST
July, 26, 2014
Jul 26
6:09
PM CT
COOPERSTOWN, N.Y. -- The end to his days as
Chicago White Sox
manager isn't something Tony La Russa will embrace, but the overall memories of his first managing job remain satisfying.
Using a style considered cutting edge when he took the White Sox job in 1979, the Tampa, Florida, native and fringe major leaguer wasn't everybody's cup of tea.
[+] Enlarge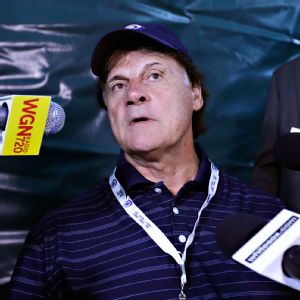 AP Photo/Mike GrollTony La Russa led the White Sox to the playoffs in 1983, the first postseason appearance for the team since 1959.
La Russa did it his way, and in 1983 his way delivered a 99-win season and the White Sox's first postseason berth since 1959. But by 1986 he was gone after short-lived general manager Ken "Hawk" Harrelson fired him.
With his induction into the National Baseball Hall of Fame about to go down Sunday, most White Sox fans in town to see the ceremony are focusing more on 1983 than 1986.
"I've heard it [all] along, but here in the last four or five months I'm getting a lot of comments," La Russa said of interaction with White Sox fans. "I think our fans, I run into them all the time. They remember '83. They enjoyed it. We all enjoyed it. It was something special."
The joy wouldn't last back then. Harrelson left the broadcast booth in 1985 to take over as GM and La Russa's days were as good as numbered.
"We had played pretty good in '85 so he was stuck with me," La Russa said. "I think if he had his own guys, I don't know that his ideas wouldn't work. I just know they didn't [that year]. We fought him. We tried to work 'em, but we had to fight 'em."
Harrelson and La Russa didn't talk again until they broke the ice in 1992. They have stayed good friends since.
Broadcaster Harry Caray was another La Russa critic, and unlike the feud he ended with Harrelson, that one never was repaired.
"Hell no," La Russa said. "The first [shot] he took was, 'Bill [Veeck] was too cheap to hire a real manager.' There's probably a lot of truth to that. Harry liked to pick on the lambs and I was a lamb."
He left the White Sox to manage the
Oakland Athletics
and
St. Louis Cardinals
, and that lamb turned into a wolf. In 33 seasons as a manager, La Russa won 2,728 games, the third-highest total all time behind Hall of Famers Connie Mack and John McGraw. La Russa ended up winning three World Series.
But it all started in Chicago.
"First Bill Veeck, the way he would ask questions and get you involved with the great scouts, that was like going to graduate school night school and work on weekends," La Russa said. "It was just work, work, work. Then here comes new owners Jerry [Reinsdorf] and Eddie [Einhorn]. They loved the game of baseball so it was a great atmosphere. Then you had Roland Hemond as the GM. How much better can it get than that?"
July, 26, 2014
Jul 26
4:46
PM CT
COOPERSTOWN, N.Y. -- Frank Thomas came to the plate more than 10,000 times in his career, yet Sunday's march into the spotlight will be the most pressure-packed of his career.
Maybe he should wear his spikes and take a bat up to the dais when he makes his approximately 14-minute Hall of Fame induction speech in front of a crowd that could total 40,000 or more, not to mention those watching on television. For the record, the speech is four minutes longer than requested.
[+] Enlarge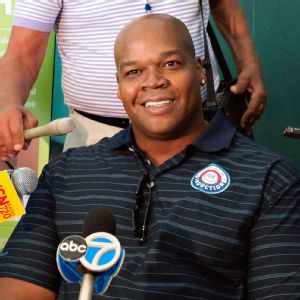 Gregory J. Fisher/USA TODAY SportsFrank Thomas is proud of playing baseball the right way and of the longevity and success he achieved, even after he left Chicago.
"It's reality, but it's very stressful -- trust me," Thomas said Saturday in advance of his induction, along with former players Greg Maddux and Tom Glavine and former managers Bobby Cox, Tony La Russa and Joe Torre.
"It's been a long week, man. This is like, wow. It's the finale, but a lot goes into this finale. This is big-time stuff. Going over and seeing how big that field is, [and] they are expecting it to be filled. I'm looking forward to it, man. I'm just overjoyed. But the nerves are there."
It seems silly, given that dealing with pressure was Thomas' forte. He is one of only four players in major league history with a career .300 batting average, 500 home runs, 1,500 RBIs, 1,000 runs scored and 1,500 walks. Mel Ott, Babe Ruth and Ted Williams are the other three who can match those numbers.
Thomas is also only one of 12 players to ever win back-to-back MVP awards, in 1993 and 1994. He won the '93 award unanimously.
He even knew how to pick himself back up and dust himself off, and he won the American league comeback player of the year award not only in 2000 but in 2006 as well.
Making things feel as though they've come full circle for Thomas is that this is not only a Chicago celebration in Cooperstown, with he, La Russa and Maddux being enshrined, but it's an even bigger Atlanta celebration with Maddux, Glavine and Cox being honored. Thomas is a Georgia native.
"Going in with these historical guys -- two of the managers, Bobby and Torre, managed my hometown team, and I got to watch those guys manage my hometown team, the
Atlanta Braves
-- it's weird, man," Thomas said. "It's a big finish because of the Chicago crowd, with Greg Maddux and myself, the Atlanta and Georgia crowd and just being around. Oakland is going in. It's crazy."
July, 25, 2014
Jul 25
8:00
AM CT
CHICAGO -- The only man to ever fire Tony La Russa as a manager will be in Cooperstown, N.Y., this weekend to celebrate La Russa's induction into the Hall of Fame.
[+] Enlarge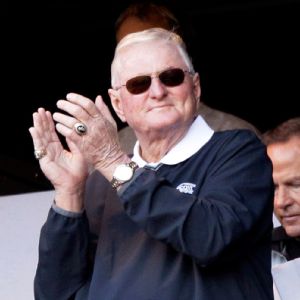 AP Photo/Nam Y. HuhKen "Hawk" Harrelson said he and Tony La Russa didn't talk for six or seven years after Harrelson fired him as White Sox manager in 1986.
Ken "Hawk" Harrelson is a White Sox broadcaster now, known for an oft-criticized excitable style. In 1985 and into the next year, though, he took a break from the booth to serve as White Sox general manager, where he may have made his most criticized move of all.
Harrelson made the decision to fire La Russa as manager after the team started the 1986 season 26-38. La Russa ended with a 522-510 record at the helm of the White Sox.
"It's funny, he managed what 33, 34 years in the big leagues and he only got fired one time, and you're talking to the [fool] that fired him," Harrelson said. "He might go down as certainly one of, but maybe the best, manager we've ever seen."
La Russa was immediately hired by the
Oakland Athletics
to be their manager, but Harrelson estimates that he didn't talk to La Russa for "six or seven years" as a result of the firing. The deep freeze ended, interestingly enough, after the A's topped the White Sox during a series in Chicago.
"It was a four-game series, I think, and they took three out of four from us, and he was doing just a magnificent job," Harrelson said. "After the game was over, I went downstairs and I walked into the visiting clubhouse and he had 15 or 20 people in there with him, but for some reason we made eye contact. When we did, I went [thumb's up] and I turned around and walked out.
"I get about 15, 20 feet down the hallway there and it's Tony and he says, 'Hawk, Hawk.' So he came up and we shook hands and he said, 'It's been too long.' I said, 'You're right, it has been too long.' Since that time, we've been close."
So while seeing
Frank Thomas
getting inducted into the Hall of Fame might be Harrelson's biggest reason for attending Sunday's ceremony, seeing La Russa get his honor will be rewarding as well.
"

It was the biggest regret (letting Tony La Russa go). Well, it was the combination, naming a general manager that shouldn't have been a general manager and then letting him fire Tony.

"

-- Jerry Reinsdorf
Harrelson said he played in La Russa's charity golf tournament this year and the two will swap stories again this weekend, with Harrelson sure to get more grief for his decision to fire a future Hall of Fame manager.
Chairman Jerry Reinsdorf already got in the first good-natured shot at Harrelson this week.
"It was the biggest regret [letting La Russa go]," Reinsdorf said. "Well, it was the combination, naming a general manager that shouldn't have been a general manager and then letting him fire Tony."
If there is one thing Harrelson is relieved about, it's that La Russa was able to go on and prove his managerial skills at Oakland and St. Louis.
"I didn't fire Tony because he was a bad manager," Harrelson said. "We had a difference of opinion. He wanted to go one way and I wanted to go another way. At that time, the club was going bad and the fans were really on him bad.
"I walked into his office and said, 'Tony, I've got to do one of two things.' He said, 'What's that?' I said, 'Either I have to fire you or I have to make you a hero.' He said, 'You can't make me a hero.' Well, obviously I did."
July, 24, 2014
Jul 24
3:41
PM CT
CHICAGO -- When Jerry Reinsdorf took ownership of the
Chicago White Sox
in 1981, Tony La Russa was already in place, like 25-foot ceilings on a new home, or the sunroof of a new car.
[+] Enlarge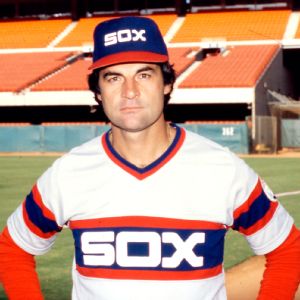 AP Photo/FileTony La Russa had a .506 winning percentage in eight-plus seasons as White Sox manager.
Well, those are the traits that eventually could be likened to La Russa. When Reinsdorf first took over the White Sox, he was under the impression that the manager of his new club was more like termite damage or a faulty transmission.
"When [La Russa] came to Chicago, I was a fan; I didn't own the team at the time," Reinsdorf said. "He came up sometime in the 1979 season and managed in 1980, and I bought the team in 1981.
"I remember at the time I bought the team, I thought 'Well, one of the first things I'm going to have to do is fire the manager,' because the broadcasters, [Harry] Caray and [Jimmy] Piersall, kept talking about how bad he was. And then I met him and realized how wrong they were."
Eventually Ken "Hawk" Harrelson was unable to realize the greatness as well during a brief turn as general manager, and he fired La Russa at the start of the 1986 season. It is the moment in Reinsdorf's ownership that he seems to regret the most.
Despite La Russa moving across the country to manage the
Oakland Athletics
, Reinsdorf stayed close with his former manager and the two have a unique bond to this day.
"Over the years we've really become like brothers," Reinsdorf said. "It's just a very, very special friendship. As great a manager as he is, he's a better human being. He's just a great person."
La Russa wasn't a very accomplished major league player, seeing time in 132 career games with the Kansas City/Oakland A's, the
Atlanta Braves
and the
Chicago Cubs
. And as a manager he raised eyebrows with his use of the bullpen and a sporadic strategy of using the pitcher in the No. 8 spot in the lineup.
But he is recognized as changing the game, especially with how relievers are used.
That is at least part of the reason La Russa will be inducted into the Baseball Hall of Fame on Sunday. Former White Sox player
Frank Thomas
also will be inducted.
"Obviously having two people connected with the White Sox going in at one time is special, but it's really special for me to see Tony go in knowing how he suffered early in his career and the abuse he took and to see that he proved all the critics were wrong," Reinsdorf said. "I just wish Harry Caray were alive."
January, 23, 2014
Jan 23
2:55
PM CT
CHICAGO -- While two members of this year's Hall of Fame class will be inducted without a team logo on their cap,
Frank Thomas
had no such issue.
Thomas' Hall plaque will have a
Chicago White Sox
logo on the cap, of course, unlike pitcher
Greg Maddux
and manager Tony La Russa, who will be inducted without any logo.
Thomas did play for three teams in his career -- the White Sox,
Oakland Athletics
(twice) and
Toronto Blue Jays
-- but the logo decision was fairly obvious.
"I was drafted by Chicago in the first round and for 16 of my 19 seasons, I was fortunate to play there," Thomas was quoted as saying Thursday in a Hall of Fame press release. "I had wonderful seasons in Oakland and Toronto as part of my career, but my Hall of Fame election is celebrated most by the fans of Chicago and the priceless memories I will always treasure on the South Side, which is why my plaque will feature a Sox logo."
June, 8, 2013
6/08/13
4:51
PM CT
CHICAGO – Tony La Russa's advice to Robin Ventura would be to hang tough and let the length of the season be your ally.

The former White Sox manager was at U.S. Cellular Field on Saturday to help celebrate the 30th anniversary of his "Winning Ugly" team, but said he only talked briefly with the current manager, whose team has lost 10 of 11 and is in last place.

The White Sox started slow in 1983, just like this year's team has, before going on a winning run by using a brand of baseball that wasn't always pretty to watch but ended up being effective.

La Russa wasn't about to advocate using the 1983 team's style, but he felt the current squad could still be effective nonetheless.

"I mean, one of the beauties is the season is it's six months if you are good, and they are good enough, they have plenty of time," said La Russa, who managed for 33 seasons, including a 16-season stint with the Cardinals that ended in 2011. "You just can't get discouraged and you can't try to fix it all in one day. Just do the right thing bit by bit and it gets better. But you could be on top of the league, 20 over, check the book, and they don't win a lot of times."

La Russa and White Sox chairman Jerry Reinsdorf remain as close as brothers, so obviously is going to be pulling for the White Sox. His assessment of the team sounded genuine, though.

"It's a test over six months," La Russa said. "They have a great attitude here, a good coaching staff. Robin is solid. They will be fine."

La Russa and Ventura were never in the same organization so they never developed a relationship, but their paths crossed often, obviously.

"I remember in 2000 the Mets beat us and went to the World Series," La Russa said. "I always respected and admired him, but we were never with the same team. And as you know, it was our family against their family so if you weren't in the right family, I wasn't the nicest guy around."

La Russa, who said he would still be around Sunday, said he was open to having a conversation with Ventura if the time permitted.

"The thing about it that is kind of overrated, when you have a quality coaching staff, those are the guys you talk to," La Russa said. "I saw the club on TV, I read about them. If there is a general question anybody wants to ask, you can give them a general answer. But he answers come from the guys who are watching every day, the guys who are working with the guys every day and they are plenty good that way."
March, 25, 2012
3/25/12
8:03
PM CT

By Bruce Levine
ESPNChicago.com
Archive
GLENDALE, Ariz. --
Dayan Viciedo
has had a spring training to forget, now hitting a lowly .100 without a home run or RBI.
Chicago White Sox
manager Robin Ventura knows a little about slumps, having begun his career 4-for-44.
"He has had some good sessions in the cage," Ventura said. "He is more frustrated than anything. He is putting too much pressure on himself. I understand all the frustration because of the buildup, but I am not worried about him."
October, 31, 2011
10/31/11
4:29
PM CT
October, 4, 2011
10/04/11
6:40
PM CT
CHICAGO -- The end of the Tampa Bay Rays' season means the pace should pick up on the White Sox's manager search.
Rays bench coach Dave Martinez is believed to be one of the White Sox's top manager candidates, if not the No. 1 guy in their search following the departure of Ozzie Guillen last week.
[+] Enlarge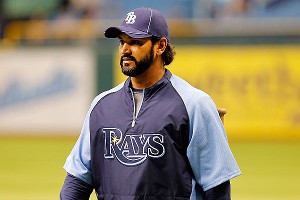 J. Meric/Getty ImagesDave Martinez fits the profile of the type of manager the White Sox have hired in the past.
Martinez just completed his fourth season as the right-hand man to Rays manager Joe Maddon. Tampa Bay made the postseason in three of those four seasons. A member of the Rays' inaugural club in 1998, Martinez played 16 seasons, including stints with the Cubs (1986-88, 2000) and White Sox (1995-97).
In his three seasons with the White Sox, Martinez batted .302 and had a career-best 19-game hitting streak in 1997.
Another top candidate is believed to be new Cleveland Indians bench coach Sandy Alomar Jr., who had been the club's first-base coach before a promotion last week that is set to go into effect in 2012.
The White Sox are also believed to have interest in former Boston Red Sox manager Terry Francona, whose contract option was not picked up after his team's September collapse prevented them from advancing to the postseason.
Other speculation has centered around the White Sox being interested in current St. Louis Cardinals manager Tony La Russa, who is a former White Sox manager and has a close relationship with chairman Jerry Reinsdorf.
But unlike Martinez and Alomar, Francona and La Russa are not of the up-and-coming manager mold the White Sox are believed to be looking for. The search could be modeled after the one Reinsdorf's Bulls used to ultimately land first-year head man Tom Thibodeau.
Like the Bulls, the White Sox are believed to want their head man to grow quickly into the position with the potential of having a lengthy tenure with the club, not unlike what happened with Guillen.