Chicago White Sox:

Xavier Nady
November, 23, 2010
11/23/10
10:27
AM CT

By Bruce Levine
ESPNChicago.com
Archive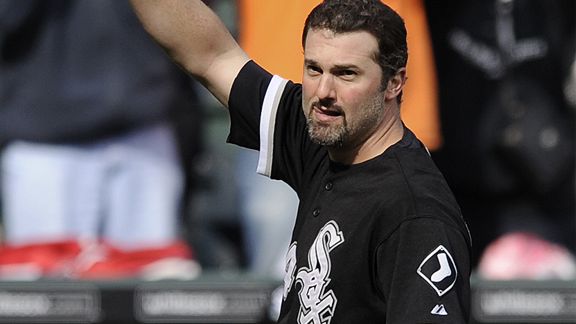 AP Photo/Paul BeatyLook for the White Sox to offer Paul Konerko arbitration by the end of Tuesday.
By the end of business Tuesday, the
Chicago Cubs
and
Chicago White Sox
must decide whether to offer arbitration to their eligible free agents.
For the Sox, that list includes
Paul Konerko
,
A.J. Pierzynski
,
J.J. Putz
and
Manny Ramirez
.
The Cubs only have one free agent in
Xavier Nady
.
Here's the scorecard for the Sox today: I look for them to offer arbitration to Konerko and Putz, and not offer to Pierzynski and Ramirez.
The Cubs will not offer arbitration to Nady. He has no ranking, therefore there would not be compensation.
The system works this way: if the Sox offer arbitration to Pierzynski, and he signs elsewhere, because he's a Type-A free agent, the team that signs him would give up a No. 1 pick from the June draft of 2011 if they're ranked in the top 15 record-wise from June 10. If the team signing Pierzynski ranks 15-30 by record, that team only surrenders a No. 2 pick and the Sox would receive a third-round pick from the MLB draft not impacting the signing team.
The Sox would also be on the hook for a guaranteed year to Pierzynski if he decides to accept arbitration. The Sox would have to pay him between $6-$7 million in 2011.
The White Sox most likely will not offer arbitration to Pierzynski, although the Sox would miss out on compensation if he signs elsewhere. It gives Pierzynski a better chance to sign with another team.
In the case of Konerko, the Sox most likely will offer arbitration. Konerko is a Type-A free agent. He made $12 million in 2010. If he would accept arbitration from the White Sox, his arbitration number would come in between $14-$15 million in 2011.
According to sources, the Sox also will offer Putz arbitration on Tuesday. He made $3.125 million last season, and Chicago would be tickled if he decided to take arbitration and sign a one-year deal. Putz is a Type-B free agent, meaning no compensation would be forthcoming from the signing club.
The Sox will not offer arbitration to Ramirez, who made $20 million in 2010.
Players offered arbitration must respond by Nov. 30. Teams must offer their own players under contract arbitration by Dec. 2.
Because of a rule change three years ago, teams are still allowed to sign their own arbitration-eligible free agents even if they don't offer them arbitration.
The Chicago Cubs appear close to adding outfield depth. A decision on free agents Xavier Nady, Reed Johnson, Jonny Gomes or Jermaine Dye appears imminent.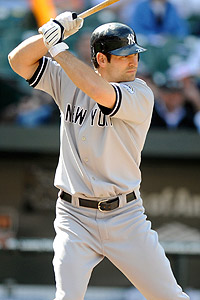 G Fiume/Getty Images
Xavier Nady, who played in just seven games last season for the New York Yankees, has undergone two Tommy John surgeries.
The Cubs want to add some offensive pop to the outfield while solidifying the bench in case of injury.
Nady may be a player with the most upside. After having a second Tommy John surgery on his right arm in 2009, Nady is said to be doing well on his rehab.
Scouting sources told me he's thrown the ball consistently 150 feet, with a month before position players report to spring training.
Nady was said to be asking $5 million to $6 million per season through agent Scott Boras during the Winter Meetings. Six weeks later, the price may have dropped.
The upside for Nady is he has more power than Johnson, and is six years younger than Dye, who turns 36 on Thursday.
Johnson has more ability to play all three outfield positions while Nady and Dye are both home run and RBI threats and can play left, right and first base.
Whoever the choice is, the new outfielder in the mix might platoon in right field with Kosuke Fukudome. Also keep in mind, Alfonso Soriano has missed 125 games in left field over the last three seasons.
Although the Cubs have talked to the agent for Chan Ho Park, it doesn't appear a deal is likely. Park is said to be asking between $3 million and $4 million per season.