Chicago White Sox:

Yasiel Puig
June, 2, 2014
Jun 2
12:30
PM CT
Sunny Southern California could be in store for a thaw of sorts this week.
When the
Chicago White Sox
's
Jose Abreu
and the
Los Angeles Dodgers
'
Yasiel Puig
meet on a Major League Baseball field for the first time in a regular-season game, a relationship gone icy could finally start to warm.
Don't call this a feud, but the former stars and teammates in their native Cuba, who have continued their success in the United States, haven't been on the same page despite so many shared interests.
[+] Enlarge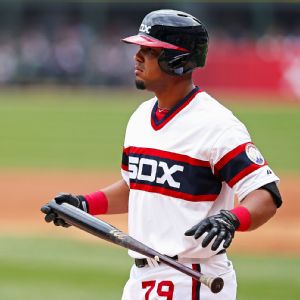 Jonathan Daniel/Getty ImagesJose Abreu returns to the White Sox on Monday after missing two weeks with left ankle tendinitis.
The first clue to a rift came this spring when the former rookie sensation Puig and the freshly signed Abreu met just once in the Arizona desert. Abreu described it as merely saying hello.
For those who might think spring training is a time for hard work and little socializing, consider that no player works out eight hours a day for 45 consecutive days. That would be physically reckless. An ample amount of spring days are done before noon, giving plenty of time to meet up with an old friend.
In fact, getting together in Arizona couldn't have been easier because Puig's Dodgers and Abreu's White Sox train at the same Glendale complex. The two clubhouses sit just a 9-iron apart, or perhaps a sand wedge apart for these two power swingers.
Asked about their relationship in recent days, both players have been cordial.
"In Cuba we had a very nice relationship, we were friends, brothers, but here in the United States, I've only had the opportunity to say hello one time in spring training," Abreu said for a piece reporter Pedro Gomez put together on "SportsCenter."
Said Puig in the same piece: "It's incredible what [Abreu] has done so far. I know him, he is a great hitter, a great baseball player, very disciplined in the box and very disciplined in everything he does. Everyone on [the White Sox] is going pretty well, and I wish that God will help them and that [Abreu] can continue to hit home runs, because that's what he does well. I think he might hit over 30 this year."
That's a lot of well-wishing for guys who didn't have much time to renew old acquaintances.
In a recent USA Today story, Abreu suggested that he would have been interested in renewing the friendship this year, but that Puig didn't seem to have the time for it.
"He hasn't communicated again with me, and I'm not going to try either," Abreu told the newspaper's Jorge L. Ortiz last month. "I don't have his phone number. I don't know, people in this system are strange. If you don't have time to talk, you don't have time to call me, then I don't either. I don't want to bother anybody. We were friends there [in Cuba]. I don't understand."
What is clear is that personality-wise Abreu and Puig are polar opposites. Puig has been dubbed by Dodgers manager Don Mattingly as a "wild horse." Abreu has been called "
oso
" ("bear" in Spanish) or Yogi (same concept), but he is neither menacing in person nor cartoonish.
Abreu never gets criticized for how he carries himself or for what he does on the field. Puig is a lightning rod for criticism whether it be arriving late on Opening Day, missing the cutoff man on throws from the outfield or forgetting situations while on the basepaths.
Then there are the mannerisms. When Abreu hits home runs, he simply lays the bat behind him and heads to first base. His rare moment of emotion on a home run came in late April, when he pounded his fist rounding first base. But that level of excitement came only because he had just hit a game-ending grand slam.
[+] Enlarge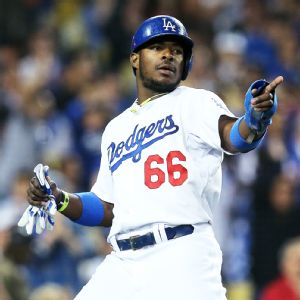 Stephen Dunn/Getty ImagesYasiel Puig said he got along well with Jose Abreu when they played together in Cuba.
Staying true to his nature, Puig punctuates his home runs with bat flips high in the air. He skips out of the batter's box before beginning his jog around the bases. Criticism has come easily.
Abreu was asked if the criticism of Puig is unfair and the bear noted that there is plenty of room for the wild horse's style.
"That's actually part of the game," Abreu said, shortly before the White Sox left on their West Coast trip. "That's part of the spectacle. That's what people come to see. He's just got to control it a little bit his play. He means well. He plays hard."
Maybe a matchup of their new teams is what the baseball's two newest stars need to renew their friendship. Like a teenager who would rather spend time with his friends than family on graduation night, perhaps Puig meant nothing personal by his brush off of Abreu, he was just absorbed in his inner circle.
Personalities are known to clash. More important, though, for three games starting Monday night at Dodger Stadium, their talents will clash. That is really what everybody wants to see anyway.
"Well, we used to get along very well when we played in Cuba," said Puig, who is second in the NL with a .347 batting average. "He is a very good person and always tries to give you advice, the same way I assume others like [White Sox shortstop] Alexei [Ramirez], that has more time in the majors than him, are giving him advice.
"He always listens to everything you tell him, and that's why he always does well everywhere he goes, like when he played for Cuba at international events, and that why he is doing so well here in the major leagues."
It sure sounds as though their differences can be resolved. Maybe the resolution to it all can start with a group photo. The White Sox's Cuban-born players -- Abreu, Ramirez,
Dayan Viciedo
and
Adrian Nieto
-- can get together with the Dodgers' Cuban exports in Puig and
Erisbel Arruebarrena
.
"We're going to take it like a normal day in the past," Abreu said. "It's good to play against friends. [Puig] is a friend of mine. There's another guy there that is an infielder, Erisbel Arruebarrena, who played on the same team in Cuba. I'm looking forward to really saying hello to them."
June, 2, 2014
Jun 2
12:12
PM CT
The
Chicago White Sox
will move closer to full strength Monday night when
Jose Abreu
returns to action for the three-game series against the
Los Angeles Dodgers
at Dodger Stadium.
Abreu has missed the past 13 games with tendonitis in his left ankle, an injury that took a team-leading 15 home runs and 42 RBIs out of the lineup.
In the early part of Abreu's absence, the White Sox figured out ways to manufacture runs, but things have been much more difficult of late. The White Sox are batting just .214 combined over their past seven games and went from the fifth inning of Tuesday's game against the
Cleveland Indians
to the second inning of Sunday's game against the
San Diego Padres
between home runs.
Having Abreu return during a series at a National League park isn't ideal since the rookie will have to play in the field if he wants to get into the three games. The team won't have the designated hitter spot at their disposal until Friday when they open a three-game series across town against the
Los Angeles Angels
.
During the first month and a half of the season it was the clear that as Abreu goes, so goes the White Sox's offense. Now that he returns to a team that is getting excellent starting pitching, is it finally time for the White Sox to sync up all parts of their game?
"I mean you would like it to be that way, but I don't want to put it all on Jose, that as soon as he's back he has to do that," manager Robin Ventura said. "Competitively, the way they show up and the way the go about it, that's the promising part is they do compete."
Ventura said he would be open to playing
Adam Dunn
in left field during the series to make sure he can get another power bat in the lineup.
HEAD TO HEAD
Dunn is one of the few left-handed hitters with huge success against Dodgers lefty
Clayton Kershaw
, going 8-for-13 (.615) with four home runs and nine RBIs. ... Kershaw is 0-1 with a 5.40 ERA in two career starts against the White Sox, the highest ERA he has against any team he has started against at least twice. ... Dunn is just 2-for-18 (.111) against Dodgers right-hander
Dan Haren
, but one of those hits was a home run.
Paul Konerko
is 8-for-21 (.381) lifetime against Haren. ...
Alexei Ramirez
has the most at-bats of any White Sox player against Dodgers right-hander
Josh Beckett
, going 4-for-16 (.250). ... The Dodgers'
Andre Ethier
has struck out three times in three at-bats against White Sox lefty
Jose Quintana
. ... In three at-bats against White Sox lefty
John Danks
, the Dodgers'
Hanley Ramirez
has a double and a home run.
NOTES
Despite losing two of three to the San Diego Padres this past weekend, the White Sox have won eight of their last 13 games. ... The White Sox are just 3-6 against National League West teams this season, with three games against the Dodgers this week and four remaining against the
San Francisco Giants
later this year. ... After
Chris Sale
allowed one run over nine innings to the Padres on Sunday, White Sox starters have a 2.31 ERA over the past 12 games and have held opponents to a .201 batting average over that span. ... The Dodgers'
Yasiel Puig
had a club record 43 hits in May and has reached base safely in 33 consecutive games. ... This will be the fifth interleague series between the White Sox and Dodgers. The White Sox lead the all-time series 12-6 and have a winning record at both U.S. Cellular Field (7-2) and Dodger Stadium (5-4).
PITCHING MATCHUPS
•
Monday:
White Sox LH Jose Quintana (3-4, 3.61 ERA) vs. Dodgers LH Clayton Kershaw (3-2, 3.57), 9:10 p.m. CST
•
Tuesday:
White Sox RH
Hector Noesi
(0-3, 4.33) vs. Dodgers RH Dan Haren (5-3, 3.28), 9:10 p.m. CST
•
Wednesday:
White Sox LH John Danks (3-5, 4.66) vs. Dodgers RH Josh Beckett (3-2, 2.52), 9:10 p.m. CST
April, 11, 2014
Apr 11
1:15
PM CT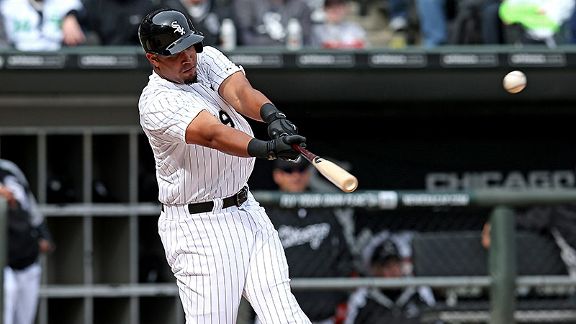 Jonathan Daniel/Getty ImagesJose Abreu has impressed with his approach at the plate and tremendous power through 10 games.
CHICAGO -- It didn't take long for Puig-mania to surface in Los Angeles, and less than a year later, another sensation appears ready to take hold.
Jose Abreu
is the latest Cuban baseball prodigy to burst onto the scene, with a 10-game start for the
Chicago White Sox
that suggests he, too, will be the subject of more T-shirt options in the souvenir stands, curtain calls and signs in the crowd asking for his hand in marriage.
The
Los Angeles Dodgers
'
Yasiel Puig
did have the benefit of the L.A. market on his side, with its huge television following and crowds at least four times what the White Sox are drawing now, but if his current production keeps up, Abreu is sure to inspire a spike in attendance all by himself.
[+] Enlarge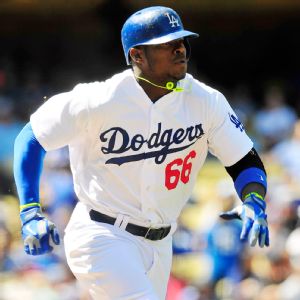 Gary A. Vasquez/USA TODAY SportsYasiel Puig took baseball by storm when he was called up to the Dodgers in June.
If the ticket-buying public is slow to take notice, the rest of baseball is already on board. In the opening series of the season,
Minnesota Twins
manager Ron Gardenhire ordered Abreu to be intentionally walked twice in the same game. In Colorado earlier this week, the Rockies lamented the fact that they finished second in the offseason Abreu contract bidding, realizing that a few more millions would have been a bargain. As for the division-rival
Cleveland Indians
, they got two Abreu home runs shoved down their throat Thursday night.
It's far too early to suggest that Abreu will have his way with American League pitching, but his approach certainly will give him a chance. A patient hitter, Abreu will crush inside pitches, but still has the ability to take offerings on the outside part of the plate to the opposite field. His walk rate isn't high, but his strikeouts are low and putting the ball in play with his strength will limit the range of fielders.
"It's rare I think that you get guys with his kind of power that have enough discipline to be able to go the other way and stay in it," manager Robin Ventura said after Thursday's game.
Where Puig is often exciting and unpredictable, Abreu is the complete opposite with a measured, focused approach. Abreu doesn't run like Puig or have his arm strength, but as a first baseman, that part of his game is less of an issue.
It's their comparisons at the plate that are most relevant. In his first 10 games with the Dodgers last June, Puig batted a robust .486 with a .514 on-base percentage and an .886 slugging percentage. Abreu comes in under that after 10 games with a .300 batting average, .383 OBP and a .725 slugging percentage.
But Abreu has slight advantage in run-producing numbers. Both players had four home runs after 10 games, but Puig had 10 RBIs to Abreu's 14. Puig struck out six times with one walk, while Abreu has five strikeouts and three walks. Abreu also has a 7-6 advantage in runs scored and an 8-6 advantage in extra-base hits.
Asking Abreu to turn around his team's fortunes and push it toward the playoffs as Puig did is something else entirely, though. The White Sox don't have as much experienced talent on hand as the Dodgers did a year ago, and that's where Abreu-mania might not draw as much momentum as the stir created by his countryman.
But after a 2013 season when the White Sox were unwatchable, Abreu is giving reason to take notice. His at-bats are turning into must-see events, and teammates such as
John Danks
and
Chris Sale
have remarked how fun it is to be a member of the White Sox again.
Sure, the White Sox aren't even 1/16th of the way into the new schedule, but having something to anticipate, like an Abreu at-bat, is never a bad thing.
Now if only this new sensation had a name. Abreu-mania is too copycat, Abreu-palooza figures to run into copyright issues and Abreu-fest suggests a short-lived happening. HULLABREU, anybody?
February, 28, 2014
Feb 28
6:32
PM CT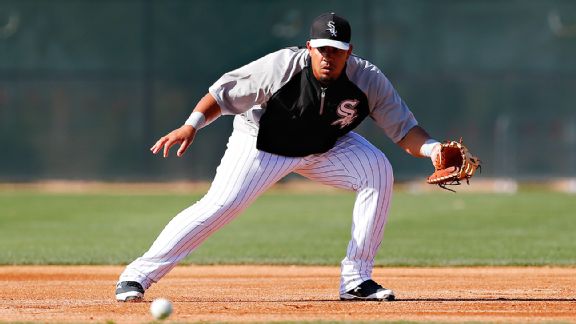 AP Photo/Paul Sancya"I want to be able to see a lot of pitches so I feel comfortable swinging the bat," Jose Abreu said.
GLENDALE, Ariz. – After a lineout to left field and a groundout to second base in his first spring-training game with the
Chicago White Sox
on Friday,
Jose Abreu
's work day was far from done.
Abreu exited the contest and was already in the weight room as the
Los Angeles Dodgers
were finishing off a 5-0 victory over the White Sox.
The team's new middle-of-the-order presence seemed genuinely confused as to why he was being requested for an interview since he felt he hadn't made any contributions to the team's cause.
The fact is that Abreu, 27, will remain a popular interview subject well into the start of the regular season as the slugger tries to deliver on his potential after signing a six-year, $68 million contract this winter.
"In my case I just want to play every day," Abreu said through interpreter Lino Diaz. "I want to get as much live pitching as I can so I can get back into it. Playing today felt really good. We're going to get as many at-bats as we can so I'm ready for the season."
Manager Robin Ventura had Abreu batting in the cleanup spot, ahead of another youngster with loads of potential,
Avisail Garcia
.
While so much has been made of Abreu's power and his ability to spray the ball to all fields, the first thing he showed off in his first game was plate discipline. Abreu saw 11 pitches in his two at-bats, not a startling high number, but impressive for somebody who was probably anxious to prove his worth.
"I want to get a feel for the strike zone and I want to be able to see a lot of pitches so I feel comfortable swinging the bat," Abreu said. "It might be my plan right now, but that's something I'm doing to feel comfortable."
The 6-foot-3, 255-pounder has been in the desert getting ready for nearly a month now, and he continues to insist there is plenty more work to be done.
"I don't really have an exact amount of at-bats to be ready," he said. "When the manager asks me to be out there, I want as many at-bats as I can prior to the season so I can be ready. It's a matter of seeing the ball when you're out there. I haven't seen live pitching in a while."
Fellow Cuban
Yasiel Puig
was not in the lineup for the Dodgers, but there was still a familiar face on the other side of the field, as Cuba native
Alex Guerrero
was starting at second base for Los Angeles.
"Yes, it is a great opportunity to play with a fellow Cuban on a different ground on a different place," Abreu said. "Like I always said to all the Cuban players, you have to keep working hard so you have a chance to come in and play at this level."
Players like
Alexei Ramirez
and
Dayan Viciedo
helped blaze a trail for Abreu, and now they are teammates helping him to adjust to his first year on a new club and in a new country.
"I'm thankful for both of them," he said. "Every time I have a question, I feel I can ask a fellow teammate and countryman and I know they will give me an honest answer. Yes, they have been helpful."
October, 17, 2013
10/17/13
5:04
PM CT
CHICAGO -- It seems that
Chicago White Sox
executive vice president Kenny Williams was only playing coy when he acted lukewarm on Cuban free-agent slugger Jose Dariel Abreu.
Abreu, who had better production than both
Yasiel Puig
and
Yoenis Cespedes
in Cuba, was the topic of conversation way back in August when Williams had a rare chat with the media since moving to his VP position.
"I saw three tapes (on Abreu) and I need to see another one," Williams said.
So you're not convinced yet?
"I need more video," Williams said.
Hogwash. Every rumor involving Abreu since he defected from Cuba this summer seems to have involved the White Sox.