Chicago White Sox:

Yoenis Cespedes
October, 17, 2013
10/17/13
5:04
PM CT
CHICAGO -- It seems that
Chicago White Sox
executive vice president Kenny Williams was only playing coy when he acted lukewarm on Cuban free-agent slugger Jose Dariel Abreu.
Abreu, who had better production than both
Yasiel Puig
and
Yoenis Cespedes
in Cuba, was the topic of conversation way back in August when Williams had a rare chat with the media since moving to his VP position.
"I saw three tapes (on Abreu) and I need to see another one," Williams said.
So you're not convinced yet?
"I need more video," Williams said.
Hogwash. Every rumor involving Abreu since he defected from Cuba this summer seems to have involved the White Sox.
February, 27, 2012
2/27/12
3:12
PM CT
By
Chris Silva
| ESPNChicago.com
GLENDALE, Ariz. -- While
Alexei Ramirez
is looking forward to taking the next step in his development as he enters his fifth full season with the
Chicago White Sox
, the shortstop also plans to keep an eye on the progression of fellow Cuban Yoenis Cespedes.
Cespedes signed a four-year, $36 million contract with the Oakland A's on Feb. 13, turning down an offer from the
Miami Marlins
. The White Sox and Cubs were also reportedly interested in the outfielder.
"I'm really excited to play against him," Ramirez said. "The guy's a great player, has great talent, and it's something that you really won't be able to see until you see him play this year. But I'm excited because I think everything I said about him will come true."
February, 13, 2012
2/13/12
11:35
AM CT
By
ESPN.com news services
February, 9, 2012
2/09/12
12:46
PM CT
Yoenis Cespedes, who met with the
Miami Marlins
and toured their new ballpark on Wednesday, could head back to the Dominican Republic as early as Thursday, said his agent, Adam Katz.
Read the entire story
.
February, 7, 2012
2/07/12
4:08
PM CT
By
ESPN.com news services
The Miami Marlins will officially court Yoenis Cespedes Wednesday, but Tuesday the Cuban free agent said he already likes the team.
"It would be good [to play here]," Cespedes told reporters at Miami International Airport Tuesday. "There are a lot of Cubans and they would support me a lot. Hopefully I can play for the Marlins."
Read the entire story
.
February, 6, 2012
2/06/12
9:34
PM CT
Cuban outfielder Yoenis Cespedes' next step toward signing with a major league team will eventually happen on U.S. soil, as he awaits his chance for face-to-face meetings with his agents and interested teams.
The plan, according to sources with knowledge of the situation, is still to have Cespedes in a big league camp by the third week of February.
The five-tool centerfielder will be a rich man before he sees one pitch in spring training, as industry sources tell ESPNChicago.com that the bidding for the Cuban defector may go as high as six years, $60 million.
The
Chicago Cubs
and the
Miami Marlins
may be driving the price up. The speedy 26-year-old outfielder said a month ago that the Cubs appeared to be the most aggressive team pursuing his services, having taken him out to dinner a few times. And Miami team owner Jeffery Loria has told his people that signing Cespedes is a priority for the Marlins, due to the large Cuban population in the Miami area.
Many other teams, including the
Chicago White Sox
, are still in the mix for Cespedes, who is waiting for a visa from The Dominican Republic, where he recently became a citizen.
February, 2, 2012
2/02/12
10:06
AM CT
By
Kevin Goldstein
| ESPNChicago.com
Now that Yu Darvish is a Texas Ranger, all the attention on the international market has gone to Cuban defector Yoenis Cespedes, with the light becoming brighter last week when his residency in the Dominican Republic was established, making him finally eligible to sign. His U.S.-based representative, Adam Katz, insists that Cespedes will be in camp with a team, so a signing could happen soon, and it's time to talk about just how good he can be.
Once again, opinions on where Cespedes fit on the scale were all over the board, with both extremes occurring as one exec took all five big leaguers ahead of Cespedes, while another chose Cespedes over all five established players.
Read the entire story

January, 25, 2012
1/25/12
11:45
AM CT
SANTO DOMINGO, Dominican Republic -- The agent for Yoenis Cespedes says the Cuban outfielder has established legal residency in the Dominican Republic, the final hurdle to becoming a free agent.
Read the entire story.
January, 17, 2012
1/17/12
3:57
PM CT
CHICAGO – New
Chicago White Sox
starting right fielder
Dayan Viciedo
has turned into a recruiter for his club, reaching out to Cuban free agents Yoenis Cespedes and Jorge Soler.
Cespedes, 26, and Soler, 19, are both heavily sought after outfielders who have recently defected. Cespedes, who is expected to make an impact at the major-league level this year, is reportedly seeking a deal in the $50 million range.
[+] Enlarge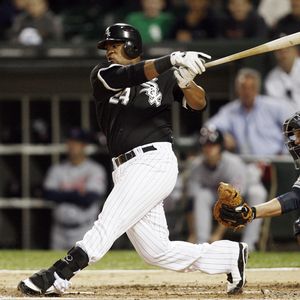 Jerry Lai/US PresswireDayan Viciedo hit .255 in 29 games with the White Sox last season.
Soler is more affordable, but will need seasoning at the minor-league level much like Viciedo did when he signed a four-year $10 million deal with the White Sox in the winter before the 2009 season.
"I have reached out to both of their camps, Soler and Cespedes, and put in a good word and told them how great the organization is and that they would be a good fit if they both came over to join us," Viciedo said through team translator Jackson Miranda.
So much for the idea that Viciedo has been down on the organization after he was stuck at Triple-A Charlotte for most of the season despite some eye-popping numbers.
"I don't feel that way," Viciedo said when asked if he should have been given more of a chance last year. "I feel that wherever they put me, that's where I'm supposed to be," he said. "I'll just do the best I can. I just feel that wasn't my time, but this year is my time, and I will do my best and take advantage of it."
Viciedo is being tabbed as the White Sox starting right fielder after
Carlos Quentin
was traded to the
San Diego Padres
on New Year's Eve.
The Quentin deal, as well trades of
Sergio Santos
and
Jason Frasor
, were possible signs that the White Sox were making some financial wiggle room for a run at Cespedes and/or Soler.
Viciedo said he acted on his own in recruiting the two outfielders and was not prompted to do so by the White Sox.
"No, it was no phone numbers given to me from the White Sox, it was about me reaching out to my fellow Cubans and wishing the best for them," Viciedo said. "They aren't signed and don't know what way they will go, but I just wanted to give them my advice and tell them how I would like them on our team and what a great fit they would be."
Now that he is getting a chance to finally start during the fourth and final season of his contract, Viciedo is making sure to not put any extra pressure on himself.
"My expectations are like every year, just work hard every day to go into spring training and be ready to be called upon," he said. "As far as pressure to match Carlos, I don't feel any pressure because for the most part I will go out to do what I have trained to and this will be a great year for me."
Viciedo will make $3.25 million in 2012, but will remain under team control after the season. In that sense there is no contract pressure, and Viciedo sounds like a guy brimming with confidence.
"Really it's all going to be about the preparation this year starting in spring training and then during the season making adjustments," Viciedo said. "The pitchers know me and I know the pitchers. We will get to know each other really well this year."
January, 13, 2012
1/13/12
1:34
PM CT
A day after Cuban defector Yoenis Cespedes made his professional debut in the Dominican winter league, he said that six teams are pursuing him, the Cubs and White Sox among them, according to ESPN's Jim Bowden.
The other teams are the Marlins, Tigers, Indians and Orioles.
Cespedes went 0-for-3 with three strikeouts for Aguilas Cibaenas Thursday night, but he's still likely in for a big payday as a free agent. Some reports say he could get as much as $60 million.
The 26-year-old Cespedes, who played for Cuba in the 2009 World Baseball Classic, is considered a five-tool player.
ESPNChicago.com's Bruce Levine hypothesizes
that because the White Sox traded away
Carlos Quentin
and
Sergio Santos
, they have the payroll flexibility to sign Cespedes. But the outfielder also fits with new Cubs president Theo Epstein's commitment to signing foreign stars to augment talent developed at home.
December, 31, 2011
12/31/11
4:47
PM CT
Cuban defector Yoenis Cespedes is in for a big payday, possibly as soon as next week, and it now appears that both Chicago teams may be a part of the bidding, which could go as high as $60 million.
After trading both
Carlos Quentin
and
Sergio Santos
, the
Chicago White Sox
have cleared some payroll, upwards of $10 million off their 2012 salary base.
That money may be used to bid on 26-year-old Cespedes or 19-year-old Jorge Soler, also a multi-talented Cuban defector, but White Sox general manager Kenny Williams was reluctant to say how far in the White Sox are in relationship to the Cuban free agents.
[+] Enlarge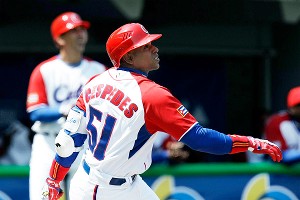 AP Photo/Gregory BullYoenis Cespedes, 26, played for Cuba during the World Baseball Classic in 2009.
"What I will say is there are some doors that are now open for us that were not open yesterday because of the savings of dollars," Williams said. "But which direction we are heading with that, [talking about it] I think would be counterproductive with us getting something done should we decide to go down that road."
The
Chicago Cubs
,
Miami Marlins
,
New York Yankees
and
Boston Red Sox
are said to be among the main bidders for Cespedes, who will be granted citizenship in the Dominican Republic. Citizenship is the first hurdle for Cespedes and his American agent, Adam Katz, to get over in order for the outfielder to be signed to a major league contract.
Katz hosted private workouts for numerous teams in November and the Cubs top brass, including President of Baseball Operations Theo Epstein, general manager Jed Hoyer and VP of scouting and player development, Jason McLeod all flew to the Dominican Republic on Nov. 22.
The White Sox, all things being equal, may have a leg up on the other teams due to their success with Cuban free agents in the past.
Beginning with
Orlando "El Duque" Hernandez
, continuing with
Jose Contreras
and more recently with
Alexei Ramirez
and
Dayan Viciedo
, the White Sox have been a haven for Cuban baseball players.
With two young Cubans still on the White Sox team, there would be a huge comfort level for Cespedes or Solar with the White Sox organization.
Cuban players, unlike any other Latin American players, need more support when they begin their American experience due to the fact that they don't receive any help to prepare them for the transition. Other Latin American countries, such as the Dominican Republic and Venezuela, hold camps for prospective players to help them adjust, such as learning a new language.
The adjustment period for Ramirez was difficult, especially playing in cold weather for the first time. It took him four years with the White Sox to hit over .250 in the month of April.
Cespedes, a centerfielder by trade, is considered a five-tool player who many believe is already major-league ready.
The dollars needed to sign the younger Soler are projected to be around $20 million. Soler is a one- or two-year project. Many scouts feel he may be a corner outfielder in the future.
The new international cap for signing free agents is $2.9 million per year before a tax penalty is paid. However, that doesn't begin until July 2, 2012 according to the new Collective Bargaining Agreement.