When looking at the statistics of the Chicago Blackhawks' 2-0 shutout loss to the Nashville Predators, one might assume the Preds played great defense, limiting the Hawks to just 22 shots. That's 11 below their per-game average. But the real key to that low number was goaltender Pekka Rinne. He had a game you don't see often.
If Rinne gave up more than two rebounds, I need to see the game tape to prove it. He was a vacuum. Every shot that went his way ended up in his glove or covered up by his body. There were no second or third opportunities. And that's where you load up on your shot total, let alone score a few. Not tonight.
[+] Enlarge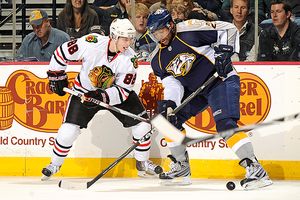 John Russell/NHLI/Getty Images
Patrick Kane spent 21 minutes on the ice for the Blackhawks in the team's 2-0 loss to the Predators on Thursday night in Nashville.
It didn't help that the Hawks did not provide much traffic in front of the net. Joel Quenneville said as much after the game.
"We needed more bodies in front," Quenneville told Comcast SportsNet. "We talked about it."
The Hawks' power play could not convert in five chances, and Nashville's league-worst version went 1-for-6. In a recurring theme this season, the Hawks once again wasted a two-man advantage. In a scenario similar to one in the loss against Dallas earlier this month, the Predators took a penalty with 1:47 remaining in the third period and Quenneville pulled Cristobal Huet so the Hawks would have a 6-on-4. But the game ended with the Predators' Jerred Smithson scoring an empty-netter.
One bright spot, other than Huet's solid play, was Patrick Kane's performance. He was a one-man playmaking machine. He was everywhere, but neither he nor his teammates could find the back of Rinne's net. Kane was on the ice for more than 21 minutes. That was highest among forwards.
After the game, Quenneville left open the possibility that Huet would face his former team, the Montreal Canadiens, Friday night at the United Center. The Hawks are 7-4-1 on the season.