[+] Enlarge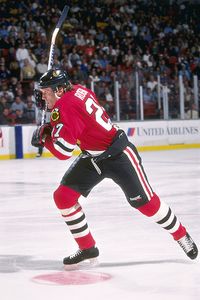 Tim DeFrisco /Allsport
There was a video tribute to Jeremy Roenick before Sunday's game against the San Jose Sharks, and he dropped the ceremonial first puck at the United Center.
I just gave Jeremy Roenick a big hug in the hallway at the United Center. He's excited about his night, and he should be. He's one of the greatest Hawks of all time. In fact, I got to know him in the '90s, and we had some nights on the town I can't reprint in this blog. I tell you all this because it pains me to say I don't think his number should be retired.
Unlike the Hall of Fame, I think retiring a jersey number for a particular team has as much to do with longevity with that team as it does production. Roenick played seven-plus seasons with the Hawks and 12 with other teams. Ironically, if he hadn't been so good for so long, he might have a better chance at it. If he had retired after those seven-plus seasons, I think he'd have a better case. Simply put, except in rare cases, the player has to be a lifelong Hawk, or very close to it, to be considered for such an honor. Of course, we all know Roenick was run out of town like so many of that era, but that doesn't change the facts.
Of the six Blackhawks players whose numbers were retired, none played more seasons outside Chicago than in. Roenick would be the first. Denis Savard returned for three years to cement his legacy, while Bobby Hull also left but still played longer in Chicago. Plus, he's Bobby Hull! Glenn Hall's example could be a good argument in favor of Roenick. Hall didn't even start his career here, which you'd think would be part of the equation, but still, 10 years as a Hawk and about six elsewhere qualify him. And Hall won a Cup. If Roenick had helped the Hawks do that, he'd get more points on his side. The Hawks came close in 1991, but close isn't good enough when you're talking about retiring a number.
At the end of the day, Roenick will be remembered like Chris Chelios will be. Great guys, great Hawks and great for Chicago, but telling the world no one will ever wear that number again is reserved for the very few who are identified with the franchise the moment you mention their name. Roenick had longevity in the NHL -- just not enough with the Hawks.