Media day notes and quotes
September, 17, 2010
9/17/10
6:07
PM CT

By Jesse Rogers
ESPNChicago.com
Archive
The Blackhawks will return to the ice on Saturday, practicing before a sold-out United Center crowd, but first up was Friday's media day. General manager Stan Bowman, coach Joel Quenneville, and six players held a mid-morning press conference to talk about their summer and the upcoming season. Here are some highlights:
Stan Bowman
On Cristobal Huet: "We are working out the details for his assignment to Europe." Bowman said there are some "timing" issues with the league before that can happen. First and foremost, Huet has to clear waivers.


On the camp's goals: "With so much [roster] turnover, guys finding their roles is most important."


On Brent Seabrook's final year under contract: "Now that we have gotten through the summer, with the changes we had to make, we are going to start looking at that…Brent is a great player. We will start addressing that and see where it goes."

Joel Quenneville



[+] Enlarge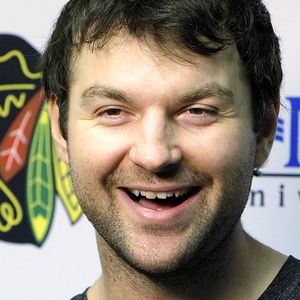 AP Photo/Charles Rex ArbogastJohn Scott is the only newcomer on the Blackhawks defense.
On this year's enforcers: Quenneville mentioned Jake Dowell, John Scott, and Bryan Bickell as his new muscle.


On his defense: Said there wasn't much room for a newcomer, other than Scott, but mentioned Jassen Cullimore as someone "to look at."


On Kyle Beach: Saw "steady progress" in his development both on and off the ice.


On replacing Brent Sopel on the penalty-kill: Quenneville mentioned Brian Campbell, Nick Boynton, and John Scott.

Troy Brouwer


On his dad who took ill late last season: "He's doing better. He's home and he's played a few rounds of golf."


On his favorite moment with the Cup: "The Cup was on the kitchen table and [my dad] looked at all the great names on the cup like Messier, Gretzky, Gordie Howe, Bobby Orr, and said 'Your name is going to be right there engraved forever with them and I'm so proud of you.' "


On the sold-out opening day of camp: "I never heard of a sold-out practice before in anything."


On being the hunted team: "There might be a team that has a couple games in a week and playing us at the end of the week but they might be only focusing on us so we have to be prepared for that."


On back-to-normal for Captain Serious: "[Jonathan Toews is] in the training room complaining about fitness test scores right now."

Marty Turco


On where this defense ranks in his experience: "My midget team in 1992 was pretty good but they were off the glass and out," he joked. "By far this group is the best defense, at least on paper."


On deciding to come to the Hawks: "[Finding a] winning team was huge on the checklist but the next thing was [looking at the] captains."


On Patrick Kane or others cherry picking for home-run pass from him: "Kane brought it up but other guys said 'when in doubt throw it up there and he'll be waiting.' "


On the contrast between Kane and Toews: "With Toews being so serious, it lets Kane off the hook a little bit but deep down he wants to win. You saw the way he played in the playoffs."


On the sold-out practice: "More nervous than anything."

Brian Campbell


On playing with Turco: "We don't have to go behind the net to get the puck. They can try to forecheck [Turco] and we can go to our corners as defensemen and receive passes that way, so you kind of get a 6-on-5 advantage a little bit."

John Scott


On possibility of fighting a teammate in camp: "They didn't let us fight in Minnesota [in camp] last year so we'll see. I'm not going to say no or yes. If someone is trying to make a name for himself, I don't know."


On being the only new member on defense: "[It's] a little more difficult because they have jelled and know how to play with each other…It will take some time."

Patrick Kane


On his offseason: "Funnest summer of my life, for sure. You realize all the feelings and emotions you had after a season like that and it makes you want to do it again."


On line combinations: "Chemistry is a bit overated. That's not going to be a big deal."


On camp: "I expect a very serious training camp."


On a 100-point season: "I'm not going to be the one to say it but I think that's my job with the team to produce points. It's a number you definitely want to hit."


On offseason practice: "Worked on my release."


On the new go-to guy for the media now that Burish is gone: "[Jack] Skille might be a guy to go to. He doesn't shut up around the locker room. Maybe [Duncan Keith] and Turco."


On the location of the Cup-winning puck: "I don't know. My guess is I think either [Patrick] Sharp or [Ben] Eager has the puck but they won't admit it." Kane doesn't think a Flyer has it.

Jonathan Toews


On motivation: "No one is picking us to win this year so that will work in our favor."


On trying for a title for Turco: "That's huge. That's something that motivates our young guys. He's had a very respectable career and even at this point he's not satisfied. For some of us young guys we have to realize how lucky we are to have won a championship so early…It adds that hunger a little bit."


On Turco's puckhandling: "I'm just hoping Kaner doesn't think he doesn't have to come back over the red line. He [Turco] was always really annoying to play against."


On playing a preseason game in his hometown next week: "I can't remember the last sanctioned game in my hometown. I was probably 15 years old. Hopefully I'll be ready to go and definitely step it up a little bit and impress the home fans."


On his first message to his team: "When things get tough we can't rely on last year."