Klinkhammer's dream comes true
December, 8, 2010
12/08/10
1:49
PM CT
CHICAGO -- Rob Klinkhammer called it a "dream come true" when he got the call he would make his NHL debut Wednesday night when the
Chicago Blackhawks
take on the
Dallas Stars
.
[+] Enlarge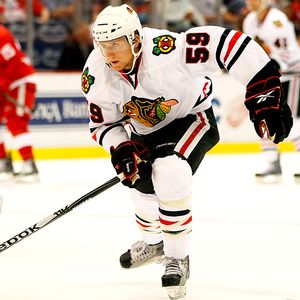 Gregory Shamus/Getty ImagesRob Klinkhammer will skate on the fourth line with Jake Dowell and John Scott.
Klinkhammer was recalled from Rockford to take the place of injured forward
Patrick Kane
and will take a fourth-line role skating with
Jake Dowell
and
John Scott
.
"[I'm] nervous, really nervous," Klinkhammer said. "Kind of a short night last night. Tossing and turning."
After 234 regular season games in the AHL, Joel Quenneville said Klinkhammer, 24, was chosen over others simply because he deserved it.
"We have a lot of guys watching down there," Quenneville said. "They're pretty in tune to who's deserving of it and who best fits the need as well. It's a great opportunity for him."
Recently general manager Stan Bowman said forward Kyle Beach was "on the cusp" of making it to the NHL but the Hawks instead chose Klinkhammer.
"You could make an argument for a half dozen guys," Quenneville said. "At this time he earned it based on his performance and his play. Consistency might be something there as well."
Quenneville indicated Beach could see the NHL before long.
Another reason the Hawks chose a fourth-line grinder to replace Kane is to keep the focus on defense.
"If we are responsible and look at it from that side of it instead of replacing scoring with scoring -- that could open us up a little bit -- we're looking to check a little bit more."
In other words, trying to replace the playmaking of Kane could just lead to chances for the opposition so defense is the way to go.
Klinkhammer is excited his family will be in town to see his long awaited NHL debut.
"My parents were flying in, coming to see me in Rockford, anyway," he said.
Lineup:
Quenneville reiterated his desire to stick with a winning combination in choosing
Corey Crawford
over ex-Star
Marty Turco
. Crawford has won six consecutive starts. Besides the Hawks fourth line, here is how they lined up during Wednesday morning's practice:
Bryan Bickell, Dave Bolland, Troy Brouwer

Morin back: Jeremy Morin spent two days on the Rockford roster to save some money under the salary cap, but he's back. He also was added to the preliminary roster for Team USA at the World Junior Championships which take place in Buffalo from Dec. 26-Jan. 5. But if he's needed in Chicago, that might take priority.

"We haven't discussed it to that extent organizationally," Quenneville said. "We'll see how it all plays out. It's a good discussion."

Quenneville called it a "once in a lifetime opportunity -- like a three-year-old horse at the Kentucky Derby" -- but if the Hawks are banged up come time for the tournament, he will be needed in the NHL. If they're at full strength, there's a good chance Morin could play at the championships.

Nick Leddy is also on the preliminary roster. The official roster will be announced by Dec. 23.

More Burish: Several Blackhawks went to dinner with former teammate Burish Tuesday night in Chicago. There were plenty of jokes told and memories re-lived from the team's Stanley Cup run of a year ago. Plus, of course, there was some trash talking in advance of Wednesday's game.

"I told Brent Seabrook, 'Easy on the counter hits in the corner,'" Burish said Wednesday morning. "'Don't fold me up too bad.' He said, 'You start running around, it's coming. You start running around and doing your regular antics, 'I'm coming after you.' "

Final word: Troy Brouwer was at the dinner, but said he didn't spend as much time with Burish as others did. "I wasn't with him too much away from the rink," he said. "You know with him patrolling for ladies and me with a wife. Two different lifestyles."