Roenick: 'Big mistake' sitting Stalberg
May, 20, 2013
5/20/13
4:24
PM CT
By Staff
ESPNChicago.com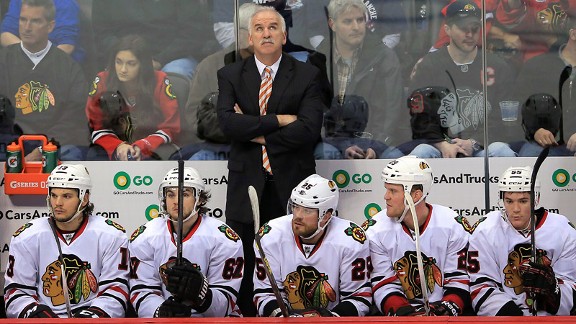 Doug Pensinger/Getty ImagesJeremy Roenick said Joel Quenneville should have picked a different time to send a message.
Former
Chicago Blackhawks
great
Jeremy Roenick
said Monday that coach Joel Quenneville made a big mistake sitting
Viktor Stalberg
in Game 2 of the Western Conference semifinals against the
Detroit Red Wings
, who evened the series with a 4-1 win Saturday.

Stalberg, who also sat out the Hawks' Game 1 win, will return to the lineup for Game 3 on Monday in Detroit. Quenneville denied reports that the benching had to do with Stalberg complaining about his diminished role on the power play in the first round against Minnesota, and after initially stating he wasn't sure why he was benched, Stalberg later said he was told he needed to produce.
"I never say anything negative about Joel Quenneville because I think he's one of the best coaches in the game, he's one of the greatest guys in the game, but he made a big mistake with this one," Roenick told "The Carmen & Jurko Show" on ESPN 1000. "I don't care what your personal feud is, whether the kid's complaining, whether the kid's not pulling his weight, you can't take a kid like Stalberg who has the speed, the talent, the break-away speed that can change the course of the game and put in my buddy Dan Carcillo, who is very limited in what he's going to produce for you, and he ends up in the penalty box, which is not good.
"You have to save it for another time, or deal with it after the season is over. But sitting Stalberg was a big mistake and hurt the team in Game 2."
Stalberg played in 47 of 48 regular-season games and in all five of the team's first-round playoff games. He had nine goals and 14 assists in the regular season and one assist against the Wild in the first round.
"He creates a lot of space for other players," said Roenick, who is an NBC analyst. "With the exception of
Michael Grabner
in New York, the Islanders, Stalberg I believe is the fastest player in the game. To not have the fastest player in the game on the ice because he's complaining about power play time or complaining about ice time or whatever the case may be, there's a time and a place to have that argument, it's not in the second round of the playoffs."
Now that Stalberg is back in the lineup, Roenick said he'll watch closer to see how he responds.
"The Hawks are going to see what kind of character he really has," Roenick said. "Viktor has to show that he really cares about hockey and he really cares about the Indian head and playing for that team, and what he feels for his character. His character was questioned.
"And if it were me, I'd come out and I'd be knocking heads all over the ice. I'd make sure that there was a lot of people who would feel pain and I was going to make sure my coach would look at me after the game and say 'that's the way we need you to play.' And it's a big character test now for Viktor Stalberg, whether he's going to pout and whine like a child, or if he's going to stand up on top of the table, pound his chest and say 'I'm going to show you what I can do.' "