Bulls vs. Nets: ESPN Chicago's predictions
April, 19, 2013
4/19/13
3:38
PM CT
By ESPNChicago.com
ESPNChicago.com

More: ESPN Chicago … on Twitter | Clubhouse | Schedule | Roster | Playoff Center
ANALYST
PREDICTION
WINNER
Carmen
DeFalco


BULLS IN 7
Bulls outlast the Nets and win in seven. Prokhorov tries to buy the Bulls after to destroy them.


Nick
Friedell


BULLS IN 6
The Nets don't scare the Bulls at all. If Joakim Noah, Taj Gibson and Kirk Hinrich can stay on the floor and stay in front of Brook Lopez and Deron Williams they will win.


Jon
Greenberg


BULLS IN 7
I have a sinking feeling this series is going to be like last year against the Sixers -- aside from a city-crippling Derrick Rose injury -- in that everyone in Chicago overestimates the Bulls. With Joakim Noah limited by plantar fasciitis, I'm not sure why I still picked the Bulls. But I still like the Bulls' toughness, and the emergence of Jimmy Butler.


Melissa
Isaacson


BULLS IN 6
The Nets are thrilled Deron Williams came back at full-strength after the All-Star break, while the Bulls' point-guard situation, well . . . It wouldn't seem to make sense even going there except that if Derrick Rose does return, the Bulls will be a different team and presumably, a better team with the former MVP. The guess here is that the Bulls know Rose's status and that he will return. That emotion alone should carry them past the first round.


Scoop
Jackson


BULLS IN 6
No Rose, no Pacers, no Knicks, no Heat, no problem. The Bulls are still one of the four best teams in the East, regardless of seeding. They will prove that against the Nets.


John
Jurkovic


BULLS IN 7
The Bulls beat the Nets while Derrick sits idly by.


Doug
Padilla


NETS IN 7
The Bulls know all about playing tough, hard-nosed playoff basketball, but there are a number of matchups against the Nets that will cause serious problems and lead to an eventual series defeat in seven games. Deron Williams is as talented as they come with his own playoff savvy to boot, Jimmy Butler will have his hands full with Joe Johnson, and if Joakim Noah is as hobbled as he looked in Wednesday's regular-season finale Brook Lopez will cause his own issues.


Scott
Powers


NETS IN 7
Deron Williams will be the most talented player on the floor, and he appears motivated again. That will likely spell first-round doom for the Bulls.


Sarah
Spain


BULLS IN 7
With Derrick Rose watching from above (a suite, not Heaven) the Bulls use stifling defense, a few hot streaks from Nate Robinson and a breakout series from Jimmy Butler to dispatch the Nets.

50 GREATEST JORDAN MOMENTS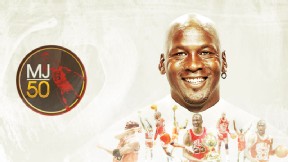 ESPN Chicago takes a look at the 50 greatest moments in Michael Jordan's career. Gallery

ABOUT THIS BLOG

Nick Friedell
Nick Friedell is the Chicago Bulls beat reporter for ESPN Chicago. Friedell is a graduate of the S.I. Newhouse School of Public Communications at Syracuse University and joined ESPNChicago.com for its launch in April 2009.

Doug Padilla
Doug Padilla joined ESPN Chicago in July 2009 and covers the White Sox and Bulls for ESPNChicago.com and ESPN Radio 1000.
BLOG ARCHIVE:
CATEGORIES:
UPCOMING GAMES
| | W-L | PF | PA | HM | AW | STK | L10 |
| --- | --- | --- | --- | --- | --- | --- | --- |
| MIN | 4-2 | 105.5 | 98.7 | 2-1 | 2-1 | W3 | 4-2 |
| CHI | 4-3 | 96.4 | 94.0 | 3-1 | 1-2 | L1 | 4-3 |
| | W-L | PF | PA | HM | AW | STK | L10 |
| --- | --- | --- | --- | --- | --- | --- | --- |
| CHI | 0-0 | .0 | .0 | 0-0 | 0-0 | W0 | |
| NYK | 0-0 | .0 | .0 | 0-0 | 0-0 | W0 | |
| | W-L | PF | PA | HM | AW | STK | L10 |
| --- | --- | --- | --- | --- | --- | --- | --- |
| CLE | 0-0 | .0 | .0 | 0-0 | 0-0 | W0 | |
| CHI | 0-0 | .0 | .0 | 0-0 | 0-0 | W0 | |