Rose uncertainty a weakness in Bulls' pitch
June, 20, 2014
6/20/14
1:18
PM CT

By Nick Friedell
ESPNChicago.com
Archive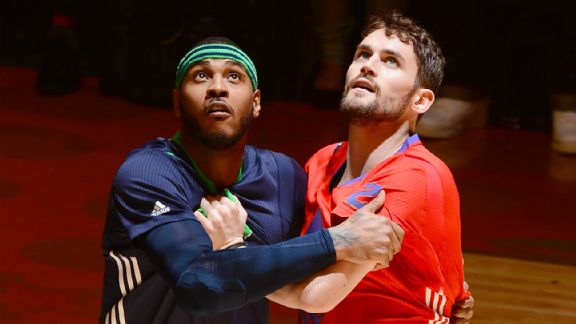 Garrett Ellwood/NBAE/Getty ImagesThe spotlight is on Carmelo Anthony and Kevin Love. Will either land in Chicago this summer?
CHICAGO -- The free-agent frenzy has taken hold of Chicago yet again.
Every day there's a new twist that has fans wondering if the Bulls can finally land the superstar player who has eluded them over recent years.
It's all a reminder of summer 2010, when
LeBron James
,
Dwyane Wade
and
Chris Bosh
were all free agents. That's when Chicago fans believed they were bound for another championship run.
Derrick Rose
was healthy and on his way to becoming the youngest MVP in league history, Tom Thibodeau had just been hired as coach and the Bulls looked to have one of the brightest futures in basketball.
We know the rest of the story.

Bulls owner Jerry Reinsdorf and executives Gar Forman and
John Paxson
tried to land James, Wade and/or Bosh, but they ended up signing
Carlos Boozer
. After getting to the Eastern Conference finals in 2011, the Bulls lost traction in their quest for a title after Rose suffered two season-ending knee injuries that altered the course of the franchise.
Four years after that free-agent summer, the hope and optimism have returned. This time it's
Carmelo Anthony
and
Kevin Love
who have garnered fans' attention.
But as it all unfolds, the past remains a guide. Do the Bulls really have a chance to land Anthony or Love? Both players seem at least intrigued by the possibility of playing alongside Rose in Chicago. But that's the same thing that was said about James, Wade and Bosh four summers ago. Players throughout the league are intrigued by playing in a city like Chicago for a coach like Thibodeau and for an organization that is known internationally, thanks to
Michael Jordan
.
The Bulls have always believed that the power of their brand is one of their biggest assets in recruiting pitches to superstars. That's why they filled up iPads with information about their city and their team during the 2010 free-agency period. But as the free-agency rumors start in full force again, will the Bulls' recruiting pitch be stronger this time than in 2010?
The answer is probably yes, but not by as much as one might think.
In 2010, Thibodeau was just an unproven, albeit highly respected, assistant coach getting his first chance to lead a team. Now he's regarded as one of the very best head coaches in the game. In 2010, Noah was an emotional center who was thought by many around the league to have a ceiling as a solid energy guy. Now he's become the NBA's Defensive Player of the Year and earned a First Team All-NBA nod at center. A rookie in 2010,
Taj Gibson
has turned himself into one of the best defensive big men in the league.
The difference is that Rose, who was one of the brightest young stars in the game in 2010, is now a gigantic question mark. No one knows if his body will be able to hold up through an entire NBA season. The 25-year-old Rose used to be viewed as the ultimate asset, the guy any star would love to play with. But now he is an uncertainty.
It's that uneasiness that continues to hang above everything the Bulls do. The Bulls are a proven commodity now, but they can only win a championship with Rose in the lineup and producing at close to the same level he was before the injury. Even then, just like before, James figures to stand in the way of anything the Bulls do.
As the rumors persist and get more intense, the scenarios appear to be unfolding the same way they did before. The Bulls are doing the right things. They've cleared cap space and can clear even more if needed. They've put themselves in a position to succeed yet again. But the reality figures to be a lot harsher than the dream.
The uncertainty surrounding Rose might be their biggest weakness, not their biggest strength like it was in 2010.
Regardless of the reasons, 2014 feels a lot like 2010 did for the Bulls. It will be up to Paxson and Forman to somehow change the course for a franchise that seems to always find itself in second place when it comes to big-time free agency.