Derrick Rose's crisp white T-shirt looked like it had more life in it than he did late Friday night.
The reigning Rookie of the Year had just willed his team to its fourth victory in a row by draining a clutch jumper with just over 5 seconds left in double overtime to knock off the Wizards. He had just scored a career high 37 points just one night after leading his team to an elusive road victory in Boston. Now, he sat in front of his locker and gently tried to slide a gray knitted cap over his head.
[+] Enlarge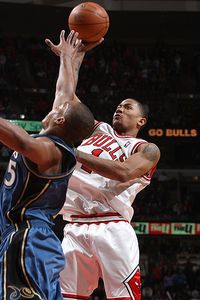 Gary Dineen/NBAE/Getty Images
Derrick Rose chipped in a career-best 37 points on Friday in the Bulls' double-overtime win against the Wizards.
He was completely exhausted. So were the rest of his teammates.
But, who could blame them?
The Bulls have been playing their most inspired basketball of the season over the past few days and if the reaction in the postgame locker room at the United Center is any indication, it's clear that they are leaving everything out on the floor -- especially Rose.
The Chicago native unofficially drained the first game-winning shot of his career on Friday and despite the extreme fatigue, it's a moment that he will savor for a while.
"These are the types of game you dream about when you were younger," Rose said after the game. "I'm playing in my hometown so everybody's standing up cheering for me when I got the ball at the end of the game and everybody's looking at you, seeing what you're going to do. When you hit the shot, it's crazy. I really couldn't believe it."
He might have been the only one.
Rose completely dominated the game at times against the Wizards. He drove to the hoop and scored seemingly whenever he wanted to. He gave his teammates confidence by continually making plays towards the end of the game. In fact, the game might have been over in regulation had Rose's left second shot not bounced out. The best news for Bulls fans on this night is that Rose took another step in his progression. Slowly but surely, the second-year point guard is beginning to fill the void that was created when Ben Gordon left. He's becoming the player that expects to take AND make the last shot when the game is on the line.
"It feels good," the soft-spoken phenom said about his big shot. "But I'm not going to get over-excited about it. I'm mad I missed the first one in regulation."
That's the type of killer instinct that the Bulls have missed this season. But, that's the type of attitude that this team has developed recently. It was clear from the beginning of the game that Rose and company were tired, but they gutted it out in the end.
"Somehow we pulled it out," Rose said. "Usually we were always a team that let it slip towards the end of the game, if we were in a close game or something like that. But, it shows how much we're improving now and hopefully we won't do [anything] but get better."
Bulls head coach Vinny Del Negro echoed those words with a few of his own.
"Our guys battled," he said. "And we found a way and that's what it's all about, just finding a way. And we were fortunate we made one more play probably than they did. It could have gone either way, but we're just fortunate. I'm very pleased with the way we hung in there."
The Bulls now head off on the most important road trip of the season to date: A two-week, seven-game stretch that takes them from California all the way back to Louisiana. A few weeks ago it might have been a trip that they feared, but now it's one that they are looking forward to.
"We're playing good basketball right now," Bulls center Joakim Noah said. "We're playing well as a team. The ball's moving good. Derrick has really been stepping up. He's playing huge for us down the stretch. We just got to keep it up. I think everybody's excited about going somewhere warm. Because it's really cold here. It's unbearable, almost."
Earlier this season, unbearable might have been a word used to describe the Bulls at times -- but not right now. They are playing with the type of hunger that was non-existent earlier this year.
Never was that more evident than on Friday night.
"Back to backs, I don't think people who are in their seats really understand what a back-to-back really is," an exhausted Noah said. "Of course, everybody in the NBA has to do it, but it definitely takes a toll on your body, especially when you're playing games in double overtime like that.
"I was just ... I had nothing left in the tank, but I'm just happy that we got the win at the end. The team effort; that's what makes it so great."
That effort is what will make that long flight out to California on Sunday afternoon even better.