DEERFIELD, Ill. -- The bandwagon supporting Joakim Noah's quest for an All-Star selection has picked up a few supporters over the past couple months. Several players and coaches have praised Noah's new-found dedication and consistent hustle. While it's still probably a long shot that the Bulls center will be selected to play in the game in Dallas on Feb. 14, there's no question that he has earned a lot more respect around the league.
"When you're second in the league in rebounding, you're a double-double guy, and you've improved as much as Joe has, it's definitely something that everyone needs to take a look at," Bulls head coach Vinny Del Negro said after shootaround this morning. "I know how hard he works and the preparation he puts in. Absolutely, he's deserving of consideration [for the team]. I support him in every way with that."
[+] Enlarge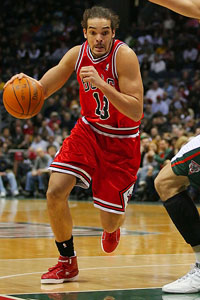 Dennis Wierzbicki/US Presswire
Joakim Noah currently ranks second in the NBA with 12.2 rebounds per game.
Bulls guard Derrick Rose echoed Del Negro's sentiments.
"I hope so," Rose said of Noah's possible selection. "He needs it, I know that. He's been playing good. Developing himself during the summer, the off-season and I'll be happy for him [if he makes the team]."

Del Negro said he would talk to opposing coaches about including Noah on their ballot, but is confident that the third year center's actions on the floor will speak louder than any words he could provide.
"Stats speak for themselves," Del Negro said. "His effort against other teams speaks for itself. And coaches know how valuable he is in terms of his effort and what he brings to the table."
Rose is a fan of Wall: Speaking of bursting on the scene, Rose acknowledged that he has been watching Kentucky's freshman phenom John Wall. The reigning rookie of the year knows what Wall is going through, considering John Calipari, Rose's former coach at Memphis, is now coaching Wall at Kentucky.
"Coach Cal always talks to me," Rose said with a smile. "[He] calls me every two weeks or something like that. He just talks about his team. He just asks me have I seen his team and what can he do to tell his team to play hard and stuff. John Wall, he's a good player. I can't lie. He's doing good right now leading his team and I'm cheering for him."
Asked to assess Wall's game, Rose put it this way: "Fast. Real fast. Explosive guard. Plays with a lot of energy and a good team player."
Fashion statement: LeBron James pulled off a unique fashion statement in Portland on Sunday night. He wore one orange shoe and one blue one in honor of former Cleveland Cavaliers players like Mark Price, Brad Daugherty and Larry Nance. While the trend might become popular on the playgrounds, don't expect Rose to try out a red and black shoe any time soon.
"No," he said, when I asked him whether or not he would try something like that. "That was my first time seeing it. But I don't think I'll ever do that."
Line of the day: Rose on if he could imagine what it was like to lose 12 games in a row like the Pistons have coming into Monday night's game: "I don't even want to know what that's like," he said. "I don't want that feeling or anything. I'd try my hardest if my team was in that situation to get us out of the slump. We're on a one-game winning streak. We need to keep it going."