The Chicago Bulls managed to do something on Monday night that Mark McGwire couldn't do.
They forgot about the past.
They forgot about their epic 35 point collapse last month against the Kings and managed to build up and hang onto a massive lead, cruising past the Detroit Pistons 120-87.
"That's long gone," Bulls coach Vinny Del Negro said about the Kings game. "I think we're a different team now than we were back then. Hopefully, we're improving. But, it's just one game.
[+] Enlarge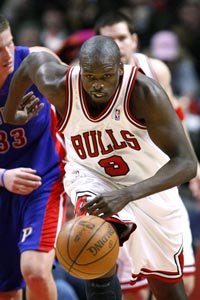 AP Photo/Charles Rex Arbogast
Luol Deng had 27 points in the Bulls' 120-87 win over the Pistons on Monday.
"Those things happen. That was the perfect storm that hit us, but our guys have bounced back well from there. You just keep on grinding every day and try to improve. You can't look behind -- only to get better, hopefully. And I look forward. I'm more optimistic than pessimistic."
There was plenty for Del Negro to be optimistic about on this night.
Luol Deng had another solid night, pouring in 27 points. Joakim Noah racked up yet another double-double with 16 points and 11 rebounds and Derrick Rose went 11-for-13 from the field for 22 points of his own.
The 33-point win was the largest of the year for the Bulls.
"It feels good for once knowing that we got a blowout, to tell you the truth," a smiling Rose said. "We've been going at each other hard in practice. You can just tell out there we got a lot of energy. We're still trying to put teams away right at a certain time, so that we can get a large lead. But that's something that we'll get used to later on in our season or in our career."
The best news for the Bulls is that they've beaten two teams in the past three days that they were supposed to beat in the Minnesota Timberwolves and Pistons (who have now lost 13 in a row). They took advantage of both teams' weaknesses and exploited them. After so many struggles earlier in the year, those are positive signs for Del Negro's team.
"It seems like we're kind of clicking," Bulls guard Kirk Hinrich said. "It seems like we have a good feel for how we're playing and how we need to play to be successful."
If Deng continues to play like he did on Monday, the Bulls are going to be fine. He appears to be playing with more confidence recently, which is even more impressive considering he has been playing with a broken thumb.
"It felt good [on Monday]," he said. "I had a better rhythm today from the start of the game. We moved the ball well and just had a better rhythm."
The team also had a better outlook. They got a big lead and didn't look back. "I wasn't worried about it," Rose said of reliving the painful memories from the Sacramento game. "We were rolling too good to be thinking about it."
After all the trials and tribulations the Bulls have already been through this season, Rose has a point.
Why worry about the past when the present looks much brighter?