Bulls' Lucas ready for heavier workload
January, 2, 2012
1/02/12
6:21
PM CT

By Nick Friedell
ESPNChicago.com
Archive
DEERFIELD, Ill. -- Few others understand the grind of pro basketball like Bulls guard John Lucas III.
[+] Enlarge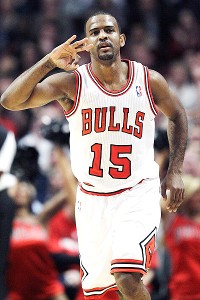 AP Photo/Nam Y. HuhJohn Lucas III saw his first action of the season on Monday night.
Since 2005, Lucas has spent time with two NBA teams (Chicago and Houston), two D-League teams and played in Italy, Spain and China. He has fought for so long to stay in the league that he can appreciate an opportunity when its staring him in the face, like the one that is in front of him at the moment.
When Bulls backup point guard C.J. Watson went down with an elbow injury in the fourth quarter of Sunday night's win over the Memphis Grizzlies, Lucas was inserted into the lineup and didn't miss a beat. He came in and scored eight points and ran the offense like Bulls head coach Tom Thibodeau expected.
With Watson expected to miss at least Tuesday night's game against the Atlanta Hawks, Lucas figures to get more meaningful minutes than most were expecting from him this year. He is ready for the challenge.
"My career has been always a fight," he said after Monday practice. "Every year trying to finally to keep a job, keep a job, keep a job. But it humbles you and it makes you appreciate the game even more. Because when you finally get the opportunity, you take it and you run with it."
Lucas' teammates and coaches expect him to do just that. Most Bulls' fans only remember that Lucas missed two free throws at the end of a game last November against the Denver Nuggets, but Thibodeau sees more than that. He expects Lucas to take Watson's minutes and produce.
"Quite honestly, he played well in Denver," Thibodeau bristled. "He didn't make his free throws at the end and that was his first day. He'll be ready."
Bulls point guard Derrick Rose echoed Thibodeau's point.
"He's ready, man," Rose said. "He's a professional. He's been around the league for a very long time. Basketball runs in his blood. [He's a] winner. [Came from] a winning program. I think that he should be ready."
Lucas mentioned during the prolonged offseason how much confidence he picked up by performing well in various summer leagues across the country. His most noteworthy showing came in August at New York's famed Rucker Park where Lucas scored 66 points against a team headlined by Oklahoma City Thunder All-Star Kevin Durant.
It appears that he has taken that confidence into the season with the Bulls.
"You have to have confidence in yourself in order to play this game," Lucas said. "If not, you shouldn't be playing. But my whole thing is just go out there, run the ballclub and do what Thibs tells me to do and depend on my teammates to help me out. No matter what. If it's scoring, not scoring, getting everybody involved. I'm willing to do whatever."
Watching and competing against Rose in practice, has also been beneficial to Lucas' development.
"I catch myself learning stuff from him that I should have learned when I was his age," he said. "It's the way his mentality is. The way he's just poised on the court. He doesn't get rattled. He's just smooth. Nothing gets to him."
That respect is mutual. Rose and Lucas have lockers to next to each other at the United Center and it's obvious Rose is happy for his older counterpart.
"John's cool," Rose said. "He knows the game. I call him a true point guard. He knows the game, defers to people. He can definitely score the ball. When he comes in practice, he picks people up halfcourt and puts a lot of pressure on me. It's great playing against him."
The last word: "That's the first thing I told the trainer. It's too early in the season to be hurt. But the one thing he told me was, 'It ain't like we had an extensive training camp. It ain't like you were here from the beginning. It's kind of like [I] was thrown right in the fire ... you just got to take your time with it," -- Bulls' guard Rip Hamilton on missing Sunday night's contest with a groin injury.