[+] Enlarge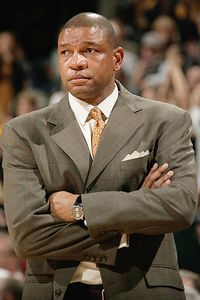 Ron Hoskins/Getty Images
Celtics coach Doc Rivers defended Bulls coach Vinny Del Negro.
Vinny Del Negro has a big fan in Doc Rivers.
The Boston Celtics head coach, a former teammate of Del Negro's, came out in support of his friend before Saturday night's Celtics-Bulls game.
"I've been there, I know how that feels," Rivers said, when discussing the scrutiny that Del Negro has been facing recently. "When you don't win, you get criticism, unfortunately. That's the way it is. I think the younger you are as coach, the more it is if you don't win. If it was a veteran coach, [Del Negro] would probably get a grace period. Unfortunately, Vinny's not getting that, and he should, but he's not. He'll weather the storm, hopefully. I think he will."
Del Negro, who is in his second season as the Bulls' head coach, has had to deal with questions surrounding his job security after his team dropped in the Eastern Conference standings. The Bulls came into Saturday night's game having lost nine of their past 11 games.
Rivers can empathize with Del Negro's plight, considering the veteran coach lost his job in Orlando during the 2003-04 season after the Magic dropped 10 games in a row.
"You do your job, that's all you can do," Rivers said. "Can't let it sway you. You do your job every day. I went to work the same before that streak [in Orlando] and the same after. Didn't change my personality at all. I was the same guy at the end of the day, when you know you're doing what's right, it will pan out for you ... I believe this will work out for him. I know what he can do. I coached against him last year in the playoffs. I just hope he gets the chance to do it."
Rivers, who also faced job scrutiny in Boston before winning an NBA championship during the 2007-08 season, was asked if he was the poster boy for coaches who can turn their fortunes around.
"It's probably all of us," he said. [Gregg Popovich] was on the chopping block in San Antonio right before they turned it around. Larry Brown was fired one year and Coach of the Year the next year. I think we all go through it, it's just part of our coaching life. It's a tough part about it, but it shouldn't sway what you do. You got to believe in what you do."
Rivers believes that Del Negro and the Bulls have struggled with the injury bug this season more than anything else.
"They're a good basketball team," Rivers said. "And when your best player … [Derrick] Rose is hurt, to start the season. You're going to start slow, especially when your best player is the guy with the ball in his hands most of the time. And then [Kirk] Hinrich gets hurt and [Luol] Deng's coming back from an injury, that's going to take time. I would say a little patience would probably be a better thing to use. And I think they'll be fine."