Sources: Lakers look for player, pick for Pau
June, 28, 2012
6/28/12
12:51
PM CT
The Los Angeles Lakers have been checking around the league this week to gauge Pau Gasol's trade value, according to sources briefed on the discussions.
Read the entire story.
Senior NBA Writer for ESPN.com
ESPN Insider NBA Draft Analyst since 2002
Writes ESPN's NBA Draft Top 100 and Lottery Mock Draft
Senior Writer, ESPN.com
• Senior NBA writer for ESPN.com
• Began covering the NBA in 1993-94
• Also covered soccer, tennis and the Olympics
BULLS REVIEWS

Nick Friedell reviews the seasons for every Bull and looks at how they fit into the team's future plans.

May 20 -- Jimmy Butler
May 21 -- Taj Gibson
May 22 -- Joakim Noah
May 23 -- Carlos Boozer
May 24 -- Nazr Mohammed
May 26 -- Daequan Cook
May 27 -- Vladimir Radmanovic
May 28 -- Marquis Teague
May 29 -- Marco Belinelli
May 30 -- Kirk Hinrich
May 31 -- Marquis Teague
June 3 -- Nate Robinson
June 4 -- Derrick Rose
June 5 -- Tom Thibodeau
June 6 -- Gar Forman
50 GREATEST JORDAN MOMENTS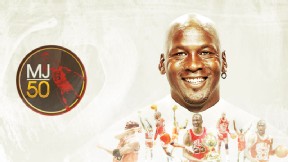 ESPN Chicago takes a look at the 50 greatest moments in Michael Jordan's career. Gallery

ABOUT THIS BLOG

Nick Friedell
Nick Friedell covers the Chicago Bulls for ESPNChicago.com and ESPN 1000. He joined the staff in April of 2009 after serving as an editor and contributor for Yahoo! Sports.

Scott Powers
Powers is an award-winning journalist and has been reporting on preps, colleges and pros for publications throughout the Midwest since 1997.
BLOG ARCHIVE:
CATEGORIES:
chadfordinsider Chad Ford
Scouts frustrated with Phil Pressey. Great passing but too many bad, bad shots. Has got to change his mentality. He's not a scorer in NBA
32 minutes ago

chadfordinsider Chad Ford
James Ennis pump fakes @DdotJAY30 jumps completely OVER Ennis. Crazy!!!!
34 minutes ago

chadfordinsider Chad Ford
Best players in 1st session: DJ Stephens, Phil Pressey, Michael Snaer, James Ennis, Jamelle Hagins, Christian Watford #NetsWorkout
about an hour ago

chadfordinsider Chad Ford
Here at Brooklyn Nets workout. My favorite @DdotJAY30 is here. Measured with a 46" max vert here. Highest EVER measured by NBA
about an hour ago

marcobelinelli Marco Belinelli
:) @Gazzetta_it http://t.co/DL2Utk0OQR
about 2 hours ago

chadfordinsider Chad Ford
Will the Cavs trade the No. 1 pick? @WindhorstESPN explores … http://t.co/QQm7CwB1Xy (correct link)
about 3 hours ago

chadfordinsider Chad Ford
In case you missed it last night, here's Mock Draft 3.0 - post lottery. http://t.co/iqeYtwUL9p (insider)
about 3 hours ago

chadfordinsider Chad Ford
Will the Cavs trade the No. 1 pick? @WindhorstESPN explores … http://t.co/prPz1KP3sa
about 3 hours ago

chadfordinsider Chad Ford
Here's @ESPNAndyKatz with projected No. 1 pick Nerlens Noel on his rehab and desire to be the No. 1 pick. http://t.co/prPz1KP3sa
about 3 hours ago

jadande J.A. Adande
RT @ATLRemix: NBA Playoffs 2013: Despite loss, Memphis Grizzlies find their game in loss to San Antonio Spurs http://t.co/DovVKNfbMj @jadan…
about 5 hours ago

jadande J.A. Adande
RT @R3b3l11: This reminded me of tony Allen @jadande http://t.co/iCBszg2Qyx
about 10 hours ago

jadande J.A. Adande
RT @psulur: @jadande well Manu deserved that for this http://t.co/rr5WYtMAMi & this http://t.co/ptAnTJF2mn
about 10 hours ago

jadande J.A. Adande
RT @allballsdntbwnc: @jadande and that reminded me of this http://t.co/LnsuNy4A1D
about 10 hours ago

jadande J.A. Adande
Check out the guy on the left side during the replay on this. Reminds me of Tony Allen tonight http://t.co/v0ffKGEWGb
about 10 hours ago

jadande J.A. Adande
Was it a flagrant foul on Manu Ginobili? Tony Allen: "Yeah, most definitely."
about 10 hours ago

johnhollinger John Hollinger
Proud of how we fought back. Will need a big response from our crowd on Saturday. #gng
about 11 hours ago

jadande J.A. Adande
Spurs had Danny Green in backcourt for inbounds, like a safety on offense.
about 11 hours ago

jadande J.A. Adande
They generously gave Parker his 18th assist on that even though Duncan stopped, faked & dribbled
about 11 hours ago

nate_robinson Nate Robinson
He got game part 2 &3 #teamrobinson https://t.co/JXhQ2HJoQd
about 11 hours ago

nate_robinson Nate Robinson
Ballin #teamrobinson https://t.co/QgH7qRF3yd
about 11 hours ago