Times are changing for the Irish
September, 18, 2012
9/18/12
2:20
PM CT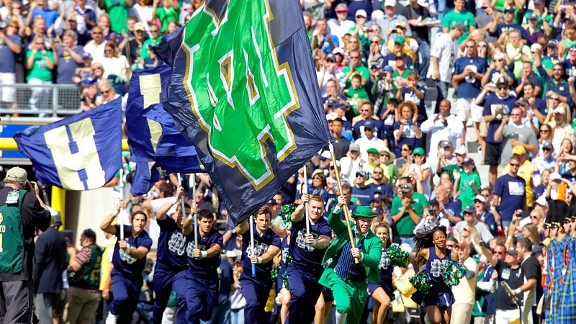 AP Photo/Michael ConroyIt won't be today or tomorrow. But the BMOC says that soon, the Irish will be holding up the ACC flag in football, too.
This week's top 20:
20. Notre Dame goes to Mayberry
If you're of a certain age, and know what it's like to have your knuckles thwacked by a ruler-wielding nun, and spent your Saturdays rooting for a certain team in Indiana, and still get misty eyed when Rudy's teammates place their jerseys on Dan Devine's desk ... then you're probably conflicted about this latest news involving Notre Dame and its new college sweetheart down South, the ACC.
In short, they got lavaliered, which is frat-speak for, they're engaged to be engaged. And if this works out the way I think it will, Notre Dame and the ACC will eventually tie the knot.
But if you're a child of the Madden Era, and you think Lou Holtz has always been an ESPN studio analyst, and you've never seen Notre Dame win a national championship -- and don't think you ever will -- then you're probably thinking this new ACC-Irish deal is no biggie.
Read the entire story here
.
Columnist / College Football reporter
ESPN.com senior national columnist
Joined ESPN in 1998
Author of "The Last Great Game"
ABOUT THIS BLOG

Scott Powers
Powers is an award-winning journalist and has been reporting on preps, colleges and pros for publications throughout the Midwest since 1997. He joined ESPNChicago in May 2009 and lives in Chicago.

Adam Rittenberg
Rittenberg joined ESPN.com in 2008 after four years at the Daily Herald, where he covered sports at Notre Dame, Northwestern, DePaul and several other colleges. He lives in Chicago and writes for the Big Ten blog.

Brian Bennett
Bennett joined ESPN.com in August 2008 after nine years at The Courier-Journal in Louisville, Ky., where he covered college sports and the University of Louisville beat. He lives in Louisville and writes for the Big Ten blog.

Matt Fortuna
Fortuna joined ESPN.com in 2011 after working for MLB.com and the Pittsburgh Tribune-Review, where he covered college sports. He grew up in New York and is a Penn State graduate. Fortuna's Notre Dame blog is here.
2014 TOP ILLINOIS FOOTBALL RECRUITS
BLOG ARCHIVE:
CATEGORIES:
coachbeckman Tim Beckman
Big 10 Media Day today with Jon Davis, Austin Teitsma, and Simon Cvijanovic. Go Fighting Illini!
about 2 hours ago

ajbulls Adam Jun
Noah: "Every day I work out that's all I think about, is just how great that party would be after we win the championship." - ESPN Chicago
about 11 hours ago

adidasHoops adidas Basketball
.@drose holding up two colorways of the #DRose5 at the #Boost launch event today in Vegas. http://t.co/9ThI7t5xzU
about 14 hours ago

coach_collins Chris Collins
Just wrapped up another July recruiting period! Really proud of my staff for the hard work they're putting in to find our future #B1GCats!
about 14 hours ago

ajbulls Adam Jun
Hey guys... "@Bballforeverfb: Just in case your forgot about D-Rose. http://t.co/60Z9Gb1C96"
about 17 hours ago

ajbulls Adam Jun
"Seeing those doubters out there, it's gonna be funny seeing them eat their words." - Derrick Rose http://t.co/gCkh69XvbN"
about 17 hours ago

JoeyThinCrust Joe Fernandez
Frank Thomas during his HOF speech: "Big thank you to Chicago. You guys made the Big Hurt who he was in the greatest sports city in America"
about 19 hours ago

ABC7Chicago ABC 7 Chicago
Frank Thomas, White Sox hitting legend, inducted into baseball Hall of Fame: http://t.co/1CEOuaBBA6
about 19 hours ago

coachfitz51 Pat Fitzgerald
Slow down big fella..I saw you "throw" too.. MT "@coach_collins: Heard @coachfitz51 was a little wild on the mound today at Wrigley!
about 19 hours ago

coach_collins Chris Collins
Heard @coachfitz51 was a little wild on the mound today at Wrigley! I will try to work with him for his next appearance!!
about 20 hours ago

HowardSudberry Howard Sudberry
Great to have ole friend former #Bulls coach Doug Collins @Arlington_Park recently. He was red hot! @coach_collins http://t.co/VMRhmg1IVw
about 22 hours ago

coachbeckman Tim Beckman
See everybody tonight at the Kickoff Party at the Schoolyard Tavern in Chicago! 5-7! http://t.co/DP3t2qAxjS
1 day ago

Addictd2Success Addicted2Success.com
"You will never change your life until you change something you do daily. The secret of your success is found in your daily routine."
1 day ago

SwagAir Daniel Poneman
As the July evaluation period comes to a close, I want to give a special mention to a friend and mentor @Howard_Moore http://t.co/CULai56vS3
1 day ago

DSpringd Coach Springer
Proud of former Wildcat receiver Jeremy Ebert!! Atlanta Falcons! #7 http://t.co/otlqmYrLFk
1 day ago

NUFBFamily #B1GCats Football
#NFLB1GCats RT @Mr_Mabin: Crazy how, today was the first time @Jebes11 & I ever lined up against eachother. #NU #ATL #RiseUp
1 day ago

ChicagoBears Chicago Bears
ICYMI: Check out highlights from the first practice of #BearsCamp. Watch: http://t.co/UNhleHkGED http://t.co/jVg0tOzVSU
2 days ago

JonGordon11 Jon Gordon
Instead of creating goals w/numbers I believe in having a vision and purpose that drives you to do more, be more, love more and care more.
2 days ago

JonGordon11 Jon Gordon
Your goals don't determine your success. It's your commitment to the process, work ethic, attitude, and habits that decide what you achieve.
2 days ago

SkydeckChicago Skydeck Chicago
@NU_Sports #Willie looked great at #WillisTower this morning with the other #Big10Mascots! http://t.co/DgjOqDvxoD
2 days ago